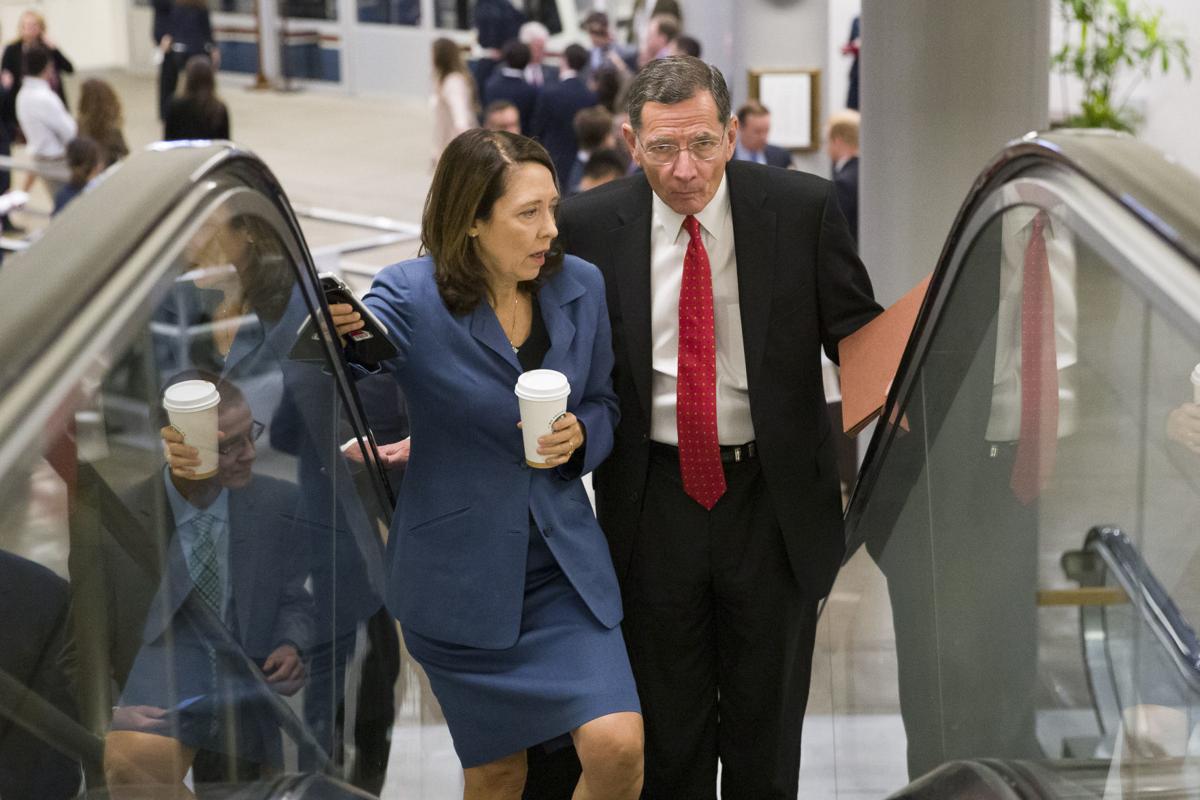 Wyoming's congressional delegation quickly backed President Donald Trump on Tuesday after House Speaker Nancy Pelosi said Democrats would open an impeachment inquiry into the president's actions.
Sen. John Barrasso and Rep. Liz Cheney were also quick to criticize Democrats for pursing impeachment.
After months of burgeoning support for impeachment by a majority of Democrats in the House, momentum increased in the past week following allegations the president purposefully withheld defense funding from the Ukrainian government in exchange for the investigation of a political opponent, former Vice President Joe Biden, and his son, Hunter, regarding Hunter's dealings with Ukraine during Biden's time as vice president.
No wrongdoing was ever proven in that deal. However, Trump has repeatedly maintained that the Bidens have acted criminally in their business relationships, and now — along with his personal attorney, former New York Mayor Rudy Giuliani — stands accused of trying to coerce Ukraine into investigating those claims.
The president has admitted to withholding those funds and to raising the subject of Hunter Biden in a conversation with the Ukrainian president. However, Trump claimed there was no "quid pro quo" element to the deal, though when pressed, he offered two differing explanations for why he had withheld the funds in the first place.
Republicans like Cheney believe the basis of impeachment proceedings are — so far — without merit, noting that the charges are based almost solely on media reports and the tip of an unnamed government whistleblower whose specific allegations against the president are currently unknown.
Following a news conference by Pelosi on Tuesday afternoon announcing the start of the formal impeachment process, Cheney — the House Republican Conference chair and second-term Wyoming congresswoman — charged the House majority with abdicating its "solemn obligation" to defend the Constitution, saying that House Democrats have abandoned the burden of proof required for impeachment in an effort to overturn the vote of "63 million Americans" who voted for Trump.
"As Members of Congress, we have a solemn obligation to defend the Constitution," Cheney said in a statement. "Speaker Pelosi and House Democrats have cast aside this obligation in order to launch partisan impeachment efforts against President Trump."
"The Speaker and House Democrats have lost all credibility and, most tragically, have abdicated their duty to the Constitution and to the American people," she added.
Cheney and other members of Republican leadership are set to hold a press conference at 8 a.m. Mountain Time on Wednesday. No Republicans in the House of Representatives have publicly supported impeachment.
"It's time to put the public before politics," House Minority Leader Kevin McCarthy said in a press conference Tuesday afternoon.
An impeachment inquiry allows a select group — in the Nixon era, it was the Senate Judiciary Committee; in the Clinton days, it was a special prosecutor — to officially open an investigation to determine whether allegations against the president are factual and worthy of impeachment. The mechanism provides the group with the investigative independence to evaluate allegations. In this case, multiple inquiries into Trump are already proceeding, but now they will continue under the umbrella of a formal impeachment inquiry.
Their findings then proceed to Congress, where formal impeachment proceedings — if they are pursued — can then take place.
Few specifics are publicly known about Trump's interactions with Ukraine. Though the president offered in a tweet Tuesday to release a read-out of his phone call with Ukrainian President Volodymyr Zelenskiy, no such transcript was available prior to Pelosi's announcement and, according to numerous media reports, the whistleblower who revealed the nature of Trump's interaction with Zelenskiy was not privy to the phone call itself.
However, the whistleblower did file a formal complaint with the inspector general allegedly containing more information outside of the phone call — information that could be key to verifying the accuracy of the charges levied against the president.
On Tuesday, members of the Senate — including Wyoming Sens. Barrasso and Mike Enzi — unanimously passed a resolution calling for the whistleblower complaint to be transmitted to both the House and Senate intelligence committees in an effort to "evaluate the complaint in a deliberate and bipartisan manner."
Enzi — the only member of Wyoming's delegation to have participated in the process of impeachment — did not offer comment on his vote or on Pelosi's announcement, saying through a spokesperson that "if there's ever another impeachment, he will do what he did before — he will be a jurist, listen to the evidence, and once all the evidence is in, he will make a final decision."
Barrasso could not immediately be reached for comment. However, his office released a statement essentially corroborating the sentiments expressed by his Republican colleagues: It's a witch hunt.
"Democrats have been working to undermine President Donald Trump since day one," Barrasso said. "Now they are beating the impeachment drum and cranking up the outrage machine."
"Our country is safer, stronger and more prosperous today than it was three years ago," he added. "Senate Republicans remain focused on protecting our country, growing our strong economy and creating more American jobs."
Follow politics reporter Nick Reynolds on Twitter @IAmNickReynolds
Get Government & Politics updates in your inbox!
Stay up-to-date on the latest in local and national government and political topics with our newsletter.