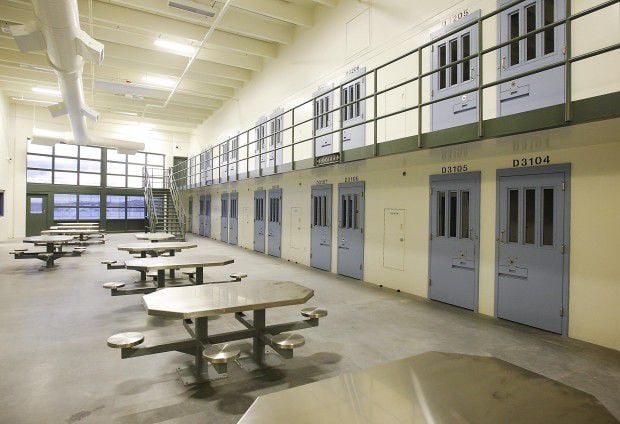 The head of the Wyoming Department of Corrections told lawmakers this week that staffing levels in the state's prison system continues to be a significant problem, leaving two facilities in the state with "critically low" numbers as the state's inmate population continues to grow.
In a presentation to members of the Wyoming Legislature's Joint Appropriations Committee on Thursday afternoon, Director Bob Lampert told lawmakers the department is no longer in a position to make cost reductions, arguing that a lack of competitive pay, a rising inmate population and a decade of spending cuts have put the Department of Corrections in a difficult budgetary position, in some cases opening facilities to security risks if conditions are not mitigated with overtime or assistance from other facilities.
Meanwhile, a rising inmate population has forced the Department of Corrections to pursue expanding its facilities at a time where Gov. Mark Gordon has proposed slashing capital construction funding by two-thirds, a major ask at a time where the state is slowly working to reduce the state's rising inmate population through a number of criminal justice reforms.
Staffing problems
Over the past decade, Lampert said the Department of Corrections has seen its staff reduced at a level roughly three times the proportion of cuts seen across state government. In total, Lampert said his department currently has 183 fewer positions to work with than it did in 2010, even though offender numbers have gone up 12 percent during that time.
The department also counts roughly 123 unfilled "frozen" positions on its payroll which, according to a budget request submitted to Gordon, have "put additional workload requirements on remaining staff and have led to the reduction of some inmate programs such as vocational education," impacting recidivism rates.
The problems are worst at the Wyoming State Penitentiary in Rawlins and the Wyoming Women's Center in Lusk, both of which are staffed to the point that the facilities would "be on lockdown" most of the time without staff incurring significant amounts of overtime, Lampert said.
The Department of Corrections has also had difficulty hiring other skilled positions — like heating, ventilating and air conditioning specialists and locksmiths — due to pay uncompetitive with that offered in the private sector, oftentimes leaving the state to outsource that work at higher cost.
You have free articles remaining.
Meanwhile, turnover — while lower than it was in previous years, Lampert said — continues to be a concern.
Recent pay increases have helped reduce staff turnover within the department, Lampert added, but potential reductions in health care benefits that could likely be on the table in the 2020 budget session could exacerbate the problem, particularly if the department's younger, healthier and often lower-paid employees elect to leave their jobs in search of more robust plans.
Though Lampert said his employees would be willing to pay higher premiums to offset these concerns, future pay raises — which are currently being studied by the department, according to their budget request letter — could help to assuage turnover concerns, he said.
"This will have a direct effect on our agency as (employees) feel more positive about the impacts they make for our state," Lampert said.
Facilities needs
Though the Department of Corrections has a number of vacant beds across its system, many of its current facilities are becoming overcrowded with few alternatives for higher-risk offenders. Without shipping inmates to facilities in other states — as it currently does with 88 inmates in Mississippi — and partnerships with several facilities in state, Lampert told lawmakers Wyoming's prison system would be at 109 percent operating capacity and unable to sufficiently house both its men and women.
To meet these needs, the department's capital construction budget requests include a build-out of 144 beds at the Wyoming Medium Correctional Institution in Torrington, a 64-bed expansion to replace the boot camp at the Wyoming Honor Conservation Camp and a review of the Wyoming Women's Center to determine the feasibility of adding additional beds. According to numbers provided by Lampert, that facility currently has an operational capacity of 299 inmates, averaging a daily population of 272.
While Sen. Eli Bebout, R-Riverton, noted that shipping inmates out-of-state could be substantially cheaper than housing them in-state in some cases, Lampert said that past experience has shown offenders are more prone to end up back in prison both when shipped further from home and when offered less treatment and programming. He argued this makes the need for new facilities — as well as increased spending on treatment and alternatives to incarceration — the most prudent option for the state's coffers in the long term.
"We definitely need those alternatives to house our current population," Lampert said. "But it also highlights the needs to reduce our prison population."
Get Government & Politics updates in your inbox!
Stay up-to-date on the latest in local and national government and political topics with our newsletter.