A Republican Party official in Wyoming shared an article on social media last month comparing gay activists to Nazis and stating that Christians are facing the same plight as Jews murdered in Auschwitz concentration camp.
"Jews at Auschwitz passively marched into gas chambers to their death because the Nazis deceived them into believing they were being taken to the showers," the excerpt that Kissack shared read in part. "Christians are passively allowing LGBTQ activists to steal the hearts and minds of their children, drive followers of Christ out of business, and threaten pastors with jail time for quoting the Bible. Deceived by the LGBTQ movement, Christians are passively marching to the death of Christianity."
The myth of Jewish passivity during the Holocaust has been largely disputed by historians, who note a variety of armed and unarmed resistance by European Jews under Nazi control, as well as various obstacles standing in the way of the type of large-scale uprising that might have been expected in hindsight.
The article was written by conservative pundit Lloyd Marcus and ostensibly focused on a bill in the California Legislature that would categorize the promotion of conversion therapy, which seeks to change an individual's sexual orientation, as consumer fraud.
Kissack has shared several other posts on her Facebook page about the legislation, which some Christian and conservative news websites claim would allow California to ban Bibles or otherwise persecute religious residents of the state.
Kissack created the Facebook post on April 29. She did not respond to emails and a voicemail seeking comment.
Post found offensive
Gillette resident and Wyoming Equality volunteer Hank Pridgeon said the comparison made in the article was inappropriate and that Kissack needed to apologize.
"I'm a Christian and I'm gay," Pridegon said. "How dare she make a statement like that? That offends me."
Kissack's post comes on the heels of controversial comments made by former Fremont County Republican Party chairman John Birbari on his Riverton-based radio show. During a segment on April 25, Birbari questioned whether Riverton High School was promoting a "destructive" homosexual lifestyle by allowing LGBT-friendly artwork in its hallways.
A Riverton radio host and former state GOP operative asked a Fremont County superintendent i…
Birbari was suspended by the radio station, according to two published reports.
Pridgeon said Kissack's sharing of the article was an example of the ways in which members of the LGBT community do not feel welcome in the Republican Party.
"How can you compare the LGBT population to the Nazis ... that's a pretty radical statement and totally out of place," he said. "Come on, it's 2018. It's comments like that that are burying the Republican Party."
"It's kind of ironic, because I am a Republican," Pridegon added.
Wyoming GOP chairman W. Frank Eathorne did not respond to an email and voicemail regarding Kissack and Birbari's comments.
Follow-ups soften stance
In a comment on her post sharing the article, Kissack offered a softer take on the relationship between Christians and the LGBT community.
"I have friends and family who live homosexual lifestyles and some who are atheist," Kissack wrote. "(W)e sometimes have colorful discussions, we always challenge each other and yet we choose to remain friends. Why? Because we respect each other and we respect each other's beliefs."
Kissack has made several other controversial posts on her public Facebook page this year. She shared one comparing the Syrian government's use of chemical weapons against civilians to legal abortions in the United States. In another, she shared an article that falsely claimed the Federal Drug Administration had discovered that vaccines cause autism.
Another post compared Florida high school student David Hogg, a school shooting survivor who has received national attention as an advocate for control, to Nazi leader Adolf Hitler. In March, she shared a photo of the shoes belonging to Jewish victims of the Nazis with a caption that claimed the Holocaust was enabled by gun control.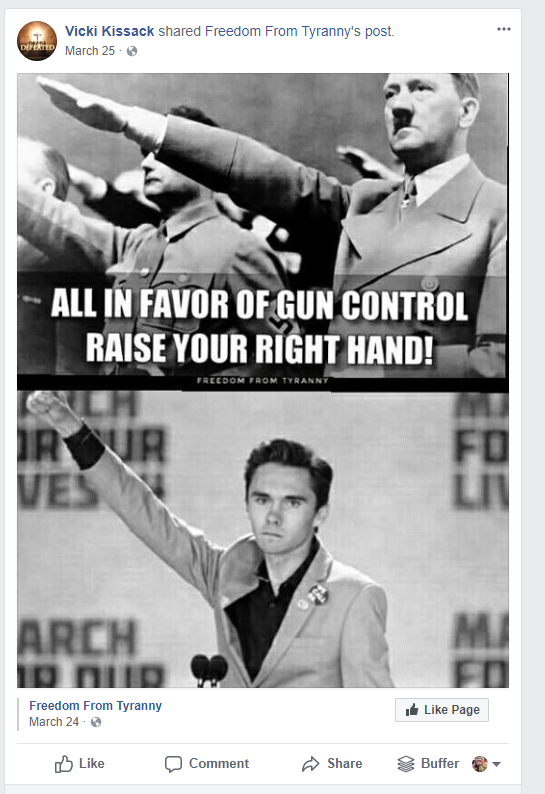 "Sometimes I post hot-button topics just to see what the pulse of my community is," Kissack wrote on Facebook earlier this year.
Ahead of the legislative session this year, Kissack questioned a bill that would have made it easier for grandparents or other caregivers to retain custody of children whose parents lost control due to substance abuse or incarceration.
"With the war on recognizing only two genders and men being named fathers and women being named mothers, we must not be deceived what some legislatures motives are behind this bill!" Kissack wrote, stating that she wanted a definition of "third-party caregivers."
Kissack took over as chair of the Campbell County Republican Party in January, after former chair Doug Gerard resigned to support Cheyenne attorney Harriet Hageman's campaign for governor, according to the Gillette News Record. Kissack previously served as vice chair.
"I am extremely driven by honor and duty and integrity with this seat," Kissack told the News Record at the time. "I take it very seriously."