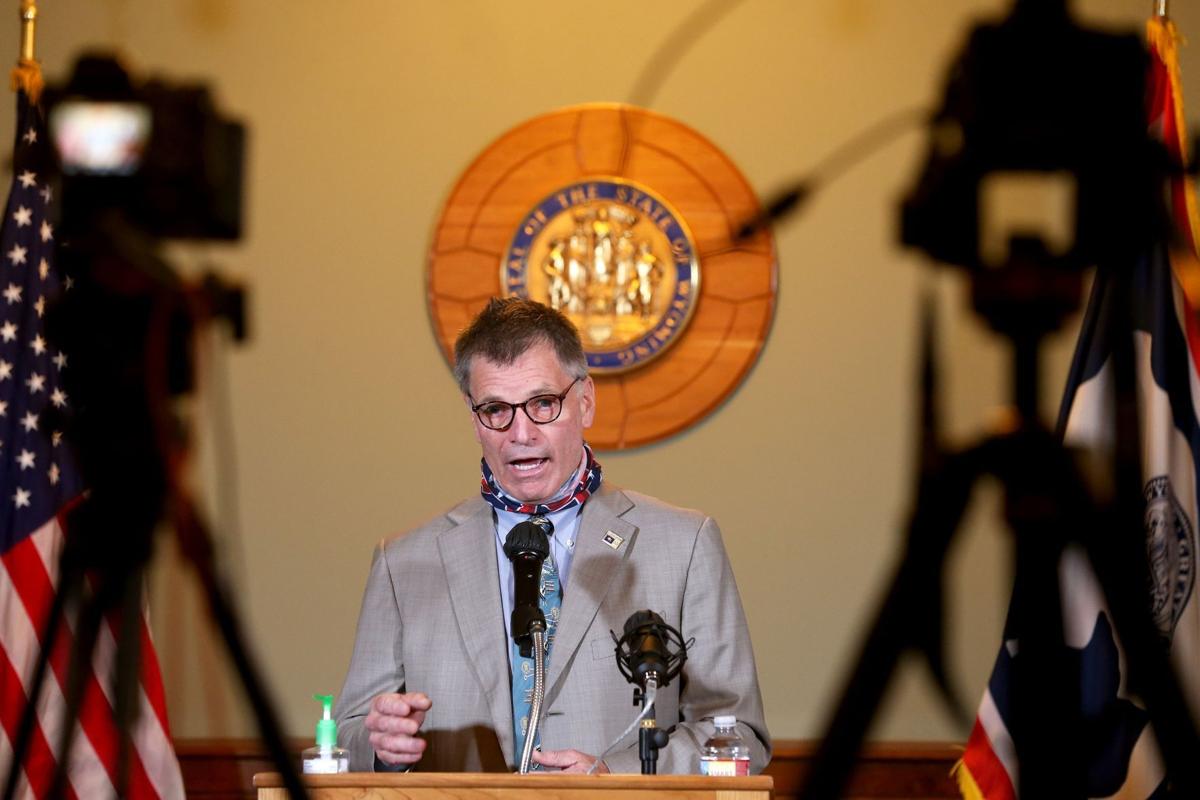 Gov. Mark Gordon announced $500 million in additional cuts to the state's general fund budget Monday, leaving the Wyoming Legislature with a shortfall of more than a quarter of a billion dollars when it meets this winter.
Among the half-billion dollars in budget reductions in the governor's proposal is a $135 million cut to the Wyoming Department of Health and a 15% reduction in the state's higher education budget, combined with double-digit reductions in spending made to nearly every agency in state government as a result of the state's declining fossil fuel sector and the economic fallout from the COVID-19 pandemic.
The only agencies not subject to additional spending reductions were largely within law enforcement, a list that includes the Department of Corrections, the attorney general's office and two district attorneys' offices funded by the state, the two latter of which have experienced significant backlogs in cases amid budget cuts and the logistical challenges posed by the COVID-19 pandemic.
Also relatively unscathed by the cuts were the governor's initiatives to save Wyoming's declining coal industry. While numerous mental health and substance abuse treatment programs were subject to tens of millions of dollars in reductions, according to a Star-Tribune analysis of the budget proposal, the governor's clean coal marketing program saw its funding reduced by only 5%, while $2.5 million to support the state's lawsuit against the state of Washington over coal export terminals there went untouched.
The cuts will also include the elimination of 62 filled positions and 44 vacant positions across state government, joining 21 layoffs and 253 vacant and unfunded positions that were eliminated in a series of cuts earlier this year. Gordon said the reduction in force could have a "ripple effect" on the state's economy.
"I'm very concerned about that for every hundred (state) employees, there are about 160 private sector jobs that depend on those hundred employees state employees," Gordon said. "And so we'll see a multiplier effect of these reductions, we'll see a multiplier effect as in how people are spending money on the main streets — going to their stores locally, eating and local restaurants, etc. coaching kids. These are challenging. These are challenging cuts for the state."
After the cuts, the state still faces a roughly $300 million budget deficit largely driven by the cost of the state's K-12 education system, the funding of which is constitutionally protected.
"A well-funded educational system is a source of pride and economic opportunity for our state. It is essential for our families and our children, just as low taxes are," Gordon said in a statement. "Our circumstances require that we evaluate all school spending and consider its importance to our state's future. These are dollars that go into local economies too."
While state lawmakers have been making efforts to cut education spending in the midst of current recalibration efforts, some lawmakers — like House Appropriations Committee Chairman Bob Nicholas, R-Cheyenne — have stressed that new revenues will be required to fund education at a level necessary to avoid litigation.
Meanwhile, the state's current K-12 education budget is now being funded largely by the state's savings accounts — a structural problem that will only be exacerbated by the state's multi-million dollar budget shortfall.
"I think it's time to face up to these facts," Gordon said. "Without improvement to our revenue picture, these cuts will likely be permanent."
However, Gordon offered no specific recommendations to fund those unmet obligations during Monday's press conference, stating that the task of finding the new revenues necessary to balance the state's education budget fell solely to the Legislature and that school districts themselves should bear more responsibility to identify savings in their own budgets.
"I do think that fundamentally, we have to have a discussion about revenues," Gordon said. "That's up to the Legislature. How we fund education, that's also up to the Legislature."
Factoring in the cuts, Monday's budget will amount to roughly $2.4 billion, or roughly $1 billion less than the governor's first budget roughly two years ago. While not finalized until the Legislature approves it, it will likely represent the largest cut to government since Gov. Matt Mead slashed several hundred million dollars from the state budget last decade amid another bust in the state's energy sector.
If left unaddressed, Gordon said, the state's $300 million shortfall could potentially balloon to $600 million within the next two years
Meanwhile, it is unclear whether the Legislature will meet this winter, as concerns over rising COVID-19 case numbers and a Legislature polarized over mask wearing threatens to push the start of session into the springtime. A final date will likely be decided later this fall at the next meeting of legislative leadership.
Gordon told reporters Monday he hopes the body convenes sooner, rather than later.
"I hope we don't delay too long," he said. "There aren't too many mechanisms left to me."