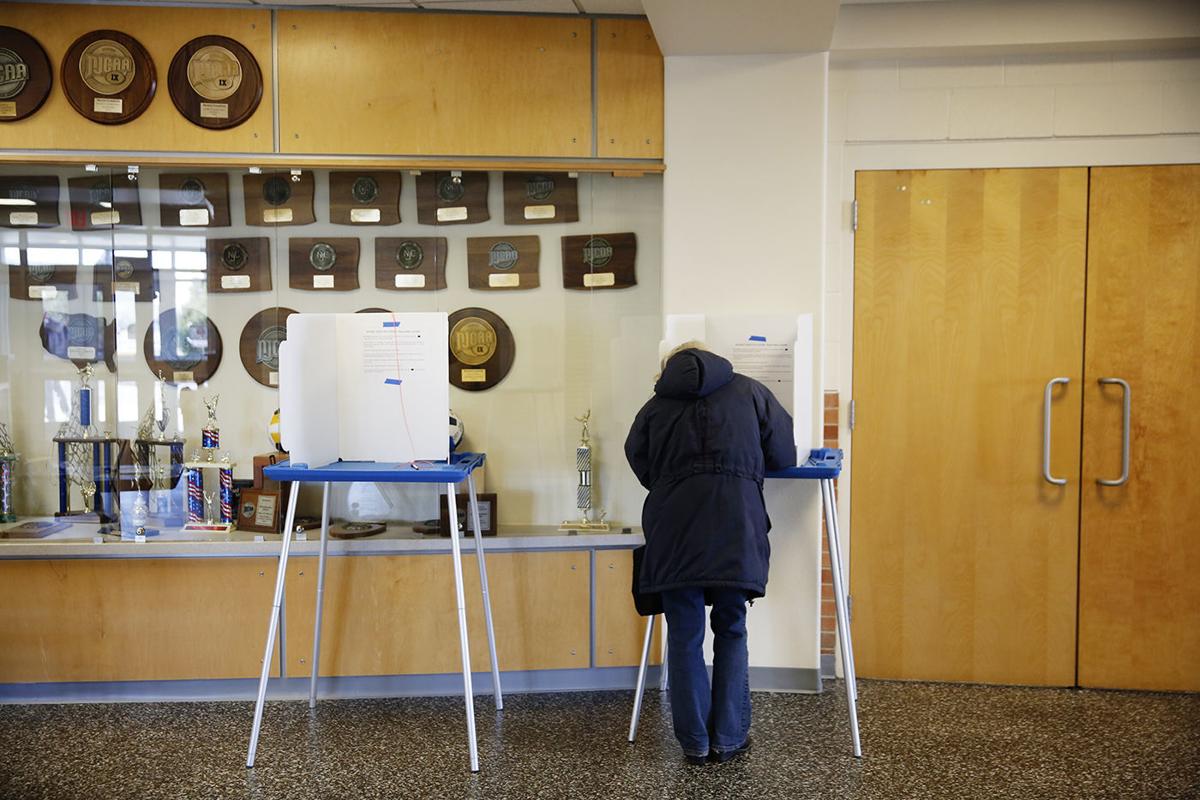 With a presidential election coming in 2020, Wyoming lawmakers are slowly patching the holes in the roof that were revealed during the contentious 2018 mid-term election, quietly assembling a reform package ahead of the upcoming legislative session.
Last week in Jackson, the state's Joint Committee on Corporations, Elections and Political Subdivisions considered reforms like increasing the office's ability to investigate a candidate's eligibility for office (an issue brought into focus with a challenge to the residency of fringe gubernatorial candidate Taylor Haynes in the 2018 Republican Primary) and a general cleaning up of the state's election code.
Also among those proposed reforms was a bill intended to close a loophole in the state's campaign finance law which, previously, allowed corporations and nonprofits to contribute funds or services to campaign committees or political action committees who "directly coordinate with a candidate or a candidate's campaign committee."
"These changes explicitly seek to close a loophole for parties and PACs to no longer be able to function as a conduit for corporations to funnel money directly to a candidate or campaign committee," said Secretary of State spokesman Will Dinneen. "Also, it gives our office the ability to define a direct contribution through the rule-making process."
For Wyoming's electoral system, this suggestion is a welcome one, knocking down a piece of low-hanging fruit that should – if passed into law – create an explicit barrier between politicians and the private sector.
However, campaign finance experts interviewed by the Star-Tribune say the law, while well-intended, does little to obstruct the use of special interest funding to influence the outcome of state elections. Not because the law itself is a bad law, but because of the lack of any means to enforce it independently.
One of the most glaring problems with the legislation is two-pronged: the lack of language offering clarity on what "cooperation" – i.e. spending money to help or hurt a candidate – is under the new law, and the existing issue of corporate transparency in Wyoming, which has allowed limited liability corporations to be formed for the sole purpose of running negative campaign advertisements with no way to know who was behind them.
Under the proposed law, National Institute for Money in Politics research director Pete Quist said any entity engaged in opposition ads that is not coordinating with any candidate in the race "would be able to spend as much as they want on these ads regardless of their corporate structure, tax status, or anything else."
"The change to the wording is specifically referring to contributions to candidates' campaigns, including in-kind contributions such as ads run in coordination/communication with a benefiting candidate," he noted.
You have free articles remaining.
In Wyoming – which has seen its loosely regulated LLC rules as a means of attracting new business to the state – fundamentally changing the structure of the state's corporate filing laws are likely off the table. However, some states have found ways to target LLC loopholes in a way that helps to maintain the integrity of the underlying law while holding bad actors accountable.
In New York state this past year, state lawmakers passed changes to state law requiring that LLCs making contributions or expenditures to support or oppose candidates in elections must file a disclosure report listing anyone with ownership interest in that LLC with the state's board of elections – information that is not required to be made public in Wyoming.
"That seems to be the big issue with Wyoming's law," said Austin Graham, an attorney at the Campaign Legal Center. "You can basically shield the source of the money by using these shell LLCs for everything."
Some states have been particularly progressive on the issue, such as California – which recently passed legislation requiring nonprofits disclose when they contribute funds to other organizations engaged in political activities: essentially washing themselves of any involvement in electing a candidate or helping a political party.
Then there's the issue of compliance. In Wyoming, the Secretary of State – which oversees the state's elections – largely acts as an intermediary between electors and the state Attorney General's Office: the only entity that can litigate complaints when someone breaks the law. With no ability to investigate independently, the Secretary of State can only sit idly by while the law could, in some cases, be broken right in front of them.
"That's not a great approach," Graham said.
Solutions could be varied. The Secretary of State's office, in one scenario, could be allowed the authority to independently audit and investigate campaigns in order to ensure compliance with the law. Wyoming could also pursue founding an independent commission to oversee elections – like is done in 16 states around the country – with the authority to enforce election laws.
However, both solutions require investment and the resources to force compliance: a potentially heavy lift for a state that prides itself on a distinctly intimate brand of grassroots politics.
For years, there has been a prevailing sense in Wyoming that campaign finance reform is not a major priority in Wyoming. After all, elections are often small town affairs and, with fewer people living here than the entire population of the city of Milwaukee, citizens have greater access to their elected officials and candidates than arguably any other state in the country. What kind of influence could a campaign advertisement possibly have on your opinion of somebody you've likely met in person?
Then there's the will of lawmakers themselves to subject themselves to more regulation and increasing scrutiny – a distant possibility for a multitude of reasons.
"It's like the fox guarding the hen house," said Graham. "It's the legislature who are going to be passing these laws and subjecting themselves to more regulation."
Follow politics reporter Nick Reynolds on Twitter @IAmNickReynolds