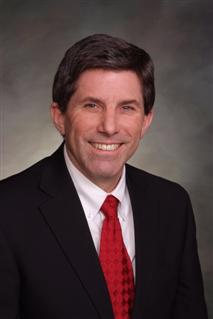 CHEYENNE — The chairman of the Wyoming Legislature's Senate Appropriations Committee is advocating a deal in which the state would acquire 11,000 acres from an old friend and law client of his.
Republican Sen. Phil Nicholas of Laramie is meanwhile keeping alive a proposal under which the client, former state Rep. Doug Samuelson, would acquire a 50,000-acre ranch between Laramie and Cheyenne. The Colorado State University Research Foundation and University of Wyoming Foundation jointly own the Y Cross Ranch.
Denver philanthropist Amy Davis donated her family's ranch to the foundations in 1997 for the purpose of promoting agriculture education at the two schools. With the foundations moving toward selling the ranch perhaps later this year, Davis recently expressed regret about donating the Y Cross, which has seen little use as an educational tool.
Nicholas said Wyoming should consider acquiring some 11,000 acres that Samuelson's ranching business owns on the east side of Laramie — a bit west of the Y Cross — with the goal of establishing a state park. The park would protect from development an area where rain and snowmelt percolate into an aquifer.
"Honestly, this aquifer is probably the most important issue that has surfaced in Laramie in my lifetime," Nicholas said.
The aquifer supplies much of Laramie's municipal water, particularly during the summer. If the land east of Laramie were developed some worry that lawn fertilizer and septic drainage could contaminate the aquifer. An attempt to reach Samuelson for comment Wednesday was unsuccessful.
Currently water from the aquifer is pure enough that the city does not treat it and building a plant to do so would cost in the neighborhood of "$50 million bucks or more," Laramie Mayor Scott Mullner said Wednesday.
"This is probably the least expensive option and it does the most for the city of Laramie," Mullner said of the proposed land purchase.
Several other people including Laramie City Manager Janine Jordan, Republican state Rep. Matt Greene of Laramie, and Democratic state Sen. Chris Rothfuss of Laramie made unsolicited calls to the Associated Press on Tuesday and Wednesday to express support for the land acquisition.
Greene called it the top issue of concern for his constituents.
"I think we need to look at the long-term effects. If we don't go through with this purchase and make it a state park, if the water does become contaminated, the long-term effects will be much more expensive to the state," he said.
The land purchase comes up for possible inclusion in the biennial budget to be taken up by the Legislature after it convenes for a four-week session Feb. 13.
In a letter Tuesday to the Joint Appropriations Committee, Gov. Matt Mead recommended budget cuts in several agencies as well as allocating $20 million for purposes that could include protecting the aquifer recharge zone.
"It's not too specific now, and that is in part because I think there are questions that need to be answered about that aquifer project," Mead said.
Nicholas, who is co-chairman of the Joint Appropriations Committee, said he would not profit from any land deal involving Samuelson.
Samuelson is a former state legislator and friend of Nicholas'. He also is a client of Nicholas' law firm in Laramie, and Nicholas said he has represented Samuelson in legal matters from time to time.
"In every meeting with the public, I've told people, 'Look, I have a long relationship with Doug Samuelson and I will not profit, or take any money, for this exchange,'" Nicholas said.
Samuelson's property near Laramie also has been featured in a proposed buyout or land swap through which Samuelson would acquire the Y Cross Ranch.
Ben Blalock, president of the University of Wyoming Foundation, and Kathleen Henry, president and chief executive officer of the Colorado State University Research Foundation, both say the foundations haven't for several months now considered getting rid of the Y Cross by any means except through an open process culminating in public auction.
Nicholas kept the idea open in an email to Davis on Tuesday, however, explaining that Samuelson's Warren Ranch Co. has been interested in buying the Y Cross. He explained to AP that the deal would involve paying the Colorado State University Research Foundation for half of the appraised value of the Y Cross and swapping the Warren aquifer recharge property to obtain the other half of the Y Cross.
"If the Y Cross exchange cannot be completed in a manner which satisfies everyone, we will fight to hold the appropriation until another suitable opportunity arises to acquire the Warren Property," Nicholas wrote to Davis.
Davis replied that no proposal could circumvent the requirement for a public sale included in the agreement under which she gave the Y Cross to the foundations.
Mead said the Y Cross sale should be "entirely separate" from the state acquiring the aquifer-recharge property.
"At one time, people were trying to tie them together in trades and everything like that, and it just got too messy. It needs to be done very clean, so that CSU and UW, if they do sell it, know that they've sold it for the highest possible price," Mead said.
While at least some legislators support buying the land east of Laramie for a park, at least one questions how the land purchase is being proposed.
"The way we set up state parks is done completely different. It goes through the state parks and cultural resources agency," said Democratic Rep. Ken Esquibel of Cheyenne, a member of the House Appropriations Committee.
"So putting $20 million away for something like that at this point, when none of us have never really seen it — don't know what the real future logistics of it are — is something that I think the committee needs to discuss," Esquibel said.
Get Government & Politics updates in your inbox!
Stay up-to-date on the latest in local and national government and political topics with our newsletter.