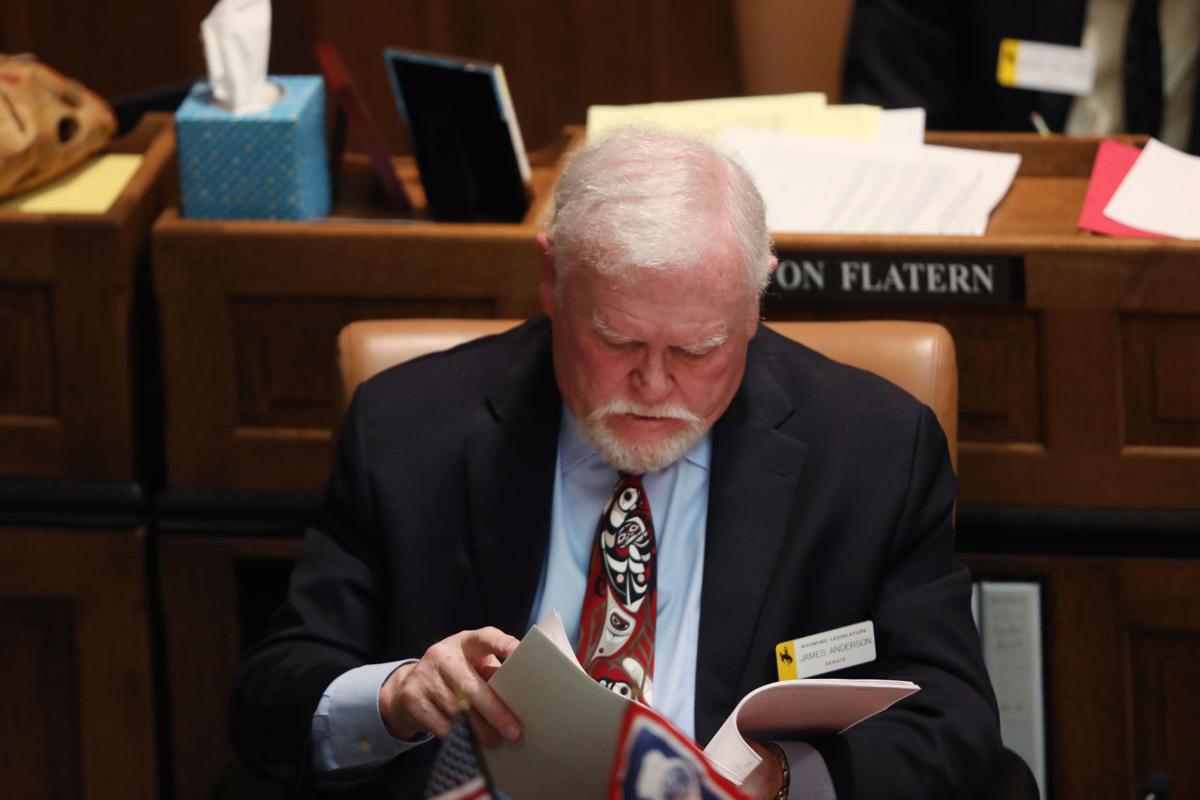 A Wyoming senator is facing criticism after commenting on the appearance of the Wyoming Women's Council chairwoman ahead of her presentation to a legislative committee last week.
Casper Republican Jim Anderson, the chairman of the Joint Committee on Minerals, Business and Economic Development, is facing at least six complaints to legislative leadership after remarking on WWC Chairwoman Jennifer Wilmetti's appearance ahead of her committee's report on economic issues facing Wyoming women last Thursday.
The comments came as Wilmetti — a Rock Springs High School teacher with extensive leadership experience — was preparing to present an overview of the barriers Wyoming women face, including a lack of access to affordable health care, workplace discrimination and an imbalance of women in leadership positions.
As the presentation was slow to load on Zoom, however, Anderson focused on something else: Wilmetti's appearance.
"We'd rather look at you," Anderson said. "But that's OK if that's what you want us to look at."
The remarks — which Wilmetti brushed off before beginning her presentation — sparked a number of complaints from groups such as the Wyoming Women's Action Network as well as members of the public, who quickly condemned Anderson's comments.
"Chairman Anderson's comments were inappropriate and minimized the ability of the presenter to be taken seriously," read a copy of a complaint from the Wyoming Women's Action Network obtained by the Star-Tribune. "Women should not have to be skilled at brushing off casual misogyny in order to do our work or share our expertise."
"When women have to manage this behavior just to present at committee, it makes clear that committee meetings are not actually a space intended for us," the letter added.
The Legislative Service Office denied a public records request for copies of the other complaints filed against Anderson, citing the Legislature's sexual harassment policies, which keep complaints levied toward lawmakers confidential unless both parties elect to make them public.
In an interview Tuesday morning, Anderson said he had already apologized to Senate leadership and to his fellow committee members, adding he had not intended to be offensive with his remarks.
"I had no idea it would be taken in the wrong context," he said. "All we could see on the Zoom call, of course, was her face, and I was just complimenting her that she was nice to look at. But I guess you don't do that anymore. My mom always said you pay someone a compliment if you can, and, boy, that really turned out bad."
Anderson added that while he had apologized to Legislative leadership as of Tuesday morning, he had not apologized to Wilmetti, though he did send an email apologizing to Wilmetti after concluding an interview with the Star-Tribune.
The Minerals Committee co-chairman, Rep. Mike Greear, R-Worland, was away from his desk during Anderson's comments. In an interview Tuesday, he said that he called Wilmetti immediately after the meeting to apologize, adding that he had worked diligently to ensure equitable and courteous treatment of presenters at all meetings.
"Had that comment been made while I was in the chair, I'd like to believe — I know I would have — admonished any member for making such a comment," Greear said.
Reached by phone Tuesday, Wilmetti — speaking independently of the committee's work — said she was taken aback by Anderson's comments but that she "had a job to do" and was determined to forge ahead with her presentation.
"I deflected it the best I could," said Wilmetti, who was appointed by the governor to the council. "But it was an unfortunate comment to make to a woman presenting to a committee full of men about women's issues."
It's a concern that arises with regularity in Wyoming's politics: In an interview Tuesday, Wyoming Women's Action Network founder Jen Simon said that Thursday's incident underscores a culture of subtle and overt discrimination that often occurs in the male-dominated Wyoming Legislature, where men outnumber women by a rate of nearly seven to one. Just one woman, Rep. Shelly Duncan, R-Torrington, sits on Anderson's committee, while influential committees like the Joint Appropriations Committee feature no female members.
It's a factor, Duncan said, that affected even her own ability to speak out.
"When it first happened, I was shocked," she said. "Then I was frustrated. Respectful men have to step up and say something, because me being the only female on the committee is a double-edged sword. If I say something, I can either come across as weak, or I can come across as something else. If I have leadership aspirations, I could be punished. I can be an aggressor if I speak up. We still have that cross to bear. But after the meeting, I was frustrated at myself, because I actually condoned the behavior, and I contributed to the culture by being silent."
Ironically, concerns about representation, Wilmetti said, were one of the primary issues facing women included within her organization's presentation.
"(Anderson's comment) reinforces the message that the Legislature is not a place women should be," Simon said. "It's not like he paid compliments to every man that presented. ... It reinforces that our expertise is not what we're valued for."
And accountability is rare: While disciplinary measures for lawmakers are handled internally and privately, either by the speaker of the House or the Senate president, Anderson said he did not anticipate facing any repercussions for his comments.
Asked if the incident was a teachable moment, however, Anderson said he did not intend to modify his behavior moving forward, saying he believed the controversy created by his comments comes from a generational difference rather than anything else.
"I understand that younger generation does not want anything said about their appearance," Anderson said. "That's OK with me. I sure won't say anything. I sure won't make that mistake again.
"In the (politically correct) world, they don't consider that a compliment," he added. "In the past, most of the women I knew thought that was a compliment, that we'd like to look at their face instead of their presentation. But I guess they don't like that anymore."
Anderson's co-chair disagreed with that sentiment.
"I'm 53 years old, and I don't think that way," Greear said.