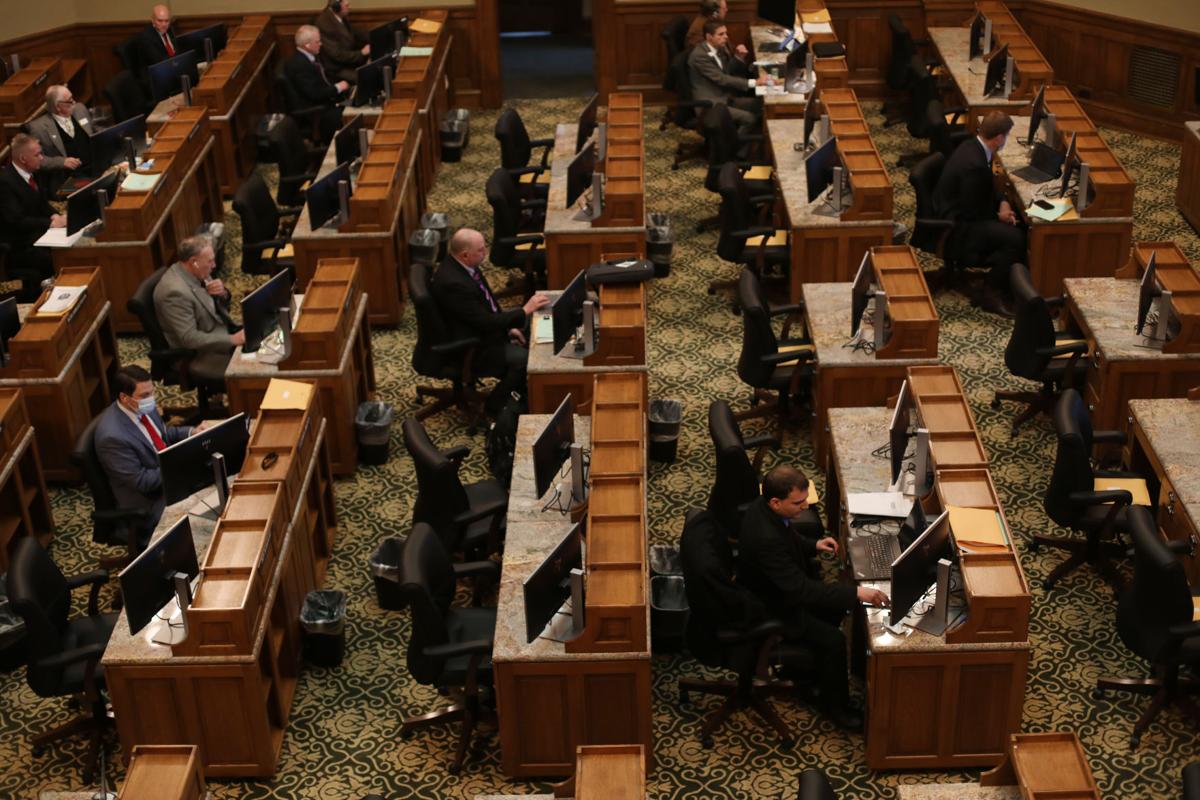 At the start of the 2019 legislative session, Wyoming lawmakers had an opportunity to address a structural economic decline years in the making, with multiple options on the table to raise revenue. All of the proposals failed.
"We talk about how we can't cut our way into taking care of our issues, but we also can't tax our way into it," former Joint Appropriations Committee co-chair Eli Bebout, a Republican senator from Riverton, told reporters on the final day of the 2019 session. "Well, we tried the tax side, and it failed. So my inclination now is we're going to have to look at more reductions in spending."
Those reductions are now beginning to happen. After hundreds of millions of dollars in cuts by Gov. Gordon last year, the Joint Appropriations Committee advanced a budget proposal Friday that, if adopted, would amount to a inflation-adjusted reduction of roughly 25 percent compared with a decade ago.
Even with an unexpected recovery from the $1.5 billion deficit projected by the state's fiscal analysts last spring due to stronger than expected performances in the fossil fuel and tourism sectors, the balanced budget proposal passed by lawmakers Friday will not eliminate the tough decisions awaiting lawmakers.
While the JAC's version of the budget bill reduced Gordon's recommendations by about $2.5 million, it still added 41 net positions to the state payroll and significantly underfunded an information technology request by the governor's office that, if left unaddressed, could cause the state to lose out on federal funding.
Though committee members rejected a proposal to defund the state's home health aide services – which allow the elderly to receive in-home assistance, saving the state millions in nursing home expenses – they didn't fund the $2.7 million cost of the program either, punting the debate over financing the program to the full Legislature later this year.
"If the program was eliminated, there is risk of nursing home placement, living with a family member, or the loss of social interaction that would happen without these services," Herb Wilcox, the executive director of Wyoming Senior Services Inc. in Riverton, said on a phone call organized by AARP Wyoming on Friday. "There's a lot of things that domino effect if we are to lose that program."
While members of the JAC did leave roughly $20.6 million in general fund money unspent for new programs or initiatives passed by the Legislature this year, lawmakers are still cautious that even the most inexpensive programs could be placed on the chopping block before given an opportunity to advance.
On Thursday, members of the Senate Committee on Labor, Health and Social Services held back a $265,000 bill funding a nursing training program until later over concerns the JAC could potentially reject it outright.
"It's a terribly important program, and I would hate to see its funding interrupted," said Sen. Tim Salazar, R-Riverton, who has a community college in his district that receives funding for three nursing faculty positions through the program. "Whatever mechanism we implement moving forward, I would like the state to stay healthy."
The biggest elephant in the room, however, will likely be the state's K-12 education budget, which faces a cut of approximately $100 million. The House and Senate are likely divided on the potential tax increases that will be needed to offset some of the worst of the damage, with some members of the House Republican conference likely to object to any of the tax increases needed to avoid the most serious classroom impacts.
"School funding will be robustly debated in the House," House Majority Floor Leader Albert Sommers, R-Pinedale, told reporters in a press conference at the start of session last week.
Whether that debate will yield fruit – either on the floor or at the committee level – is another question. In a panel on the state's economic future hosted by the Equality State Policy Center on Thursday, Senate Revenue Committee chairman Cale Case, R-Lander, said lawmakers were likely several years away from making any significant headway on new revenues, particularly after legislative leadership stacked his committee with some of Wyoming's most adamantly anti-tax conservatives.
Revenue measures like an income tax on the state's wealthiest residents, real estate transfer taxes, a toll on Interstate 80, and a tax on wind energy, for example – all face significant opposition from politicians and special interests alike, even as groups like the Wyoming Taxpayers' Association have become active partners in helping to broaden Wyoming's tax base.
Meanwhile, several hard-line conservative lawmakers are pushing bills to make taxes even more difficult to pass, with Sen. Tom James, R-Rock Springs – a revenue committee member – introducing a bill this week designed to put taxes directly to voters.
"The legislature, county, and city still have to vote in the tax and/or tax increase," James wrote in an email Sunday. "If it fails, nothing happens, if it passes, THEN it goes to the voters, our BOSSES, for approval. This still keeps us a Republic and goes through the Republican process."
Salazar also announced this week he would be co-sponsoring legislation to cap any property tax increases in any one year to 3% the prior year's amount, slowing tax burdens on home owners but reducing tools for municipal governments to balance budgets amid declines in fossil fuel revenues.
"I sort of think this is our time in the wilderness," Case said Thursday. "I'm serious about that. We're going to have a tough stretch. I think even the people who make the appointments to the committees realize things are going to be worse, and we're going to need to at least prepare the way."
"I really want to prepare the way," he added. "And maybe we're not going to fix it this session – we'll be lucky to hang on this session – but I would like to take a longer-term approach that I can flush new ideas out and have them ready for when we're ready to go. I'm out there leaving a trail of breadcrumbs, and that's what I hope the committee does. But we're not going to change it right now."
That shift, he said, likely won't occur until things get worse. While many of those who oppose high taxes continuously cite Wyoming's reputation as a tax-friendly haven for businesses, Robert Godby, an economist at the University of Wyoming, noted that economic development is not just about low taxes. It's about a region's ability to fund services those businesses want at adequate levels, and to fund those services through broad-based taxes that treat all taxpayers equitably.
"If taxes were everything," he said, "Wyoming would be California and California would be Wyoming."
Correction: This story has been updated with additional details on Sen. Tom James' Senate Joint Resolution 1, which would amend the Wyoming Constitution to require the consent of electors to impose taxes.