Wyoming lawmakers roll back anti-discrimination protections governing Legislature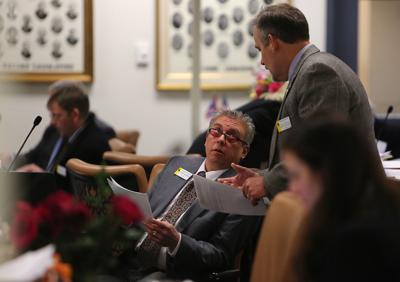 Just months after instituting rules punishing the use of discriminatory language by lawmakers against members of the LGBTQ community, Wyoming legislators voted last week to roll back specific protections for not only gender identity and sexual orientation, but also for race, sex, age and other definitions.
The rules specifically govern legislator conduct and do not affect the state as a whole. Lawmakers who favored the change said the rules limited free speech and circumvented the due process rights of legislators. Critics of the change, however, say the rules were needed to protect certain groups from discrimination in public debates.
Lawmakers replaced the specific protections in the Legislature's larger anti-discrimination and sexual harassment policy, which received a comprehensive overhaul earlier this year, with new, more ambiguous language that promotes civil discussions.
The 7-6 vote was held in the Management Council, a group of lawmakers assigned by constitutional statute to enact rules for the Legislature. Because the policy changes impact legislators and Legislative Service Staff only, they will go into effect immediately, without the need for ratification by a full vote of the Legislature.
"That is it," Sen. Michael Von Flatern, R-Gillette, the sole Republican to vote against the rule changes, wrote in a text message Thursday morning.
Language changes
First passed in 2002, the anti-discrimination and sexual harassment policy was first recommended for an update in December 2017 by the Legislative Service Office, with language based on similar policies in other states. This, according to a memo from LSO Director Matt Obrecht, was done as a response to incidents of sexual harassment seen in other state legislatures in light of the #MeToo movement.
Based on "other states' experiences, we should be on-guard for under-reporting of discriminatory and harassing incidents," he wrote.
In the memo, Obrecht recommended an update to the language, setting parameters for the Legislature's internal harassment policies that included remedial actions for misconduct in a legislative session, including trainings or other means. The memo also suggested the creation of a reporting mechanism for misconduct in office that was transparent but also protected confidentiality.
Under the 2002 rules, discrimination related only to an individual's race, religion, color, sex, national origin, age or disability — but not their gender identity or sexual orientation. The February update to the policy addressed this while also tackling sexual misconduct. The change came months after a meeting in Sundance where Rep. Cathy Connolly, D-Laramie, presented a bill proposing protections for members of the LGBTQ community. The proceedings turned ugly, with some in attendance saying it was "disgusting" to listen to Connolly's "drivel" and that same-sex marriage would "de-create" the earth, according to WyoFile.
Push for more revisions
On Thursday, members of the Management Council were presented four options for updated definitions of the policy. These included striking protections for sexual orientation and gender identity under the rules, removing the word "protected" and adding language clarifying the rules did not create special protections for gender identity or sexual orientation under Wyoming law, or completely eliminating the language of who can be discriminated against, with language stipulating "civil discussion of controversial topics within the public discourse does not constitute discrimination or harassment."
Legislators voted for the more ambiguous fourth option of the law, which removes specific classes from the law to say "any form of discrimination or harassment is a violation of this policy." However, lawmakers will still be held accountable under legislature's rules if their discriminatory conduct violates the federal Civil Rights Act or any civil rights granted under state law. Legislators and LSO staff will also continue to receive regular trainings each year.
Senate President Eli Bebout — who chairs the Management Council — noted in Thursday's meeting that typically the committee would not field public comment on the matter, as the rules only dictated decorum for legislators. However, given the public interest in the policy changes, he allowed 30 minutes each for opponents and proponents of the language to speak.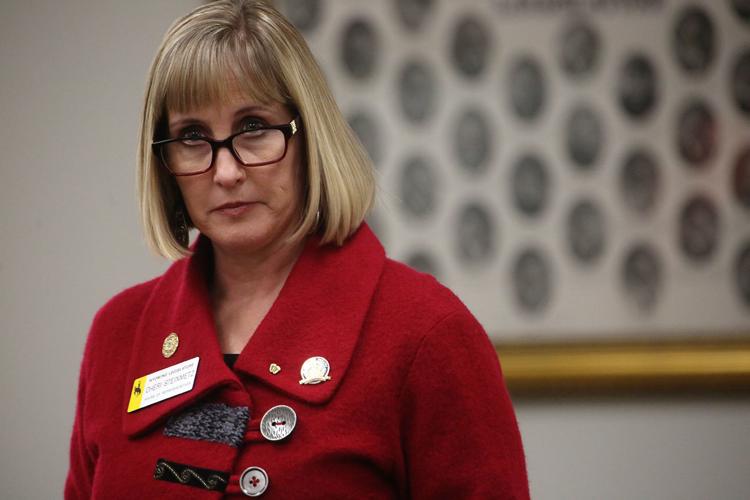 Sen.-elect Cheri Steinmetz, R-Goshen County, who expressed doubt in the legality of creating protections for those individuals, said in a public comment that while the rules were not intended to cause harm, they were "circumventing due policy rights" for the entire Legislature, creating a protected class within the full legislature that is "highly controversial," saying they should correct the law to be in line with existing federal policy. Others who spoke in favor of rolling back the rules expressed reluctance to pass laws limiting speech in a public forum.
"It casts an undesirable light on us when issues of this magnitude aren't fully debated in both chambers, and are consistently rejected, are adopted by a committee and adopted to our full body," said Steinmetz.
Critics speak out
Numerous others, in emotional testimony, spoke to the discrimination members of the LGBTQ community faced, arguing that the Legislature should embody an ethic offering a wholesale rejection of discriminatory language. Others, like Sen. Chris Rothfuss D-Laramie, said the revision that the Management Council ultimately went with fell well short of holding to account anyone who may have discriminated against someone.
Reached by phone Thursday, Obrecht said that while specific groups are no longer included in the policy, members of the Legislature are still subject to the rules of conduct and that violations will still result in the repercussions already outlined in the latest version of the policy.
The rules just no longer outline specific characteristics for protection in the Legislature's rules.
"You're still subject to the rules of conduct the Legislature," said Obrecht.
"No" votes included Von Flatern; Sen. John Hastert, D-Cheyenne; Sen. Chris Rothfuss, D-Laramie; Rep. James Byrd, D-Cheyenne; Rep. Cathy Connolly, D-Laramie; and Rep. John Freeman, D-Green River.
"Yes" votes included Sen. Drew Perkins, R-Casper; Sen. Ray Peterson, R-Big Horn; Rep. Don Burkhart, R-Rawlins; Rep. Mike Greear, R-Worland; Rep. David Miller, R-Riverton; Rep. Steve Harshman, R-Casper; and Sen. Eli Bebout, R-Riverton.
Follow politics reporter Nick Reynolds on Twitter @IAmNickReynolds