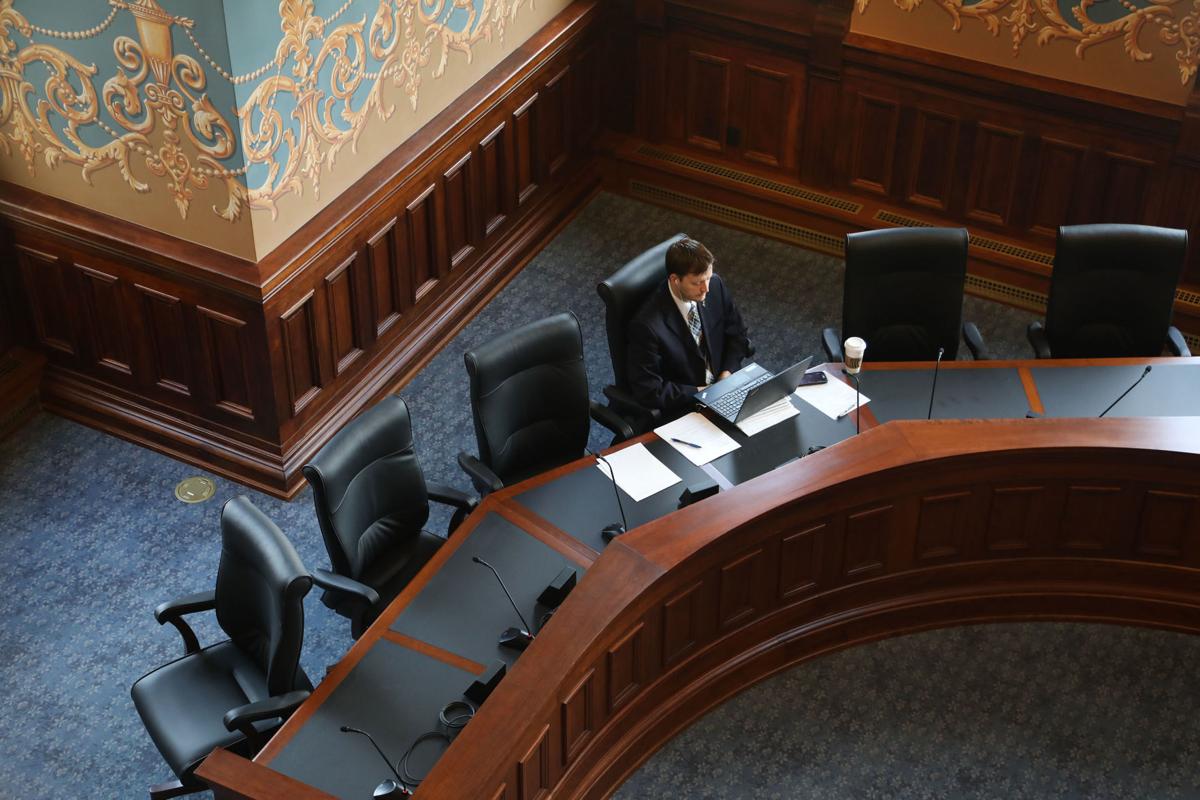 CHEYENNE — The Wyoming Legislature finalized details of a wide-ranging and historic $1.25 billion aid package Saturday afternoon, laying the groundwork for a future special session late next month.
More than $300 million in grant funding available June 1 for locally owned and operated small businesses and nonprofits across the state, including on the Wind River Indian Reservation, who were excluded from the federal Paycheck Protection Program and closed or experienced a loss of income due to COVID-19;
$175 million in assistance to local governments;
An eviction avoidance program for cost-burdened renters under the Wyoming Community Development Authority;
Major changes to the state's unemployment insurance program, including language exempting a charge to an employer's unemployment insurance account for claims directly tied to COVID-19;
Millions of dollars in funding for critical medical infrastructure around the state, as well as a substantial boost for various capital construction programs, particularly rural hospitals and other healthcare facilities.
Several components of the bill are subject to veto by the governor. However, it is unclear when he would take action on those bills.
Though details of the three pieces of legislation included in the final package were kept relatively narrow in an effort to unleash funding and stand up essential programs quickly, the final package was broadened significantly from a version debated by legislative leadership over the past several weeks — an effort lawmakers said was to ensure as much as possible of the $1.25 billion in funding is expended before a Dec. 30 deadline.
That's not to say phase one was inclusive: A number of various policy proposals raised by legislators during the process were excluded from the final package, including programs like hazard pay for state workers and a provision granting Gov. Mark Gordon significant leeway to make unilateral reductions in education spending, a policy proposal likely to come up at a future special session later this year.
Other proposals by House and Senate conservatives to flow funding directly to state residents — including $600 million in tax breaks by Rep. Chuck Gray, R-Casper, and an amendment by Sen. Bo Biteman, R-Ranchester, to implement a $2,000 direct payment program to the state's residents — were ultimately rejected by sound margins.
However, language to stand up an eviction avoidance program through the Wyoming Community Development Authority — a key component of the state's disaster response — as well as adjustments easing unemployment insurance obligations on small business owners were eventually adopted with little fanfare, even after a debate over an amendment to protect business owners from COVID-19 liability threatened to derail the bill. (That amendment, introduced by Sen. Liisa Anselmi-Dalton, D-Rock Springs, eventually passed.)
State lawmakers are not out of the woods yet. While there are still numerous bills anticipated to be discussed at a second special session next month, lawmakers will still be facing the prospect of addressing unprecedented declines in state revenues in the middle of an election year — something many believe will result in the introduction of new taxes or the slashing of hundreds of millions of dollars in public spending just years after some of the deepest budget cuts in state history.