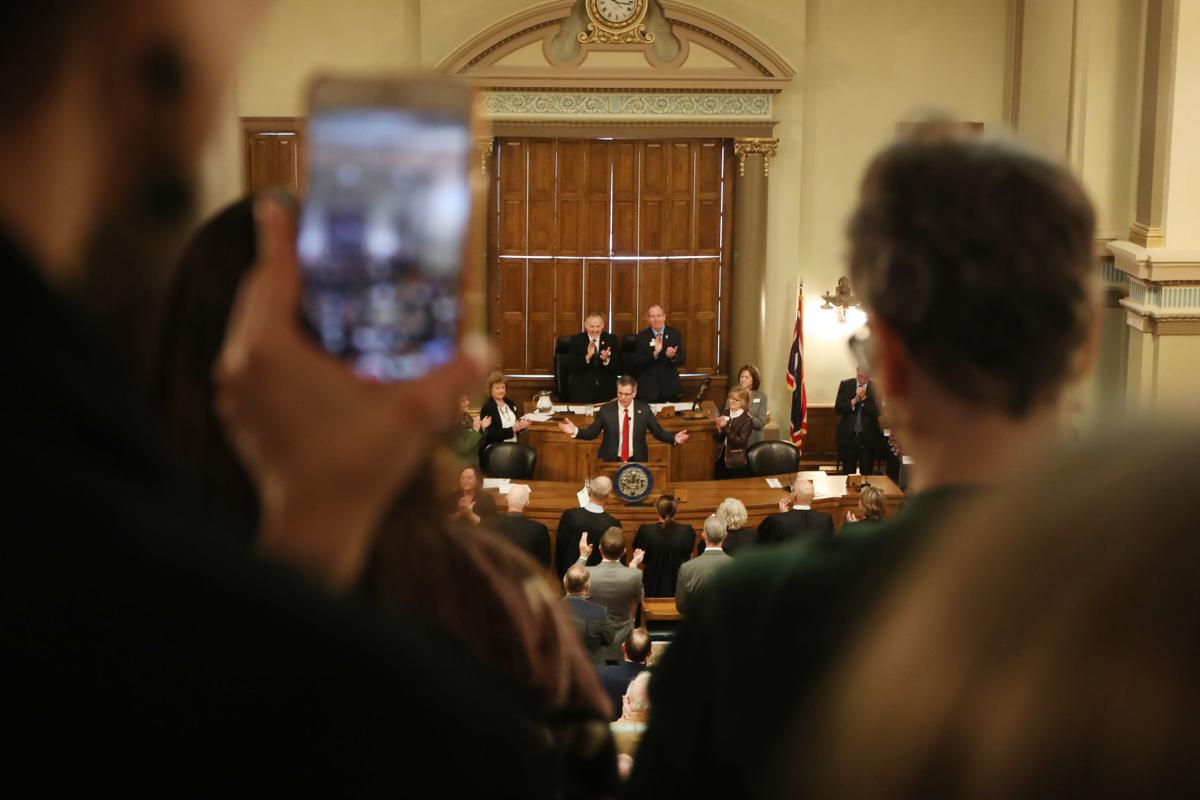 The Wyoming Legislature will likely hold its first special session in more than 15 years in response to the coronavirus pandemic, House Speaker Steve Harshman told the Star-Tribune.
What will happen – or when it will happen – is still hazy as state leaders scramble to contain the COVID-19 outbreak on top of declines in the stock market and a collapse in oil prices that have put the future of Wyoming's finances in jeopardy.
"Nothing is certain in this life, but if you read the tea leaves, I believe it's becoming more of a necessity all the time," Harshman said.
While it is unclear whether state lawmakers will have to meet later in the year to rewrite the budget it passed earlier this March, other factors – including a failed capital construction bill containing numerous, necessary projects, a potential purchase of 5 million combined acres of land from Occidental Petroleum, and the infusion of $1.25 billion in emergency funding directly to the state from the federal government – could all prompt the calling of a special session.
"Some of that will need to be appropriated," Harshman said. "So we will need to come back in a special session to appropriate a vast majority of that money."
While nothing is set in stone just yet, Harshman said that he and other legislative leaders have been in regular communication with Gov. Mark Gordon about the potential for a special session, and could have a better idea of what will happen after legislative leadership convenes for a management council meeting on April 16.
Top officials are still keeping an eye on the situation as it develops. In a phone interview with the Star-Tribune on Monday afternoon, Gordon told the Star-Tribune that while the next series of economic projections from the Consensus Revenue Estimating Group – which are used to help craft the budget – are likely to show a drop-off in revenues across the board, he believes that the current levels of revenue volatility seen in the oil sector will eventually stabilize, albeit at much lower returns than the state has currently been enjoying.
"Is there a special session in the future? There very well could be," Gordon said. "I've talked with both Speaker Harshman and President Perkins about what that ought to look like and what can be done. I've heard from lots of legislators about how important it is to do, but we're still in early days."
In the lead-up to that session, the governor said he and leadership have been discussing ways the Legislature could begin organizing the operations of a special session during its existing, interim committee meetings, whether it involves emergency healthcare legislation, the passage of a capital construction bill or an agenda for each legislative committee to parse out provisions of the federal aid package, known as the CARES Act.
"It's looking at how we can piece that out to the various committees so they can do their work efficiently, so when we come back into session – whether it's a special session, which I expect we'll have to do at some point – [we know] what that's going to look like, and how we have an efficient session where things are laid out clearly and concisely," said Gordon.
Big checks and special sessions
Special sessions of the Legislature – which can be called only by lawmakers or the governor themselves are not without precedent. However, they are highly unusual and oftentimes, very limited in scope. According to Wyoming's budget director Don Richards, the most recent special session — which took place in 2004 — related to a medical malpractice issue.
The most recent parallel to the current situation facing the state could arguably be 2009's American reinvestment and Recover Act, which provided unrestricted funding to states in the wake of the Great Recession. Those funds were eventually appropriated to their proper accounts in the 2010 budget session.
It is still unclear where the money will go or how it will be spent, Richards wrote.
"LSO is and will be working with the Executive Branch, [the National Conference of State Legislatures], and the [National Governor's Association] and ultimately appropriate federal agencies to understand what are qualifying state expenses for this federal funding," Richards wrote.
Concerned about COVID-19?
Sign up now to get the most recent coronavirus headlines and other important local and national news sent to your email inbox daily.