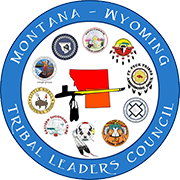 The Montana and Wyoming Tribal Leaders Council on Thursday announced its opposition to federal rule-making to delist the grizzly bear under the Endangered Species Act, and it criticized Yellowstone National Park's lack of tribal representation.
In their opposition, council members cited what they consider infringements on tribal sovereignty and a disregard for traditional spiritual beliefs in the current delisting process.
"The manner in which this process has so far been conducted without the consultation and input of the affected Tribal Nations is representative of the recent history of Yellowstone (post-1872)," the group wrote in its resolution.
Tribal leaders requested the renaming of several park features that they say are named after the "proponents and exponents of genocide."
"These names must be changed with the input of the affected Tribal Nations, just as any move to de-list the sacred grizzly bear on this ancestral landscape must involve consultation with the affected Tribal Nations," the resolution states.
The tribal leaders council includes 11 tribes from Montana and Wyoming, including the Eastern Shoshone and Northern Arapaho tribes.
Eastern Shoshone Business Council members passed their own resolution in early November opposing the delisting of grizzly bears.
The council's resolution cited sovereignty issues and said the tribe would not let the federal and state governments "inflict their policies on Eastern Shoshone tribal lands." 
At the time, the Northern Arapaho did not have a position on the issue.
The U.S. Fish and Wildlife Service has made no decision whether to propose removal of the Endangered Species Act protections from the grizzly bear, said Chris Servheen, grizzly bear recovery coordinator for the agency.
In May, Montana officials said they expect the bear to be delisted within two years.
Reach general assignment reporter Trevor Graff at 307-266-0639 or Trevor.Graff@trib.com. Follow him on Twitter @TrevGraff.
Get Government & Politics updates in your inbox!
Stay up-to-date on the latest in local and national government and political topics with our newsletter.