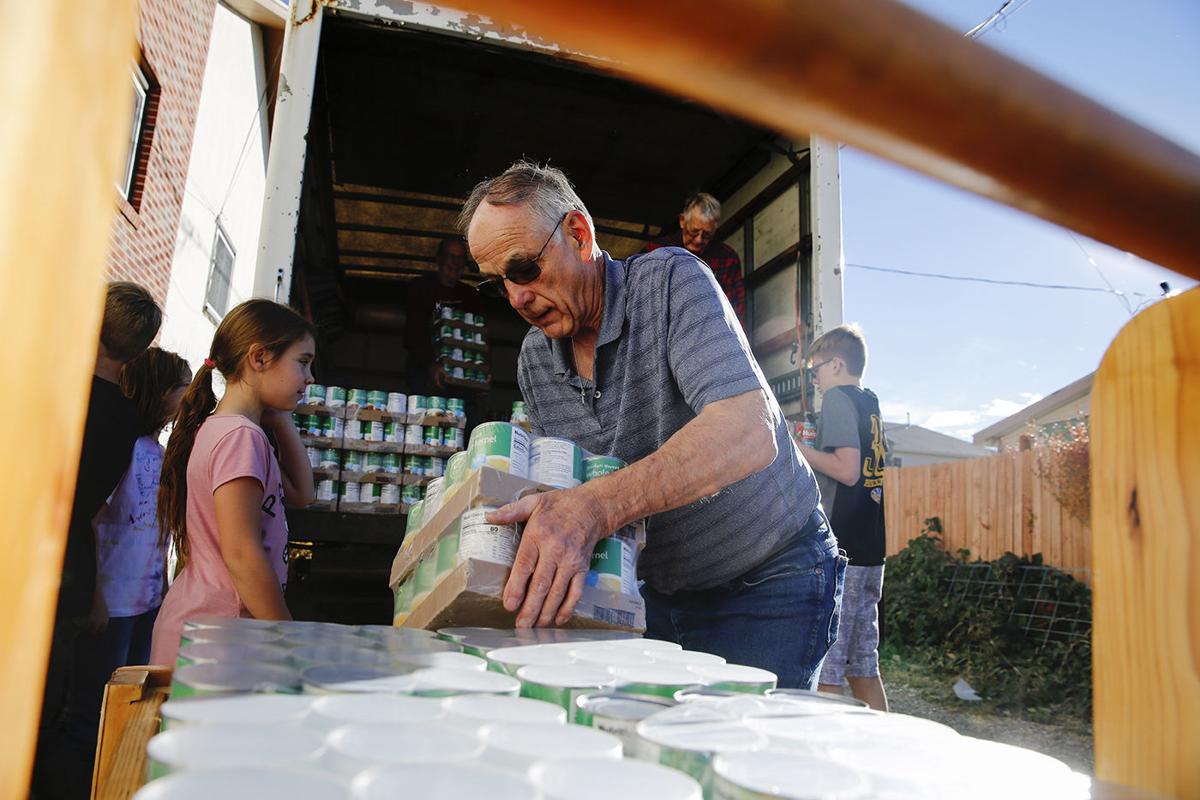 There are no shortage of groups working with food in Wyoming.
Across the state, nonprofits are looking for ways to improve the nutrition of children and adults, while local farmers and businesses struggle to get their products purchased by customers in their own backyards. Meanwhile in food pantries and church basements across the state, good-hearted people wonder how to feed their neighbors while Wyoming — with 13 percent of its people going hungry every night, according to federal data — boasts some of the lowest participation rates in the Supplemental Nutrition Assistance Program in the country.
Some believe all of those problems can be solved together. They just need a way to do it.
Wyoming, notably, is the only state in the country without a food council and, for decades, these groups have been left to sort out their problems in isolation, doing the best they can where they can. At the top, leaders have longed for a way to make sense of the chaos – looking for a way to turn the state's myriad organizations into a cohesive and coherent network where no one goes hungry, economies can thrive and citizens can live healthier lives.
It's the reason why on Friday afternoon, dozens of people from around the state descended on Casper to participate in the first-ever Conference on Forming a Wyoming Food Coalition and Action Agenda – a wide-ranging meeting to discuss ways the private and nonprofit sectors could collaborate with one another to build a sustainable food system in Wyoming.
Friday's conversation did not begin in a bubble, University of Wyoming professor and Community and Public Health Chair Christine Porter said. Rather, it comes after years of meetings around the state to evaluate the health of Wyoming's agricultural economy and some of the struggles they've had in finding their niche within the state's economy. Those conversations, however, seem to have come to a head this year, as groups like the Wyoming Business Council have begun to grow their commitment to growing the state's agricultural sector while others, like First Lady Jennie Gordon, have begun working to understand the barriers needed to address hunger in Wyoming communities.
When approaching the issue from a community resiliency standpoint, Porter said Wyoming can build a system where food grown locally can help feed local people, creating communities that are not just healthier from an economic perspective, but a health perspective as well.
"This requires us to think of this as a citizenship issue," Porter said. "Whether you're a producer, an eater or a marketer, food is not just about economics — it is also an opportunity to build our communities."
What does a sustainable food system look like?
If successful, a healthy food system would support an agronomic landscape with vibrant, local farms, strong local economies, healthy people and sustainable ecosystems – a broad mission relying on a collaborative relationship between everyone from farmers and ranchers to well-informed consumers and a cooperative government.
At this point, the challenge is figuring out how to get there.
For many of those goals to be successful, groups across Wyoming first need to learn to work with one another to leverage the abilities they do have, whether that means small producers coming together as a farm-led cooperative to nonprofits with similar missions deciding to work with one another.
"You start with the people who want to do it, and then you keep moving from there," Ageno Otii, an organizer for Denver-based engagement nonprofit Civic Canopy, told attendees. "That's the paradigm shift – it's not business as usual."
From there, those groups need something to work for. In an open-ended forum at the meeting, participants shouted out exactly what each pillar of the food system would look like, from specific recommendations on policies to their own aspirations, like improved health care for farmers to an expansion of meat processing facilities in the state.
But it also requires an understanding of how growers locally can lay the groundwork for strong economies and communities statewide. Luckily, the potential for understanding is already there.
"In Wyoming, we already have so many people who are connected to the land — we're not full of high fructose corn syrup or Doritos factories," Porter said. "A lot of us come from the land — some of us get all of our meat from hunting. I think we're more prepared to think of our food system in a more connected way."
A policy shift
Ultimately, the ambitions of Wyoming's growers and nonprofits will require imagination.
Between major socioeconomic shifts that have impacted consumers to the consequences of the dominance of big agriculture, both producers and the people they feed exist in a food system that, in many instances, is not sustainable. Farmers often work on thin margins against stiff competition while consumers sometimes find themselves subject to the whims of the economy beyond their borders, where the money they spend rarely circulates locally.
Brad Tyndall, president of Central Wyoming Community College, sees a way out.
Beyond educating producers and consumers on the benefits of a local food economy, Tyndall laid out a vision where backyard farms could become small farms, and small farms could grow into medium farms, building up an agrarian economy centered on Main Street that could retain young people, create jobs and produce local goods at a scale that, one day, could provide 25 percent of all the food in local schools and hospitals.
Getting there, he said, will require a lot, including supportive legislative, incentives to buy local and back-end support to help ranchers and growers take advantage of the resources available to them.
Right now, Wyoming lags well behind on that front. According to numbers provided by Porter, Wyoming currently ranks 50th in the country in "food investments," or initiatives that support regional food systems and make nutritious foods readily available. The state also has some of the nation's lowest participation rates in the Supplemental Nutrition Assistance Program – which can be a ready supply of fresh, nutritious food for underprivileged communities – and boasts pitifully low rates of local produce sales, at just two-tenths of a percent.
The issue of cooperation already has visibility, gaining the ear of First Lady Jennie Gordon as part of her "Feeding Wyoming" hunger initiative. But there's room to grow and, within the year, Porter not only hopes to have a food council in the works, but tangible policies to help build that network.
"That's my prediction," she said. "I'll put money on it."