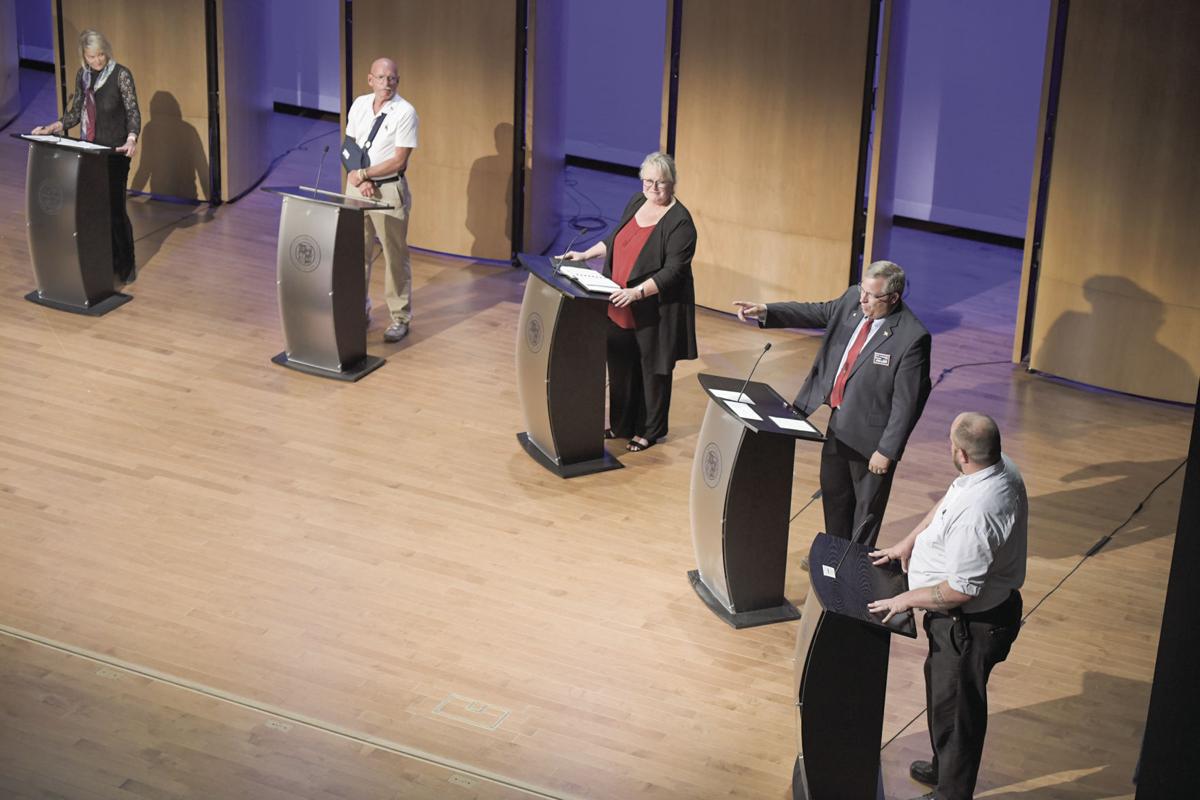 Wyoming voters got their first real look at the Republican candidates seeking to replace longtime U.S. Sen. Mike Enzi on Tuesday night in the 2020 campaign season's first televised debate.
Fundraising numbers frame the race as primarily between former U.S. Rep. Cynthia Lummis and Converse County Commissioner Robert Short. But the debate offered less of an opportunity to compare and contrast local policy viewpoints and more of a free-for-all between eight Wyoming candidates — and an outsider from Scottsdale, Arizona — who debated everything from the tearing down of Confederate statues to immigration reform to the censorship of conservatives on social media platforms.
In two one-hour segments, the candidates — divided into two randomly selected groups — were offered different sets of questions broaching a wide variety of topics, including their support for funding organizations like the Centers for Disease Control and Prevention, whether they believed systemic racism exists in the United States and how they felt the nation should rebound in the wake of COVID-19.
Short and Lummis were placed in separate groups and offered different sets of questions, leaving both to grapple with a variety of candidates without an opportunity to stack their policies against the other presumed frontrunner's.
This left the evening's debates as a sprawling affair between a broad spectrum of candidates. Lummis found herself head-to-head with Sheridan's Bryan Miller, political newcomers Donna Rice and Michael Kemler, and scrappy outsider Joshua Wheeler, who has campaigned aggressively thus far. Short found himself facing off against Laramie attorney John Holtz and Centennial resident Mark Armstrong — both of whom are registered in the state but have failed to file a single report with the Federal Elections Commission this cycle — as well as Arizona resident Star Roselli, who has done little to no in-state campaigning. Roselli endorsed an unfounded conspiracy theory that Mark Zuckerberg is the grandson of David Rockefeller and repeatedly referred to Native Americans as "Indians" throughout the evening.
Beyond the night's numerous distractions — including a long segment in the second debate about whether social media organizations should be regulated to end the supposed practice of censoring conservatives — the differences between the policies expressed by most of the candidates were few.
Those who were asked were mainly on the same page about building a physical perimeter between the United States and Mexico while expanding merit-based immigration into the U.S. Almost every candidate endorsed increasing domestic manufacturing and school choice. And all in the first debate expressed dissatisfaction with the tearing down of statues and monuments, the use of federal coronavirus relief money to reimburse states for lost revenues and Democratic proposals for some form of socialized medicine.
There were some distinctions between candidates, however. Where most candidates in the first debate were advocates of private insurance, Miller and Lummis suggested tangible policy solutions, with both advocating for the increased deregulation of insurance markets to allow interstate competition and for more price transparency from pharmaceutical companies and health care providers. Lummis also pledged support for legislation sponsored by Louisiana Sen. Bill Cassidy aiming to lower the cost of prescription drugs.
Lummis also differentiated herself from her debate field by saying the use of federal agents to quell protests in cities around the country — which her fellow candidates supported with few caveats — should only occur to protect federal property, leaving local law enforcement to the municipalities themselves.
All candidates in the first debate also agreed that structural racism — an issue at the root of widespread protests around the nation and abroad — was not a federal issue in need of Congressional action, with each stating that racism was not an issue of policy (extensive research by groups like the Urban Institute shows it is) but of the heart. While Lummis said efforts to combat racism should come at the personal and community levels, Miller claimed restorative justice programs by the government are counterproductive and have actually caused more problems in Democratically-run major cities "for decades," citing recent examples of rioting and looting.
"We need to enjoy our great diversity," Rice said in her response. "It is a beautiful, woven blanket of humanity, and we need to enjoy that and embrace it, not put each other down and look at each other differently because we have different colors of skin. I have freckles, does that make me bad?"
Candidates in the second debate grappled with a different series of issues, including topics like the national debt, reforms to social security, and the unilateral powers of the president and public health officers to make policy decisions without congressional input. (All favored local control for public health orders and were not in favor of reining in the president's ability to pass executive orders.)
Candidates also had an opportunity to weigh in on the place of federal treaties with tribal governments in land management decisions, a question that led Holtz to express his disappointment over a recent decision by the Supreme Court to prevent employer discrimination against the LGBTQ community, which he described as an expansion of "homosexual rights."
"I am in a profession that seems to have lost its moral compass," he said.
The Democratic candidates are scheduled to debate at 7 p.m. Thursday at Central Wyoming College in Riverton. A livestream of the debate will be available on the Wyoming PBS YouTube page and will be simulcast by Wyoming Public Radio.