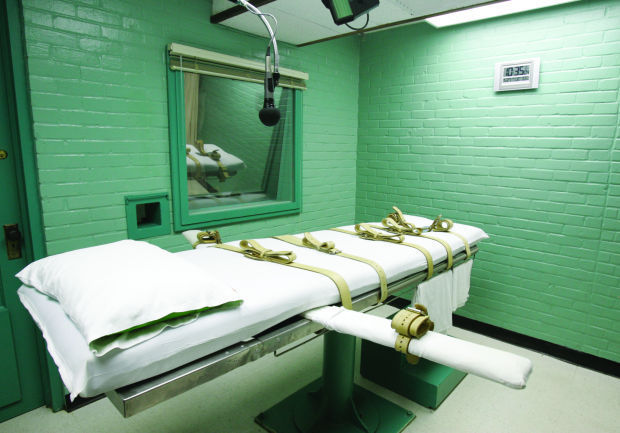 CHEYENNE — The Wyoming Senate defeated a bill Thursday that would have repealed the state's death penalty, ending the most successful legislative attempt to do away with capital punishment in recent memory.
Having passed the House by a safe margin, the bill was swiftly voted down by the Wyoming Senate on its first reading. The final vote was 12-18.
"The vote was different than I expected to see from talking with people beforehand," said the bill's sponsor in the Senate, Brian Boner, R-Converse. "There's a lot of different factors and, at the end of the day, everyone has to make their best determination based on the information they have."
Proponents of the bill argued that it would save the state money and create a more humane justice system, an argument that had gained substantial traffic in the House of Representatives. Sponsors of the bill noted that since the death penalty had been reinstated federally in 1973, approximately 165 death row inmates had been exonerated around the country and, according to research cited by the bill's sponsor and in anecdotal testimony from members of law enforcement, the threat of death was deemed to be an ineffective deterrent to committing crime.
In the Senate — which has trended more conservative than the House this session — the bill had garnered several unlikely allies. Sen. Bill Landen, a reluctant sponsor of the bill, said that after years of budget cuts and eliminating line item after line item, he could no longer go home and feel good explaining the myriad cuts he's made to the state budget while defending annual expenses like the death penalty, which costs the state roughly $1 million a year.
"Regardless of my personal thoughts — my religion doesn't believe in the right to kill people — that's not enough for me," he said.
Opponents of the bill, meanwhile, argued retaining the death penalty would allow the justice system to offer closure to victims of the most heinous crimes, and could be used as a tool to coerce confessions from the state's worst perpetrators. Others simply voted by feeling, Boner said.
"A lot of (the no votes) had a deep conviction that someone can do something so heinous that they have to die," he added. "There's no amount of reason or facts that you can give them that will change that. I also think there's a generational gap, that folks who were from a time where the death penalty were used more often are more accustomed to it. It might have worked 30, 40 or 50 years ago, but that's just not the case anymore."
Several senators had other reasons for voting against the bill. Sen. Anthony Bouchard, R-Cheyenne, said that while the death penalty could be used as an effective tool, it was also a means to keep the state's justice system from turning into the type seen in other states. He then noted that states like California — in some cases — have allowed inmates to undergo gender reassignment surgery.
"I think we're becoming a lot like other states, and we have something to defend," he said.
California, however, has not repealed the death penalty.
Sen. Lynn Hutchings, R-Cheyenne, argued that without the death penalty, Jesus Christ would not have been able to die to absolve the sins of mankind, and therefore capital punishment should be maintained.
"The greatest man who ever lived died via the death penalty for you and me," she said. "I'm grateful to him for our future hope because of this. Governments were instituted to execute justice. If it wasn't for Jesus dying via the death penalty, we would all have no hope."
Wyoming has not executed a prisoner since 1992. According to Wyoming Department of Corrections Director Bob Lampert, the average death row inmate costs the agency 30 percent more to incarcerate than a general population prisoner, with an average stay of 17 years.
Follow politics reporter Nick Reynolds on Twitter @IAmNickReynolds
Get Government & Politics updates in your inbox!
Stay up-to-date on the latest in local and national government and political topics with our newsletter.