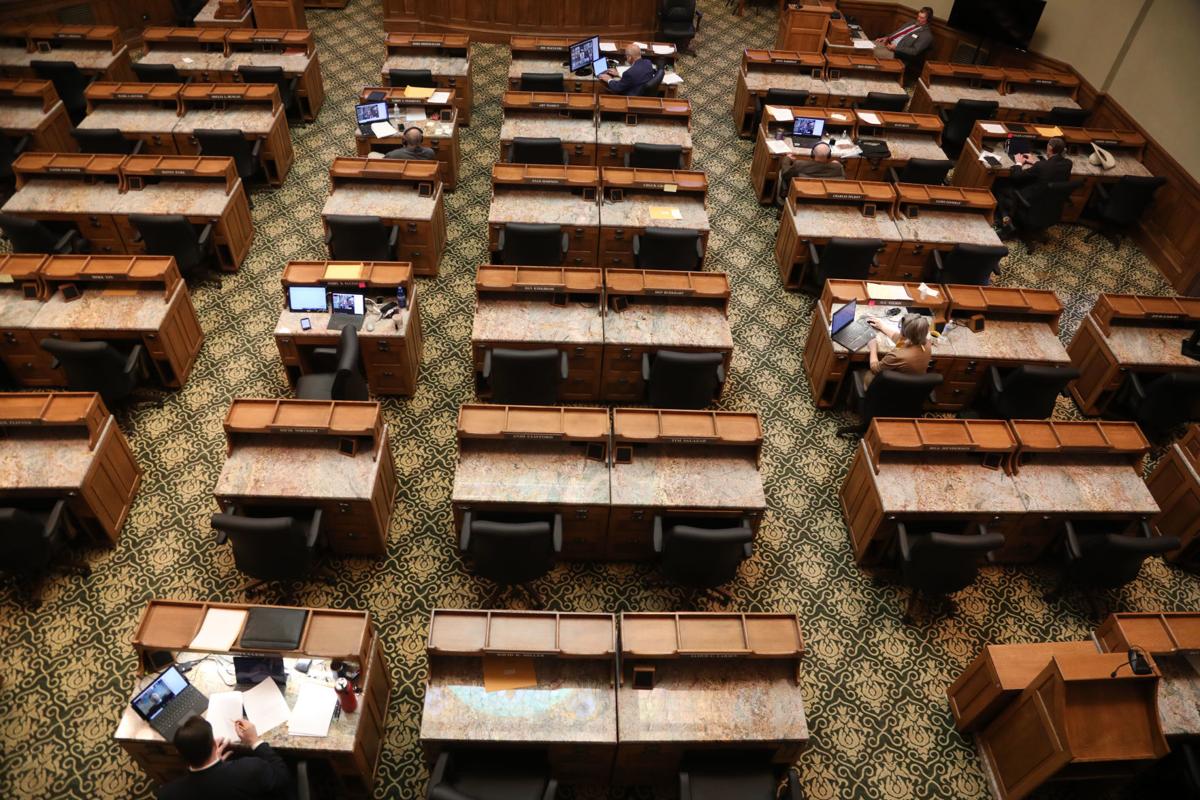 It's a conversation that has been happening in varying forms in Wyoming for decades. But no matter what the state has gone through over the years, it's seemed to be the right time to do tax reform.
Since the release two decades ago of Tax Reform 2000 – a veritable manifesto to shift the state's economy off its reliance on minerals – state lawmakers have kicked the tires on dozens of proposals for new forms of revenue, all with little success.
Through multiple booms and busts, lawmakers have categorically rejected everything from small fuel and tobacco tax increases to conceptual income taxes on the state's wealthiest individuals, only considering smaller reforms and lodging taxes when times seemed to be at their most desperate.
But this time, members of the Legislature's Joint Committee on Revenue acknowledged in two days of meetings this week, is different. A perfect storm of economic crises for the state's biggest industries has collided to put Wyoming in an estimated $1.5 billion hole over the next two years, lawmakers learned Tuesday, with the brightest spots of the state's revenues – tourism and investment income – expected to lag at unprecedentedly low levels.
Revenue from two of the state's three legacy sectors – coal and natural gas – have all but dissipated, while any meaningful gains from the remaining leg on the stool – oil – have greatly contracted and are unlikely to recover any time soon, according to a report by the Consensus Revenue Estimating Group released Tuesday.
This, in effect, has set the state up for an even slower recovery. The mechanism used to fund numerous functions of government – sales tax – is tied closely to the energy sector and rife with exemptions, designed in such a way that any detrimental impacts to minerals will have an equally negative effect on everything from funding government to keeping up with the cost of the state's K-12 education system.
The minerals industry's share of property tax revenues – often considered a reliable source of income – has fallen by 15 percent over the last decade, Wyoming Department of Revenue Director Dan Noble explained Wednesday, while the state's sales tax system – set at low rates and with numerous exemptions – are inherently volatile, yielding high returns when energy is booming and low returns when it is not. According to a Wednesday presentation by Noble, a majority of the funding sources for areas like education, infrastructure and government operations are rated as "volatile" to "extremely volatile," with the worsening performance of sectors like oil, gas and coal resulting in diminishing returns for the state.
COVID-19 has only exacerbated that problem, wreaking havoc on consumer spending and energy demand at a time where global markets have never been more competitive.
Without meaningful reform, these conditions are projected to drain the state of all of its savings by next summer, leaving Wyoming with few meaningful sources of income, no reserves and no time left to make the decisions necessary to stave off disaster.
"This is not temporary," Revenue Committee co-chair Sen. Cale Case, R-Lander, said in an impassioned speech to committee members on Wednesday afternoon. "I keep hearing people who believe this is going to get better. But for the past 10 years, coal has been in decline. For the past 10 years, natural gas has been in decline. And it's been in decline substantially – a third of those revenues have gone away. That isn't a temporary phenomenon. Gas markets are fundamentally different than what they used to be when Wyoming was at the top of the heap. Coal… it's just gone, everybody. I wish it would come back, honestly, but the world has truly moved on.
"We have had a structural deficit and dipped into savings for years now," he added. "We've all said, 'We've got to fix it,' and we haven't."
Tough choices ahead
Any solution, committee members admitted in a wide-ranging dialogue Wednesday, will inevitably be unpopular, requiring a combined billion-and-a-half dollars' worth of new revenues and cuts at a time where Wyomingites have already been deeply wounded by the economic crisis. Statewide unemployment, as of April, stood at over 9 percent, and even as economies begin reopening in limited capacities, municipalities around the state have already begun to furlough and eliminate positions in anticipation of deep shocks to their own budgets.
It's a conundrum that makes the discussion of meaningful reform even more challenging, some committee members noted. Rep. Cyrus Western, a first-term Republican lawmaker from Sheridan, argued the optics of committee members responding to an economic crisis with tax increases sent "the wrong message," and that the Legislature has an obligation to make as many reductions in spending as possible to avoid significant impacts on their constituents.
Others like Sen. Bo Biteman, R-Ranchester – a staunch fiscal conservative generally opposed to most tax increases – advocated for deep cuts as well as a revenue-neutral broadening of the state's tax structure, offering up a suggestion to raise sales tax rates in exchange for the repeal of a business property tax opposed by a number of industry figures in oil and gas.
Whether either solution will be enough to balance the state's budget, however, is unlikely. A projected $1.5 billion deficit over two years is no small amount to take on, and will likely entail unprecedented reductions in spending as well as an expansion of revenue never before seen from state government. Even if the federal government decides to bail out state and local governments in future rounds of federal relief funding – which many Republicans in the Senate oppose – the underlying issues won't go away.
"Even if the feds bail us out, that's a COVID-19 kind of backfilling," Rep. Cathy Connolly, D-Laramie, said of Biteman's proposal. "We have some real structural problems that we knew were coming, and they've just hit. They've really hit. This isn't just a COVID-19 issue anymore. We have some really hard decisions to make about how to restructure our economy going forward."
Belt-tightening, new taxes, or both?
That solution, everyone noted, will require steep cuts in spending.
Some savings are already being identified: Gov. Mark Gordon has proposed the slashing of 20 to 30 percent of every agency budget, lawmakers have already announced intentions to implement steep cuts to education and other state agencies, and the state continues its work on efficiency measures that could potentially save Wyoming up to $135 million per year once fully implemented.
But what about the rest of the money? Notably, Wyoming – several years removed from hundreds of millions of dollars in cuts to nearly every aspect of the budget – has struggled to identify additional savings in recent years. Even after passing a slimmed-down budget in March, the Legislature relied heavily on oil revenues to make it happen, rejecting most broad-based revenue options to balance the budget.
Passing all of the most ambitious options from recent years – worth $779 million under 2019 conditions, according to an LSO report – could help take a substantial chunk out of the deficit. However, chilling factors like an election year, a cost-burdened workforce and immense pressure from industry groups could make any number of those solutions unpalatable options heading into a 2021 general session.
Chris Brown, a lobbyist for the Wyoming Restaurant and Lodging Association, noted that a number of Wyoming corporations are seeing year-over-year declines of 40 percent, while other lodging and retail businesses – including big box stores that would likely be subject to a proposed corporate income tax – have experienced double-digit losses or even shut down operations entirely due to current economic conditions around the state.
Then there are novel approaches: Rep. Timothy Hallinan, R-Gillette, proposed using the state's savings to bond for $500 million to balance the cost of government to stave off steep cuts as well as steep tax increases.
Even ideas unpopular with the Legislature could be getting a dusting-off: Medicaid expansion – a political nonstarter for lawmakers for most of the past decade – could help bridge some of the gaps, some lawmakers on the Revenue Committee have argued.
Lawmakers will study the issue at a meeting later this summer. Whether Management Council – which has pushed the proposal – will push for it in a special session anticipated for late June, however, is unclear.
"There's a need to do something now," Connolly said Wednesday. "We recognize more people than ever will be unemployed. They will be unemployed for a while. And we need healthcare for them while they are unable to work. We don't want people to pack their bags and leave because they can't afford healthcare."
Concerned about COVID-19?
Sign up now to get the most recent coronavirus headlines and other important local and national news sent to your email inbox daily.