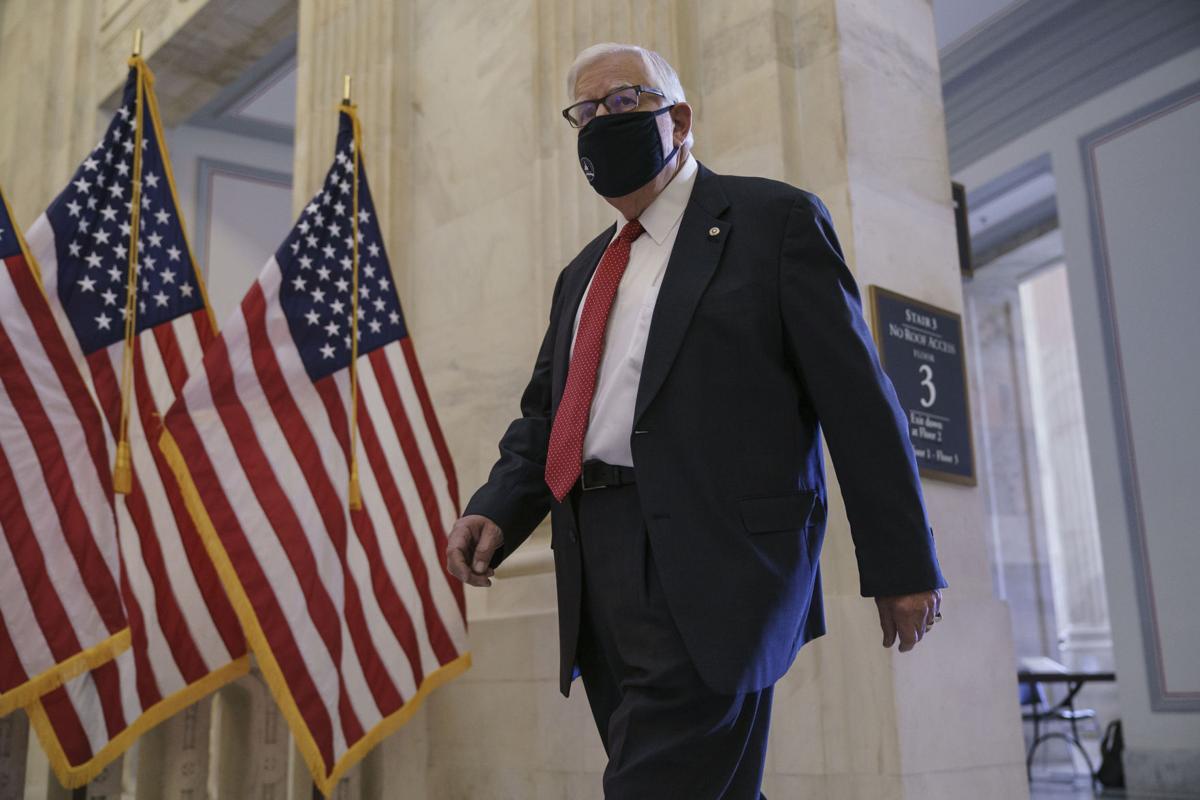 Wyoming's senior U.S. Sen. Mike Enzi gave a final speech on the Senate floor Wednesday afternoon, capping off 24 years of service representing the Equality State in Washington.
Considered by some in the national's capital as the "most effective lawmaker you've never heard of," Enzi — a former mayor and state lawmaker — finished his career with more than 100 bills signed into law by four different presidents.
In a little more than 20-minute speech on the Senate floor, Enzi focused on the need for his colleagues to find common ground with one another to help move the country forward, particularly in a political environment significantly more polarized than the one he inherited when he was elected to replace his mentor, Sen. Al Simpson, in 1996.
"I believe it involves focusing on common ground over compromise, especially when it comes to legislating," Enzi said. "People sometimes think compromise is the answer. I think it means I give in to something I don't like, and you give into something you don't like, and then we wind up with something no one likes. It's not legislating. But when it comes to legislating, often the best way to get something everyone can agree on is to leave out the things you don't agree on, and focus on what you can get done."
Though he dusted off the usual anecdotes about his popular "80-20 rule" — focus on the 80% of issues different parties can agree on, rather than the 20% they don't — Enzi also emphasized the need for lawmakers to address the fundamental issues that feed into the gridlock in Washington.
These include passing of reforms like relegating only one subject per bill (something already featured in Wyoming statute), fostering a greater environment of respect toward one another within the Senate chambers and slowing down a legislative process too focused on rushing bills to the floor straight from committee — a tradition he says results in battles over amendments on the Senate floor that result in poor legislation.
"The difficulty is that each party is so worried about the next election, looking to hold onto the majority, that everybody is either trying to force the other side to take politically perilous votes, or trying to avoid taking those votes themselves," Enzi said. "No matter which party is in charge, we end up blocking amendments and shying away from allowing legislation to be altered on the floor of the Senate."
The solution to all of those problems, he said, were embodied within the spirit of the 80-20 rule.
"This way of working also ensures that we can disagree without being disagreeable," he said. "There is a lot of vitriol in our politics and our world right now, but you can stay true to what you believe in without treating others badly. Nothing gets done when we are just telling each other how wrong we are. Just ask yourself, has anyone ever really changed your opinion by getting up in your face and yelling at you, or saying how wrong you are? Usually that doesn't change hearts or minds. That might make someone feel better in the moment, but it doesn't do much for getting anything accomplished.
"Following the 80% tool will not get you notoriety, fame or even the headlines," he added. "Most media coverage requires 'blood in the water.' However, the ability to work among your peers using this method can — and will — move us forward and get things done."
The state's longest-serving senator since Francis E. Warren — who represented Wyoming in Washington for 23 years — Enzi will be succeeded by former Congresswoman Cynthia Lummis, bringing an end to a political career that began roughly a half-century ago when he first ran for mayor of Gillette. But Enzi's speech was also a reminder of the intimate nature of Wyoming's politics even today.
In his own remarks, Sen. John Barrasso — a fellow former member of the Wyoming Legislature — called Enzi not only a policy maker, but the Senate's "peacemaker" as well, noting that his mother-in-law, Jerri Brown, was actually Enzi's Sunday school teacher while the senator was growing up in Thermopolis. He was such a stellar student, Barrasso said, that Brown even gifted the future senator his first Bible, which Enzi still owns today.
"The Cowboy State and the Capitol are going to sorely miss Mike Enzi," Barrasso said.



Photos: A look back at when Sen. Mike Enzi announced his retirement