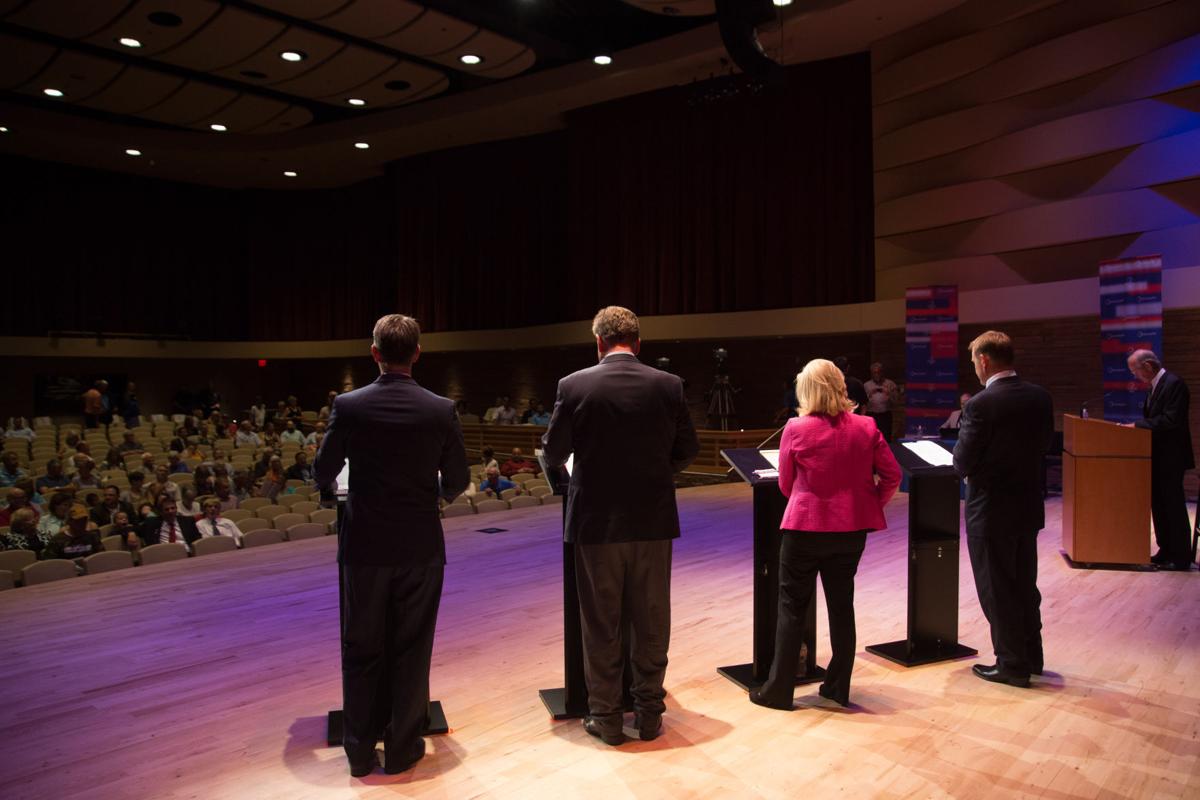 Leading candidates for Wyoming's U.S. House seat used wit, passion, knowledge and even shock during last week's debate in attempts to win over the roughly half of GOP voters who are still undecided.
The Aug. 2 debate in Casper featured the GOP frontrunners in the race for Wyoming's only U.S. House seat, according to a poll commissioned by the Star-Tribune and Wyoming PBS. In that poll, 52.3 percent of registered Republicans surveyed said they did not know who they were voting for in the Aug. 16 primary.
Some of the statements made by Liz Cheney, Leland Christensen, Darin Smith and Tim Stubson may not be entirely accurate, a fact check shows.
Cheney on Christensen's abortion record
Cheney: "And I'm sure that Leland doesn't want you to look closely (at his record), because when you look closely you find out Planned Parenthood has praised Leland Christensen for votes that were pro-abortion in the Wyoming state Legislature. You'll find out Leland Christensen was actually praised by an affiliate of a radical environmental group, a group that in fact supports the Clean Power Plan, a group that supports the moratorium on coal leases on federal lands."
The Cheney campaign sent the Star-Tribune a link to a 2011 Planned Parenthood of the Rocky Mountains newsletter that discussed two anti-abortion bills before the Wyoming Legislature: "Sen. Leland Christensen, who cast the deciding vote on one bill that made it to the Senate floor, said that his decision was solidified because of letters he received from constituents," it said.
The bill would have required doctors to inform women seeking abortions of medical and psychological risks of ending a pregnancy, remind them they could look at an ultrasound of the fetus, direct them to counseling and other services and discuss birth control. Doctors were supposed to present their patients a form to sign, confirming they were provided the information, which Planned Parenthood called biased.
"I did receive support from my community to not mandate what doctors said to women," Christensen said after the debate.
Christensen said the bill raised questions about enforcement, and one of the co-sponsors said that if the state needed to install cameras in exam rooms, it would. As a legislator and husband, Christensen said, that made him uncomfortable.
Christensen's campaign adviser Kristin Walker said Thursday he is pro-life but that the bill was unconstitutional and he couldn't vote for it. She said politicians can't stop groups from talking about them, and Cheney should know that because Gay & Lesbian Alliance Against Defamation (GLAAD) and The Advocate have written about her positively.
The Star-Tribune asked Cheney's camp about the praise she said Christensen received from the environmental group. It said Christensen scored 92 percent out of 100 in 2011 with the now-defunct Wyoming League of Conservation Voters, an affiliate of the national League of Conservation Voters.
The national organization supports the Clean Power Plan, saying in a recent statement it expects the Supreme Court to ultimately uphold the proposal, which is President Barack Obama's signature anti-climate change regulation.
Walker said Christensen has also supported legislation to protect farmers, ranchers and landowners, who are great stewards of Wyoming lands.
"Unlike Liz, Leland has an actual record of working and voting to stop the Clean Power Plan and the coal lease moratorium," she said in a statement. "In the Legislature he has supported measures to bar the DEQ from devoting funds to (plan) for the rule. And he's repeatedly worked to end the coal lease moratorium, including participating in a BLM public scoping session on the issue in Casper in May."
Christensen on whether the U.S House has a role in retraining coal workers
Christensen: "I think the opportunity here — and it's something again that's doable — is to simplify and streamline the application process for states to be able to use those federal training funds… It's also about increasing the amounts that states can hold and save for those retraining opportunities."
The Star-Tribune asked Christensen's camp to explain the troubles with federal training money. Walker, his adviser, said the Carl D. Perkins Career and Technical Education Act hasn't been reauthorized for a decade. When it gets reauthorized, Christensen hopes states get more flexibility in retraining programs.
Jim Rose of the Wyoming Community College Commission said that the Workforce Innovation and Opportunity Act provided recently adopted by Congress allows for more flexibility in spending than previous job training laws. He said Wyoming's Sen. Mike Enzi has worked on the bill and has championed for more state control over the money.
At the end of March, some 500 coal miners were laid off from Wyoming mines. Rose said the Department of Workforce Services and the community colleges raced to the affected communities to help workers.
"To say there's a horrendous process for them to get though — Workforce Services and our college folks worked really well together during the first weeks of those layoffs," he said. "A lot of people were given guidance in terms of education opportunities and enrolled in some of those programs."
Rose said that perhaps laid-off workers are complaining to Christensen and not him. Rose also recommended the Star-Tribune talk to the Wyoming Department of Workforce Services, since the agency receives the bulk of federal training dollars. The Star-Tribune tried contacting two Workforce Service employees late Monday afternoon but was unable to connect with anyone.
All candidates: Federal regulation is responsible for coal's downturn
Christensen: "Once again, we see federal regulation getting in the middle and tamping down and holding down our energy industry. We saw it with coal and how the EPA went after the coal industry."
Stubson: "You look at, for example, coal: a resource that is abundant, that's available, that's affordable. And yet you have spoken policy of just taking that resource off the table."
Cheney: "It's a matter of being in a position where we're saying we're going to repeal the Clean Power Plan, we're going to repeal the Mercury Air Toxic Standards. The U.S. House of Representatives ought to pass legislation that says EPA cannot regulate carbon dioxide as a pollutant."
Smith: "We're not going to need less coal miners, we're going to need more. Because the problem right now is over regulation is choking out our coal mining industry… Let the free market roll. Coal will take care of itself."
Robert Godby, who studies energy economics at the University of Wyoming, said that's not entirely true.
"If there's been any war on coal, it was declared by natural gas," he said. "That's the primary reason. Regulation is secondary."
Natural gas prices, thanks to hydraulic fracturing, have in recent years been a third to a quarter of historic prices. It's cheaper for utilities to generate electricity using gas than coal, he said.
The 2015 mercury rule resulted in utilities across the country closing about 20 gigawatts of coal power plants.
"Twenty gigawatts sounds huge," he said. "The majority of plants, the ones that shut down, were old, unprofitable plants. There has been some effect from regulation. But by far the more impactful outcome has been fracking."
The Clean Power Plan wouldn't go into effect until 2022 and it's currently on hold by the U.S. Supreme Court, Godby said.
"Really what the Clean Power Plan is affecting is not current coal consumption but decisions of utilities to build new coal plants or gas plants instead," he said. "Why would they build a gas plant? Primarily because natural gas is so cheap... Natural gas creates half as much greenhouse gases."
Stubson on the rising cost of college and student debt
Stubson: "You have an administration that points an accusing finger at colleges regarding loans and yet adopts policies that make it more expensive to provide that college education. You look at accreditation, and the federal government has a stranglehold on how schools are accredited. And we've seen it in Wyoming. Community colleges that have to make unnecessary expenditures to meet these imposed accreditation requirements that don't improve the scores of students. That's the kind of thing we need to turn away from."
The Star-Tribune asked the Stubson campaign which policies the administration adopted to make it more expensive. Stubson's campaign manager referred to research by the Federal Reserve Bank of New York, which analyzed the effect of the government's elimination of private lenders in the student loan system beginning in 2010. The New York Fed found "that institutions more exposed to changes in these programs increased their tuition disproportionately around these policy changes."
The newspaper asked the campaign manager, Deke Dunn, how the feds have a stranglehold over accreditation. He sent a federal statute, the Higher Education Opportunity Act, allows a commission to advise the U.S. education secretary on which accrediting agencies to recognize. But the act limits the number of accrediting agencies to about 10, he said. He said that the accreditation process lacks transparency.
Anne Alexander, an associate vice president at the University of Wyoming, said the federal government is not directly involved in accreditation and that the education secretary selects agencies that are reliable authorities on what constitutes a good education. She said accrediting agencies establish academic standards for colleges, by requiring curriculum being state-of-the-art and meeting employer needs, that the colleges are well-run with sound financials.
The Star-Tribune asked Dunn about unnecessary expenditures and he pointed to an regulation the U.S. Department of Labor instituted in May that increases from $23,660 to $47,476 the rate at which salaried employees are eligible for overtime. He sent information from the American Association of Community Colleges, saying its schools would be affected.
Rose, of the Wyoming Community College Commission, said no financial administrators from Wyoming's community colleges have brought the issue up to him. Some community colleges rely on full-time faculty, but others, such as Laramie County Community College, have many adjunct faculty. The adjuncts would not be included in the regulation.
"Raising that threshold may institute some changes in in personnel costs, but my suspicion is it's not going to be dramatic," Rose said. "And that's based on there's been a complete absence of discussion on this at our level."
Smith and Cheney on Planned Parenthood
Smith: "I'll tell you right now, Planned Parenthood, the main thing that they do is abortions. And what they did with the tracking with human body parts is abominable. In fact trafficking human body parts should be illegal. These people should have gone to jail. So we should defund Planned Parenthood completely. The idea that they do other things that are good for women, if that's true, being what they do is abortions, we can actually piece that out to other clinics throughout the state."
Cheney: "I believe not only should we end all federal funding for Planned Parenthood, I believe Planned Parenthood should be investigated. And I think it ought to be shut down and prosecuted. What they're doing in terms of trafficking in baby parts is shameful, and reprehensible."
The Star-Tribune asked Smith to provide evidence that most of Planned Parenthood's activity is abortions.
He sent information from the Susan B. Anthony List, a group that says it wants to end to abortion and is endorsing Cheney in the race. The group claimed Planned Parenthood performed nearly a million abortions between 2012 and 2014, and "abortions made up 95 percent of Planned Parenthood's pregnancy resolution services." It didn't provide information on how many women total it treated or how many total office visits it had per year.
About 3 percent of Planned Parenthood's patient work is abortions, and the organization doesn't receive federal money to perform them, said David S. Cohen, a law professor at Drexel University in Philadelphia.
"This person is really manipulating the truth," he said of Smith. "It's such a small proportion of what Planned Parenthood does."
Planned Parenthood also screens women for cervical and breast cancer, performs routine gynecological care and helps patients obtain birth control, Cohen said.
"The federal money goes to those other services for indigent women who can't afford them," he said.
In Wyoming, there is only one Planned Parenthood clinic, in Casper. It does not provide abortions, said Sharon Breitweiser of NARAL Pro-Choice Wyoming.
The state has two abortion providers, both in Jackson: Emerg-A-Care and Women's Health and Family Care, according Women for Women's website, which says it is dedicated to reproductive health services.
The Star-Tribune asked Smith's and Cheney's campaigns about trafficking in fetal tissue.
Smith provided only the Susan B. Anthony List information for all of his abortion comments.
And Cheney's campaign, in response to the newspaper's request for research supporting her claims, sent a statement: "Liz stands by her statements 100 percent," said her campaign manager, Bill Novotny.
Last year, an anti-abortion group called the Center for Medical Progress showed a video that it said proved the organization benefited from selling fetal tissue. Cohen, the law professor, said the videos were creatively edited.
The video and Planned Parenthood was investigated, and "every investigation into this has concluded Planned Parenthood has followed the law with respect to fetal tissue donation," he said.
Fetal tissue donation is legal for use in medical research. Federal law allows organizations to be reimbursed for staff time, transportation and administrative overhead involved in donating the tissue, Cohen said.
"We're talking tens of dollars here," he said, adding that only a small number of Planned Parenthood clinic donated tissue.
Follow political reporter Laura Hancock on Twitter @laurahancock