MISSOULA, Mont. — Three not-so-little bears — actually six grizzlies — have been caught in compromising positions in the past week.
A photograph posted by Ben Hodgskiss on Facebook shows a mama grizzly and two cubs looking a little sheepish last Saturday, after he caught them in one of the grain bins at his farm between Choteau and Augusta, Montana, on the Rocky Mountain Front.
The sow displays her fashionably long front-paw nails while looking at the cement floor of the bin, while the two cinnamon-colored cubs stare down in the opposite direction.
Hodgskiss' wife, Chrissy, said he was out in the fields and decided to swing by the empty 30-foot-tall grain bin. Its door was removed; Chrissy Hodgskiss said the nine known grizzlies on their farm can "rip the doors off like tin."
When Ben Hodgskiss peeked inside, he saw the three bears.
"She was very non-aggressive; maybe she felt safe in there," Chrissy Hodgskiss said. Her husband left the area after snapping the photo, which has been shared on Facebook more than 225 times. When he returned two days later, the bears were gone.
The other three bears were photographed lolling about on a lawn near Crane Mountain south of Bigfork Tuesday. The three males aren't paying any attention to the nearby lawn furniture.
Butch Larcombe, whose neighbor snapped the photo, said the three brother bears have been hanging out in the subdivision, which has fewer than 20 houses, for about a month. His wife saw them playing outside of their house at 4:15 a.m. Wednesday.
"She watched them for about five minutes. They were eating berries, and we have a pile of antler sheds they were grabbing. They were rolling on their backs, playing with the antlers, having a grand old time at 4 in the morning," Larcombe said. "I'm a little reluctant to go out and walk our dog in the neighborhood. ... They're not acting threatening but they're not avoiding the houses.
"I think a lot of us have mixed feelings. It's good to see grizzlies — a lot of people never see them and we're seeing them up close and personal, so that's a treat. On the other hand, we're concerned because inevitably those bears may get into trouble."
Larcombe has been in touch with Tim Manley, a bear specialist with Montana Fish, Wildlife and Parks. On Thursday, Manley said the three bears were about 2 years old, and probably got kicked out by their mom after she mated this year. He first became aware of the three sub-adults when they were hanging out near Ferndale.
"They've been all over the place," Manley said on Wednesday. "We haven't trapped for them, but probably will now because they're lounging in the yard. In that subdivision, people cleaned up the garbage, there's no dog food or bird feeders out, so they're not getting into stuff. But they're obviously very comfortable. They're feeding on stuff like serviceberries, chokecherries, and eating some apples."
While he appreciates the neighborhood tolerating the bears, Manley said people instead should haze them by banging pots and pans, yelling, or blowing loud air horns to let the bears know they're not welcome guests.
"Instead of taking pictures they should make them leave," Manley said. "They probably enjoyed seeing them, but teaching bears it's OK to do this isn't good.
"We just caught a 2-year-old male grizzly on the outskirts of Kalispell. The bear was first reported to be eating chokecherries, and he wasn't a problem but he was in the yard. The next call we get is he's into garbage. So we caught him, collared him and will probably release him tomorrow."
You have free articles remaining.
Manley anticipates setting up traps for the Bigfork-area bears on Thursday. Once they're caught, they'll probably be collared and released elsewhere.
Manley said this year has been an "interesting" and busy one for conflicts, with the Flathead having a lot of bears in the valley who didn't move into the mountains because the lower berry crops are so lush.
"The young bears are brought down in the spring time (by the sows) and she breeds, then leaves them. They stay in the valley as long as the food sources are here; there's no reason for them to leave. I think it becomes a learned behavior," Manley said.
Closer to Missoula, black bear and grizzly conflicts are down this year, according to Jamie Jonkel, another Fish, Wildlife and Parks bear specialist. He attributes that to the cooler weather this spring that led to the proliferation of berries and a lot of fawns and elk calves for them to hunt.
"All in all the season's been pretty quiet but people are seeing a lot of bears," Jonkel said. "We had a rash of reports of grizzlies working the Rattlesnake but we sent some folks out who got great pictures of a black bear that had color patterns similar to grizzlies.
"But it wouldn't surprise me to see them in the Rattlesnake. Every day we're seeing more grizzly activity."
He's also seeing a "pulse of activity" by bears in the Grant Creek drainage, based in large part on the berries. The highest area of conflict with bears, however, is in the Highway 12 corridor from Lolo Hot Springs to the town.
Overall, Jonkel said bears are drawn to lush lawns with their automated sprinkler systems, as well as fruit trees.
"They've turned home sites into an oasis, Shangri La or Nirvana," Jonkel said, laughing. "Up the Blackfoot, there's some ancient old grain bins, and the grain starts to ferment then go to sugar, kind of like black molasses. Those old bins are like Eden to them."
So far, 26 grizzly bears have been killed in the Northern Continental Divide Ecosystem, which includes two near Seeley Lake and one roaming in the Stevensville area. The main reason for mortality is livestock depredation. Three were hit by trains, and two killed by vehicles.
Bear activity is expected to pick up in the next few months as they enter the hyperphagia stage, where they try to consume close to 30,000 calories per day before hibernating. Dillon Tabish, a spokesperson for FWP, said groups who want to learn more about peacefully co-existing with grizzly and black bears are encouraged to call the state agency, and bear managers are happy to provide presentations.
Jonkel said people also need to put away bird feeders from April 1 to December, and if they have to put one out to keep it away from a home and hung high enough so the bears can't reach it. Dog food and garbage need to be secured inside a building, and fruit should be removed from trees instead of letting it fall to the ground.
"We're just heading into our bad conflict season; October always is the worst," Jonkel said.
Grizzly cubs near Fishing Bridge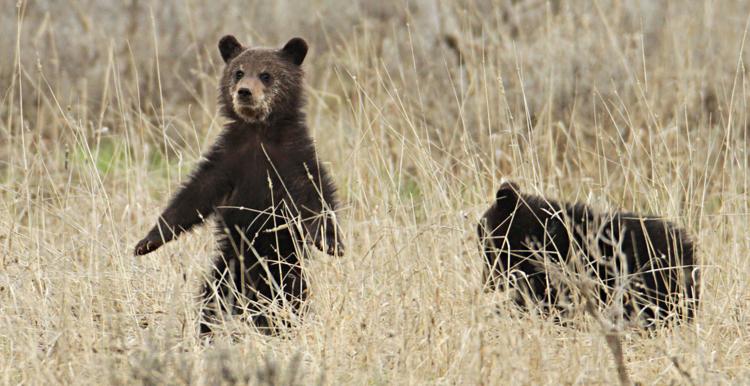 Grizzly bears take turns eating a bison carcass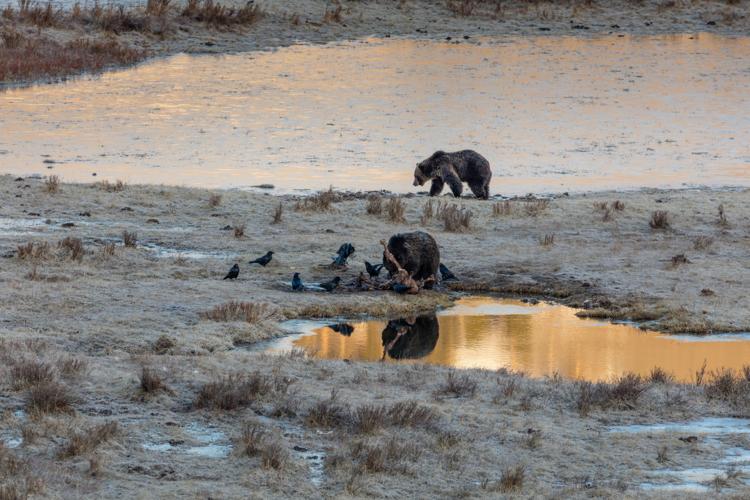 Grizzly bear walks along the edge of Blacktail Ponds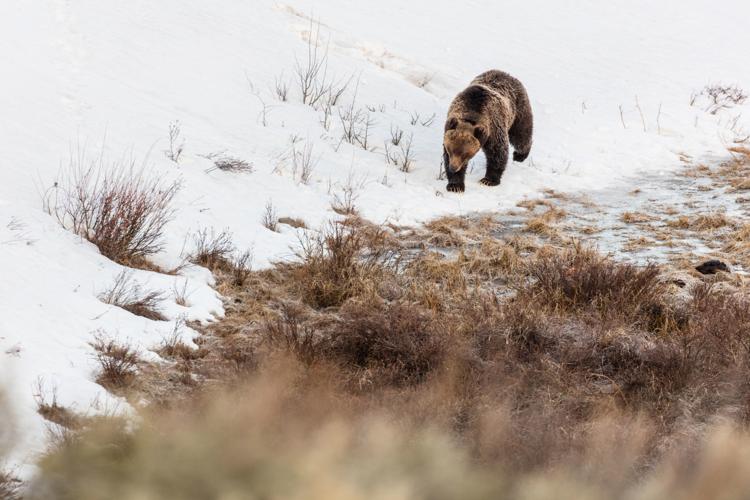 Grizzly sow nursing cubs near Fishing Bridge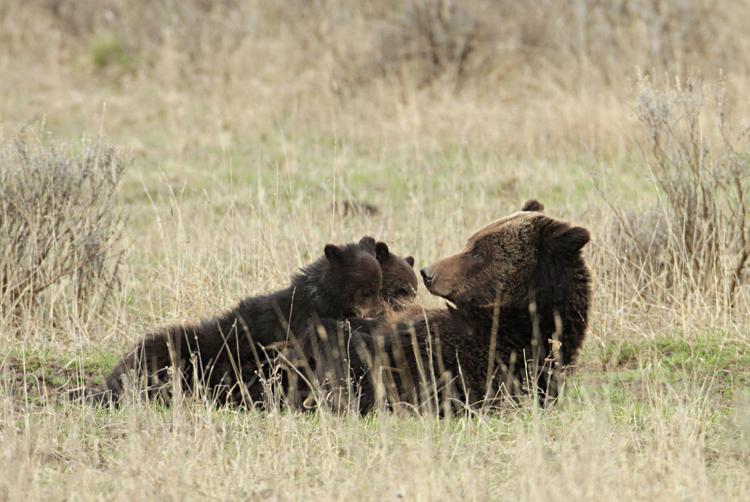 Grizzly bear tracks on snow near Pelican Creek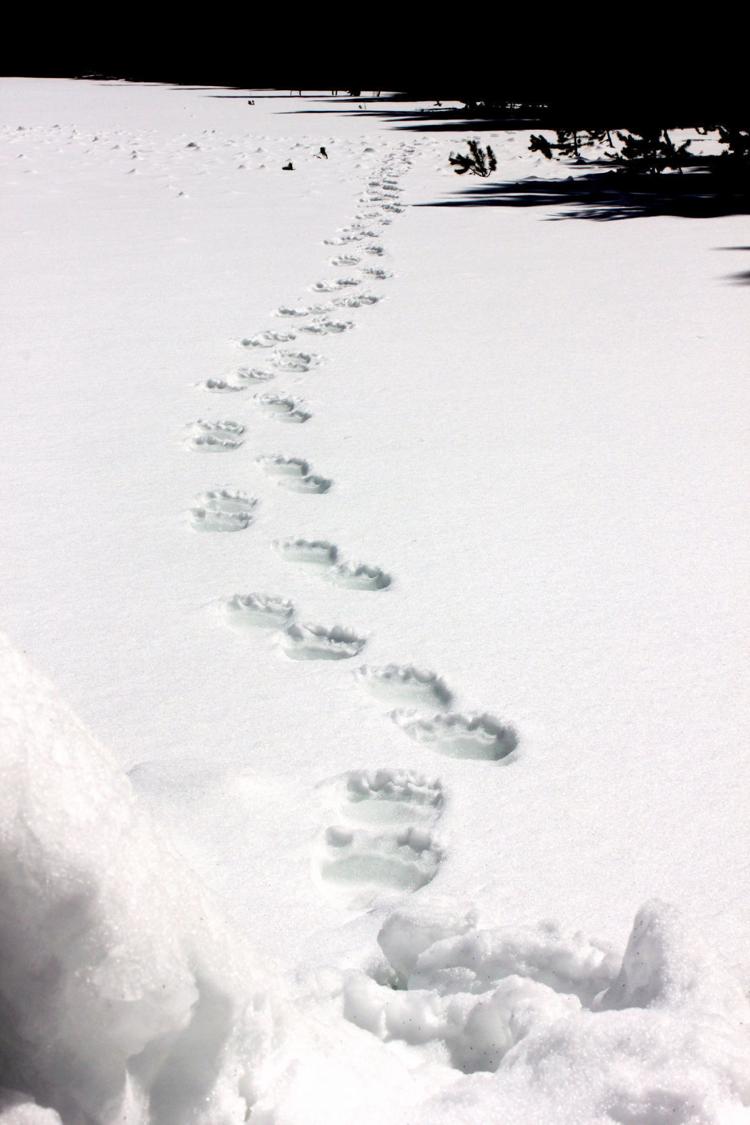 Grizzly sow with three cubs on carcass at Alum Creek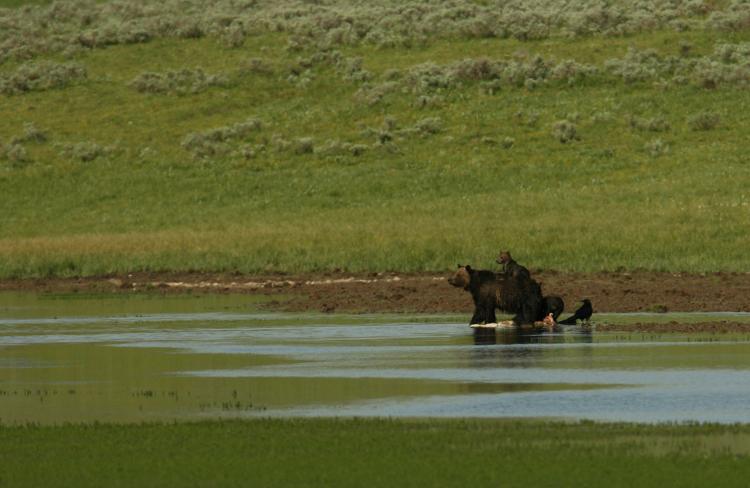 A grizzly bear walks in a grassy meadow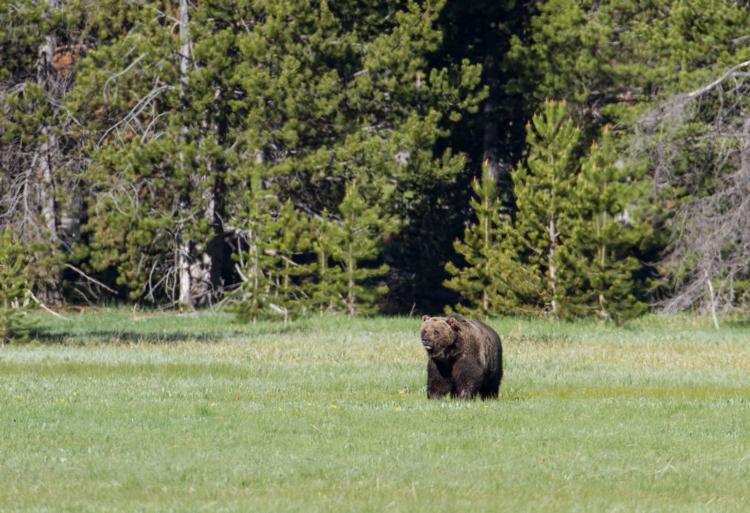 Grizzly bear on a buried bison carcass at Blacktail Pond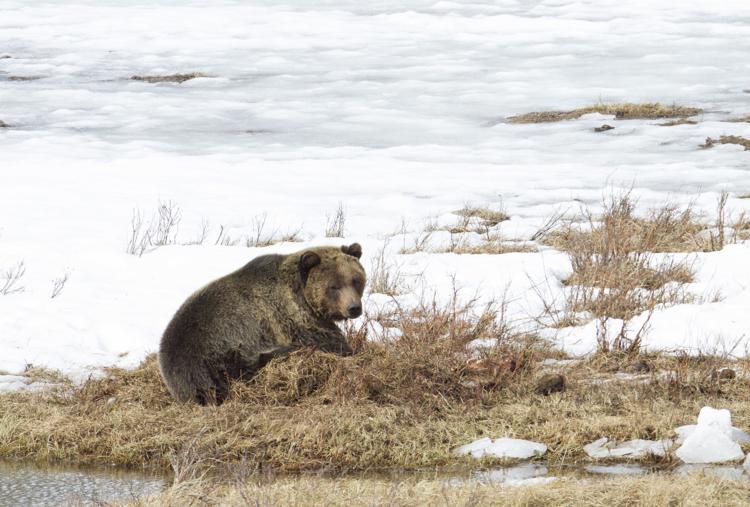 Collared grizzly bear #211 in Lamar Valley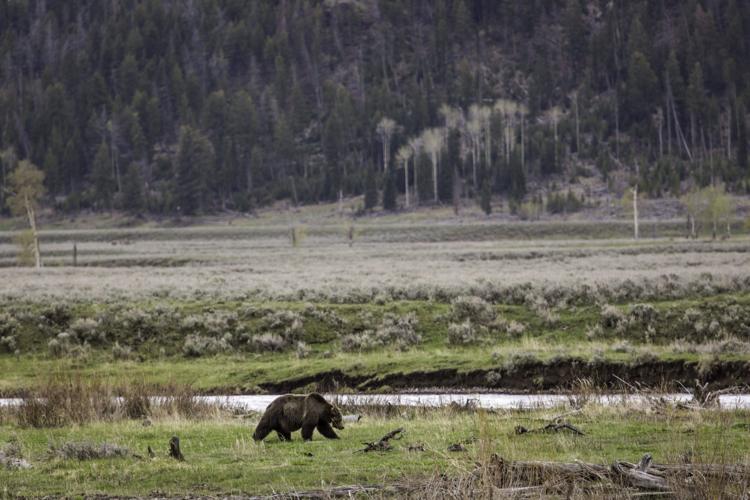 Grizzly bear on bison carcass in the Yellowstone River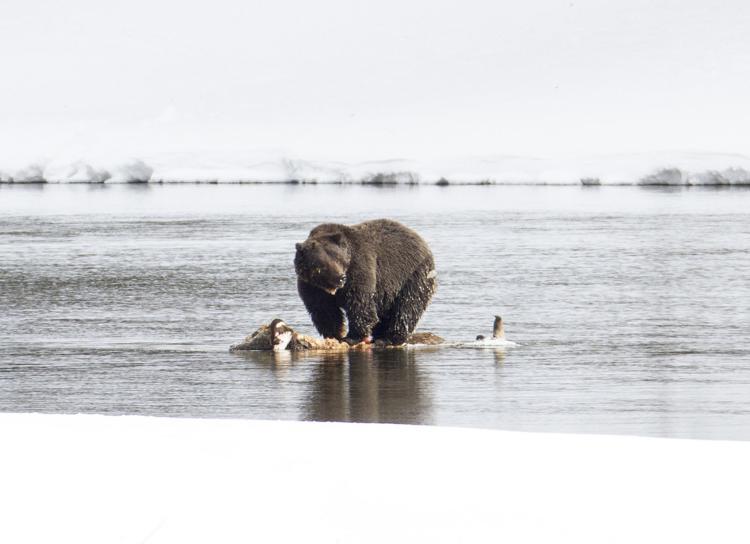 Grizzly bear seen through a spotting scope across the river from Mud Volcano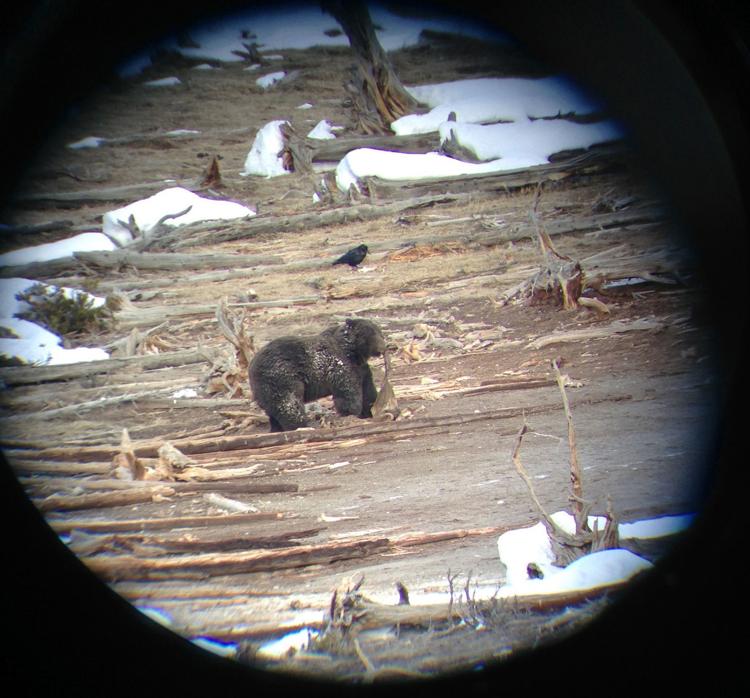 Grizzly bear walking away from bison carcass in the Yellowstone River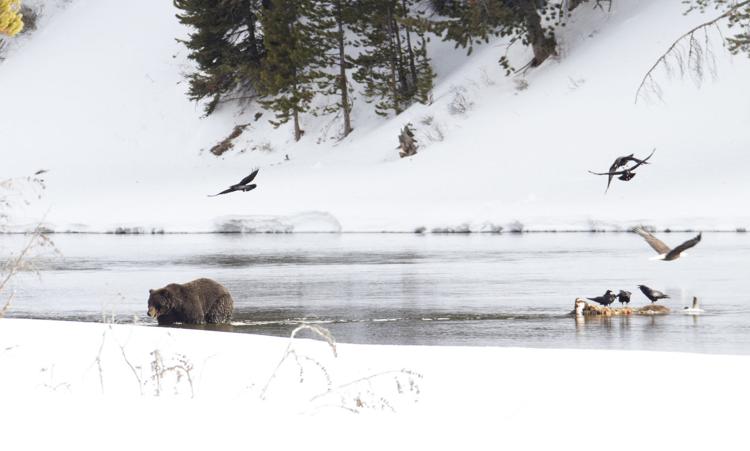 Grizzly bear on bison carcass in Yellowstone River;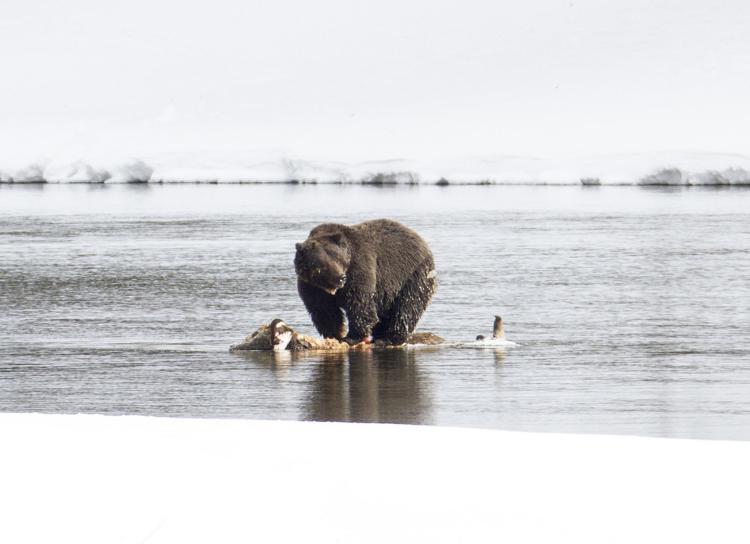 Grizzly sow and cub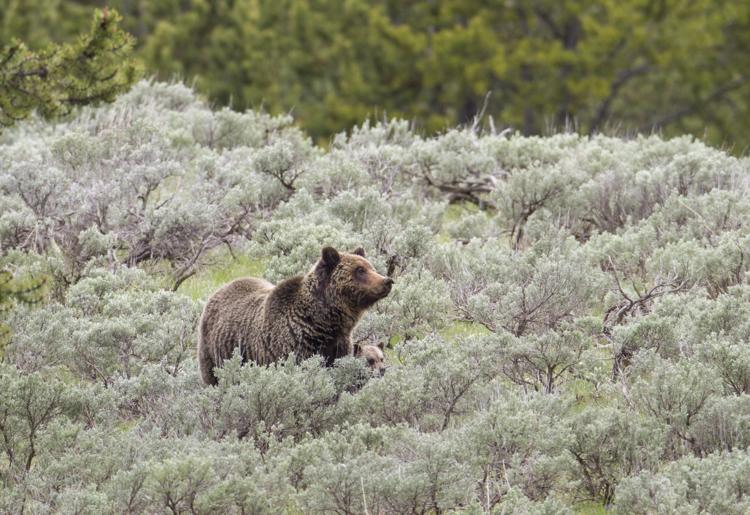 Grizzly bear on bison carcass in the Yellowstone River;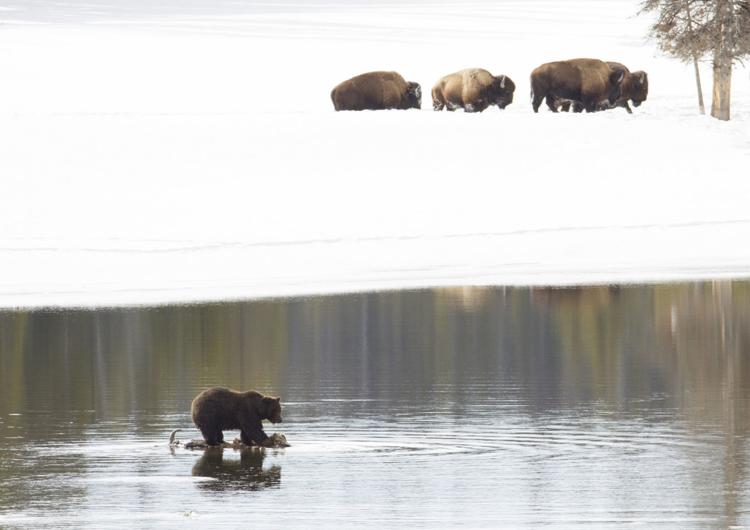 Grizzly cub with sow near Fishing Bridge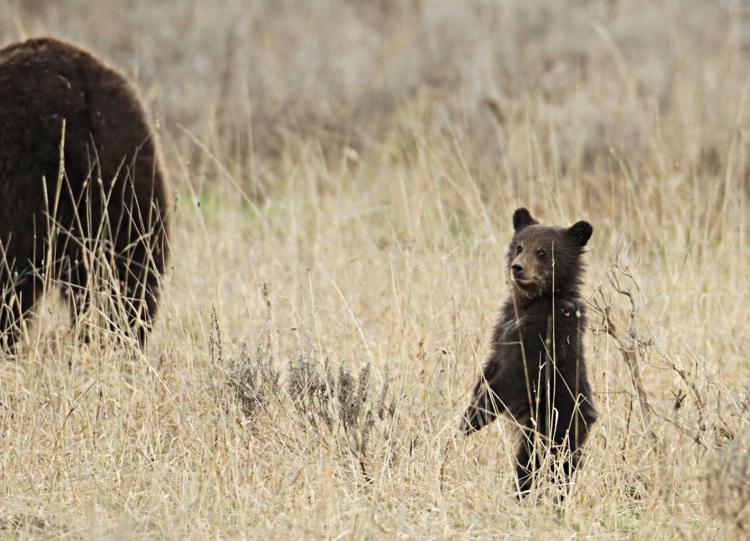 Grizzly on a bison carcass in the Yellowstone River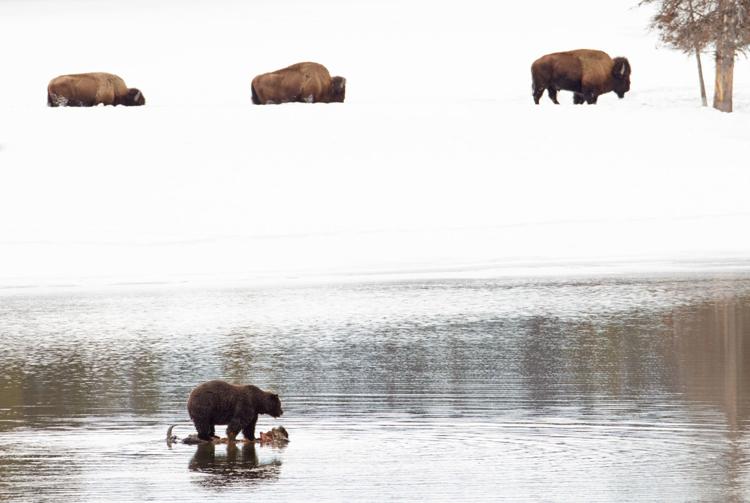 Grizzly Sow and Yearling on Boardwalk in Upper Geyser Basin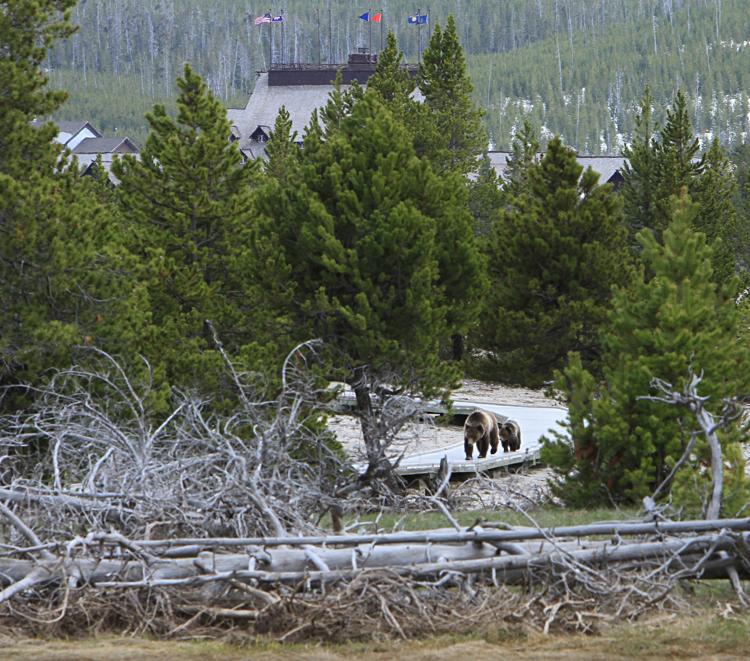 Grizzly bear feeds on bison carcass in the Yellowstone River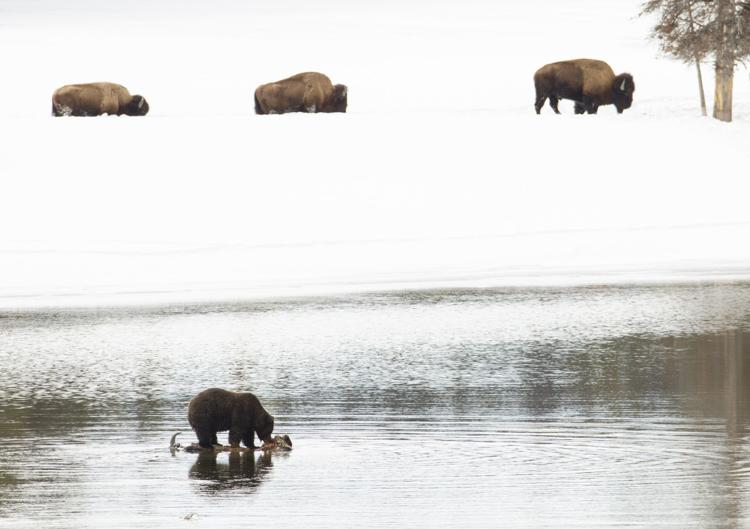 Grizzly bear on road on Swan Lake Flat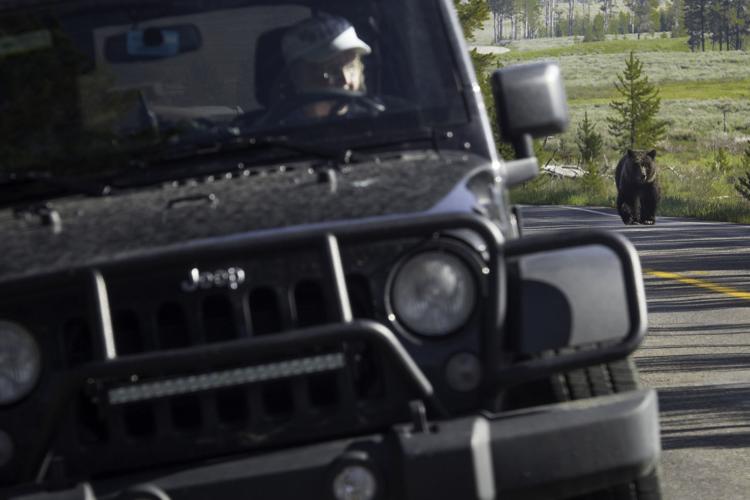 Grizzly near Swan Lake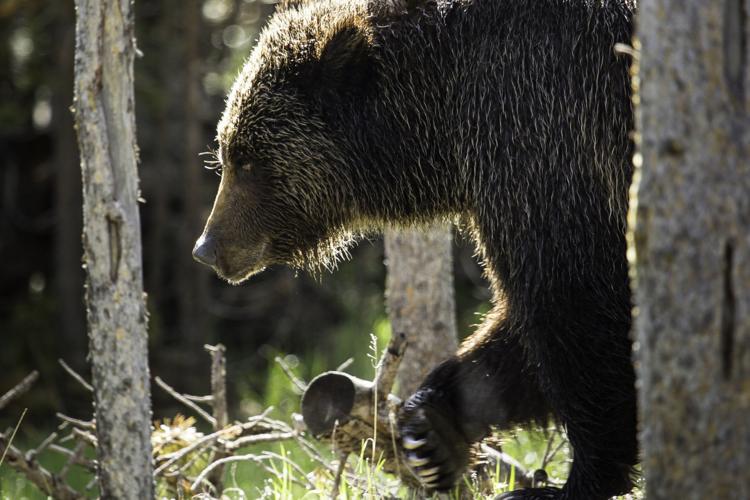 Grizzly sow and cub near Fishing Bridge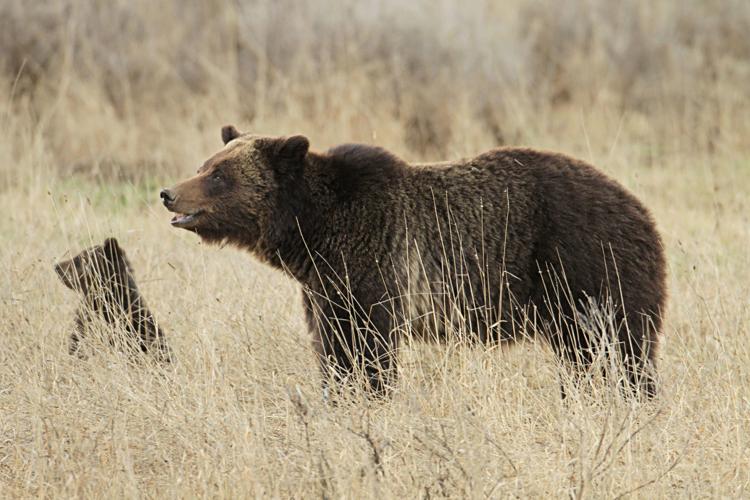 Grizzly bear in Hayden Valley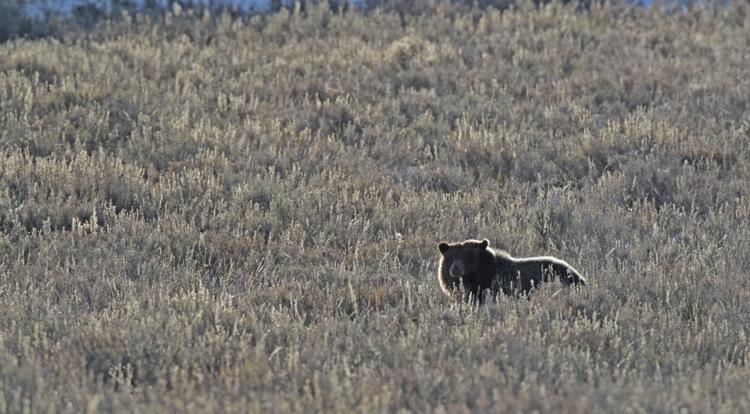 Grizzly sow and cub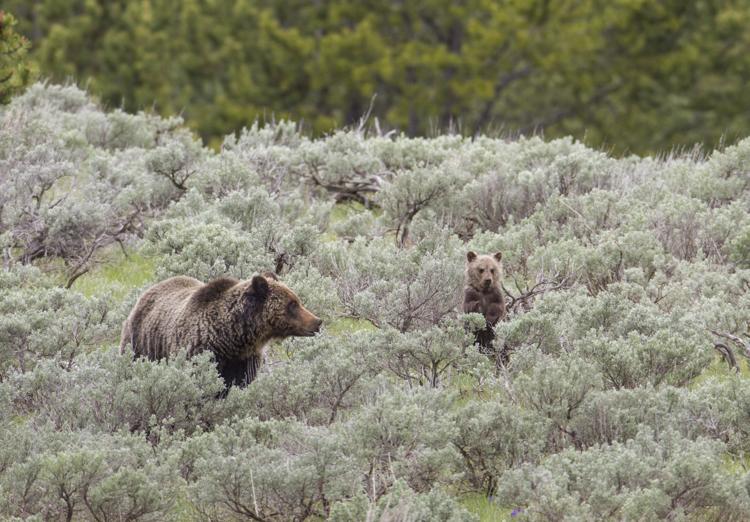 Grizzly cub with sow near Fishing Bridge;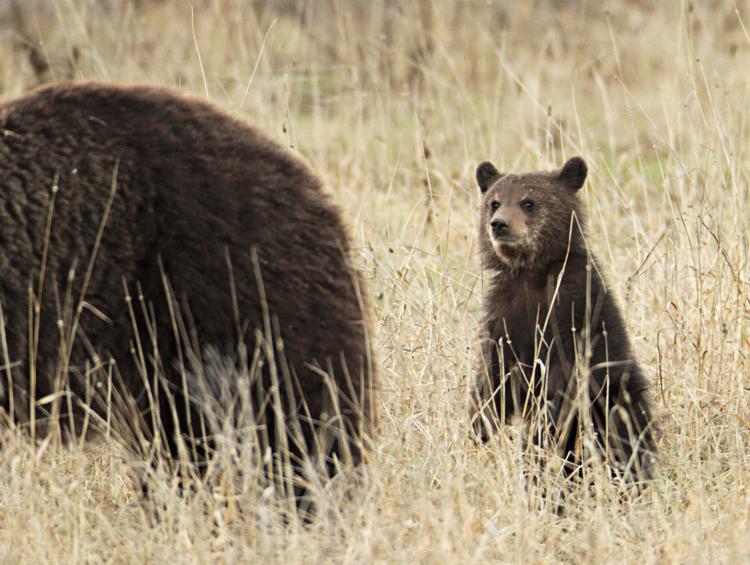 Two grizzly bears and wolf near bison carcass in Lamar River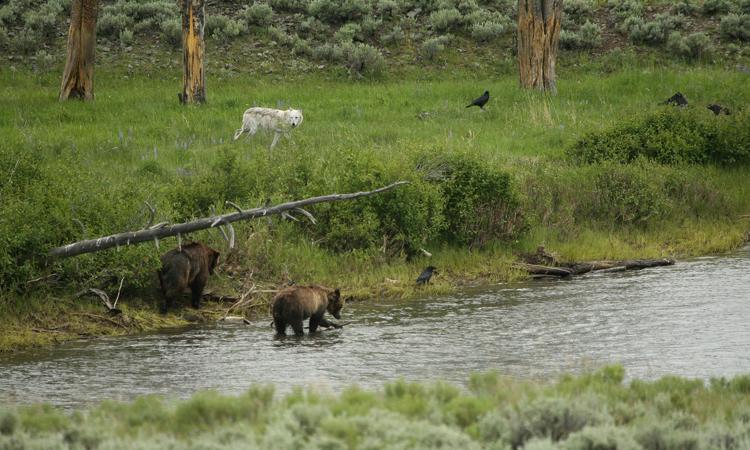 Grizzly sow and cubs near Fishing Bridge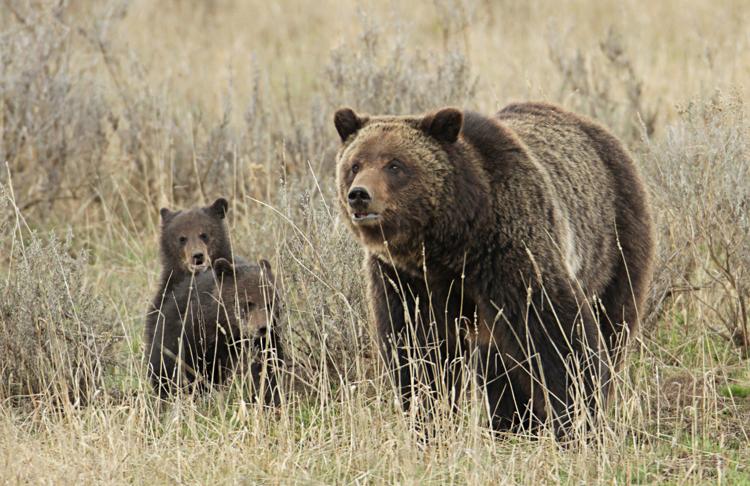 Grizzly cubs near Fishing Bridge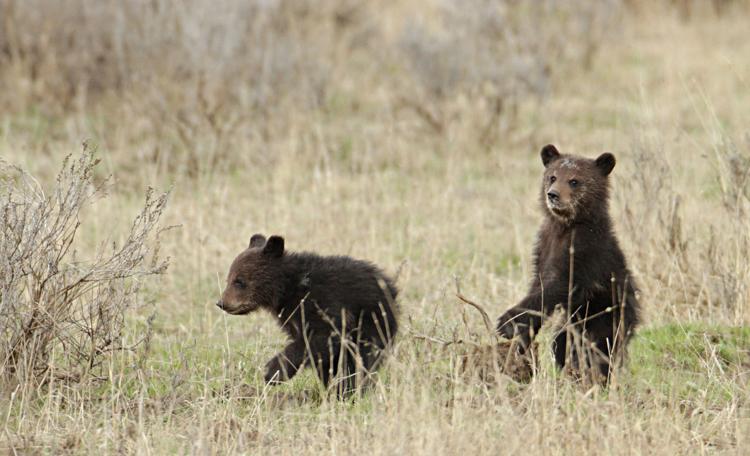 Grizzly bear near Canyon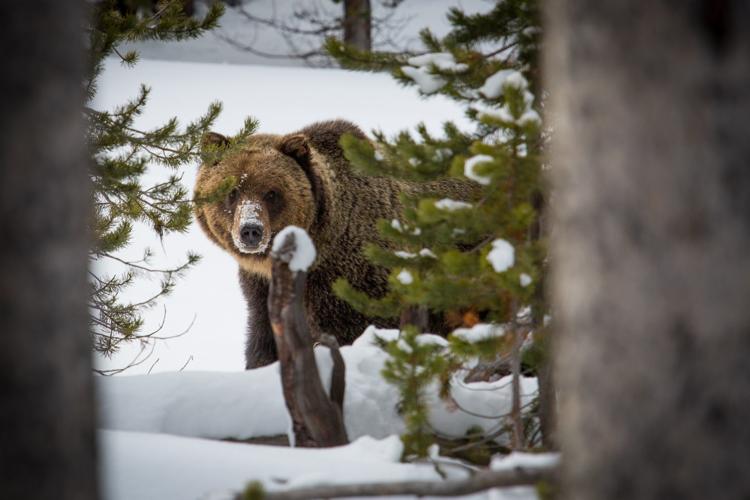 Grizzly sow and cub crossing road nead Madison Jct.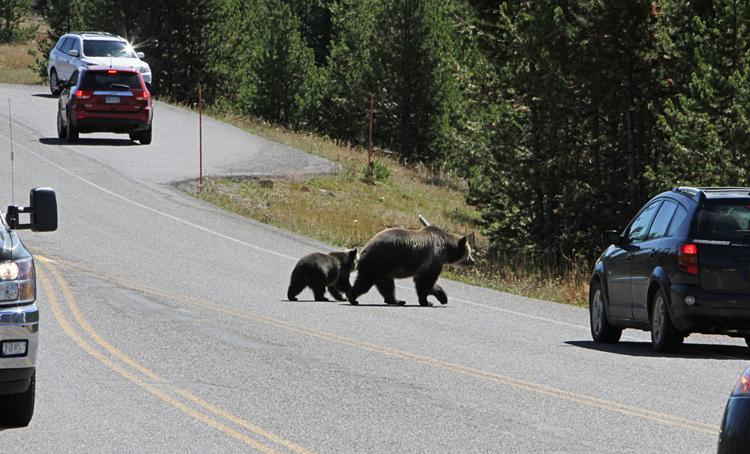 Grizzly sow and cubs near Fishing Bridge
Grizzly Sow and Yearling Near Daisy Geyser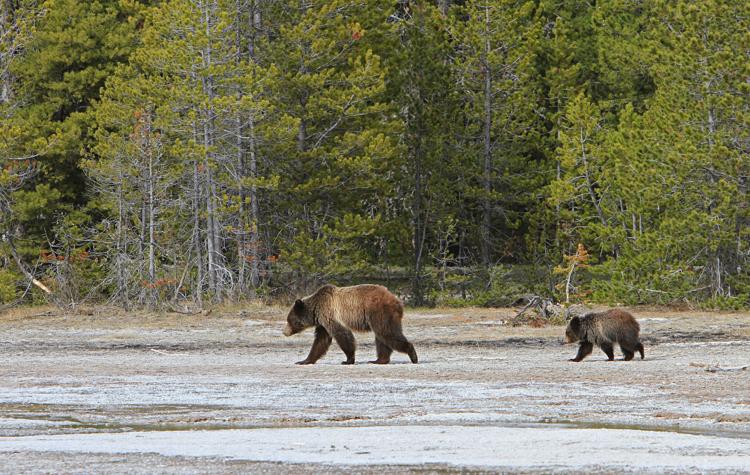 Grizzly Sow and Yearling on Boardwalk at Daisy Geyser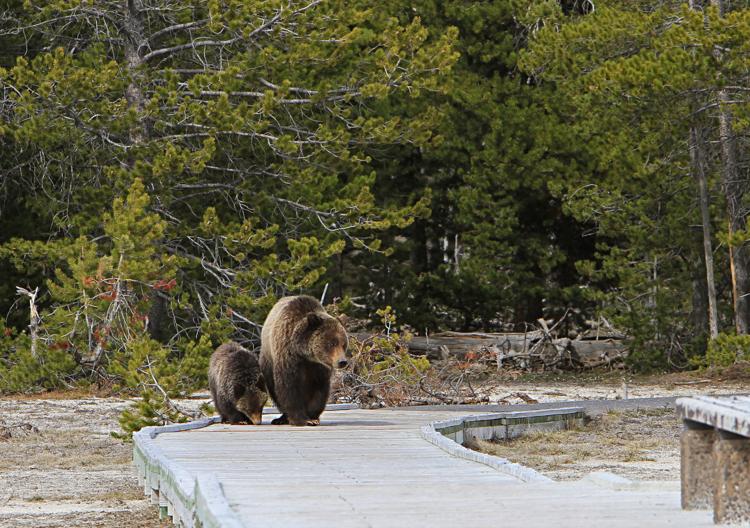 Grizzly sow and yearling near Daisy geyser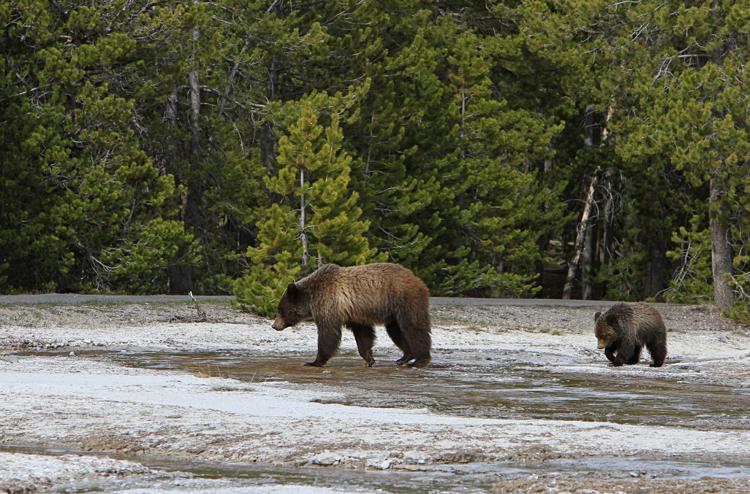 Grizzly Sow and Yearling on boardwalk in Upper Geyser Basin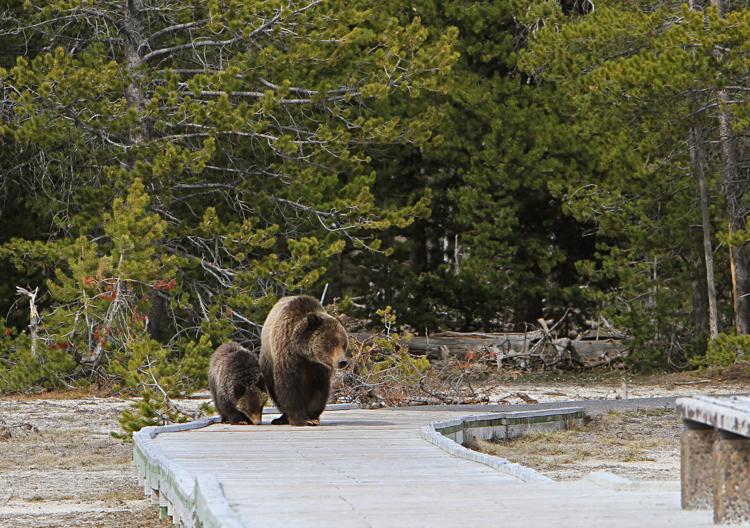 Grizzly bear in Hayden Valley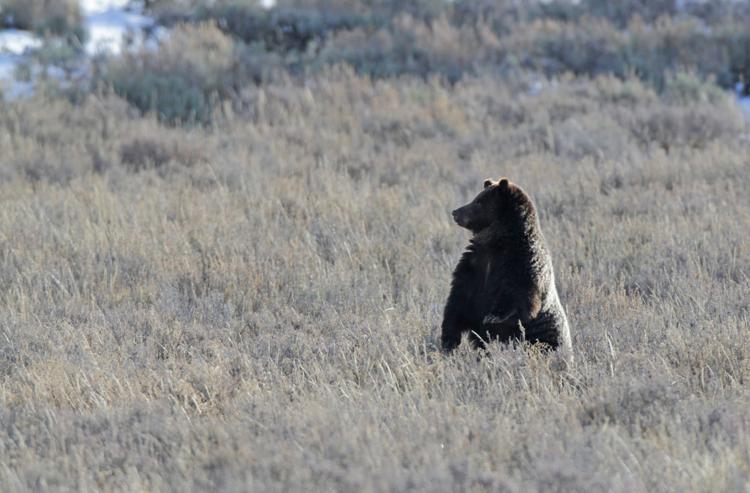 Grizzly bear walking north of the road near Sedge Bay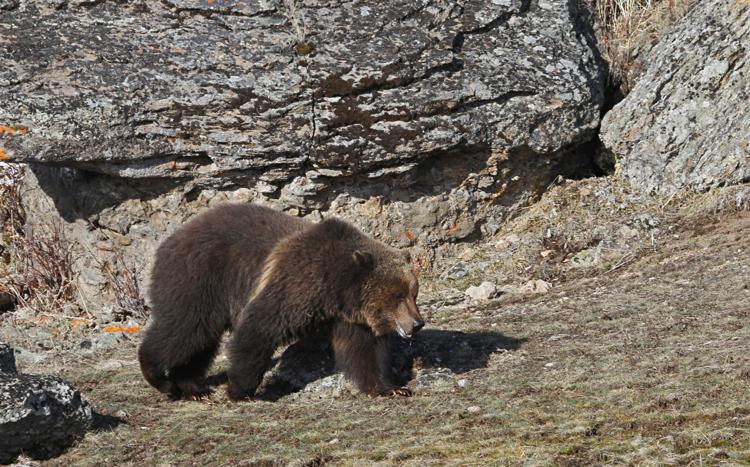 Grizzly cubs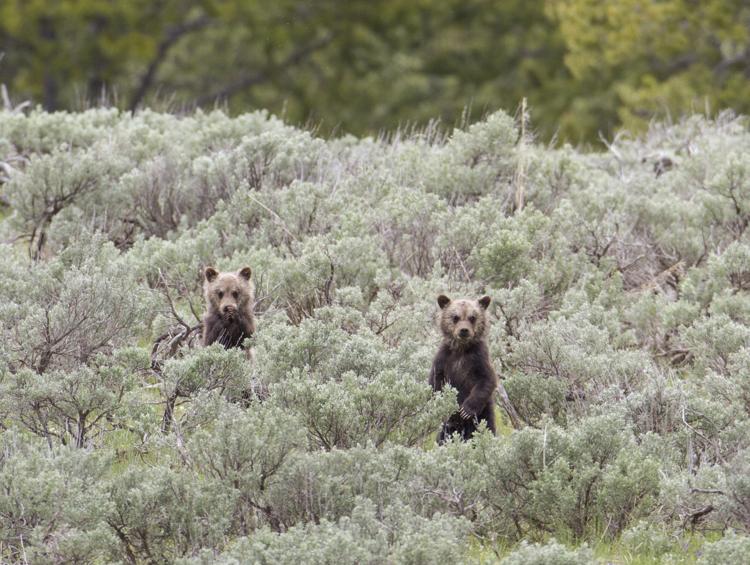 Grizzly bear on bison carcass near Yellowstone Lake