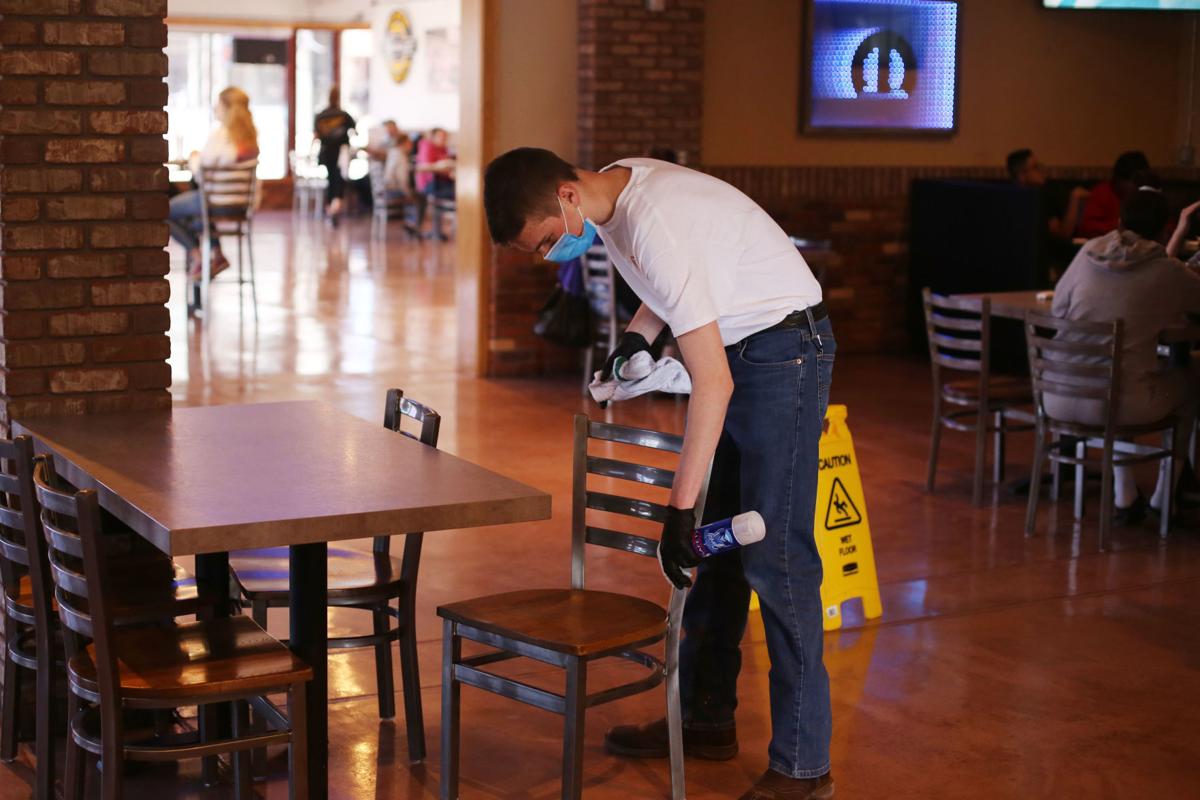 Amid an unprecedented surge in coronavirus cases statewide, the state Tuesday extended its existing health orders and further loosened restrictions on restaurants.
Under the new orders, set until mid-October, restaurants can now seat eight people at tables and will no longer be required to space out seating in booths. Other restrictions — masking by barbershops and their patrons, limits on the sizes of indoor and outdoor gatherings, masking in schools — have been extended.
In a statement, Gov. Mark Gordon's office said that state Health Department data "shows that sit-down dining in restaurants has not significantly contributed to the spread of COVID-19 throughout the state."
"Even in the face of a rising number of active cases, we recognize that the restaurant industry has faced challenges throughout this pandemic," Gordon said in the press release. "Nevertheless, they have really responded to ensure the safety of their customers. These are important steps that will help our restaurants recover and safely welcome more customers throughout the fall and winter."
The press release also says the state is "in the process of updating its statewide guidance consistent with federal regulations that permit indoor visitation at nursing homes and assisted living facilities." That new information will be provided later this week.
Cases have indeed surged. The 14-day average currently stands at nearly 79 cases reported per day. The highest peak of that same metric in the spring, when health orders were strict and limited many parts of public life in Wyoming, was 13.6 cases. The average number of cases reported per day is nearly triple what it was just four weeks ago. September has been the deadliest month of the pandemic thus far, ahead of August. Hospitalizations have spiked to their highest levels since April, though hospitals are not in danger of being overrun.
Fifty Wyomingites have died of the virus. The number of active cases has climbed steadily and now stands at over 1,100, far above any previous level.
Gordon and Dr. Alexia Harrist, the state health officer, began unwinding the orders — which closed restaurants, schools, barbershops, houses of worship and many other public-facing businesses — in May, as cases fell to below 10 confirmed per day. They continued to unwind them through June, and Gordon said in early July he'd hoped to eliminate them entirely.
Then came two months of sustained growth from early June to August. Peaks and valleys followed through early September, and the recent spike has far eclipsed any previous jump.
Gordon and Harrist said earlier this month that they were both hoping to again rid the state of the orders altogether.
In his statement Tuesday, Gordon reiterated his frequent rallying cry: that Wyomingites need to step up, regardless of requirements, to curtail the spread of the virus.
"These are the times when we need all Wyomingites to step up to help us resume the progress we made earlier this summer," he said. "This current trend is concerning and I hope Wyoming will show her determination."
But public polling indicates a steady drop in people's willingness to change their behavior as the pandemic wears on and cases steadily rise here. A University of Wyoming survey, conducted each month, has tracked the attitudes of the state's residents toward staying in more, wearing masks, eating out less, avoiding physical contact and wearing protective gear in public. Though that's often still a majority, it's a much smaller majority than it was even a few months ago.
The good news for the state is that there has been relatively little transmission within its K-12 institutions, which have stricter safeguards than any other part of public life in Wyoming. Students are required to socially distance and, when not, to wear masks. Officials have said throughout this month, as students and teachers gotten back into the swing of things, that there has been relatively little transmission within schools.