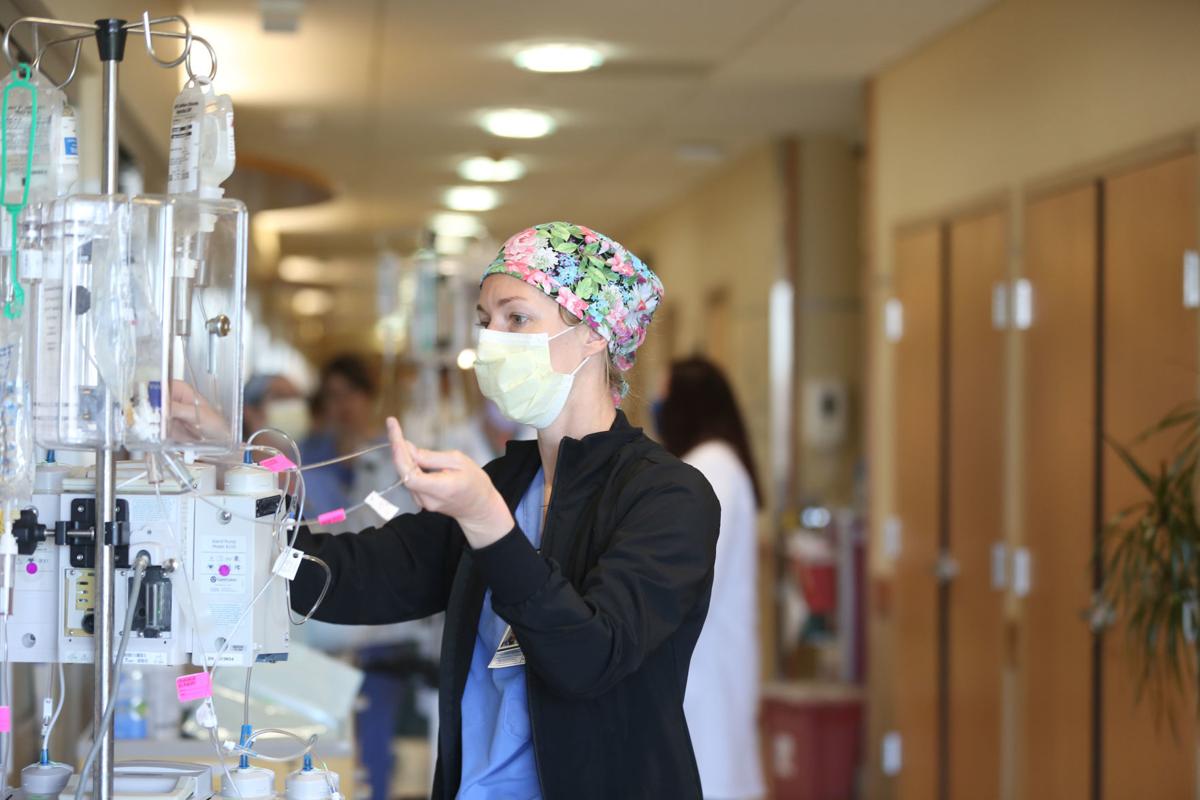 As statewide restrictions continue to loosen, Wyoming's hospitals are beginning to offer the moneymaking elective procedures that were suspended to save resources for potential coronavirus surges.
The suspension of the procedures — designed to save equipment and hospital beds — has been in place for weeks. It's caused significant strain on facilities and clinics that rely on those services to subsidize less lucrative revenue streams. Eric Boley, the head of the Wyoming Hospital Association, told the Star-Tribune that facilities here were likely to lose $60 million in May, atop the tens of millions lost in April and March.
But the virus's spread has slowed — even stopped — in much of Wyoming. The majority of cases confirmed over the past week have been in Fremont County, which continues to be particularly hard hit. In the first weeks of the pandemic, there was significant concern — mirrored nationally — about hospitals running out of protective gear.
Those fears have thus far not been realized. A Wyoming Medical Center doctor told the Star-Tribune late last week that the facility's intensive care unit didn't run out of gear, and many county health officers have told the state that they have necessary stores. The concern has not been fully alleviated — the Memorial Hospital of Sweetwater County wrote Monday that it still needed more equipment — but the preservation of equipment, paired with the virus's slowed spread, appears to have paid off.
The state — and, to a broader extent, most counties — have loosened restrictions placed on restaurants, bars, gyms, barbershops and other publicly accessible businesses. More people are being tested, and fewer are testing positive. The number of people hospitalized has also declined in recent weeks: There were 20 people hospitalized across Wyoming on April 20, compared to 12 as of Saturday.
Overall, 12.9 percent of coronavirus patients have required hospitalizations, or roughly 65 people.
Federal guidance now allows for elective procedures to begin coming back, and Wyoming hospitals are quickly availing themselves of the opportunity. A spokeswoman for Wyoming Medical Center said the state's largest hospital began performing procedures last week. The CEO of St. John's Health said in a statement last week that the hospital "continues to bring more elective screenings and surgical procedures back online."
SageWest, the hospital system in Fremont County, said last week that it was "taking the appropriate steps to safely resume some elective and non-urgent surgeries that were previously rescheduled out of an abundance of caution amid the novel coronavirus (COVID-19) pandemic."
The Memorial Hospital of Sweetwater County announced Monday that it, too, would begin offering the elective procedures, beginning with "some of the more serious cases — those intended to relieve pain and increase mobility."
"If you had an elective surgery planned with one of the many specialists at Memorial Hospital of Sweetwater County, it's time to get in touch with them," the hospital said.
According to state guidance, which itself is based off of federal recommendations, hospitals that begin offering procedures again "should proceed cautiously and in a step-wise fashion."
"Before resuming elective procedures, hospitals and providers should ensure they have adequate (protective equipment), staffing, and capacity to care for a potential surge of COVID-19 patients," the state wrote. "Hospitals and providers should ensure there is adequate COVID-19 testing capacity in the region to test symptomatic patients."
The guidance also prohibits the use of state-provided protective equipment on elective procedures.
Boley, the hospital association's president, said that all of the state's hospitals "are considering it and looking at it, and they all want to."
He said the facilities all needed the right amount of equipment and testing, as well as a stable situation with regards to the virus's spread.
"That's kind of the desire of everyone to be able to start doing those and by the end of the month they'll all be back in operation, but it'll be a staggered approach, depending," he said.
The effects of not having the procedures have been significant on hospitals here. Cheyenne Regional Medical Center, for instance, said it lost $27 million in April. Campbell County Health experienced a nearly 50 percent drop in its volume last month. According to a financial disclosure document filed this month, Wyoming Medical Center also faced losses in the third quarter, which ended March 31.
Concerned about COVID-19?
Sign up now to get the most recent coronavirus headlines and other important local and national news sent to your email inbox daily.