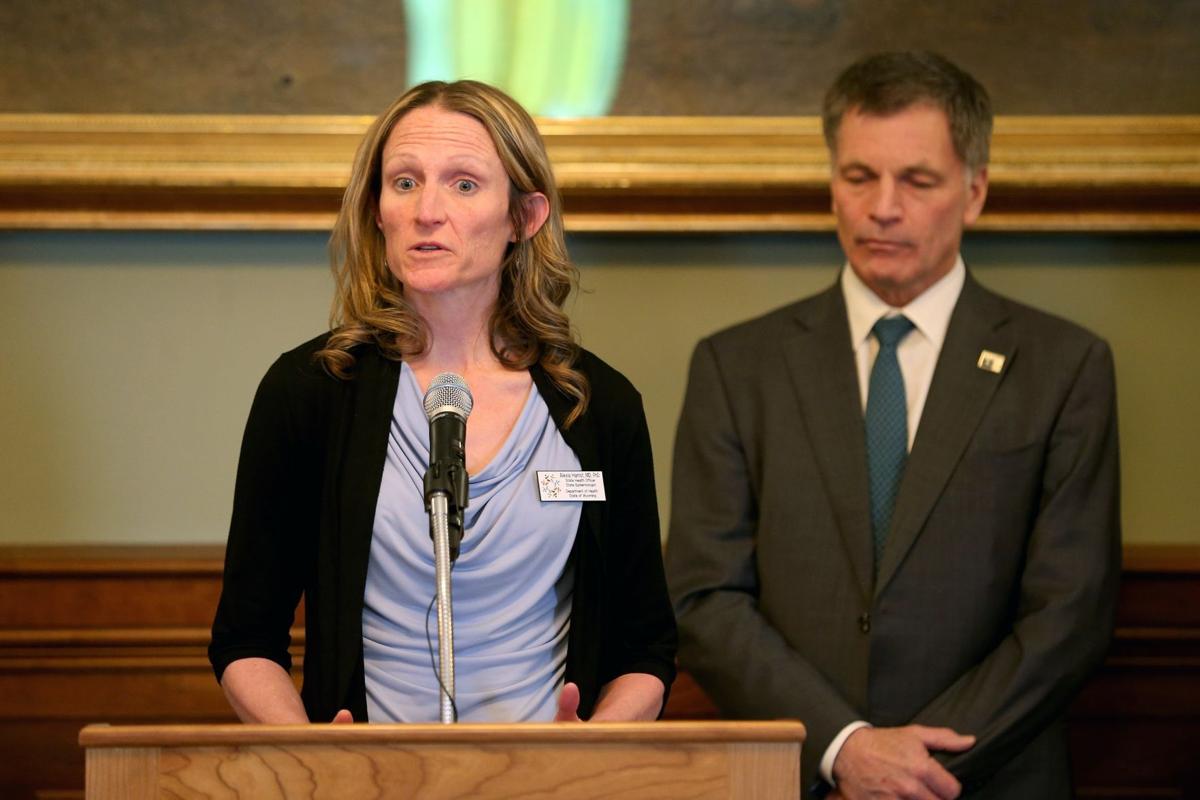 The Wyoming Department of Health will shoulder more than a third of the $254 million reduction to the state's general fund, taking on more than $89 million in cuts, gouges that will take with them another $28 million in matching federal funds.
The department has a total budget of nearly $2 billion, of which $960 million comes from the state general fund. It is the largest in funding of any of Wyoming's agencies, eclipsed in overall funding only by the account that props up the state's massive education system. For the second time in five years, the agency will have to dig deep to help the state fill a revenue crater created by Wyoming's near-total reliance on the mineral industries.
Every dollar lost within the Department of Health is often two dollars lost because the federal government won't match money that isn't there. In a news conference Wednesday, Gov. Mark Gordon said the department sends nearly all of its money to Wyoming communities and residents.
That money goes to the nurses and doctors to provide care to the state's oldest, sickest and poorest residents. It goes to children who need inoculations and older adults who need help in their homes, to children who may have developmental problems and to state facilities that care for veterans and the ill. Under these cuts, some of those programs will be barely touched, some will be cut and others will be gored.
Gordon called earlier this year for all of the state's agencies, including the University of Wyoming and the community colleges, to prepare budgets that cut 10%. He also instructed them to prepare another set of numbers that would account for a 20% cut. He acknowledged the depth of the cuts facing the Health Department during Wednesday's press conference.
"For the Department of Health, these cuts mean direct impact services to low-income residents, seniors, and those with developmental disabilities," he said. "It means the programs that assist seniors with at home care will no longer be funded, (nor will) vaccination programs for some children. It means we'll be reducing funding for early childhood developmental and educational programs. These are just a few examples."
In a news release Wednesday afternoon, the department wrote that between state and federal losses, the cut is actually closer to $138 million. But the agency is tapping one-time funds to alleviate that hurt — for now.
"We wish we did not have to take these actions," the department's director, Michael Ceballos, said in a statement. "It's tough to announce these budget reductions, but with the obvious decline in state revenues, the need to reduce our budget simply can't be ignored."
Meeting that need for reductions is going to hurt. The state will cut its $628 million Medicaid program by $46.5 million. That climbs to a $95.5 million cut when factoring in lost federal matches. A program that gives vaccines to private providers for immunizing children will be eliminated, to save $3.5 million. That process will now be handled by insurance companies. Developmental preschools will lose $8.8 million.
"Reducing funding will likely result in failure to identify developmental delays in a significant number of children until they are in preschool," the agency wrote to Gordon in a document describing the reductions. "The funding reduction will also negatively impact all 14 regional (Child Development Centers), and may result in staffing reductions."
At a time when Wyoming's population continues to age, the department must cut 23% — or $2.7 million — from an elder care program created to "provide community based in-home services for Wyoming senior citizens and disabled adults eighteen (18) years of age and older." The program gives priority support to "persons at risk of placement in nursing homes, assisted living or other institutional care settings and the program may serve persons who are not senior citizens if the program's services are needed to avoid institutional placement."
The aging population will only put further strain on the state's Medicaid system as time goes by, which is why state and health officials have repeatedly stressed the need to have programs like the one that is about to be gouged: It is better for the elderly — and cheaper for the state — if those people stay in their homes while they can. The program will be eliminated slowly; currently, 1,900 people receive support statewide each year.
"Of those participants, 20% receive personal care services. These services require the most intensive care that the program offers, and 1 in 3 of the participants struggles to complete 5 or more activities of daily living," health officials told Gordon.
The state till also cut its reimbursement rate for providers by 2.5%. Physicians and health care providers who see Medicaid patients get a fixed reimbursement rate from the state; that will now be lowered, a cut of $22.6 million (half of which is state funding).
Services for those with developmental disabilities will be chipped and cut away in a few places. The state has a waiver service for those with development disabilities that is essentially an added layer of benefits and priority above the standard Medicaid services. These reductions will cost that waiver service $13 million, $6.5 million of which is state money. Those changes include slowing enrollment of these individuals from a wait list into the program. Providers who serve these individuals will also assume a 2.5% reimbursement cut.
It will no longer provide coverage for services the people with disabilities can receive, like occupational, physical and speech therapy. Currently, those individuals can access them on an ongoing basis; under the cuts, access would be more restricted and would only be for rehabilitative needs.
"We know these reductions will cause difficulties for many of our current providers and clients," Ceballos said in his statement. "Reductions of this scale can't be made without significant impacts in communities across the state. It's especially unfortunate when you realize most of our programs serve Wyoming's more at risk citizens including our older residents, disabled individuals and those with very low incomes."
The state will save about $3.6 million because Medicaid will begin administering a program to give health insurance to children, instead of Blue Cross Blue Shield. That was already planned, well before and independent of the revenue debacle.
The agency, like all others, will still have to find a way — even if it's just a proposal — to cut another 10%, per Gordon's orders from earlier this year.
"Worse than devastating," department spokeswoman Kim Deti said of any additional cuts. "They're awful. Going further than what we had to do today would be really tough, really awful for some people. ... It would be grave, really tough."