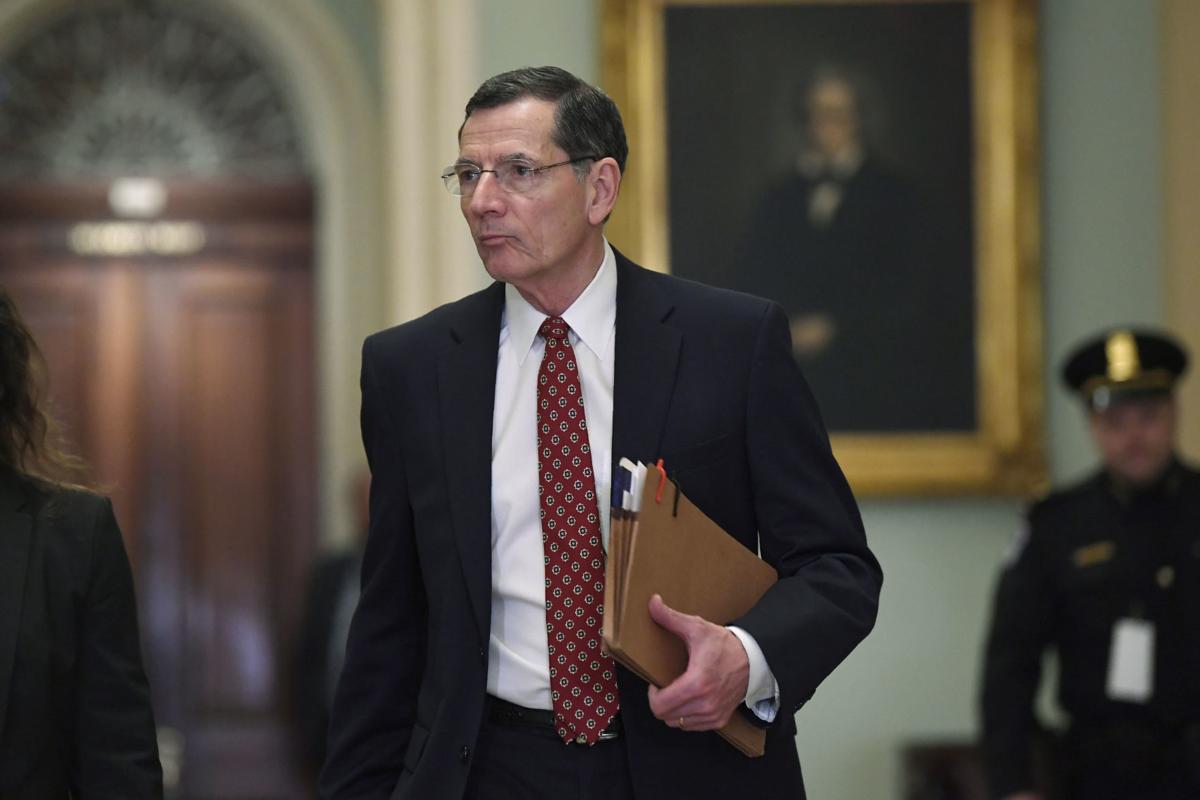 The federal government is poised to pump $100 billion in coronavirus relief funding into the nation's hospitals in the coming weeks, all intended to help bolster the bottom lines of facilities tested to their limits by the global pandemic.
Sen. John Barrasso wants to be sure a fair share of those funds go to rural hospitals.
In a letter to Health and Human Services Secretary Alex Azar last week co-signed by more than 120 members of Congress, Barrasso and Colorado's Sen. Michael Bennet urged the director to commit a significant share of that $100 billion to funding relief payments for rural hospitals across the country, many of whom – particularly in Wyoming – are seeing significant hits to their bottom lines.
The letter attracted a bipartisan coalition of lawmakers looking to inject much-needed funding into hospitals that serve a critical role in rural communities.
"Rural hospitals have always been under additional financial stress," Barrasso said in an interview with the Star-Tribune. "Over the last 10 years, about 120 hospitals in the country have closed and they've all been rural hospitals. And once the rural community loses its hospital, it makes it that much harder to attract doctors, nurses, teachers, small businesses, all of the things that are vital to a small community. So we, this bipartisan group is very focused on rural hospitals, because we know what it means for our rural communities."
Growing demand, declining revenue
The COVID-19 pandemic has put a tremendous strain on the nation's health care system. That strain is felt acutely in rural health care, which already faces obstacles treating small, relatively isolated populations.
Many Wyomingites rely on small hospitals for medical care. But it is these smallest of hospitals that are typically most at risk from a financial standpoint.
As the virus has shut down businesses, so too has it dimmed rural hospitals' opportunities to provide the elective procedures that have long helped to buoy their balance sheets. And as the number of those procedures have been reduced, rural hospitals have taken a financial hit, a vulnerability that has always existed but rarely been tested to this extent.
As the traditional revenue structures falter, hospitals now find themselves in a uniquely precarious position as uncertainty about the coronavirus – as well as their own bottom lines – have only increased. Some hospitals across the state, according to Wyoming Hospital Association President Eric Boley, have seen revenues decline by as much as 60 percent while their costs have remained stable.
With already thin margins making it nearly impossible for those hospitals to build up enough savings to help weather the storm, a new infusion of funding in a crisis has become a critical need for their ability to remain open.
"It's tough right now for all hospitals," Boley said in an interview. "But the smaller ones are really struggling. A lot of them, they've curtailed all the practices that actually make them money, you know, elective procedures. Volumes are way down in both the hospitals and in the clinics that they operate and run. And so they're struggling just to be able to meet payroll in some situations while, at the same time, they're trying to prepare for a potential surge and being able to care for all the people in their communities."
More funding coming?
The congressional letter was the latest effort from Barrasso to gain funding for rural hospitals, adding onto legislation he had cosponsored with Bennet several weeks ago that aimed to set aside additional funding in Congress' next emergency aid package specifically for medical care in rural communities.
Many of the provisions in that bill, Barrasso said, will be more than likely included in the fourth round of emergency funding to come from Congress which, as of last week, was still a work in progress.
"The important components of [the bill], we have been assured will be dealt with," Barrasso said. "That's why we're working with the Secretary of Health and Human Services to say, 'Hey, you have an opportunity and a responsibility to focus and never forget the rural hospitals.'"
However, as a pandemic lays bare the vulnerabilities of rural hospitals, Barrasso stopped short of saying anything should fundamentally change in the way health care is delivered in rural communities, arguing that the nature of rural hospitals – having to provide a broad variety of services for a very limited number of clients – is already set up to lose money.
While those conversations could happen someday, Boley said, now is probably not the time, even as the state's medical system weathers a "perfect storm" of lost revenues and a global pandemic.
"[Barrasso's] been proactive and looking at alternative reimbursement models and trying to come up with something that's more sustainable going into the future," Boley said. "We've actually been kind of working on that together but it's going to take a backseat to this right now. But, you know, once we emerge from the pandemic and converge on the other side, and once the dust settles, first of all, I am truly concerned about the financial health of the hospitals around the state. And I would say not just the little ones; this applies to even the larger ones who are probably going to be the places that are taking care of the most seriously ill. They're seeing massive, massive loss of revenue."
"What this looks like coming out of this, only time will tell," he concluded.
Concerned about COVID-19?
Sign up now to get the most recent coronavirus headlines and other important local and national news sent to your email inbox daily.