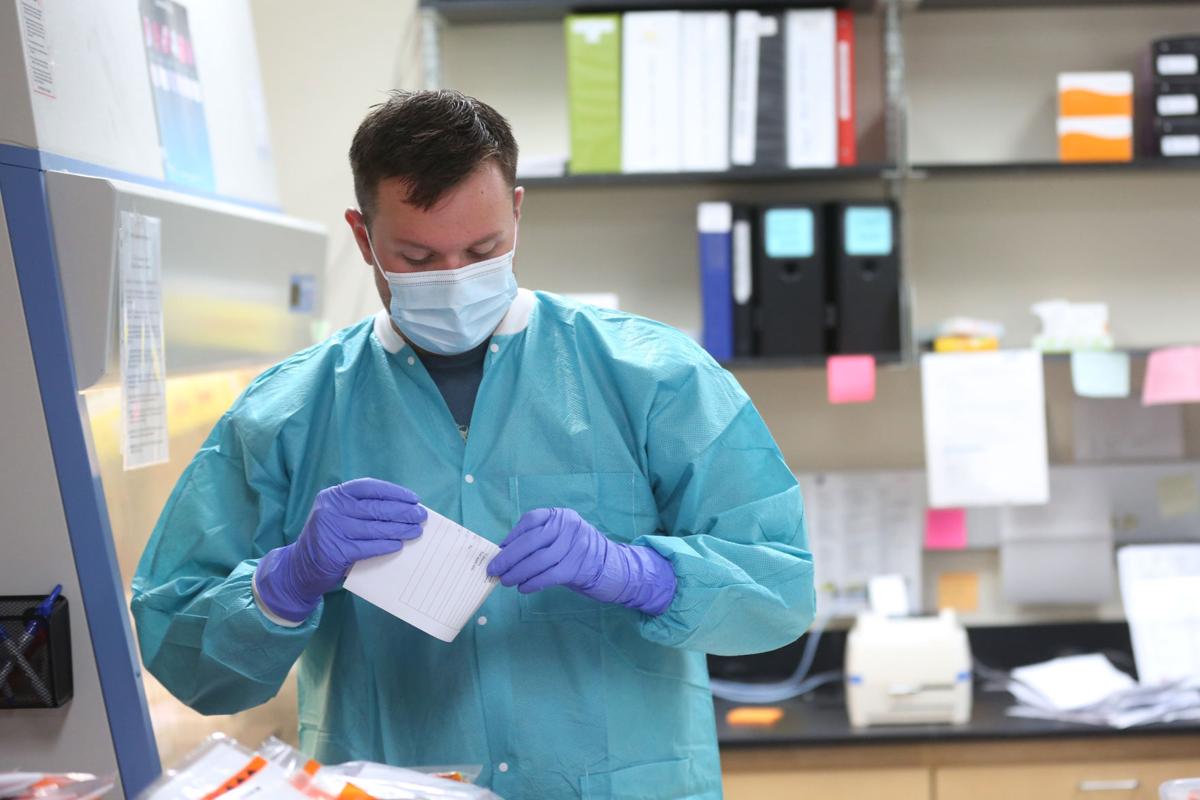 Wyoming's now reporting more confirmed coronavirus cases per day than during any other period of the pandemic, hospitalizations have neared all-time highs, and new cases are outstripping the number of recoveries to a degree previously unseen here.
But there is no single driver of the spike, as there were in the earlier days of the disease's spread in Wyoming six months ago. Kim Deti, a spokeswoman for the state Health Department, said that much of it is what they've seen for months: workplace clusters and social gatherings, where social distancing and masking recommendations may not have been followed. The new factor, she said, is a return to school for the University of Wyoming and the community colleges.
As of Wednesday, the university had 121 active cases, up from 96 on Tuesday. UW spokesman Chad Baldwin said that number was slightly deceptive because some of those samples had been collected more than a week before, but the cases remain active, and the school has 153 people currently in 14-day quarantines. The vast majority of those 121 active cases are off-campus — just nine on-campus students are currently sick.
Deti said that while younger people were likely to recover, it's the older, more vulnerable parts of the community that require diligence by the entire population.
"With the increase we've seen in hospitalizations, it reminds us that the folks who are older and have health conditions that make them more vulnerable should remain a concern for all of us," she said, "and we should keep that in mind as we make our choices and our plans."
Local spike
In Natrona County, which has had the second-highest number of confirmed cases in recent days, "the virus just seems to be one step ahead of us right now," said Hailey Bloom, spokeswoman for the county health department.
This week, the county passed the 5% weekly positive rate, she said, "which is very concerning to us in public health because we haven't been here before." The county will now significantly step up its testing in assisted-living and long-term care facilities. That process will likely start next week.
She reiterated what she told the Star-Tribune last week: Changes in behavior in the county are drivers of spread here. Businesses are opening back up and "normal routines" — meaning pre-pandemic — are returning. People are gathering more, she said, and recent spread is "just the result of people getting out and intermixing for somewhat the first time to this extent in a long time."
The numbers statewide are stark. On Wednesday, the state confirmed and additional 153 confirmed and probable cases, a record. There are now 696 active cases that have been confirmed; that's a growth of 98 from Tuesday, 245 from Sept. 16 and 131 up from Aug. 23. When factoring in active probable cases into those totals, the statewide number is 842 as of Wednesday, 105 up from the day before, 293 up from a week ago and 196 from a month ago.
The 14-day average of confirmed cases is significantly outstripping the number of recoveries, though the vast majority of coronavirus patients recover and so recoveries will likely climb in the coming days and weeks, as well. As of Wednesday, the 14-day average is nearly 59 cases per day. The previous high was roughly 42 cases per day for the two-week period ending on July 30.
The average dipped in early August, spiked a bit toward the end of the month, then dropped again before this most recent surge. Though Wyoming has consistently had some of the lowest numbers — by any metric — in the country, this recent spike has driven the Equality State nearly into the top 25 for per-100,000 cases over the last week, according to the New York Times.
K-12 performing well
The good news is that the K-12 schools aren't driving spikes anywhere, Deti said. That echoes a sentiment from health officials earlier this month, who have said that schools are doing well to curb spread. It also shows, Deti said, that masking works.
"We're seeing some cases (in K-12 schools), but we're not seeing it spread within classrooms where people are doing the distance or wearing the masks," she said. "In the activities and athletics setting, where it's a little harder to do it or impractical, we've seen some small transmission."
Gov. Mark Gordon, who will hold a press conference Thursday, and state health officer Dr. Alexia Harrist have both said recently and in weeks prior that they'd like to eliminate the remaining health orders — already much more lax than those from six months ago. They most recently made those comments two weeks ago, though, before this spike took hold.
It's unclear what will become of the next set of orders, which will have to be instituted in the next week, as the current mandates expire on Sept. 30. Gordon spokesman Michael Pearlman told the Star-Tribune in an email that said the governor's office was reviewing the orders "and some changes may be made, but nothing has been confirmed yet.
"The Governor has no plans at this time to implement more stringent health orders," he wrote. "One of the reasons we have been extending the health-orders in 2-week increments is so that adjustments can be made based on how transmission is occurring."
Deti she didn't know what would be in the next round of orders.
"You know the recommendations are the same," she said. "They really are. I know people are tired of them, but they remain important."
She pointed to the success of the K-12 schools — all of which require masks in many settings — as evidence that the recommendations work.
"We have some unhappy people," she said of some Wyomingites who have opposed masking children, "but we've got thousands of kids in schools, and they're there, and they're fine."
Despite rumors floating around on Facebook, Deti said the department was not aware of any adverse affects suffered by children who wore face coverings.
Editor's note: A previous version of this story online failed to factor in the 16 additional probable cases announced Wednesday. The corresponding numbers have been changed to reflect those cases.