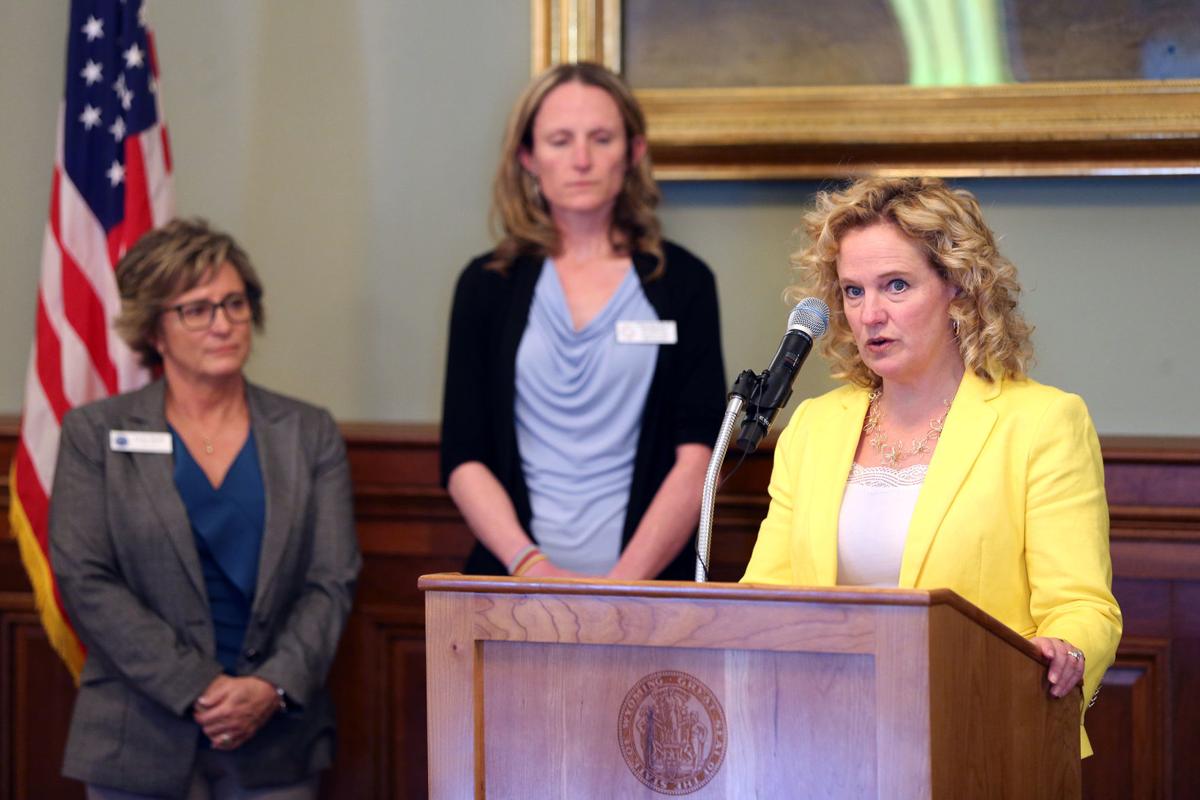 Wyoming's two largest hospitals say they're prepared to handle any cases of coronavirus in the Equality State, and state leaders say the disease will likely spread here, though a state infectious disease expert urged Wyomingites to stay calm.
"(You) should not panic in any way and realize that we are in a rural setting, and so transmission of this, especially outside of our cities, would be difficult, as you can imagine," said Dr. Mark Dowell, Natrona County's health officer.
"While the risk remains low, it's becoming increasingly likely that COVID-19 will spread to the state," Gov. Mark Gordon said in a press conference Tuesday afternoon, using the exact name for the disease that's widely referred to as simply the coronavirus.
There have still been no confirmed cases in Wyoming. COVID-19 is a respiratory illness, symptoms of which include fever, cough and shortness of breath.
There have been more than 100 cases of the novel coronavirus — COVID-19 — in 15 U.S. states. There have been six deaths associated with the disease. Worldwide, there have been more than 90,000 cases and 3,100 deaths. The disease is most dangerous to the old, the young, and those with chronic conditions and weakened immune systems. Of the six U.S. deaths, four are linked to a nursing home in Washington state.
In Wyoming, state health officials are still saying that the risk to residents here is relatively low. While there has been some "community spread" — person-to-person transmission — in the U.S., the primary concern is still those who have traveled to nations experiencing an outbreak. Two neighboring states — Nebraska and Utah — have treated cases, though Nebraska's patients were transported to Omaha for treatment and quarantine at the University of Nebraska Medical Center.
The low risk hasn't deterred concerned Casperites. Employees at both Walgreens here said the drug stores are either out or running very low on hand sanitizer.
In an email to state employees Monday, state epidemiologist Dr. Alexia Harrist said that "it is becoming increasingly likely that COVID-19 will eventually spread to our state."
"Our most important piece of advice right now is for people to stay informed about COVID-19 and to look for updates and recommendations from credible sources such as our department and the CDC," Harrist wrote.
Dowell echoed that advice, urging Wyomingites to not rush to panic-sowing media sources.
Harrist said much is still unknown about the disease, which has spread across several countries worldwide.
"Right now, I could only say that we are not sure exactly what's going to happen with this virus," Harrist said, adding that there were other viruses in the coronavirus family that provide clues.
"I would agree that we need to prepare for widespread community transmission in Wyoming and the United States, but that the effort in the U.S and Wyoming are underway to prevent that as much as possible right now," she added.
Dowell, who's on the board of Wyoming Medical Center, said the state's largest hospital was prepared to handle any patients who test positive here. The hospital is a designated ebola assessment hospital, meaning staff there are capable of treating and isolating any patient with that level of infectious illness.
"We have the appropriate ventilatory systems in at least three or four of our rooms, including in the (intensive care unit)," Dowell said. "We have proper equipment, we have people trained. ... We are ready to go."
Dowell said the hospital might — "and I emphasize 'might'" — test a patient who comes to the hospital with a form of pneumonia that doctors can't diagnose or explain. The state Health Department will soon have the ability to test for the disease locally, but until then, any test done will be sent to the federal Centers for Disease Control and Prevention.
During Gordon's press conference, Harrist said the Health Department has the testing kits from the CDC and is making sure they work correctly. That work should be done this week, she said.
"If a patient suspected of having COVID-19 presents at the hospital, we will coordinate with the state and local health department for treating and isolating the patient according to our protocols," WMC spokeswoman Kristy Bleizeffer said. "We continue to confer with state and local health department officials about COVID-19."
Gordon said state officials are studying the capabilities of the state's hospitals to deal with a suspected case of COVID-19. Dowell said he suspected most hospitals aren't equipped to deal with it.
Kathryn Baker, spokeswoman for Cheyenne Regional Medical Center, said its following guidance from the CDC and "customizing them for our facility."
"Additional training on the use of personal protective equipment is currently taking place," she said in an email to the Star-Tribune. "We want to be sure our staff is prepared and comfortable with the equipment. Healthcare worker safety and protecting our most valuable resource, our employees, is a priority."
In an email sent late Tuesday afternoon, the Casper-Natrona County Health Department warned Casperites about scams in the community that urge respondents to take certain actions.
"The Casper-Natrona County Health Department would also like to remind the community that wearing a mask should only be used as a precautionary/additional measure if you are already ill," the agency wrote. "These masks simply keep the person who is ill's germs away from others. Masks do not need to be worn by those who are not ill and are NOT a form of protection from illnesses such as seasonal influenza or COVID-19."
Concerned about COVID-19?
Sign up now to get the most recent coronavirus headlines and other important local and national news sent to your email inbox daily.