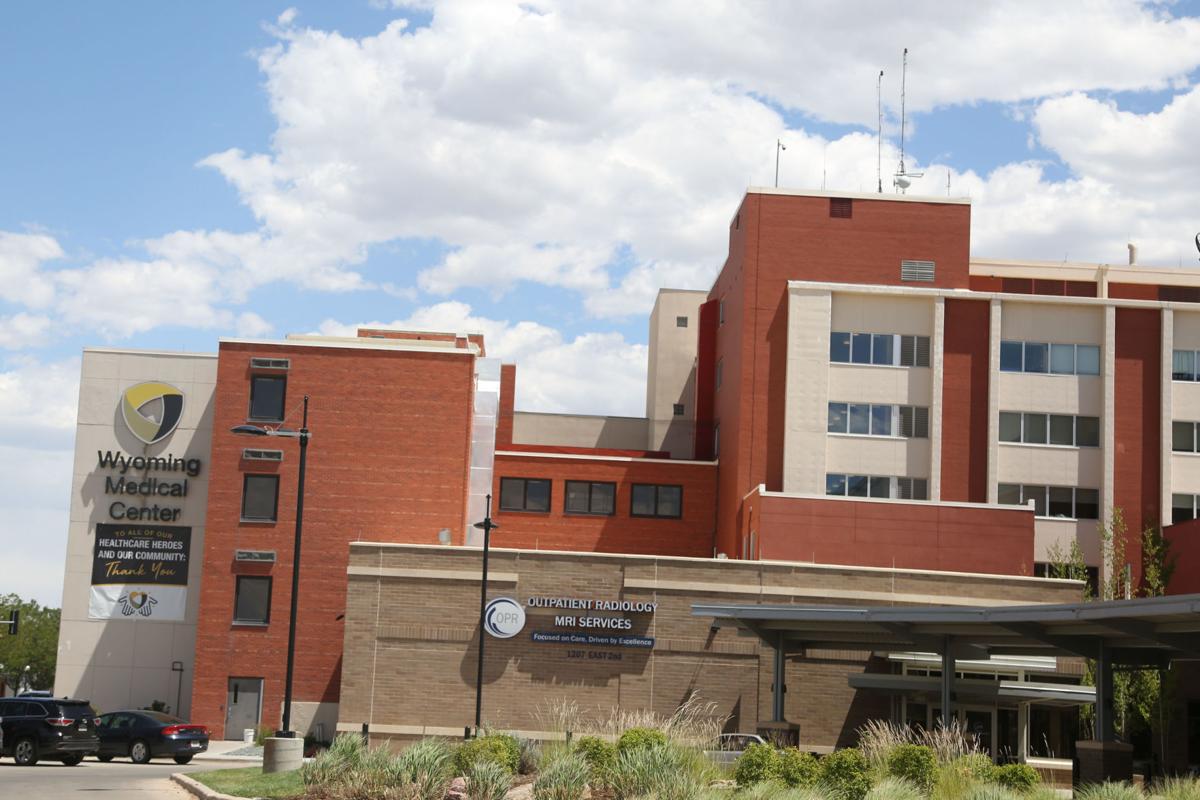 The $200 million deal to sell Wyoming Medical Center's assets to Banner Health was approved Thursday by the Natrona County Commission, clearing the way for the facility to become a part of Banner's growing system.
The commission's five members all voted unanimously, after the county's separate hospital board also gave its approval. The deal will see $120 million go to the county's coffers, plus roughly $40 million dispatched to the hospital's reinforced foundation. Banner will also absorb $50 million in debt left over from WMC construction and the purchase of Mountain View Regional two years ago.
The rest of the hospital's assets, totaling roughly $200 million, will also be shifted into the foundation, which will see its footprint grow astronomically in the wake of this deal. In 2017, the foundation had about $1.9 million in net revenue and $7.8 million in total assets. This deal will see it gain well over $200 million (though county attorney Eric Nelson told the board that this number may fluctuate). With that level of investment, officials have said, the foundation will become one of the largest philanthropic organizations in the state. It will continue to support WMC while also expanding to issue grants elsewhere in the area. The county will continue to work with the foundation on the disbursement of funding.
For decades, after WMC as it's known today was created in the 1980s, the county has essentially been the hospital's landlord, with control over its physical assets. But the county has leased the land back to the hospital for virtually nothing, in exchange for the hospital treating inmates, low-income patients and those on involuntary holds. The hospital will continue providing that care under Banner, Nelson told the commission Thursday, and the hospital will continue offering already existing services — like an emergency room, trauma services and baby-delivery care — into the future.
But the overall oversight of the hospital is handled by its own nonprofit board. The acquisition deal also requires the blessing of that board; a hospital spokeswoman said last week that the board would be meeting before the county commission took its vote. The lawyer presenting the deal Thursday told the commission that WMC's board had voted to approve the deal on Wednesday.
Banner has also committed to investing $100 million in WMC over the next decade.
The two systems, one dominant in Wyoming and the other dominant in the region, first publicly announced their courtship in January, when the two organizations said they had signed a letter of intent. At that point, it wasn't clear what any prospective deal would look like; WMC initially said it wanted a partner to affiliate with. But the deal was unveiled last month as a full acquisition.
The price tag — $157 million, plus $50 million in debt absorption — was established by a national health care valuation firm, attorney Jerry Bell told the commission. He said he was "one thousand percent" confident in the valuation, after commissioner Brook Kaufman told him she'd heard concerns about WMC being undervalued.
The deal gained the public support of key physicians — including in a public letter printed in the Star-Tribune signed by chief of staff Dr. Andy Dunn and county health officer Dr. Mark Dowell. It did draw criticism from Sen. Charlie Scott, a Natrona County Republican who chairs the state senate's health committee. He criticized the deal at a public meeting last month as a "high-risk gamble."
Scott alluded to SageWest's hospitals in Fremont County. Those facilities are owned by a for-profit, out-of-state system, and Riverton residents have criticized the running of the hospital there, suggesting it's been hollowed out to support its sister facility in Lander.
Bell said the deal included commitments from Banner to keep WMC full of the services it currently provides; WMC CEO Michele Chulick told the Star-Tribune last month that there were no plans to eliminate any services.
"It's a fair, good deal, really for everybody," said Bell, a Texas-based attorney who worked for the county on the deal. He said it was riskier not to take the deal and assume that WMC — an independent hospital in a rural area, an endangered species nationwide though not necessarily in Wyoming — would be OK into the future.
The board took pains — via questions aimed at Bell and Nelson — to indicate that it had looked at a wide range of options, like with other systems, and wasn't rushing the process.
Before voting, the commissioners expressed support for the deal (the county's separate hospital board also voted Thursday to support the deal). County commissioner Paul Bertoglio listed other community hospitals he was familiar with that now "sit empty." He said "that could happen" to WMC if it were kept independent. Fellow commissioner John Milne agreed, pitching the decision as a forward-looking way to ensure the hospital's continued existence in Casper.
Kaufman said the decision to sell WMC felt more serious than getting married. She said she hoped to keep more care in Wyoming and was encouraged by Banner's commitment to invest $100 million in the coming 10 years.
"This is not going to do anything but ... help the health care of the citizens of Natrona County, that's why we're here," county commission chairman Rob Hendry said, summing up the support.
In a press release sent to media shortly after the decision, Wyoming Medical Center said patients would continue with the same physicians and services they know today.
"This is an important milestone for our community, and we are excited to bring together two market-leading and highly respected health care organizations to provide even stronger regional, high-quality health care to the people of Natrona County and the State of Wyoming," said Jessica Oden, who chairs the hospital's board of directors. "Banner is simply a natural fit, is committed to ensuring WMC's future success and is the right partner for our hospital and Natrona County."
A growing trend
Hospital finance experts who reviewed the deal for the Star-Tribune said the agreement makes sense for both Banner and WMC.
"If you look around, you see the number of unaffiliated hospitals that aren't in some kind of relationship, you really see that going down," said Katherine Hempstead, a senior policy adviser for the Robert Wood Johnson Foundation. "You know the scale, like the supply chain economics, make it very, very hard to persist in that way. It doesn't surprise me that WMC is kind of looking ahead and thinking about wanting to be a part of something bigger. I think basically if you don't have a path where you think you're going to grow, the business is really tough otherwise; you have to have something to grow just to survive."
She said WMC's market power — the trauma referral center in Wyoming and the largest hospital in the state — likely made it appealing to Banner. Banner already has three much smaller hospitals in Wyoming, which Hempstead said is another reason Banner would want to nab WMC: to make it the hub from which smaller spokes jut out into the state.
Allan Baumgarten, a Minnesota-based analyst, agreed. He said that Banner and one of its regional competitors, UC Health, had been snapping up facilities in the West. UC Health has a toehold in Wyoming already, with affiliation deals in place with Ivinson Memorial and Cheyenne Regional.
"Presumably, Banner thinks that this acquisition in Wyoming strengthens its position in a multi-state region there," he said. "It potentially blocks UC moving into that territory."
Referring to past Star-Tribune reporting, he noted that WMC was financially strong. Indeed, it's the most profitable hospital in Wyoming. He said that the challenge for smaller facilities, even if they're large by comparison to other players, is accessing the capital needed to keep growing.
"In the examples I've seen of smaller hospitals putting themselves up for bid, it's not so much for purchase price; it's commitment for future investments," he said, which had echoes of the hospital and commissioners touting Banner's $100 million commitment.
"For WMC, it was probably a realization that at the end of the day, something like this is going to happen or they're going to run into trouble," Hempstead said. "The business is going to get tougher and tougher for all hospitals everywhere."
The difficulties facing small, rural hospitals are myriad. A prime one — which will certainly be addressed by this deal — is the bargaining power wielded by a small facility compared with a giant system. That comes into play on multiple fronts. It can be in buying physical equipment or technology, when bulk purchases by a Goliath system can drive the price down. It can also be wielded when negotiating with insurers.
Cost to consumers
That's a good thing for the hospital, as it gets better rates from private insurers who have to include Wyoming Medical Center — and now all of Banner — into their offerings. But it's almost never a good thing for the price of care, experts and research show. Even as newly merged hospitals save money — both from purchasing power improvements but also by eliminating redundancies — they increase prices.
"At this moment, the public should know that the price will likely increase," said Ge Bai, a health finance expert at Johns Hopkins University. She said that the larger the system, the more power it has when negotiating with insurers. That is only compounded when you factor in a case like WMC, which has a virtual monopoly on care in central Wyoming.
Bai said that in other cases, as these types of mergers have spread, so too have acquisitions of independent clinics. Should that happen, the system — in this case, Banner — will only have more power.
"We talk about price — the bigger, the higher price," Bai said. "On the other hand, it's an efficiency issue. You're bigger, you can consolidate many services and make it cheaper overall. You're making things more streamlined. The bigger systems can do that, the smaller cannot."
Earlier this month, the Kaiser Family Foundation — a leading national health care think tank — published a roundup of available research on acquisitions. The organization found that "a wide body of research has shown that provider consolidation leads to higher health care prices for private insurance." It quotes a study by a Medicare commission that found that the "preponderance of evidence suggests that hospital consolidation leads to higher prices."
"Even when a hospital merges with a hospital in a different geographic area, some studies suggest that the merger can impact competition and prices," Kaiser's researchers wrote. "One analysis found that prices at hospitals acquired by out‐of‐market hospital systems increase by about 17% more than unacquired, stand‐alone hospitals. ... One reason that prices rise when there are hospital mergers across markets is that they increase hospital bargaining positions with insurers, which seek to have strong provider networks across multiple areas in order to attract employers with employees in multiple locations."
This puts the squeeze on employers, who then have to absorb the higher costs of the insurance plan because they must have WMC and Banner in their network. That type of squeeze on employers typically trickles back down to employees.
"They have to have the Banner hospitals in their network for their employee benefits plans," Baumgarten said, "and now the Banner hospitals are able to say, 'We negotiate as a system and we want to make sure that if our prices in Wyoming have been lowered, we want to bring them up to what they are in Colorado. If prices in Colorado are lower than Wyoming, that's a reason to try to bring them up.' It's not as if their competition with the University of Colorado is resulting in lower prices with anybody; if anything it's resulting in higher prices."
Baumgarten echoed Bai's point about mergers leading to clinical acquisitions. He called larger systems buying up clinics "a recurring pattern" and "very much the trend." He said it's part of an overall effort to bring in a full range of services under one umbrella.
None of the experts predicted WMC would be hollowed out by the deal, as Sen. Scott said was at risk. Baumgarten said there was an element of risk associated with giving away ownership. He added that while having access to Banner's sizable capital investments was likely a motivator, WMC won't necessarily always be first in line to get that money each year.
But asked if he thought WMC would be turned into a "first-aid station," as some have derisively called SageWest's Riverton facility, he said he couldn't see that happening, given WMC's status in the state.
WMC officials have noted, as legislators like Scott have before them, that as much as a quarter of the care that should be in Wyoming leaves the state. That's because care is so much more expensive here than anywhere else in the region. Hempstead, of the Robert Wood Johnson Foundation, said Banner may see the deal as a way to corner more of that care and keep it in Wyoming.
"With an affiliation with Banner, you can say, 'You can see a Banner specialist virtually or have all of these advantages … you can have a consult or you can have access to these, more of the resources of this bigger, broader facility, this network of hospitals," Hampstead said. "I think there would be ways to deliver more services in-state by using some of the Banner assets. But also maybe, I wouldn't be surprised if they say, 'When care does go into Colorado, let's try to kind of keep things in a Banner facility and that way we're capturing that revenue.'"
Bai said the deal wouldn't have any effect on elective procedures that leave the state unless prices went down.
"Having this deal wont change much unless they reduce the price, big time," she said. "That probably wont happen."
Be the first to know
Get local news delivered to your inbox!