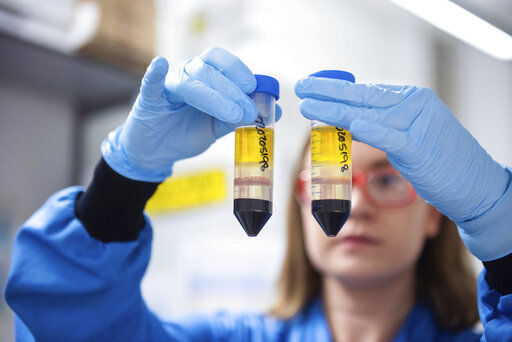 On Saturday, 140 new coronavirus cases were confirmed in the Wyoming Department of Health's daily update. The department announced 15 new probable cases.
There are new confirmed cases in Albany (4), Big Horn (5), Campbell (8), Carbon, (3) Converse (8), Fremont (13), Goshen (9), Johnson (3), Laramie (27), Lincoln (4), Natrona (11), Park (4), Platte (2), Sheridan (14), Sweetwater (7), Teton (23), and Washakie (1) counties.
The health department lowered the number of confirmed cases in Sublette County by six.
Health officials announced 997 new confirmed recoveries and 100 new probable recoveries.
There are now 27,737 confirmed cases, 4,191 probable cases, 19,780 confirmed recoveries and 3,018 probable recoveries in Wyoming.
As of Saturday, 215 Wyomingites have died after contracting COVID-19.
In Natrona County, 3,932 confirmed cases and 852 probable cases have been recorded.
Probable cases are defined by officials as close contacts of lab-confirmed cases with symptoms consistent with COVID-19, the disease caused by the novel coronavirus.
A patient is considered fully recovered "when there is resolution of fever without the use of fever-reducing medications and there is improvement in respiratory symptoms (e.g. cough, shortness of breath) for 72 hours AND at least 7 days have passed since symptoms first appeared," according to the Wyoming Department of Health.
Cases plateaued in Wyoming in late spring before beginning a spike in mid-June. As a result, state health officials decided against their plans to eliminate almost all coronavirus restrictions. State Health Officer Dr. Alexia Harrist has continually extended most health restrictions.
Then, in mid-September, cases began increasing at a rate exponentially higher than anything seen here since the pandemic began — a trend that has not yet fallen off. Subsequent spikes in hospitalizations and deaths have followed.
In response, multiple counties have put local face mask orders in place. Gov. Mark Gordon has not acted on requests for a statewide mask order, but he did opt to increase the limits on public gatherings.
The symptoms of COVID-19 include cough, fever and shortness of breath. Symptoms appear within two weeks. Health officials recommend self-isolating for two weeks if you have contact with a person who has the illness.