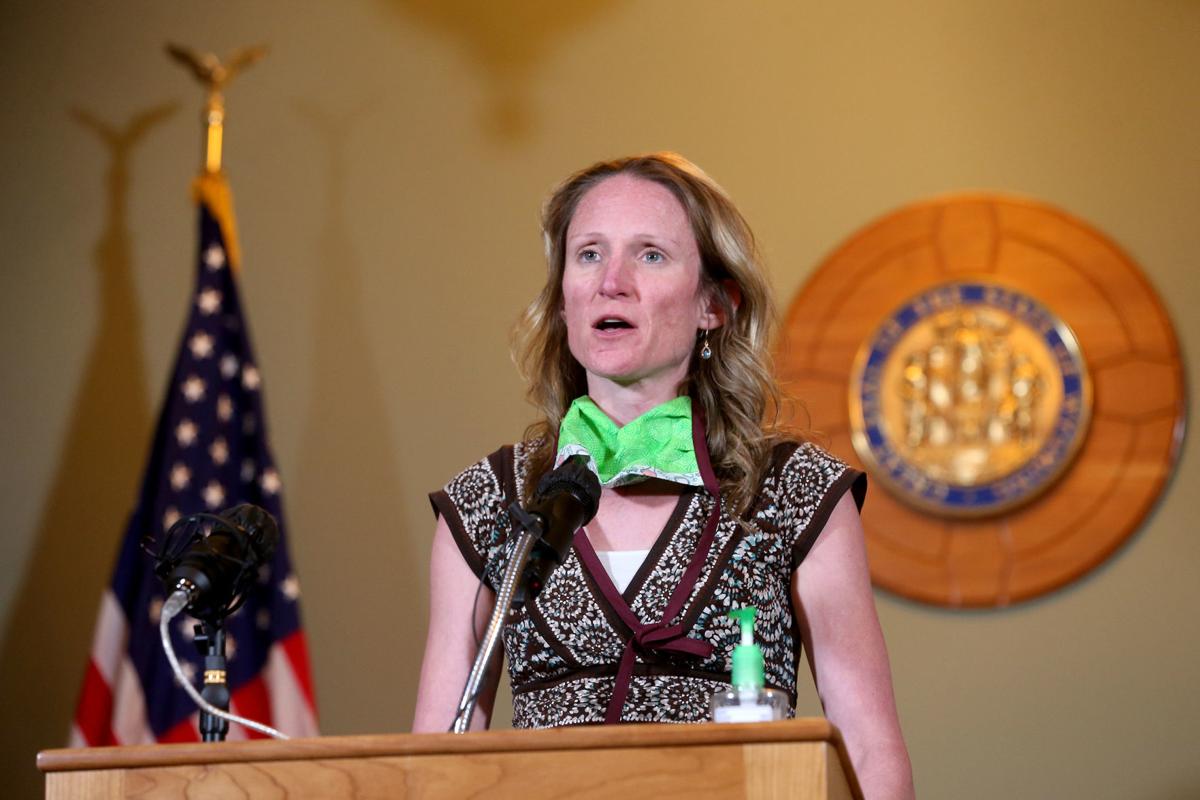 On June 10, the last time the Wyoming Department of Health announced an updated set of restrictions meant to limit the spread of the coronavirus, the state had announced 77 total cases over the previous 10 days.
Monday, the department will announce a new set of public health orders for a state that finds itself with a very different outlook. Over the past two days alone, Wyoming has added 86 total COVID-19 cases. The state is averaging more than 34 total cases a day since Monday, and its monthlong average of confirmed cases is more than 50% above the previous high (9.8 per day in April).
In an interview Friday with the Star-Tribune, state health officer Dr. Alexia Harrist said she couldn't speak to the specifics of what Monday's orders will contain. But she did say the state's current situation would be a consideration.
"It's why we do the orders in two-week increments, so that we can understand the effects of the changes that we've made and the effects on the data before we take the next step," she said. "But yes, we will consider what's necessary to protect the public health at each stage."
Few patients hospitalized
While the recent spike in cases has come at a startling clip — the state's 10-day rolling average of confirmed cases has set a new record in six of the last 10 days — that's far from the case for the number of hospitalized coronavirus patients. As of Friday, there are five patients in Wyoming hospitals with COVID-19, a minimal increase from that figure's low point earlier this month and far from its high point of 23 (April 20 and 21).
Harrist said there are multiple reasons for that.
One, hospitalizations surges can tend to lag behind increases in identified patients.
"We are seeing, and it has been reported elsewhere too, that some people can become more severely ill late in the first week or into their second week of illness," she said. "And so it's a possibility that we will see a surge of hospitalizations related to this surge of cases but that it will be delayed by a week or two compared to the increase of case count. So that's certainly something that we have to be aware of and plan for as a possibility."
She said this is the possibility that most concerns her, but there are other contributing factors that are less worrisome.
"Compared to the beginning of the outbreak, when we saw the peak in our hospitalization numbers, our testing capabilities have expanded greatly," said Harrist, who noted that Wyomingites hospitalized out of state are not included in the department's numbers. "We are now able to test many more people, including people who may have milder symptoms or no symptoms at all. So we might just be detecting a relatively less severely ill group of people.
"... We are, unfortunately, seeing increases in cases in people in their 20s and 30s who may be less likely to become severely ill but still have the possibility to become severely ill."
Harrist has stressed repeatedly that the rise in cases cannot be solely attributed to expanded testing.
"The increase in number of cases does reflect increased transmission within communities in Wyoming," she said Friday.
But the Wyoming Public Health Laboratory is testing a higher swath of people, especially compared to the state's initial outbreak, during which it had to restrict testing to people in six priority categories. The lab has conducted an average of 306.5 tests per day in June, compared to 277.4 in May, 104.1 in April and 60.8 in March.
That testing lessens the likelihood of there being an abundance of coronavirus patients who aren't reflected in the state's data, Harrist said.
Even with widespread testing, however, the state has seen an increase in the percent of tests coming back positive. That number is still hovering below 3% after dipping to as low as 1.39% in early June.
"We're still in a good place, in terms of percent tests that are positive, and we want to see it either stay there or get better," Harrist said. "And we always want to encourage people who have symptoms or people that are close contacts of people to get tested as recommended by their health care providers. That really helps us identify cases, put the appropriate control measures in place and help prevent further spread."
While some statewide increases during the pandemic could be attributed to a few surging counties, Wyoming has seen an uptick of late in the sheer number of counties contributing to the surge.
Wyoming's cases continue to grow at a rate not yet seen since coronavirus emerged in Wyoming in mid-March.
"The increasing geographic distribution that we're seeing certainly plays a factor in our concern," Harrist said. "Again, it just represents more communities that are seeing transmission of the virus within them. And, of course, it's harder to then pinpoint that to one source or one specific outbreak. And so the control measures become extremely important."
Harrist said she couldn't predict whether a theoretical increase in hospitalized patients over the next few weeks would put a strain on Wyoming hospitals. But she doesn't need a crystal ball to look at what other states have experienced during similar spikes in cases.
"All along in this outbreak, one of the major goals has been knowing that we are going to continue to see cases but to make sure that transmission is occurring at a rate in which we're not overwhelming our hospital systems," she said. "We're much better prepared, in many ways, than we were certainly in March and April, but that's still something that we have to be very concerned about.
"I would say it's not a theoretical concern," she continued. "We saw it in states that were hit hard by the outbreak early on, that that was a concern, and we're seeing it now in states that are seeing surges. And so I think that we need to learn from that and keep it in mind in our response to the outbreak."
Reasons for spread
As far as the reasons for Wyoming's increased transmission of the virus, Harrist continued to emphasize the importance of personal responsibility.
"I think that, especially as spring and summer have arrived and there was such a long period of time where a lot of activities were restricted, that people are out and participating in activities," she said. "And I think that it's not like they can't do that, but that there is a way to do that safely and to take relatively simple precautions to both help prevent yourself from getting infected but also to help prevent the spread of infections within your communities as a whole.
"And we've been talking about these steps the whole outbreak, but really trying as hard as possible to physically distance yourself from others who are not in your household. So, staying six feet away from others who aren't in your household. Wearing face coverings when you do have to get within six feet of others. That, again, helps prevent you from spreading the virus to others if you're sick and you don't know it. Because we do know that people who don't have any symptoms or have very mild symptoms but have the virus could still spread it to others. And then to limit the group sizes that you're in so that if somebody does have the virus, you're limiting the number of people that are impacted."
The state's most recent public orders, which took effect June 15 and expire Tuesday, increased the permitted size of indoor gatherings to a maximum of 250 people.
"It's important that these precautions not only help people protect themselves but they also help protect the businesses in our communities to be able to stay open," Harrist said. "Because if their staff are impacted or exposed, then the staff can't work, and we've seen unfortunately in some instances where the businesses have to temporarily close because they can't operate. So I think I would just request that, especially with the Fourth of July coming, that people participate in activities but participate in them in as safe a way as possible, keeping in mind both protecting themselves and their families as well as protecting others in the community."
Follow managing editor Brandon Foster on Twitter @BFoster91