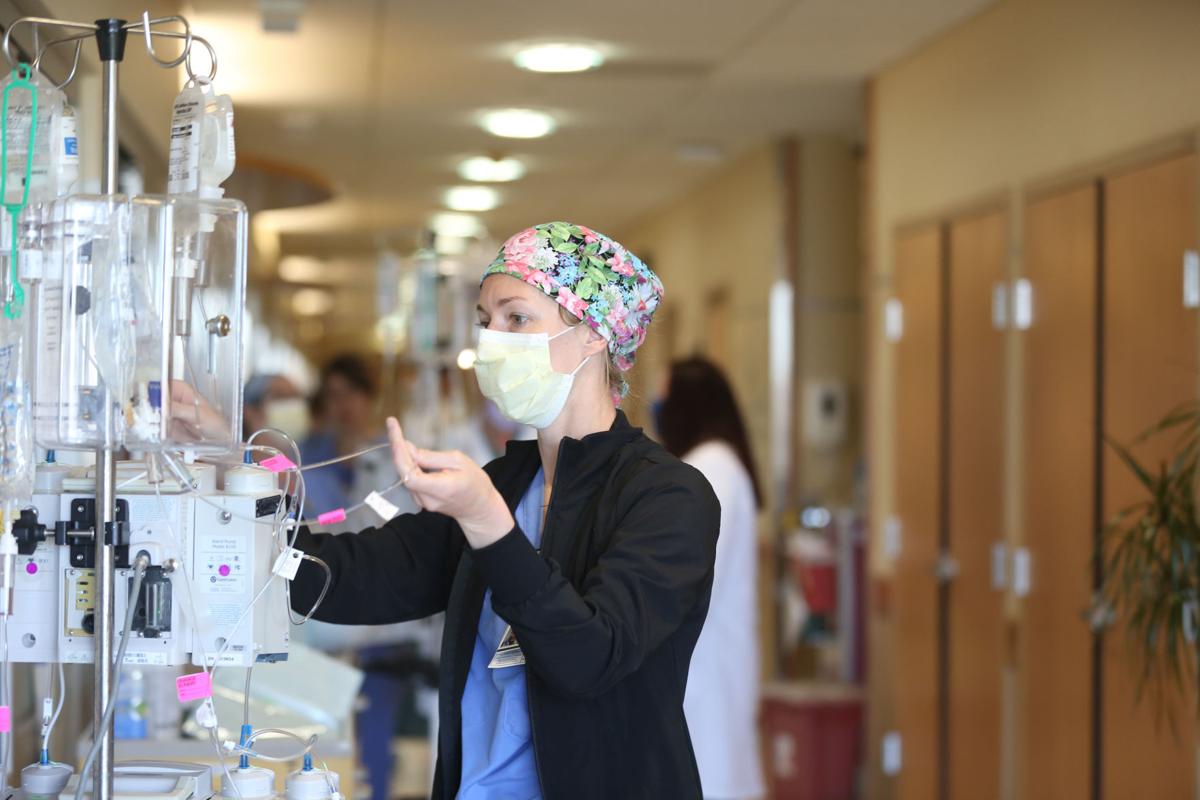 Gov. Mark Gordon is using $30 million in federal funds to help alleviate staffing shortages in Wyoming's hospitals and other health care facilities, his office announced Wednesday.
"Wyoming's healthcare system and healthcare workers, in every community are feeling the strain of this surge," Gordon said in a statement.
"We need to recognize our healthcare workers' commitment to caring for our neighbors during the pandemic. They are working extra-long hours and at times having to cover for sick colleagues. These are very stressful times for all of us, but particularly those in the healthcare industry. This is a means to thank them and to try to make sure we can keep them on the job," he continued.
The governor plans to pursue other options for supporting health care providers during the surge, including the use of Wyoming National Guard members as needed, the office said.
Twenty million dollars will be used on a "discretionary" basis by health care facilities to "fill staffing shortages, provide hazard pay, and strengthen recruitment efforts for the state's existing healthcare workforce," according to Gordon's statement.
The remaining $10 million can be used by private hospitals and long-term care facilities to pay traveling medical staff through a contract with the Wyoming Hospital Association.
Ten Wyoming hospitals were experiencing a critical staffing shortage Wednesday, according to federal data. There were 230 people in Wyoming hospitals on Tuesday.
Officials from several Wyoming hospitals told the Star-Tribune in mid-August they were already feeling a staffing squeeze, with multiple facilities calling on traveling nurses and relying on other locations' abilities to accept transfers.
The state's unvaccinated adults are driving the surge in hospitalizations and new cases. Roughly 96% of new cases and 95% of hospitalizations are among those not fully vaccinated.
Natrona County Health Officer Dr. Mark Dowell previously said the fully-vaccinated virus patients being treated at Wyoming Medical Center have immune conditions that likely prevented them from getting the full benefit of the initial shot or shots.
At the height of the pandemic in late November, 247 people were hospitalized statewide and active cases neared 12,000 — roughly 2% of the state. At that time, more than a dozen counties implemented local mask requirements. Shortly after Gov. Mark Gordon announced a statewide mandate.
State and local health officials have since credited that mandate with the plunge in infections that followed. By March, Wyoming's mask order was lifted, as restrictions on gatherings and public spaces were limited and eventually dissolved as well.
Active cases are not where they were at the peak, but have reached December levels with more than 3,400 cases active Tuesday.
Gordon has said his office will not implement any more mandates or lockdowns, while his state health officer and federal officials are encouraging everyone to mask up in areas with moderate to high virus transmission as a more contagious variant spreads.
Gordon said he encourages residents to get vaccinated but that the decision is "intensely personal" and he is not planning any interventions to increase uptake.
Wyoming's vaccination rate trails most of the country. Nationally, the state is tied for the lowest proportion of fully vaccinated residents and those who've received at least one shot. However, there has been an uptick in vaccinations that followed the rise in cases.
Roughly 36% of the state is fully vaccinated against COVID-19.
Follow health and education reporter Morgan Hughes on Twitter @m0rgan_hughes