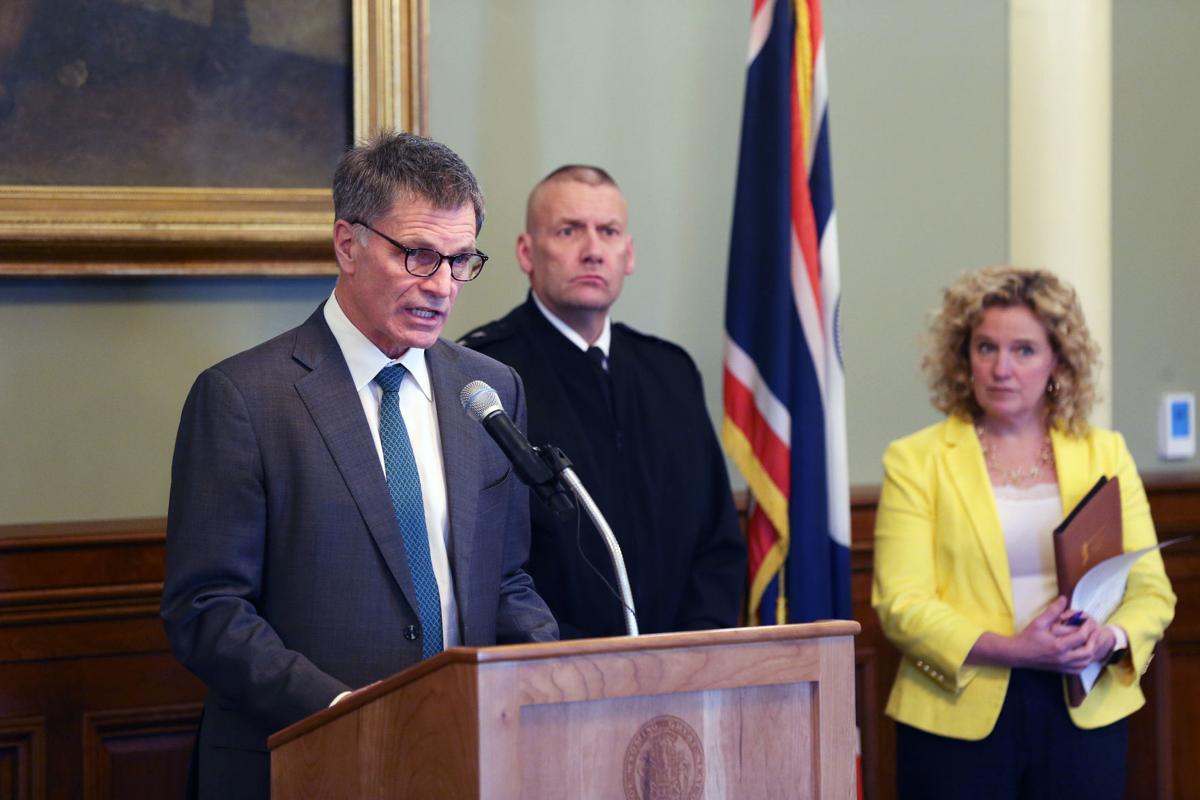 Wyoming's leaders are developing a transition plan to lift some of the restrictions put in place to slow the spread of the novel coronavirus, Gov. Mark Gordon announced late Friday afternoon. But the state's existing orders will remain in place through at least April 30.
"Our transition into a new phase must be health data-driven, not date driven," Gordon said. "If the people of Wyoming continue to do the right thing and we see the improvements we need to see, we will continue our transition to a stabilized economy. We need our economy back, but we must avoid a resurgence of this virus."
The current orders — closing schools, gyms, barber shops and other public spaces, as well as another that prohibits gatherings of 10 or more — will remain in effect through April 30. Those orders may be extended or modified, Gordon said, depending on what the data tells the state.
Gordon reiterated what he told reporters earlier this week: Any decision to loosen up public health orders will be data-driven, and not just one piece of data. But he said that Wyomingites should continue following the orders and added that adherence thus far had "helped to flatten the curve," referring to the projected rate of infection here.
"What we do in the coming weeks will determine the way we can ease these orders and rekindle our economy," Gordon said. "I recognize the tremendous sacrifice we all have had to make, but it has been worth it. We have saved lives."
While Wyoming's confirmed coronavirus patient total has steadily ticked upward and topped 300 on Friday, the cases are coming in with less intensity than in the pandemic's first weeks. But two deaths were confirmed this week, and various officials across the state — including Gordon and the state's health officer, Dr. Alexia Harrist — have both said that there isn't one singular piece of data that they will look to when determining next steps.
"It's important to remember that it takes more than a couple of days' worth of data to be able to draw conclusions about what is happening with the outbreak in Wyoming," Harrist told reporters Wednesday. "We need to see sustained trends to make sure we're basing decisions on reliable information."
The apparent slowing of confirmed cases has corresponded with the state Health Department narrowing the types of people who should be tested. The department told the Star-Tribune earlier this week that it was likely too early to tell if the testing changes explained the number of cases being confirmed.
'Got to get this right'
In his press release Friday, Gordon said "continued social distancing protocols" would continue, even if current restrictions are loosened. He repeated another line from Wednesday: that the state was collaborating with other nearby states on next steps, in order to prevent one state from lagging behind and opening up its neighbors to a "flood of new cases."
"We have got to get this right," he said. "We are living in a time where the new reality is that COVID-19 will be with us for the foreseeable future. Until we have a vaccine or a treatment, things are going to be different."
In that Wednesday conversation with reporters, Gordon said that even if the state began to loosen restrictions, the state's recovery would be slow. He said the lack of a cure for the virus is going to make a return to "normalcy" difficult. What's more, while the coronavirus' spread has caused disruption to the state's economy and residents' everyday life, the state's economy has also been battered by oil prices.
"If anyone thinks that simply easing restrictions currently in place will lead to an immediate return to normal, they need to think again," Gordon said. "It is important to be honest about the economic challenges Wyoming will continue to face in both the short and long term. This will be a slow recovery."
Officials have repeatedly warned that the worst of the disease's spread here is likely still to come. Dr. Mark Dowell, Natrona County's health officer and an infectious disease expert, said this week that the infection curve hasn't been flattened at all and that the apparent slowing of confirmed cases was deceptive.
Concerned about COVID-19?
Sign up now to get the most recent coronavirus headlines and other important local and national news sent to your email inbox daily.