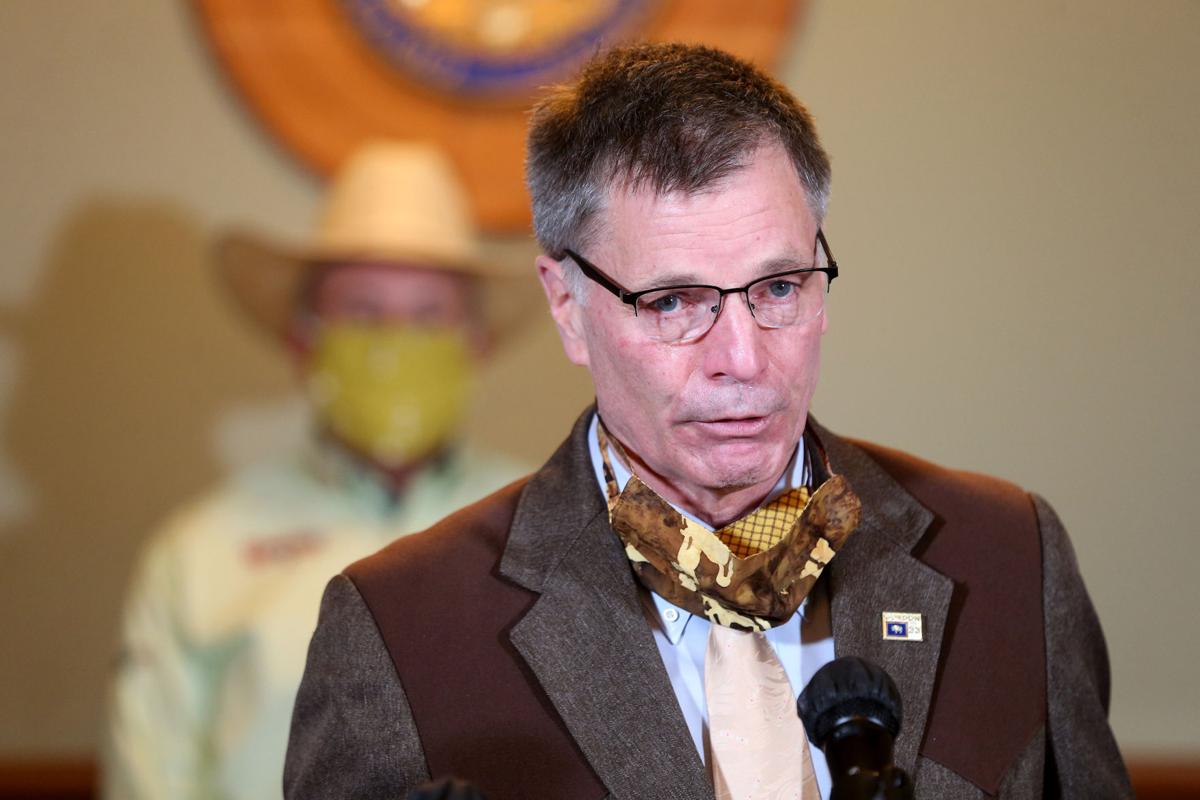 Gov. Mark Gordon expressed cautious optimism Wednesday about the state of the coronavirus pandemic in Wyoming, a positive note after weeks of rising cases and record-setting days.
"Just over the last couple of days I've had compliments from Gov. (Pete) Ricketts of Nebraska and Gov. (Doug) Burgum (of North Dakota) both saying, 'Your numbers are looking just exceptional, you guys are doing the right thing,'" Gordon said at a Wednesday press conference.
General optimism isn't necessarily new for Gordon, who has largely urged calm and personal responsibility in dealing with the virus. He's voiced frustration with the callousness some have expressed about the pandemic's victims and has emotionally urged Wyomingites to wear masks, but he has largely avoided doom-and-gloom rhetoric, even dating back to the early days of the pandemic.
There remain some flies in the ointment Gordon is cautiously applying. Two of the state's six metrics for gauging the severity of the pandemic remain in the worst of three categories, and the state continues to see cases rise in younger age group. Twenty-five percent of positive cases are between 19 and 29 years old, he said.
"That is a likely a result of transmission at social events, gatherings, and as my friend (Gov.) Doug Ducey in Arizona puts it, one of our biggest concerns is bars," Gordon said.
Still, Gordon said the data is beginning to support his assertion that Wyomingites can handle the pandemic themselves, without stringent public health orders. While much of July saw multiple days with record-high numbers of confirmed cases, by the end of the month, the 10-day average of confirmed cases dipped. It's too early to assign a trend, but it's positive growth, in any case.
The number of active cases — cases minus recoveries — has begun to improve, and hospitalizations, which rose in mid-July, have started to tick downward in recent days, though they remain higher now than at any point in June or May. Gordon repeatedly said that he'd spoken with governors in other states, which opened up and then faced an onslaught of serious infection and viral spread, and noted that Wyoming continued to look good in comparison.
Even still, cases are continuing to rise at a steady clip each day. On the state's coronavirus dashboard, two of the six metrics — new cases and total hospitalizations — are both rated red, for concerning. The other four are all the intermediate category of yellow, meaning stable. There had been flashes of green previously.
The current spate of health orders — which largely describe social distancing, masking and hygiene requirements in public businesses and schools — are all set to expire in 10 days; Dr. Alexia Harrist, the state's health officer, has repeatedly extended these same orders, largely without changes, after a few waves of unraveling the tighter restrictions from May.
Of course, the looming unknown is the reopening of schools in the coming weeks. The state is set to open doors in all 48 school districts, albeit with restrictions.
"Will there be cases among students?" Harrist asked at Gordon's press conference Wednesday. "Yes. But following common-sense recommendations can keep the numbers lower and more manageable."
Concerned about COVID-19?
Sign up now to get the most recent coronavirus headlines and other important local and national news sent to your email inbox daily.