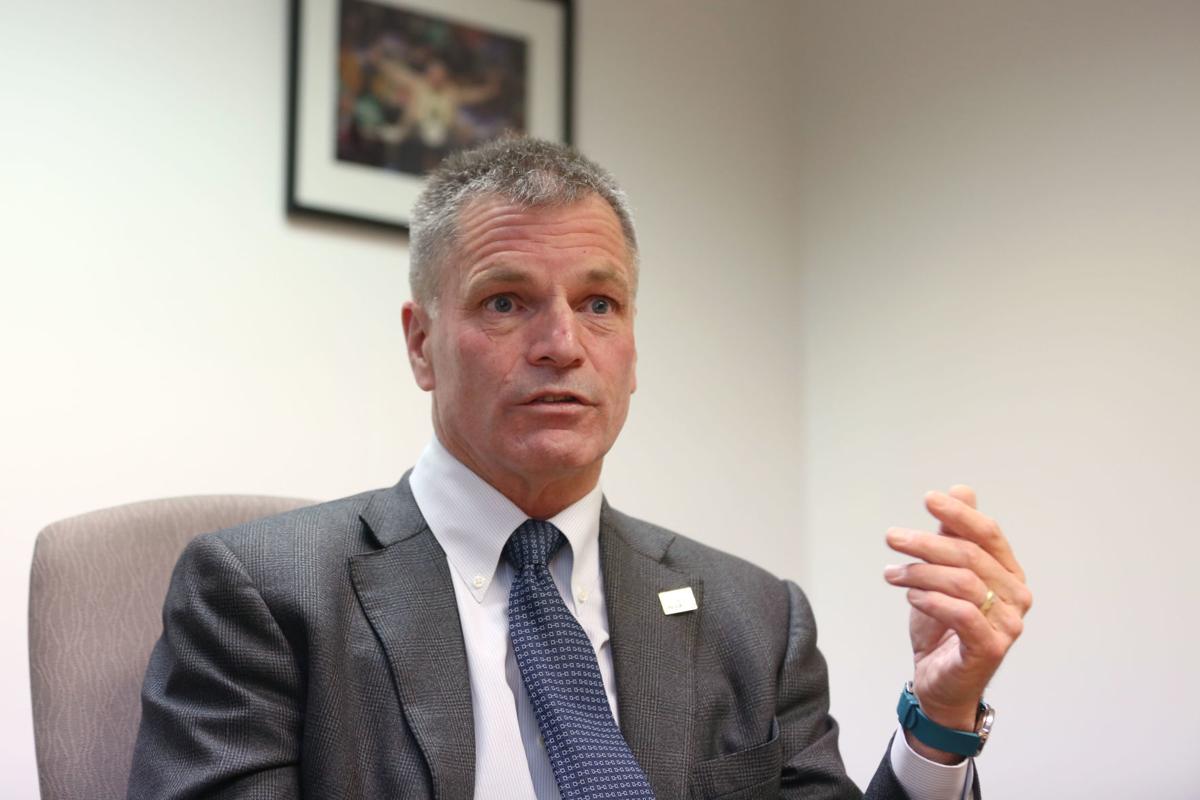 Gov. Mark Gordon acknowledged Monday that testing limitations are likely contributing to an undercount in the number of coronavirus cases in Wyoming as the official total reached 28, with new cases in Carbon and Laramie counties.
"It's amazing to me that in a week and a half's time, we've come so far," Gordon said during a Monday afternoon news conference. "In the past week and a half, it feels like a month or even two or three months."
Gordon's latest news conference comes as the state continues to see its confirmed cases slowly and steadily tick upward, even as officials continue to roll out restrictions on everyday life in Wyoming in attempt to slow the spread of the novel coronavirus. Gordon — who has declared a state of emergency and ordered the closure of most public spaces last week — said there was a possibility he would roll out new orders in the coming days, though he didn't elaborate on what those might be.
In recent days, state and local leaders across the country have closed schools for the rest of the year and issued shelter-in-place orders, effectively clearing the streets. The governor said he's not currently considering a shelter-in-place order for Wyoming.
Gordon said the purpose of any new order will be the same as he previous actions: "to protect public health." He said educators are preparing alternative educational models should the K-12 school year be further suspended beyond the first week of April. With the federal government's blessing, state testing has been canceled, and ACT — the college readiness test — dates are being adjusted.
Gordon said that Wyoming's total COVID-19 case load stands at 28 as of mid-afternoon Monday, including new cases in Laramie and Carbon counties. The seventh Laramie County case is a Cheyenne resident in their 60s, the city said in a Monday evening announcement. They've had limited contact outside of their home, according to the announcement, which didn't specify their sex.
The state lab has run 532 samples, while private labs have processed scores more. The state laboratory can now process as many as 100 samples a day, a 10-fold increase from less than two weeks ago. Dr. Alexia Harrist, who spoke with Gordon on Monday, said that there is no backlog at the state lab.
Still, while the lab is processing tests at a quick pace, the number of available testing supplies continues to limit who can get tested. Gordon said there are likely many people who have the disease and haven't been — and, given current supplies, won't be — tested. That leaves state leaders with an inaccurate accounting of the disease's presence here, Gordon said, echoing the sentiments of providers across the state.
While the testing limitations are out of policymakers hands, they leave those with milder cases unconfirmed. Those patients "are the real spreaders," a Casper doctor said last week.
The state has prioritized testing for health care workers, those who are seriously ill and need hospitalization, those with close contact to an infected person, and those with other health conditions that make them susceptible to serious disease.
Gordon also acknowledged the dwindling supply of PPE — personal protective equipment like masks and gloves — at hospitals across the state. This isn't a Wyoming problem; fears about desperately short stock is a mounting concern nationwide, with state leaders expressing frustration that they're having to compete with each other to get the supplies their states need.
The governor said the state has tapped both national and state reserves for more supplies and that those supplies would be distributed beginning Tuesday. In Natrona County, residents have been gathering or making masks to send to clinics here, one of which saw more than 500 patients in a matter of days last week.
"This crisis is going to require participation from all of us and a willingness to sacrifice," Gordon said. "My great uncle George Patton used to say Americans love to fight, and we're in a fight."
Nationwide, the total number of cases is rapidly approaching 40,000, with the numbers changing by the hour. More than 450 people have died from the disease.
Natrona County case
Elsewhere Monday, health officials in Casper said that Natrona County's first confirmed coronavirus patient is a woman in her 50s who is self-quarantining and appears to have contracted the virus during in-state travel.
The patient, whose diagnosis was confirmed last week, tested positive after being examined at a Wyoming Medical Center facility. Health officials at a Monday press conference did not identify which clinic, but WMC has established a respiratory and coronavirus-specific clinic, which has tested more than two dozen people for COVID-19 and had seen more than 500 patients within days of its opening last week.
The patient "works in a health care setting but not in a direct care position," state Health Department spokesman Kim Deti said. A number of the state's patients are health care workers: the Park and Carbon county patients, for instance, as well as the staff members at an assisted-living facility in Lander.
Hailey Rodgers-Bloom, a spokeswoman for the Casper-Natrona County Health Department, said in a press conference that the agency's "contact tracing" — backtracking to anyone the woman may have had contact with — was complete and said that if you had potentially been exposed to the virus, you already would've been contacted.
The county has submitted 83 tests to the state lab. Sixty-six have returned negative, one has been positive, and 16 have not yet been completed.
While Casper has only one case, the state's biggest city, Cheyenne, is up to seven. Only Fremont County, where a cluster tied to an assisted-living facility continues to grow, has more.
At least 147 tests in the state have been performed by commercial labs, with one test done by the Centers for Disease Control and Prevention.
COVID-19, the disease caused by the novel coronavirus, is a respiratory illness whose symptoms include fever, shortness of breath and coughing. It is especially deadly for the elderly, for those with compromised immune systems and those with chronic health conditions.



Concerned about COVID-19?
Sign up now to get the most recent coronavirus headlines and other important local and national news sent to your email inbox daily.