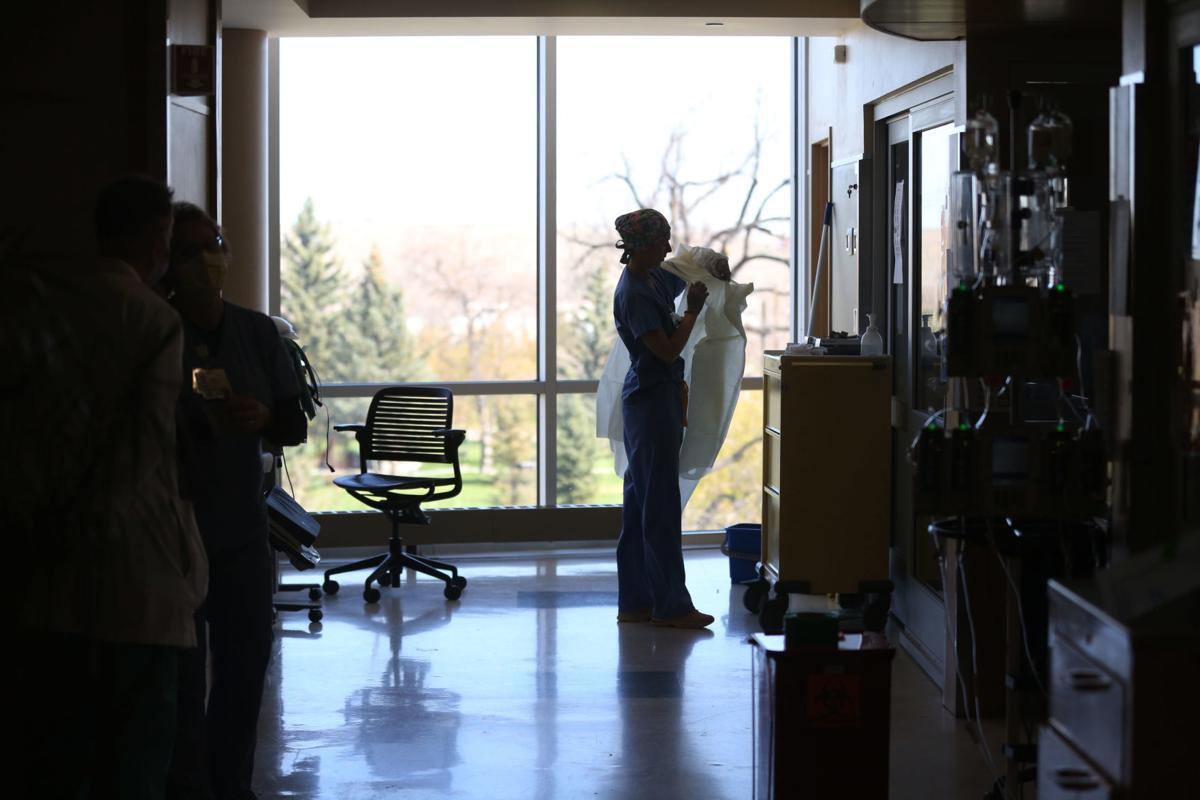 Speaking shortly after the fourth announcement of a Wyoming coronavirus-related death in five days, Gov. Mark Gordon on Wednesday urged residents to follow guidelines designed to reduce the spread of the coronavirus.
"If we become complacent, we could well see more people getting sick and we would hate that," Gordon said. "We don't want to lose the ground we've gained."
Gordon delivered the remarks a day after Dr. Mark Dowell, the Natrona County health officer, said an influx of new cases in the Casper area "correlates really well" with people not taking seriously the recommendations put in place to stem the virus' spread. Gordon, who wore a lowered face mask while speaking, made reference to Dowell's comments early in the press conference.
The governor stressed the importance of wearing masks in public, which he called a sign of respect and a way to prevent a person with the virus from unintentionally spreading it. He also urged residents to continue to use social distancing.
"It's important that we try to keep this pandemic at bay," Gordon told reporters.
To date, Wyoming has recorded 596 confirmed cases of coronavirus, with 191 additional probable cases, according to the Wyoming Department of Health.
In the past eight days, Natrona County has confirmed 15 new cases of the virus after going three weeks without a case. That number includes a child in a day care facility whose positive test led to 32 more people being tested and 58 being told to quarantine.
Dr. Alexia Harrist, the state health officer, was asked about the county's recent increase at Wednesday's news conference. She said that the state Health Department would be sending "a couple" staff members to Natrona County on Thursday.
"We are going to keep identifying more COVID cases in Wyoming," she said. "We know that that is going to happen, and it's likely going to continue to happen over the next weeks and months. What our goal here is really to do a couple of things, and that is to protect our most vulnerable populations, those in nursing homes, other communal living settings where people may be more at risk for severe illness and to ensure that our hospitals have the capacity and capability to care for all of the patients who might need care as well as all the equipment required to protect the health care providers who are caring for them."
Natrona County, the state's second-most populous county, still has fewer confirmed coronavirus cases than three other counties: Fremont, Laramie and Teton. However, over the last week, only Fremont has had more new confirmed cases (16 to 14).
Still, Harrist said there was not necessarily a threshold of cases here that would trigger the state stepping in to enforce stricter regulations.
"There isn't a specific number," she said. "I would say it really is the whole picture. In some cases, when you're identifying more cases, it's because you're aggressively contact tracing it and trying to find them. It's more of really the impacts of those cases. Does the hospital have sufficient capacity, (personal protective equipment), testing to be able to deal with those patients? Are we able to keep the virus out of specific types of facilities that pose a great risk for severe illness and death? So it really is the whole picture ... not just a single number of cases."
Eleven Wyoming residents have now died after contracting COVID-19.
To limit the virus' spread, Gordon and Harrist in March ordered the closure of schools and many businesses where people congregate, including bars, gyms and hair salons.
Gyms and personal care establishments were able to reopen with some restrictions May 1. The state has also allowed restaurants to open again — with conditions. And on May 15, the state allowed an order limiting public gatherings to 10 people or less was allowed to expire in favor of one setting the limit at 25.
The orders — and the economic hardship they've caused — prompted some protests, though not on the scale seen in other states. Gordon has said the reopening of Wyoming is being driven by data, not dates.
Concerned about COVID-19?
Sign up now to get the most recent coronavirus headlines and other important local and national news sent to your email inbox daily.