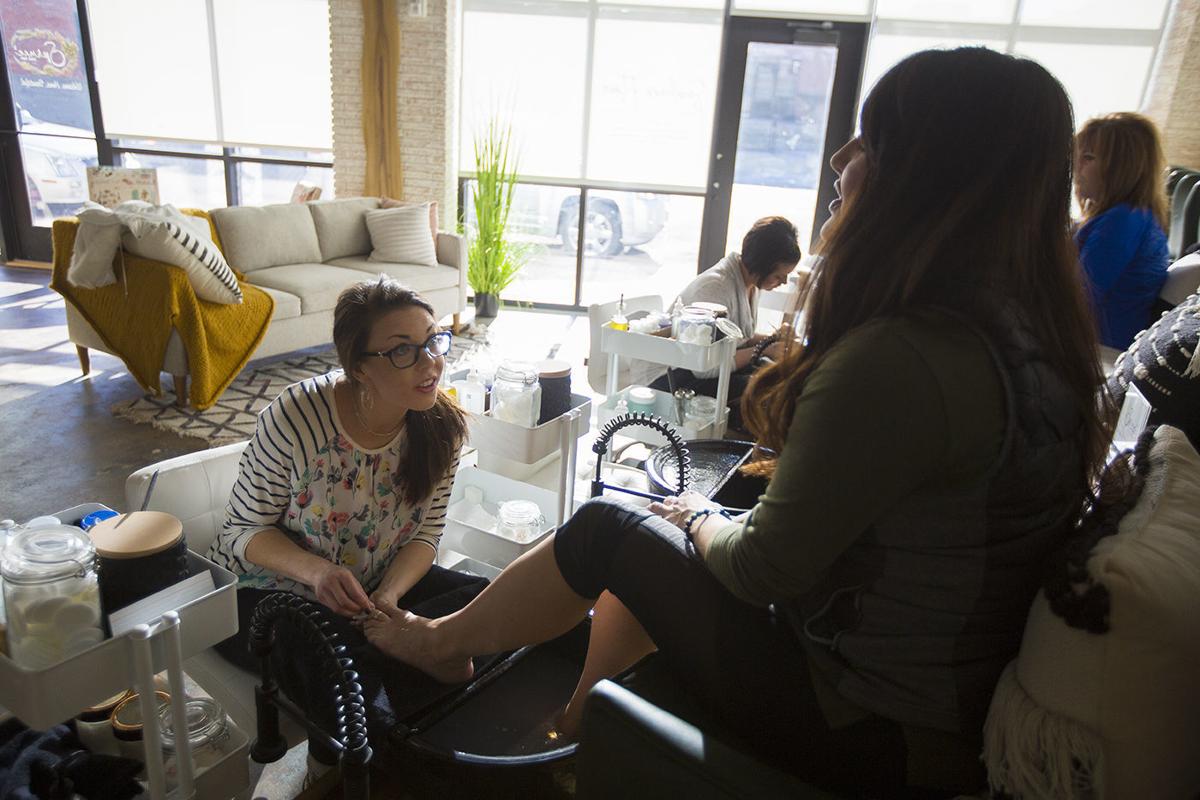 Barbershops, nail salons and gyms can all reopen with restrictions later this week, Gov. Mark Gordon announced Tuesday, marking the first step taken by the state to begin unwinding some of the restrictions put in place last month to slow the spread of the novel coronavirus.
"I am hopeful now that we are indeed on a forward path," State Health Officer Dr. Alexia Harrist said during a Tuesday press conference.
The openings come with conditions. For barbershops, tattoo parlors and nail salons, services can be provided by appointment only and face coverings must be worn to the extent possible; staff and customers must also be screened "for symptoms of illness or exposure to a person with COVID-19." No more than nine people can be in one area at a time, and work stations must be six feet apart.
Gyms can reopen but are limited in the number of people they can have inside at any given moment, equipment must be separated, no classes or personal-training sessions can be held, staff must wear face masks and must clean each piece of equipment after their use.
In all cases, the businesses have to keep "adequate records of its patrons, including names and telephone numbers, for purposes of COVID-19 tracing in the event contact tracing is necessary."
Under the revised orders, day cares can now begin accepting all children, rather than only kids whose parents are essential workers. Restaurants can allow up to five people inside at a time to pick up food, though in-person dining is still prohibited.
"These new orders start our process of getting this part of Wyoming's economy up and running again," Gordon said in an announcement. "We have asked Wyoming citizens to make sacrifices over the past five weeks and they have responded. I want to thank these businesses for playing such an important role in our initial battle with COVID-19. Easing the restrictions on these businesses at this time is prudent and gets us one step closer to a return to normal."
Slowing transmission
It's been seven weeks since Wyoming confirmed its first coronavirus case. Gordon has declared a state of emergency, and Harrist has imposed the health orders in an effort to slow the spread of the virus. Over those seven weeks, 396 people have been confirmed to have the disease while another 140 have likely developed it. Of those 536 probable or certain patients, 362 have recovered. Seven people have died.
However, the actual number of cases is almost certainly higher given the dearth of testing, although that situation has improved of late.
Harrist told the Star-Tribune that the measures put in place by her and the governor have "had a beneficial effect and have slowed transmission, which is one of the reasons why we're able to ease some restrictions.
"But I would also urge caution that we've seen resurgence of this virus happen elsewhere," she said. "It's absolutely possible we could see another surge here in Wyoming, and we're going to have to watch for that, monitor that and take appropriate actions based on that if we do see it."
An order from Gordon mandating quarantine for people traveling into Wyoming is set to expire Thursday and is "currently under review" for an extension.
While the orders are from the state's health officer, they also allow counties to apply for variances, either to make the restrictions more or less stringent.
"We all recognize that the virus has had severe impacts in some Wyoming communities, while other towns and counties have been spared," Gordon said in his statement. "This plan takes into account the continued safety of our citizens and establishes a process to consider some case-by-case exceptions to state health orders when appropriate. It is important that we do not surrender the ground we have taken and that we extend our gains against this virus."
Harrist said that future loosening of restrictions would be gradual in nature, rather than a cascade of lifted limitations.
"These orders go through May 15, so that's a two-week period," she said. "A two-week period is the incubation period of the virus. It's really the minimum amount of time, in my opinion, that you can observe this outbreak and know if what you're seeing is a sustained changed. Everything will be based on what data are showing us."
Striking a balance
The restrictions have been in place for more than a month as the state has attempted to get a handle on the spread of the pandemic. Gordon said last week that he was preparing to loosen up some orders but that these measures would be monitored to see if they contributed to a spike in new cases.
Still, Wyoming has among the lowest number of confirmed cases in the country, along with the fewest deaths.
Gordon previously said that individual counties can decide whether to have tighter restrictions depending on their need. There is indeed a sharp disparity between counties' caseloads. Fremont County has 98, Laramie County has 89, and Teton County has 64. But Weston and Platte counties have none, and 12 more have fewer than 10 cases.
Already some areas have instituted different measures. Teton County, for instance, has a shelter-in-place order, a measure also taken by Fremont County's tribal governments.
Gordon has said that the state will monitor six metrics as it continues to consider loosening other restrictions. Those metrics are new cases; percent of cases attributed to community spread; percent of all tests that are positive; total coronavirus-related hospital admissions; overall hospital bed availability; and ICU bed availability.
As of late last week, the community spread and hospital admissions metrics were marked as concerning for the state, while the other four were designated as stable.
Harrist told the Star-Tribune that she was monitoring the metrics on a daily basis and that further decisions about opening up the state will have to be made on a step-by-step basis, influenced by multiple metrics, rather than one piece of data.
Gordon and Harrist have both stressed that increased testing are going to be pivotal in the state's ongoing response to the virus. Thus far, more than 9,600 of the state's 570,000 residents have been tested. While shortages of testing materials have plagued both the state lab and providers treating potential patients, more material has become available. The state Health Department said last week that its lab would begin processing any sample from a symptomatic person, rather than accepting only those swabs from priority groups.
Harrist said the ongoing goal for providers is to test anyone with symptoms, a benchmark that's becoming more attainable as supplies become more plentiful. She said there was still concerns about swabs needed to take the samples themselves, though she said the lab "felt good" for the time being about broader testing.
She attributed the recent spike in cases — nearly 80 in a week — is partially attributable to "aggressive testing" in places like Fremont County, where there's been a surge of new patients identified. She added that the state's confirmed cases were one metric but that it had to be considered within the broader context of the disease's death and hospitalization rates, as well as the strain it's placing on hospitals.
Concerned about COVID-19?
Sign up now to get the most recent coronavirus headlines and other important local and national news sent to your email inbox daily.