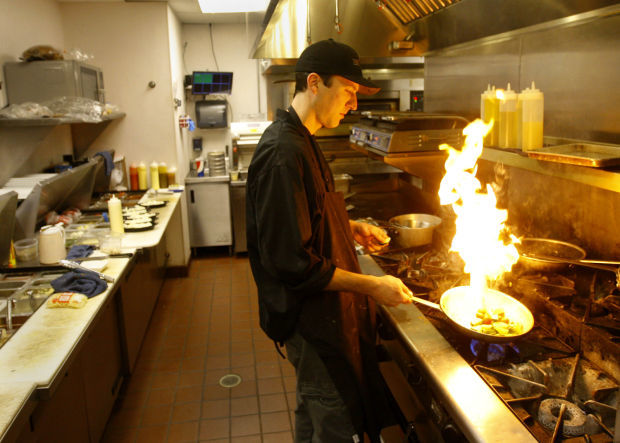 For the first time in weeks, Natrona County residents can eat at restaurants, albeit only in outdoor settings and with social distancing restrictions, after the state approved a request from health officials here.
Natrona County "has had a flat and stable number of confirmed positive cases of Covid-19 with the last reported positive confirmed on April 23, 2020," Natrona County health officer Dr. Mark Dowell wrote in his request to Dr. Alexia Harrist, the state's top health official.
He added that after reviewing data about the virus's presence here, "an incremental loosening of the current statewide orders is prudent and warranted."
The variance order loosens state restrictions that still require in-person dining be prohibited at restaurants.
Under the new requirements, patrons can eat outdoors as long as tables are limited to six or fewer, "preferably of the same household"; tables must be six feet apart; there must be signage reminding people to stay apart; staff must wear face coverings at all times; cups, lids, napkins and straws have to be handled to patrons by staff; only dedicated staff can clear and sanitize tables; there is no buffet or similar-style servings; and all playgrounds are closed.
Restaurants can only offer these options if they have appropriate face masks, gloves and sanitizers for staff. The eateries must be closed three times a day for a deep disinfectant, and hand sanitizer has to be readily available.
The order also allows locker rooms in gyms to open, so long as they are assigned to patrons and are cleaned. In the request, Dowell also "strongly encouraged" that workout equipment be kept 10 feet apart; the state requires six feet of separation.
The order, sent Friday, came just days after Gov. Mark Gordon and Harrist, the state's health officer, announced that the state would loosen restrictions on gyms, barbershops, tattoo parlors and other, similar businesses. As part of that loosening, Harrist also said she would accept variance orders from individual counties; these orders could impose new requirements that could more or less restrictive than the state's, depending on the county's need.
Natrona County has 38 known cases of the novel coronavirus. Its caseload has stayed relatively flat for weeks, even as other populous counties — Laramie, Teton and Fremont — have seen their numbers balloon. Dowell told the Star-Tribune on Friday that the county had been both aggressive in its response and lucky in its containment of the disease.
In his request for the tweak, Dowell wrote that Natrona County has maintained steady testing of 20 to 30 tests per day since mid-April and that "Natrona County has received additional testing supplies, enabling testing of an even broader cross section of the community."
In an interview Friday, Dowell said that the county wasn't "letting down our guard; that would be a mistake." He said restrictions here would be loosened in a step-by-step fashion, echoing the intentions of Gordon and Harrist.
The virus's presence varies considerably across the state. In Fremont County, there are 128 confirmed cases, out of 444 total statewide. There are 104 in Laramie County, and 67 in Teton County. But in Platte and Weston counties, there are no confirmed or probable cases. Another 12 have fewer than 10 cases.
As of Monday morning, five counties — Natrona, Teton, Park, Platte and Lincoln — have had orders approved to change statewide directions in various ways.