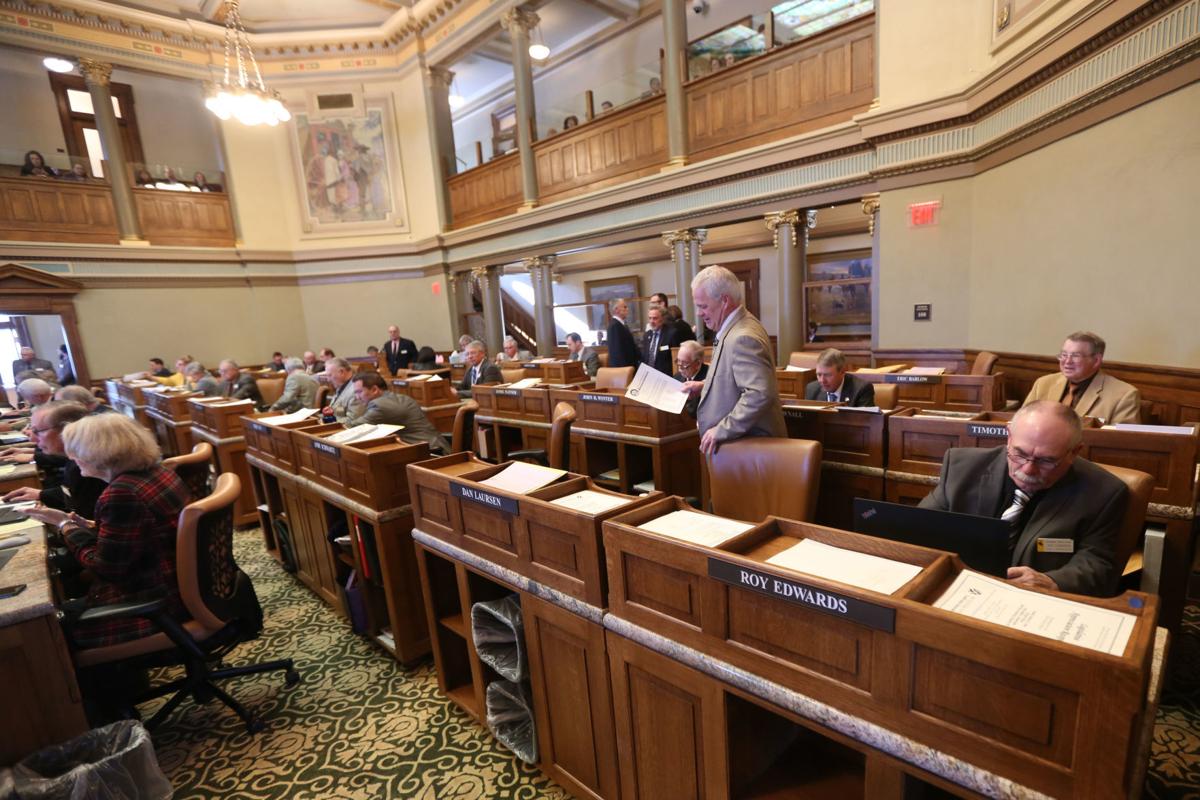 A legislative committee will again discuss and study Medicaid expansion in Wyoming, a topic that top lawmakers are looking at in a new light because of the devastating effects of the coronavirus.
"We take care of poor people, poor kids, people with disabilities," House Speaker and Casper Republican Steve Harshman told other legislative leaders Friday. "But this is an expansion to able-bodied, childless adults. We may very well have a lot of unemployed, able-bodied, childless adults. We're going to pay one way or another. Either they're going to go your emergency room and Wyoming Medical Center or somebody else."
The Legislature, which killed repeated attempts to expand Medicaid earlier this year, will meet Friday for a special session intended to address the impacts of the pandemic. Among the issues are doling out $1.25 billion in stimulus money and, potentially, instituting new health programs. At a meeting last Friday to further discuss the crisis and give marching orders to various legislative committees, top lawmakers narrowly voted — with Harshman casting the deciding vote — to give expansion to the Joint Revenue Committee as a priority discussion topic.
Rep. Cathy Connolly, a Laramie Democrat and longtime supporter of expansion, proposed adding "guardrails" on the type of expansion Revenue should consider: Under the proposal approved by the legislative leaders, the revenue committee will discuss expansion as a program that will end in four years, rather than a permanent piece of Wyoming's social safety net. That four-year window could also be closed early, should the federal government renege on its commitment to paying 90 percent of the new costs associated with expanding Medicaid.
Sen. Bill Landen, a Casper Republican and a member of the management council, told the Star-Tribune on Monday that the committee is tasked with studying expansion over the next several months. But he said that the topic may come up at future special sessions, such as one tentatively planned for the end of June.
Lawmakers have repeatedly and swiftly shot down all previous attempts to expand Medicaid, which would broaden the program to include those making 138 percent of the federal poverty line. There had been optimism heading into this year that the program may have more of a chance, after the Joint Revenue Committee voted to advance it. But that optimism proved to be too bright: Repeated attempts to advance the effort during the 2020 legislative session were defeated at the first hurdles.
But the coronavirus has changed things radically in just a few short months. As Harshman noted, thousands of people in the Equality State are unemployed. As of last week, 32,000 people here had filed for unemployment benefits. Surveys by researchers at the University of Wyoming show that a majority of Wyomingites have lost their jobs, had their hours cut or know someone who's dealt with those challenges.
Loss of employment means loss of insurance. But just because someone lacks health insurance doesn't mean they're immune from getting sick. That's what Harshman meant about emergency rooms, and it's long been an argument in favor of expansion: Those who are uninsured still show up to hospitals, but because they often can't pay, the costs are shifted onto those who can.
The Wyoming Hospital Association has long lobbied to expand Medicaid because of its potential as a revenue-booster for facilities here. That's an especially urgent need now, as hospitals face plummeting revenues during the pandemic. Gov. Mark Gordon previously said that something needed to be done to support Wyoming's thin network of facilities, and he also said that expansion was "on the table."
Still, Gordon has repeatedly expressed reticence to expansion, a stance shared by the vast majority of the Legislature.
Landen said the revenue committee would be looking at new numbers and projections for Medicaid expansion to deliver back to the Legislature.
"I never have voted for Medicaid expansion, but in this time, and several on the (management) council felt the same way — 'Hey, revenue (committee) might as well take a look at it, what kind of numbers we're looking at,'" he said.
Expansion has been a well-studied topic here. Indeed, the state Health Department has released new reports on it repeatedly over the past several years. The latest numbers — presented to lawmakers in November — indicated that 19,000 Wyomingites would be newly covered under Medicaid in the first two years of the program. The state would pay $18 million over that time period, while the federal government — which covers 90 percent of the new costs — would pay $136 million.
Of those projected to enroll in an expanded Medicaid, 56 percent are currently uninsured and 64 percent are below the federal poverty line.
Those latest projections were actually presented to the revenue committee late last year, just before the committee voted 8 to 5 to sponsor an expansion bill in front of the full Legislature, which swiftly killed it in February.