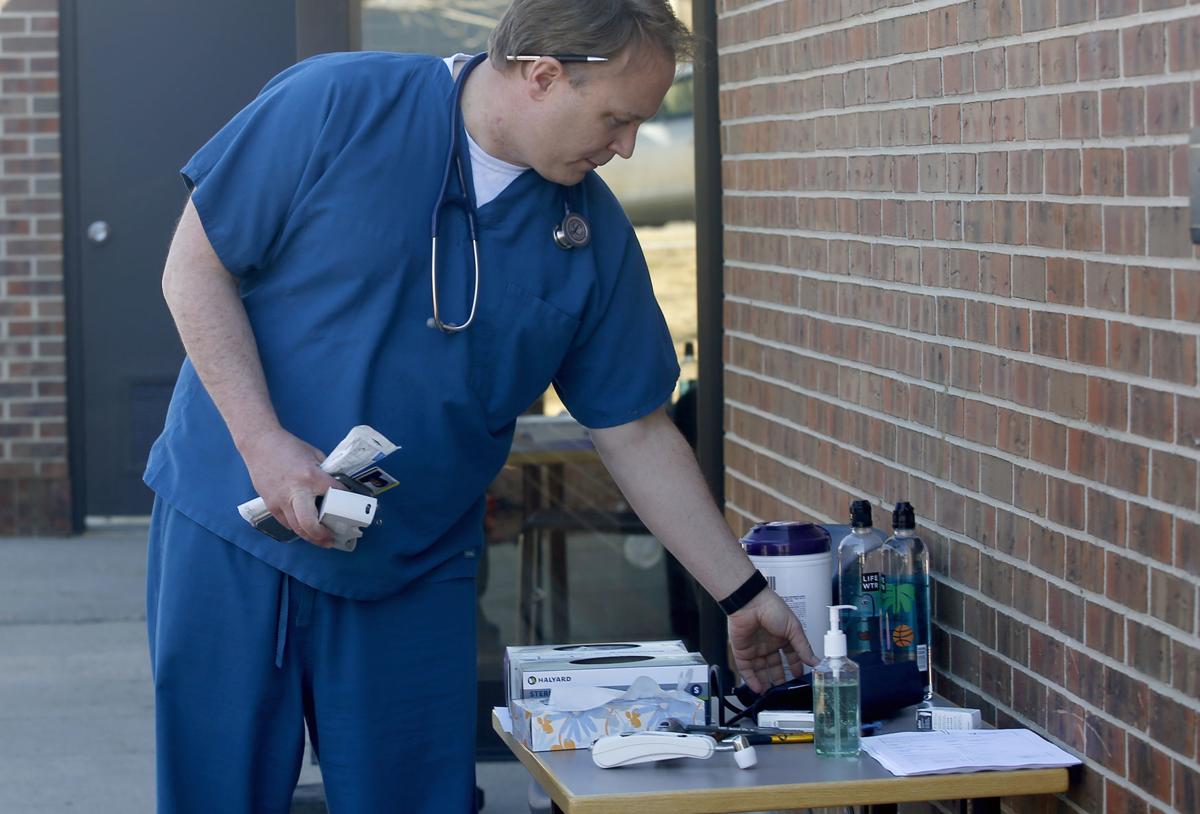 The limited testing in Wyoming is making it harder for health officials to determine just how many people here have been infected with COVID-19, as the disease continues its slow march across the Equality State.
"Most providers feel like this is the time we should be testing, this is the time we should figure out where the clusters are," said Dr. Andy Dunn, the chief of staff at Wyoming Medical Center and the physician running the hospital's respiratory and COVID-19 clinic. "However, due to the scarcity of the supplies, it is what it is."
There is a nationwide shortage of the resources needed to test samples from possible coronavirus patients. Those shortages include the equipment needed to reliably transport swabs from clinics to labs. There have been guidelines, both from the state and local level, to determine who should get tested and who shouldn't. Those that should are high-risk cases: the elderly, health care workers, those who've been in close contact with infected people.
"This is a huge problem," Scott Becker, the CEO of the Association of Public Health Laboratories, told CNN earlier this week.
"I'm really concerned that we are not going to have the capabilities to test those who really need and should get a test."
The more mild cases, which will make up more than 80 percent of the patients with the respiratory illness, are largely not being tested in Wyoming. In guidance issued by the state Department of Health earlier this week, the agency told providers to use private labs for non-priority cases.
"We don't know (how many are infected) because we're limited in whom we can test, what we can test," Dunn said. "Talking about this mild disease, that's the problem. Those are the true spreaders. It's hard to determine who's got COVID that's mild and who doesn't. That's the worry."
Dunn's clinic has tested roughly 30 people, as of Wednesday afternoon, and it's seen more than 400 people in its first three days. WMC had 400 tests as of Wednesday, for a city of 55,000 and a hospital that is the referral center for facilities across the state. Other large hospitals in Wyoming declined to say how many tests they currently have the ability to run, but all indicated they had specific criteria — beyond just showing symptoms and testing negative for the flu — that patients had to meet before they could get tested.
Amy Surdam, who runs an acute care clinic in Cheyenne that's reported a handful of cases, said areas across the state that haven't had a positive test result probably aren't testing widely.
"I think that's the biggest concern," she said. "Of course it's not there if you're not testing for it. I would recommend people and communities who are not actively testing to immediately to separate people who have fevers and coughs and those who don't."
Surdam tweeted Thursday that her clinic had a lower bar for testing than most other places: cough and fever, plus a test ruling out influenza. She gets her testing supplies from a lab and runs her results through that private facility, rather than most hospitals who are putting their samples through the state lab.
Campbell County Health will only test those who need to be hospitalized. A woman who went to the WMC clinic earlier this week was told the same thing.
"This obfuscates our knowledge of where the virus is, and how many vulnerable people may be in its path," the Vox reporter wrote, adding that the shortage of tests make it difficult to "know when the worst spikes in the number of cases are coming."
Mike Hutchison, the spokesman for the emergency response team in Fremont County, said it was fair to say that there were more patients than officials there knew about because of the limited testing.
"So health care providers are using an established protocol for who really needs the tests," he said. Lander has had the worst outbreak in Wyoming. As of Friday afternoon, it has nine confirmed COVID-19 patients, all of whom appear to be tied to the same assisted-living facility there. "Some that present with symptoms are then given instructions on self-isolation."
Dr. Aaron Billin, the health officer in Park County, where there's been one confirmed case, agreed that limited testing is making it harder to know exactly how many patients there are.
Kim Deti, a spokeswoman for the state Health Department, said it's common for a lot of diseases to not know how many patients were truly out there.
"The majority of the tests we're running, the heavy majority, are not coming out positive," Deti said. As of Friday afternoon, the state has tested 334 samples. There have been 22 positive cases in Wyoming, some of whom were confirmed by private labs. "A lot of people who are ill who think they have this don't."
Officials have said that the lack of testing makes pre-emptive isolation and social distancing all the more vital. If you have mild symptoms, for instance, you should work from home and limit your trips to public spaces. There is no treatment for COVID-19, so anyone with mild symptoms would be asked to just stay home anyway. They should do that now, particularly if they have a cough, fever or shortness of breath — the primary symptoms of coronavirus.
But the limited testing has implications beyond just how patients would be treated. Dunn said that while testing limitations make it impossible to test the entire community or even everyone who presents with symptoms, the limited information makes it harder to get a handle on the disease from a public health standpoint. In other words, how do you slow the disease thoroughly if you don't know the totality of who has it?
"It's a cake-and-eat-it-too kind of thing," he said. "Ideally it would be better to test on the front end. The back end — shoot, there's going to be a lot of it and it's like, what are we going to do with that information at that time? That's why I prefer to test now, so that we can quarantine people pre-emptively."
"Everyone should be testing, everyone should be separating, everyone should be really paying attention to this," Surdam added. "This is not a game, this is not acting. This is real. This is a pandemic that none of us have ever seen, and it's here."
Concerned about COVID-19?
Sign up now to get the most recent coronavirus headlines and other important local and national news sent to your email inbox daily.