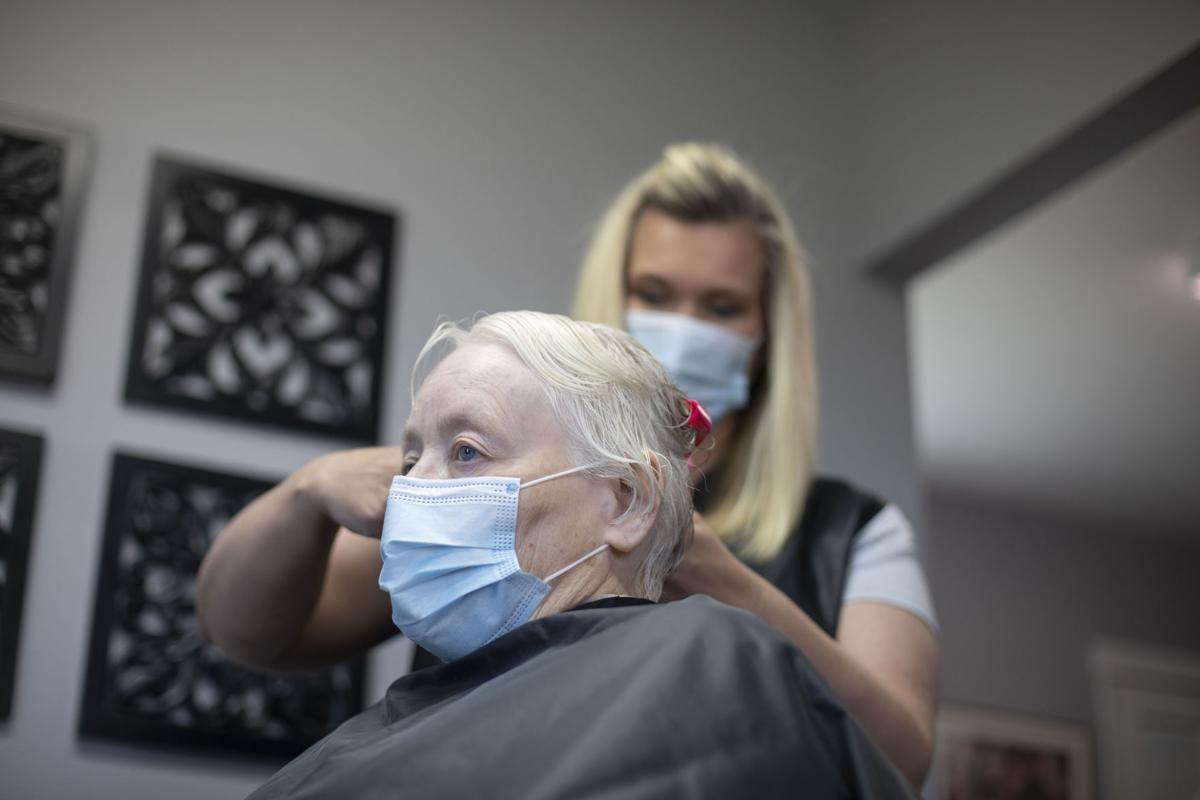 Natrona County's mask order will require face coverings inside all retail or commercial businesses or any government facility that is open to the public, according to a copy of the order released Wednesday.
The order will also require masks in health care facilities and on public transportation.
Children ages 3 years and under will not be required to wear masks, and kids under the age of 2 should not, health officials said. Face masks will not be required while someone is seated at a restaurant with no more than eight people at the table or while exercising at a gym.
The Casper-Natrona County Health Department published the order Wednesday evening alongside a press release highlighting its scope.
"While this requirement is a county-wide legal order, slowing the spread will take our entire community. Face coverings, in addition to sanitizing, distancing, staying home when you're sick and getting tested, are the best weapons we have in the fight against COVID-19," the release reads. "If we work together, we can keep our business and schools open and keep our families safe."
Natrona County is one of 11 Wyoming counties that successfully sought this week to enact mask orders in the face of a COVID-19 surge that has swamped hospitals and resulted in 68 deaths this month alone.
While details of Natrona County's order were shared Wednesday evening, an explanation for when the order will go into effect was not provided. The order had not been signed by Natrona County Health Officers Dr. Mark Dowell or Dr. Ghazi Ghanem as of 5 p.m. Wednesday. The health department's release did not say why, and health officials did not immediately respond to calls seeking clarification.
Dowell, who requested the local order, said via text Monday the decision was made to pursue the order after consulting with other health officers in the state, and that "many county health officers submitted a request for this with the best of intentions."
"We all felt it was time," he wrote. "We obviously are very concerned about the health of the population of Wyoming."
The health department is holding a virtual media briefing 12 p.m. Thursday to discuss the forthcoming local mandate. County and city officials will issue remarks at that time, according to the release.
The draft of Natrona County's order mirrors requirements in most other counties with active health orders. More than half of Wyoming's 23 counties now have a mask order, or have requested approval for one. Before counties can enact local orders, the state health officer and Wyoming attorney general must approve them.
Nine counties had their requests approved Tuesday: Natrona, Sweetwater, Sheridan, Park, Lincoln, Carbon, Goshen, Sublette and Hot Springs counties. Washakie and Uinta Counties were added to that list Wednesday.
Teton, Laramie and Albany counties already have mask orders in place, and Converse County has a request pending.
The Wind River Reservation also has a mask order, but did not need state approval to institute it.
The flurry of new local orders comes as COVID-19 infections in Wyoming have soared, with hospitalizations and deaths following.
More than 10,000 virus infections were confirmed or presumed active Tuesday — nearly 2% of the state's population. According to the Wyoming Department of Health, 210 people were hospitalized for the virus statewide Wednesday. Since March, 155 Wyomingites have died.
Twenty-seven of those people lived in Natrona County, which has now recorded the most COVID-19 resident deaths of any other county in the state.
In response to the surging numbers, 21 county health officers last week publicized a letter to Gov. Mark Gordon calling for a statewide face mask requirement. Gordon has since said he is considering such a measure, but has not indicated when a decision will be made.



A photographic look back at when businesses in Casper reopened
Follow health and education reporter Morgan Hughes on Twitter @m0rgan_hughes