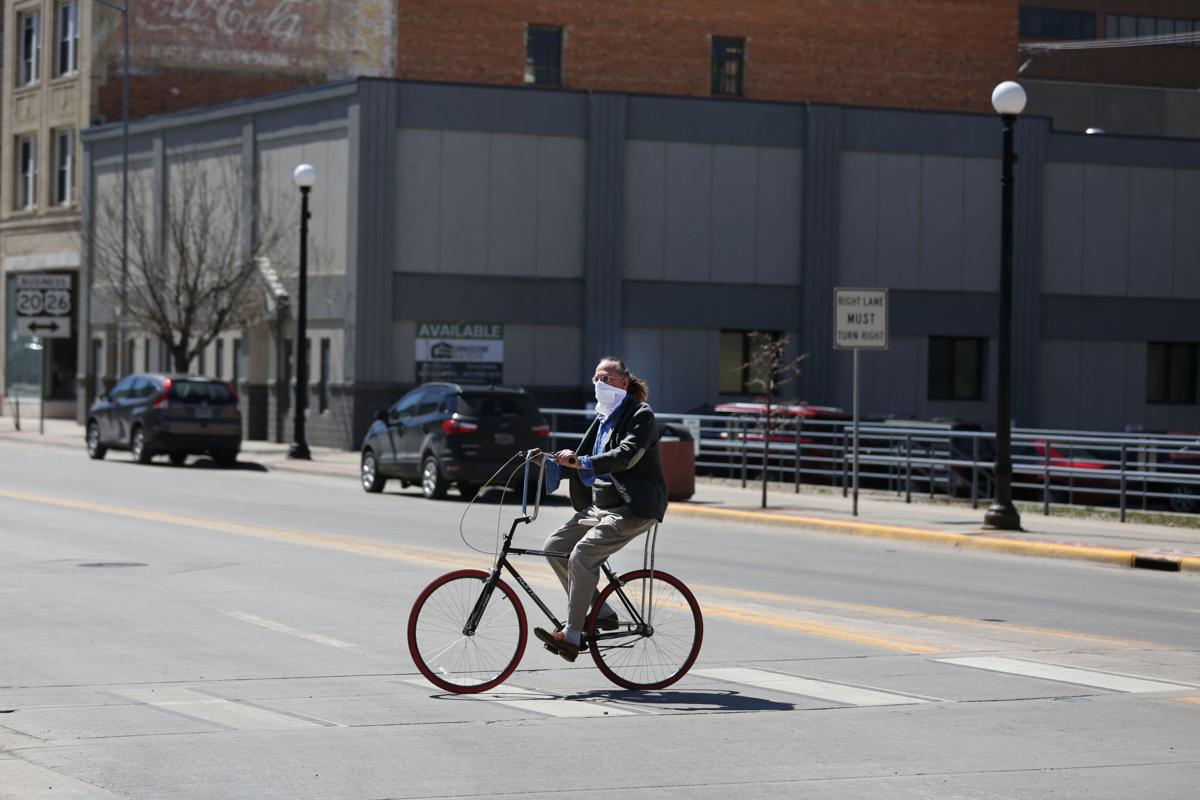 Natrona County health and elected officials debated instituting a mask requirement as part of reopening plans in April, documents and a source with knowledge confirm, but the plan was ultimately rejected because political officials were wary of public resistance.
One county official said infectious disease experts here still pushed for the order and were rebuffed by the state's top health official in late April, just before the state began to relax its restrictions on daily life in Wyoming. However, a spokeswoman for the Wyoming Health Department disputed that characterization.
The discussion of requiring masks was held as the virus' presence began to stabilize in Casper, after an initial cluster at Wyoming Behavioral Institute drove early growth. Emails obtained by the Star-Tribune indicate that health officials wanted to institute the order as a way to open up the county. Had that happened, it would've been ahead of the state loosening rules, and it would've represented the first mask order in the state.
Still, people from the county's elected contingent rejected the proposal. In the weeks since, cases climbed in the county; as of Tuesday, Natrona County has had 184 confirmed cases, plus 132 probable cases.
Hailey Bloom, spokeswoman for the county health department, told the Star-Tribune in a statement Monday that "face coverings were a large piece of the 'reopening' puzzle and discussions."
"Our local health officers felt widespread use of face coverings would really allow our community to get back to some normalcy while still protecting and keeping people safe," she said.
A source with knowledge of the conversations confirmed the discussion took place and that the elected officials rejected it. The source was granted anonymity to discuss the high-level debate.
Paul Bertoglio, a county commissioner who opposed the mask order, told the Star-Tribune that it wasn't local elected officials who ultimately shot down the mask order. He said Dr. Mark Dowell, the county health officer, had been pushing for a mask order into late April, but Dr. Alexia Harrist, the state health officer, rejected the request.
Bloom said that "to my knowledge, it didn't make it that far in the process to go to Dr. Harrist." Meanwhile, a Health Department spokeswoman said Harrist expressed support when the agency received a request for a face-covering order.
"Then the county asked for a major change that would have essentially made it more of a recommendation than an order that would have needed a formal process," said spokeswoman Kim Deti. "So it never went through but it would not be accurate to say Dr. Harrist rejected it."
Promoting mask wearing
At the time of the discussions, restaurants, bars, schools, gyms and other public-facing businesses were closed, and gatherings were largely prohibited. Natrona County was dealing with an outbreak at WBI, and officials had expressed frustration publicly and in emails about parties that ignored public health orders.
Before the conversation about the mask order, Dowell wrote to other officials on April 18 that he was frustrated by the lack of mask wearing he'd seen in public and said he'd seen another video of young people partying; he wrote that the gathering was "defiant, no masks, lots of people, no distancing, bonfire." He asked if it "may be time to reconsider fines."
Earlier that day, the county's other health officer, Dr. Ghazi Ghanem, wrote to the broader group that while they all felt "the pressure," "the reality of the epidemic still indicates that we have not reached the peak."
But he acknowledged the difficulty of selling the public on measures that, should they work, would only make the pandemic seem overblown and the measures unnecessary.
"It is hard to measure the beneficial effects of the closures and social distancing and it is hard to convince the public that extending these measures at this point is needed when everyone is feeling the economic and social effects of the closure," he wrote.
He then listed several "things to consider." One is the "imperative that we have widespread adoption of masking in our population as a way to stop the spread of the disease." He advocated that the county and city "should have a plan to promote and if needed provide masks to residents."
The masking discussion escalated two days later. In an email dated April 20, Natrona County emergency coordinator Stacia Hill wrote to a number of county officials — including Mayor Steve Freel, top health officials, county commissioners and city counselors. In the email, she wrote that Anna Kinder, the Casper-Natrona County Health Department director, and Mark Harshman, division chief of Casper Fire-EMS, had discussed adding "something about masking and making it mandatory with consequences, such as, if people are inside and not wearing, the business could be closed for noncompliance of the orders."
She added that she wanted officials from the city and county to appear jointly at a press conference to present a "united front."
"We truly believe that everyone is ready to reopen and if they have the opportunity to do so with conditions we think this might be a very good incentive for everyone to start wearing masks," Hill wrote.
Politicians reject proposal
The response from various elected officials was resounding rejection.
"Requiring people to all be masked or force closing businesses will go over worse than the proposed ordinance to fine people for not complying with the Governor's orders," Bertoglio wrote in his reply. "... This type of heavy handed local government rule will backfire and cause civil unrest like we are starting to see across the country."
City councilwoman Khrystyn Lutz agreed.
"This will be received very poorly and in my opinion, it will put our officers in danger if we ask them to enforce this," she wrote. "I would feel more comfortable with a recommendation of masking rather than making it mandatory with the threat of enforcement."
Casper Mayor Steve Freel also questioned how the order would be enforced.
"I don't think we will be able to shut down a grocery store because one person refuses to wear a mask," he wrote. "Secondly if that person refuses to put the mask on, they could be asked to leave and if they refuse to do that there are avenues for enforcement actions. With that said, I am afraid we do not have the people power needed within Law Enforcement to run business to business dealing with these types of calls."
On April 22, two days after Hill's initial email, councilman Kenneth Bates wrote to Kinder that he, too, opposed masks and felt businesses should be left to decide for themselves.
The opposition wasn't uniform. Sabrina Foreman, the community development director in Mills, wrote to the group of officials that while she couldn't speak for her town, she wanted "to support the masking of all citizens in public. If this is the way the experts see that we are safely able to begin to resume normal operations, it is a very small price to pay on that front."
The county's two health officers — Dowell and Ghanem — did not weigh in on the email chain discussing the order. Messages sent to Freel, Lutz and Bates were not returned Monday. Bloom said her statement represented comment for all of the county's health officials.
Bloom said that health and elected officials had worked closely throughout the pandemic.
"Although there are hard conversations and ultimately decisions, we work together to discuss options and come to a unified decision," she wrote. "In this case, local elected officials felt that our community would do what was right and recommended for wearing face coverings without an order requiring it."
In an interview Monday, county commission chairman Rob Hendry said that in mid-April, residents "were done sitting in the house." He felt it was too late to institute a mask order.
"We can recommend it, but to make it mandatory — they're done," he said. "We missed this one, and we're not ahead of it."
As the emails indicate, Hendry said the officials pivoted to pushing recommendations and a requirement that face-coverings be used in restaurants.
Bertoglio told the Star-Tribune his main concern was enforcing such an order and that he didn't feel it was the government's place to institute the mandate anyway.
Concerned about COVID-19?
Sign up now to get the most recent coronavirus headlines and other important local and national news sent to your email inbox daily.