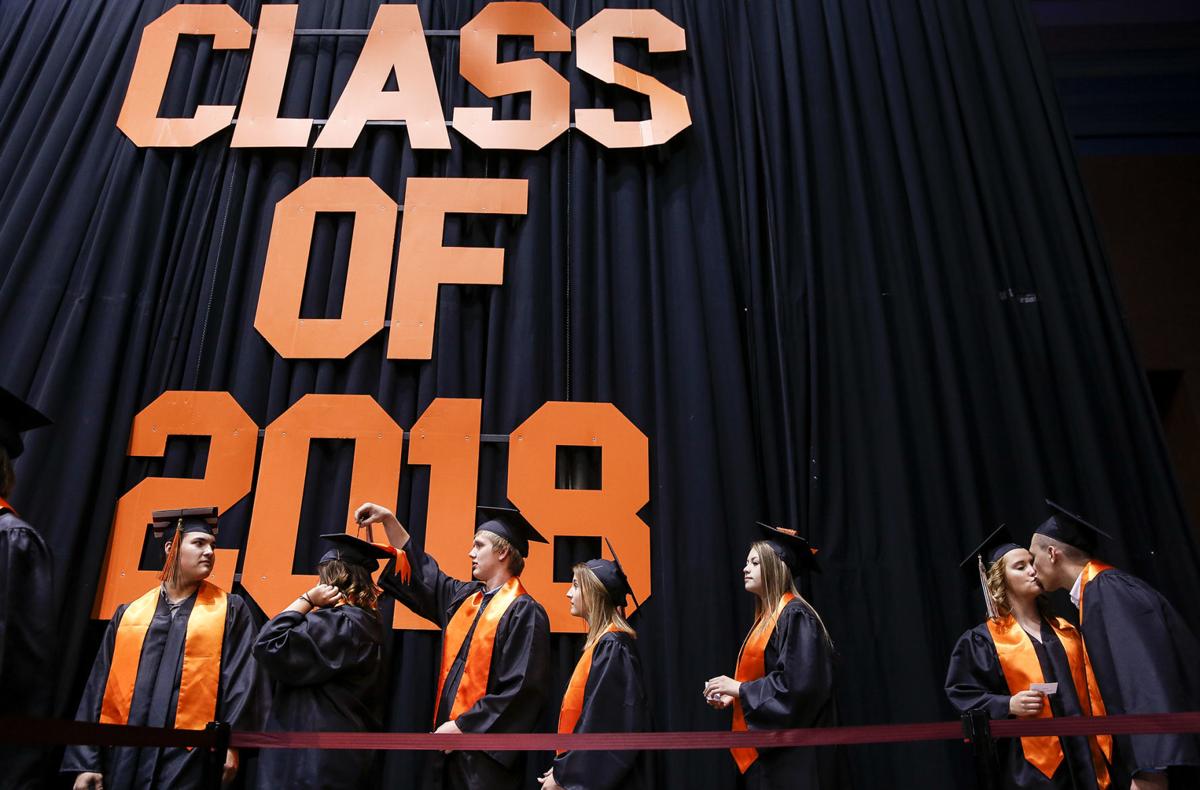 Natrona County's graduating seniors will walk across a stage in the parking lot of the Casper Events Center at the end of May as part of a drive-in-style ceremony presented as the best option to honor students whose final year in high school has been radically altered by the coronavirus.
Families of Kelly Walsh, Natrona County and Roosevelt high schools' graduates will drive into the parking lot, where two stages and a large screen will be set up. In groups of 10, graduates will exit their cars and file across the stage. At the end of the ceremony, the seniors will all exit their cars and move the tassels on their graduation caps together. Speeches will be prerecorded and played on the screen, and the entire event will be livestreamed. The ceremonies — Kelly Walsh's on May 28 and Natrona County and Roosevelt's on May 29 — will conclude with fireworks displays.
Students will grab their own diplomas off the stage as their names are called out.
"So there's not going to be any interaction with a live human as they walk across the stage?" board member Clark Jensen asked KW principal Mike Britt, who presented the plan to the district's leaders Monday night.
"I want to be able to high-five, hug, do the special handshake. ... We want that to happen," Britt said. "If that was allowable on May 28 and May 29 — you're going to see whatever it is that can be allowable at that time."
Midwest, which will have far, far fewer graduates, will have its graduation on the school's outdoor football field. The field will be segmented to ensure social distancing, and other attendees will watch from the other side of a chain link fence.
Disappointed officials
The plans are substantially more involved than the previous two options — a virtual ceremony and an event with only the students, who would socially distance from each other. Still, officials on the school board and from the high schools were disappointed that the class of 2020 wouldn't have the traditional ceremony.
"It's disappointing for all of us," NC principal Shannon Harris told the board. "I think given the circumstances and the guidance we've been given, it's the best option available to us and to our students and their families."
Indeed, Drs. Mark Dowell and Ghazi Ghanem — infectious disease experts and Natrona County's health officers — both said the drive-in option was the best option and a "great compromise."
"Having something indoors is not advisable and not something I would sign off on at any level," Dowell told the board. Two months ago, Dowell ordered the cancellation of the state basketball tournament in Casper, just as the virus began to spread in the United States. "I think it's asking for trouble. I don't think anybody nationally is doing that. We can't even get any sports arenas open or anything. It's just not on the table from my side."
But board members repeatedly asked the two doctors if there was a chance they would allow for a looser ceremony, should the number of confirmed cases in Natrona County continue to hold steady (there hasn't been a new case identified here in nearly three weeks).
"I just want to know if there's still an option to tweak things if we keep going in a good direction," said trustee Kevin Christopherson, who said that social distancing can "go a little too far."
But Ghanem and Dowell indicated that the drive-in option presented Monday is as far as they're willing to go.
"The circumstances we're in are so exceptional," Ghanem said. He praised the graduation plan as "remarkable." "What we're doing is absolutely hard. I don't want to say horrible, but our economy has been shattered, we can't even go to church, we have our seniors in nursing homes where they're there by themselves, you can't even go in and visit them, they can't go out. We have people who died in the hospital without anyone from their family being able to be present. This situation is not normal, by any measure."
Late last month, members of the board chafed at guidance from health officials that effectively ruled out any form of a traditional ceremony. They expressed skepticism about the virus in general Monday, as schools remain closed and Dowell and Ghanem discussed the possibility that buildings could reopen in the fall.
Christopherson said schools remaining closed come September was "not an option." (The decision to close schools this spring was made by the state and later extended by the district.) Dowell and Ghanem repeatedly stressed that while students aren't particularly at risk for serious complications from the disease, they can act as as the source of infection for the more vulnerable, older population. Should the virus return in the fall, as is widely predicted, then schools can become a perfect breeding ground for a pandemic, the doctors said, which can be passed to grandparents.
'Bring it on'
But Christopherson said that the district shouldn't be responsible for "taking care of people's grandparents." Jensen added that the social distancing measures — which officials say are the reason that the virus's presence in Wyoming has been relatively benign — are "worse than the problem."
"I'm both a diabetic and I'm 64 years old," Jensen said. "I'm feeling like: Bring it on. If I get infected, what happens happens. But I'd like to return to life and see things come back to a normal situation. I don't want this to be the new normal for the next two or three or four years."
Jensen also wondered aloud about easing social distancing restrictions, as some other countries have done, and allowing for herd immunity "to get going." Herd immunity is when a population has a high percentage of people who are immune to a disease, effectively insulating the entirety of the group from infection.
But Dowell warned that herd immunity without a vaccine would take years and cost "millions of lives" to take effect. He noted the difference between the United States — where more than 80,000 people have died since mid-March — and South Korea, which swiftly instituted social distancing measures and largely crushed the virus's spread.
"I hear what you're saying, but that's not — this is killing people," Dowell said. "I would not approach it — it's not some minor thing. It's easy to be here in Casper and have it not hit people hard. But Fremont County wouldn't say that. Laramie County wouldn't say that, and I can guarantee you Denver wouldn't say that. We've lived in a beautiful bubble."
"If 0.5 percent of 0.2 percent die, that's still a lot of people," Ghanem added. "And the question is, as a society that values life, what are we comfortable with as far as losing? How many people are we comfortable with losing rather than putting a mask on or just being proactive? I agree with you, this is not sustainable as far as the lifestyle. But what we need to be is a little bit smarter in the way we interact with each other."
In any case, Dowell did say he felt more comfortable planning for school to reopen in the fall. He and Ghanem said they were committed to working with the district on creating protocols for addressing any future outbreaks within Natrona County's school system. But Dowell warned that there was a chance that the disease could come back when the seasons change in several months.
"We may get into fall and winter and do really well," he said. "Or we may find that this virus really played some games with us."
Concerned about COVID-19?
Sign up now to get the most recent coronavirus headlines and other important local and national news sent to your email inbox daily.