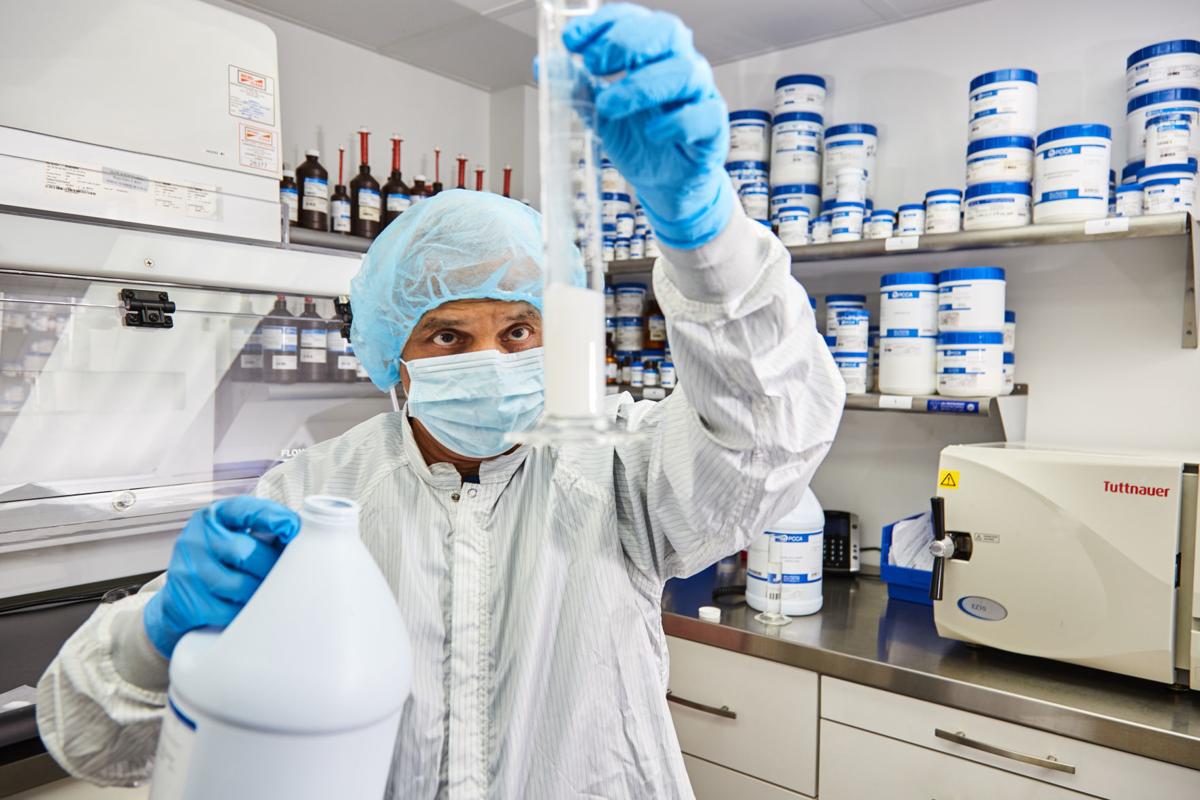 After receiving "a number of concerned emails and calls," Wyoming's board of pharmacy is encouraging its licensed providers to "use their professional judgement" when presented with prescriptions for one of the medications that's being touted as a possible treatment for the novel coronavirus.
The board's guidance to pharmacists is a move being mirrored across the country as providers express alarm about doctors and dentists writing prescriptions for medications that have shown some potential to treat the virus that's spreading rapidly across the state and country and have been trumpeted by President Donald Trump, among others.
A New York Times story published Tuesday listed seven states — including Kentucky, whose policy the board here is mirroring — that have issued emergency restrictions and guidelines to stop any hoarding. The Times reported that physicians in those states have also been writing prescriptions for the drugs for themselves and their relatives. The Wyoming pharmacy board's executive director, Matt Martineau, suggested that had been reported in Wyoming too.
"The Board of Pharmacy has heard from several pharmacists in Wyoming specifically about practitioners writing prescriptions for medications that may anecdotally treat COVID-19 for themselves and family members," he told the Star-Tribune in an email.
In a statement to the New York Times, the president of the American Medical Association decried the prescribing habits.
"The A.M.A. is calling for a stop to any inappropriate prescribing and ordering of medications, including chloroquine or hydroxychloroquine, and appealing to physicians and all health care professionals to follow the highest standards of professionalism and ethics," Dr. Patrice Harris said, per the Times.
The drugs are Azithromycin, an antibiotic used to treat such common maladies as sinus infections; chloroquine, which treats malaria; and Plaquenil (or its generic version, hydroxychloroquine), which treats malaria, lupus and rheumatoid arthritis. Their popularity in a world starving for a way to stem the tide of infection and death from COVID-19 has skyrocketed since Trump backed their potential.
Physicians and pharmacy boards have urged caution, noting that the medications have not been rigorously tested. The indication of their potential efficacy in treating COVID-19, the respiratory disease caused by the new coronavirus, was demonstrated in a European study with just a few dozen test subjects.
An Arizona man died earlier this week after taking a non-medical product that had chloroquine as an ingredient. Several people have overdosed on the medications in Nigeria.
The Wyoming board of pharmacy said "there is not yet enough clinical evidence that it's effective in humans for the management of the disease." The board stressed that pharmacists have a responsibility — as do the providers — in filling the prescriptions and that pharmacists should use their own judgment whether to fill them or not.
The guidance also recommends pharmacists consider if the diagnosis "is consistent with the evidence for its use from the prescriber; is this a routine medication for this patient; limited what is dispensed to no more than a 14-day supply" for new patients or patients who don't have diagnoses that typically are treated with the medications.
Eric Saul, a pharmacist at Medicap in south Casper, said there's "been a lot more interest" in the drugs lately.
"A lot more phone calls about it, but our supply went away pretty quickly," he said.
He added that there's been an "uptick" of providers who can write prescriptions requesting medications that are "outside of their scope of practice." Dentists, for instance, have requested the medication, he said, as have doctors who don't treat the rheumatic diseases that one of the drugs treats.
He warned that the rush is going to make it harder for patients who have long been established on the drugs to get their supply. He added that he's talked with pharmacists in other locations across Casper and that the clamoring is common.
The problem with the rush is there's just not strong proof the drugs are certain treatments. While testing in the United States has begun in earnest, supplies are still limited and the Food and Drug Administration has not approved the drug cocktail as either a preventative measure or a proven treatment.
Dr. Andy Dunn, Wyoming Medical Center's chief of staff who's running a respiratory and coronavirus clinic in Casper, said it was "really bad" that providers were rushing to write prescriptions for the medications. He said researchers needed more time to nail down efficacy and appropriate dosing. He said his clinic hasn't had many requests for the meds, and if it had, he'd be hesitant at best. He said he'd want to monitor patients' hearts, which some of the drugs can hurt, and the infrastructure isn't there to do that on a large scale.
He added that some of the drugs have significant side effects, primarily to the heart but also to the kidneys.
Dr. Mark Dowell, Natrona County's health officer and an infectious disease physician, said the situation was difficult because researchers are scrambling to find treatment as the virus spreads. All of this is happening in real time, he said.
"So what happens is we're desperate enough, we're looking for something," he said. "And in an ideal world, you would do a trial so no (test subjects) know what they're getting, half get it, half don't. You have to have a few months. Unfortunately, that's not the situation in an outbreak."
Dowell said there was potential the drug could help shorten the length of the disease, which has implications across the board, from treating patients to preserving desperately dwindling supplies of protective gear.
"But this has to be in concert with ability to test more frequently," he said.
"So when you hear on national press conferences that we found the wonder drug, we haven't. When you hear anything Anthony Fauci say we need studies because we really are not sure, you gotta listen to that," he added, referring to one of the nation's top epidemiologists who's appeared at press conferences with Trump.
Wyoming Medical Center is using the drug combination for a COVID-19 patient in WMC's intensive care unit, a person who was transferred to the state's largest hospital here in Casper from elsewhere in Wyoming. Dowell said that if more patients end up in the ICU, the hospital would likely continue to use the drugs.
"We don't have anything better to offer other than great ICU care," he said. COVID-19 currently has no approved treatments and no vaccine. "We plan on using it in the sickest people."