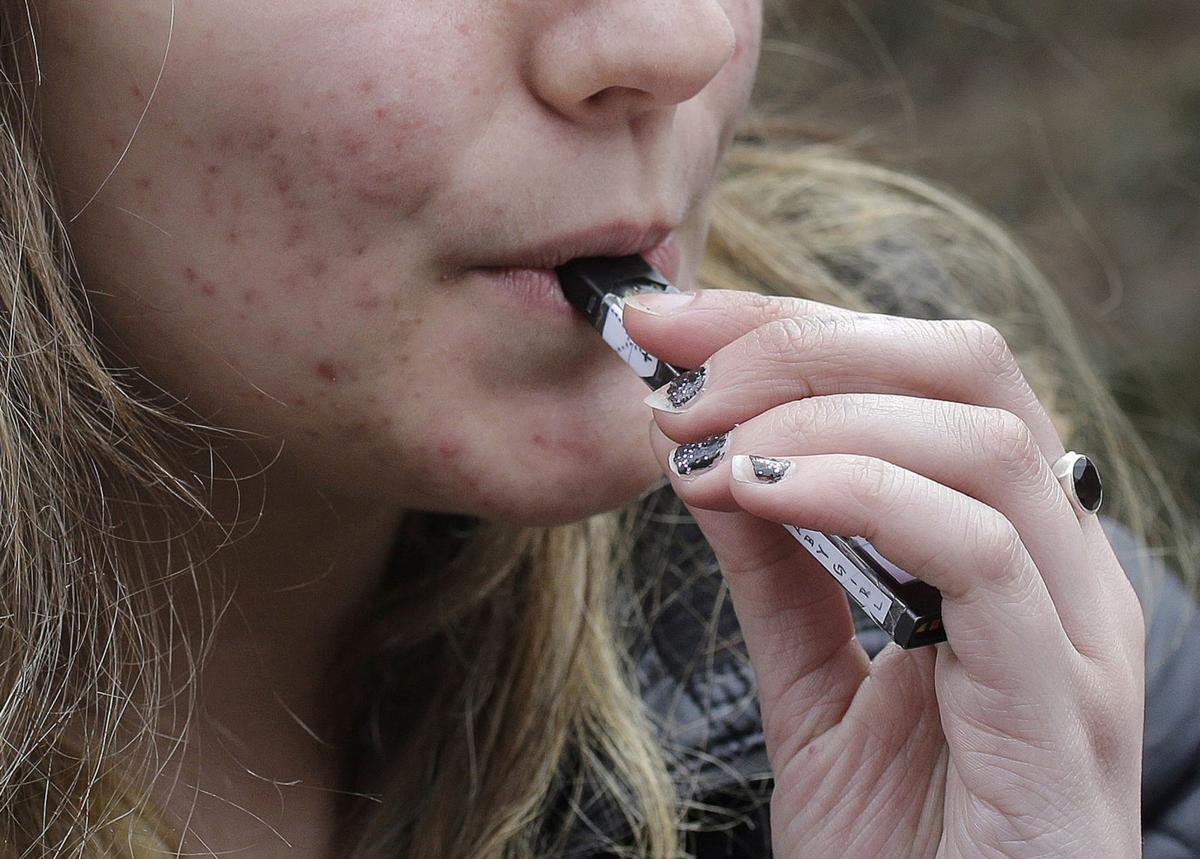 The data prompted one school board member to audibly recoil: Roughly 60 percent of the Natrona County School District's high schoolers said they'd tried vaping at one point in their life, and more than 62 percent said they saw little to no risk in using e-cigarettes.
"They don't see the dangers. It's — I mean, they don't see the dangers at all," said Shannon Harris, the principal at Natrona County High School. "And I don't know what it's going to take."
The school board held its first of two public meetings aimed at addressing e-cigarette use Monday night, a sparsely attended affair that nonetheless shed light on the rampant vaping in the district's higher levels. More than 15 percent of the district's high schoolers said in a survey that they used a vaping product at least once a day. Roughly 44 percent said they'd vaped at one point in the previous 30 days.
The majority of students — 66 percent of high schoolers — said their parents would consider it wrong to vape. Still, only 37 percent said there was moderate or great risk to the behavior.
Across the nation in 2019, a wave of vaping-related illnesses suggested that 37 percent is correct. As of the first week of January, there had been more than 2,600 cases of a vaping-related lung illness, 57 people have died, and some survivors have needed lung transplants to recover. The condition, a mystery for much of 2019, is tied to the use of THC products.
The data presented Monday night was new to the school board. But the anecdotal evidence from administrators like NC's Harris was not. Harris had previously told the board that vaping was a daily concern for the high schools.
On Monday, board member Clark Jensen asked where the teens were getting e-cigarettes.
"Everywhere," Harris and Superintendent Steve Hopkins said in unison.
Enforcing schools' ban on e-cigarette use is hard, Harris said. The devices often look like jump drives. They don't set off smoke detectors. Vape detectors are expensive and only help so much — especially in bathrooms, where vaping is more common and where they aren't cameras.
Harris said administrators at Pinedale High School had installed detectors in the bathrooms and were allowing one student at a time to use the facilities. That's not possible in NC or Kelly Walsh, the state's two largest high schools.
You have free articles remaining.
"We decided that if we're going to spend that amount of money, we would rather spend it on education," Hopkins said.
The district is looking at potential programs to use, and Harris threw out requiring training for students who are caught.
"It's a really hard habit to break, like smoking," she said. "They're addicted."
Because e-cigarettes are relatively new, there's not the mountain of data available like there is for traditional cigarettes. But there's still eye-opening information: One Juul pod contains the equivalent of an entire pack of cigarettes. E-cigarette use doesn't prevent smoking or help wean people off traditional cigarettes — in fact, just the opposite is true.
A study in the U.S. previously "found that e-cigarette use was associated with progression from experimentation with cigarettes to established smoking," according to an analysis published in the Annual Review of Public Health.
That same analysis does cite a handful of studies that showed some link between current smokers weaning themselves off cigarettes and on to vaping products. Still, the analysis concluded, "The overall conclusion that smokers who used e-cigarettes were significantly less likely to stop smoking cigarettes remained."
Anna Kinder, the director of the Casper-Natrona County Health Department, told the school board there are especially pronounced health concerns for teens, who are using the products as their brains are still developing. She said there's a general perception that vaping is OK — she cited the example of one parent who allowed her ninth-grader to vape after he finished his homework.
"When we're talking about vaping in the youth, it has significant impacts on the hippocampus, where some of our learning and memory takes place," she said. Other studies have tied e-cigarette use in teens to damage to neural stem cells in the brain.
While the relatively new release of e-cigarettes makes it difficult to judge the long-term effects of vaping, more and more information is becoming available about short-term effects. A Yale discussion about vaping cited a 2019 study, which found that "people who use only e-cigarettes increase their risk of developing lung disease by about 30 percent compared with nonusers." The risks are even higher for those who use both traditional cigarettes and their electronic cousins.
The Annual Review of Public Health analysis of vaping also warned of the risks associated with vaping.
"Although e-cigarettes deliver lower levels of carcinogens than do conventional cigarettes, and therefore may pose less cancer risk to users (albeit not zero cancer risk), they still expose users to high levels of ultrafine particles and other toxins that may substantially increase cardiovascular and noncancer lung disease risk," researchers wrote. "The similarities between the effects of e-cigarettes and those of conventional cigarettes on determinants of cardiovascular and lung disease make it likely that e-cigarettes will impose similar long-term cardiovascular and pulmonary risks as those associated with conventional cigarettes."
The school district will hold another public meeting on vaping at 6 p.m. Jan. 27 at its main facility.