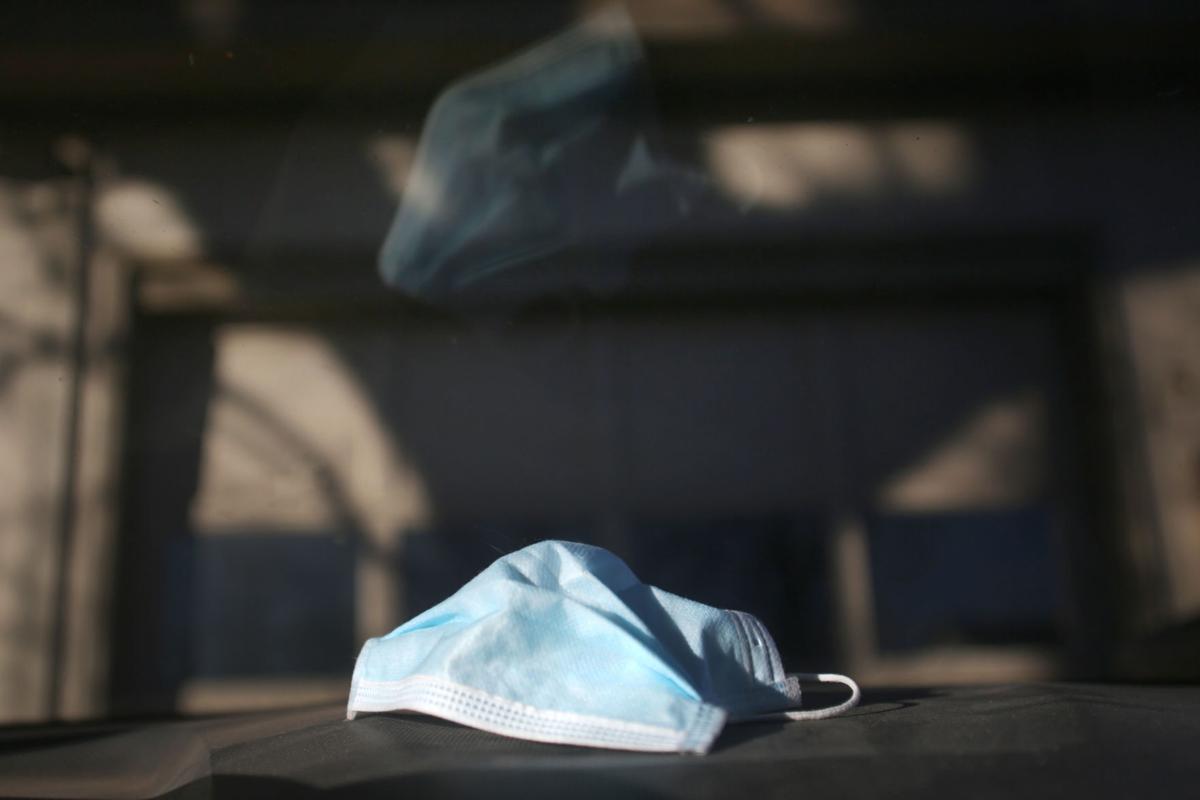 A face mask order in Natrona County may save lives and prevent businesses from crumbling under the weight of another shutdown if cases continue to soar, officials told reporters Thursday.
The order requires anyone 18 years or older to wear a face covering in any private business, government building, medical facility or any other public building where people may gather. (Minors aren't required to wear masks, but anyone older than 3 years old is encouraged to do so.)
The mandate is effective immediately and runs through Dec. 4., though Casper Mayor Steve Freel said there is reason to assume the order will be extended through the new year.
The new order is not meant to be punitive, and criminal prosecution is "not the intent," County Attorney Eric Nelson said, but violation of the order does constitute a criminal act.
The details came during a virtual news conference Thursday that was not streamed publicly, unlike previous press conferences by county officials. Casper-Natrona County Health Department Executive Director Anna Kinder said in a board meeting later Thursday that it was the duty of the press to tell the story.
Thirty-six Natrona County residents have died from COVID-19, the most in the state. A majority were residents of long-term care facilities. Statewide, 176 coronavirus patients have died, including 89 reported in November. Hospitalizations are triple what they were a month ago.
Dr. Andy Dunn, Wyoming Medical Center's chief medical officer, said he has been in the hospital's COVID-19 ward 19 days in a row. He has watched residents get sick and die.
He implored residents to rally around the use of masks as a unifying act against the pain the virus has inflicted in the community.
Natrona County Health Officer Dr. Mark Dowell, too, has sat with friends while they passed away because of sick COVID-19.
"I don't want to see any more people die," Dowell said, adding later, "We're not trying to make this into a punishment. We're trying to keep our citizens healthy and alive."
In a Board of Health meeting Thursday evening following the press conference, Dowell said he had no regrets about passing the mask order, which intentionally mirrors those passed in 14 other counties. He said Natrona County's order was part of a coordinated effort by those county health officers "to share the abuse" from those who have received the mandate poorly.
The Casper-Natrona County Health Department published a copy of the new mandate just after 5 p.m. Wednesday. It was approved Tuesday by State Health Officer Dr. Alexia Harrist and Wyoming Attorney General Bridget Hill. But by Wednesday evening, it remained unsigned by Dowell, whose authority is required to institute a county public health order.
Officials were told a statewide mask order that would have made the local order redundant might be forthcoming, County Attorney Eric Nelson said. Dowell was informed by Harrist Wednesday afternoon that that was not the case, so the county passed its own.
Gov. Mark Gordon last week said new restrictions were on coming during an emotional address in which he said he was angry and concerned about the state's current surge. He said a face mask order was on the table, but that other measures were also being considered.
Thursday evening, the governor announced that the state was reducing gathering sizes both indoors and outdoors.
Natrona County officials have emphasized the consequences another shutdown would have on small businesses that are already struggling to stay open amid staff shortages caused by infections and quarantines.
"We cannot shut our businesses down; that would be absolutely devastating," Chair of the Natrona County Commissioners Rob Hendry said. "Our community cannot afford a shutdown, so please, wear your face covering."
"We have a problem," he added. "Something has got to turn this around, and that's why we agreed to the masking. But it's more than that. It's mask, wash your hands, the social distancing, hand sanitizer. We've gotten away from that since March and April. We need to get back to it."
Business owners have told officials that a mask order would help enforce store policies already requiring them.
But more than that, officials said Thursday, broad mask use would help keep employees at work instead of isolated at home because of exposure to someone with the virus.
How the mask order will be received remains to be seen. Residents at a recent public meeting shouted down county health and government officials over the consideration of a mask order. But data shows support for the measure is growing statewide.
More than 62% of respondents to a November Wyoming Survey and Analysis Center poll supported mask requirements in indoor public places, the highest percentage in the poll's lifetime.
If residents violate the new order, officials Thursday said it's unlikely they would face criminal charges, though the avenue to criminally prosecute violators does exist.
"If we get calls, we're going to have to respond to them," Freel said of the Casper Police Department, but that there wouldn't be "mask patrols," and citations were unlikely. Instead, officers will push education and compliance.
If a violation did result in a citation, it would be up to Natrona County District Attorney Dan Itzen to prosecute. Itzen has not responded to questions about his attitude toward prosecuting such cases. His counterpart in Cheyenne, Laramie County District Attorney Leigh Ann Manlove, has publicly stated she would not prosecute violators of that community's mask order.
To those who disagree with the use of masks, Dowell said the science is clear, and the practice is the best way to keep the community healthy until a vaccine is widely available, which is currently expected in the spring.
Nelson also championed masks as an effective way to prevent the spread of the coronavirus. He recently recovered from COVID-19 himself, he said. Two days before he tested positive, he was working in close quarters with his staff. All were masked, and no one else tested positive, Nelson said.
Follow health and education reporter Morgan Hughes on Twitter @m0rgan_hughes