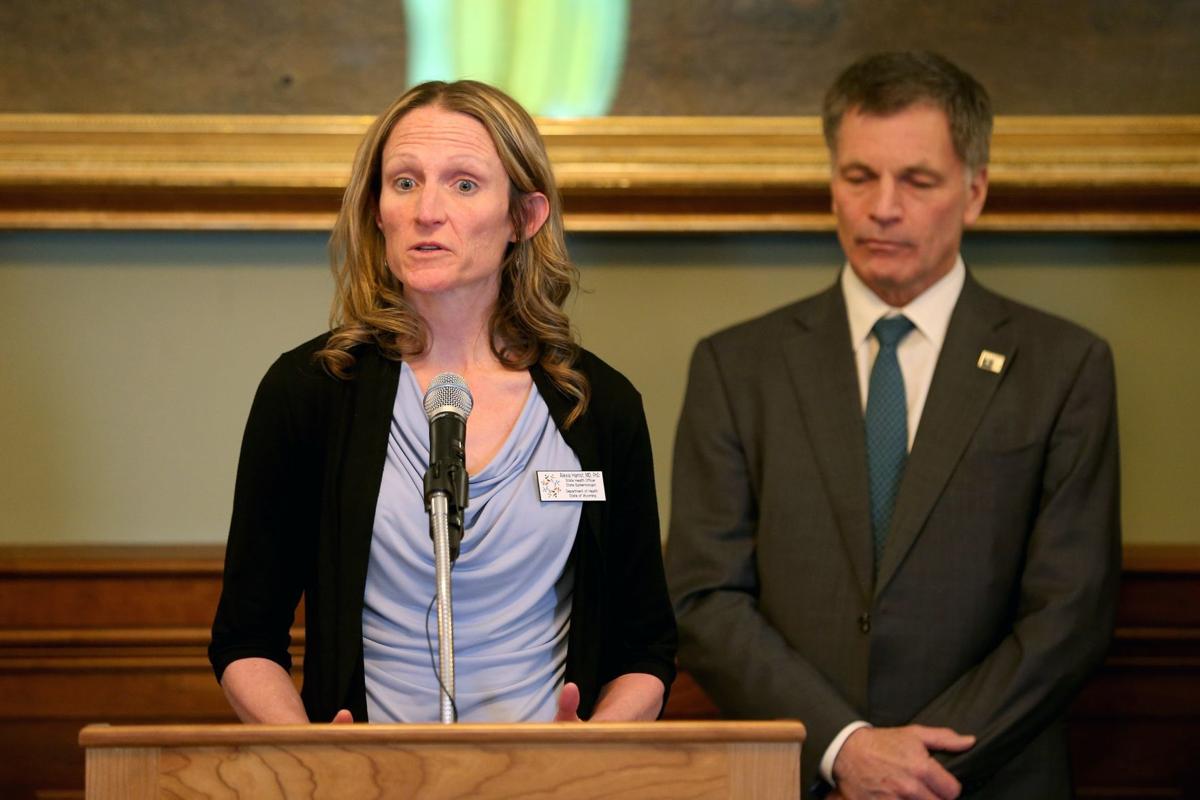 A team from the Centers for Disease Control and Prevention has been sent to Wyoming to help health officials here slow the spread of the novel coronavirus.
"The CDC indicated an interest in directing some of their staff toward protecting areas with relatively low levels of COVID-19 infections," State Health Officer Dr. Alexia Harrist, who invited the federal team, said in a statement. "The idea is to help maintain lower levels of illness in locations that haven't yet been overcome as in other areas of the country."
The team of five CDC staffers will "supplement" Harrist's epidemiology and public health staff "to help slow and limit the spread of COVID-19," the respiratory illness that's caused by the novel coronavirus.
Wyoming has been largely proactive in its efforts to control the spread of the virus, which has sickened hundreds of thousands of people across the U.S. and killed more than 25,000. When there were still only a few cases confirmed here, most Wyoming school districts shut their doors, Gov. Mark Gordon declared a state of emergency, and officials began canceling events.
That expert, Dr. Anthony Fauci, said last week that rural areas like Wyoming and its Western neighbors had not experienced the sharp spikes of illness and death that larger population areas, like New York and New Orleans, had experienced. He praised Gordon's efforts to ensure Wyoming doesn't have those same dire outbreaks.
As of Tuesday evening, there were 282 confirmed cases of the coronavirus in Wyoming; there are another 101 people who probably have the disease, the state Health Department says, and one person has died. More than 160 patients have recovered.
According to the state department, the CDC team will add: data support and analysis; prevention and containment in long-term care facilities, widely considered the most vulnerable of places to experience an outbreak; help in prevention among the state's two tribes; and "case identification and contact tracing," the process of mapping out the people with whom patients have been in contact and how they may have contracted the disease.
A Johnson County man who was infected with the novel coronavirus has died, the first such death in Wyoming, the Department of Health confirmed Monday.
Those four support efforts touch on the priorities of public health officials in Wyoming. Gordon, Harrist and others have repeatedly talked about the risk of infection in nursing homes and long-term care facilities; those populations are typically sicker and older, and their communal setting creates a perfect breeding ground for rapid spread. The state's two biggest clusters have spread out from long-term care facilities: Casper's Wyoming Behavioral Institute and Lander's Showboat Retirement Center.
The tribal communities in Wyoming have also been proactive in their responses. Tribal leaders issued a shelter-in-place order last month, even as the state said it would avoid such a measure.
Concerned about COVID-19?
Sign up now to get the most recent coronavirus headlines and other important local and national news sent to your email inbox daily.