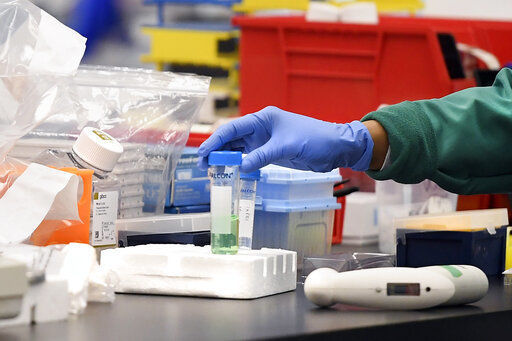 Three positive cases of the novel coronavirus have been confirmed in Wyoming, and the situation continues to develop quickly. The Star-Tribune will update this page throughout the weekend with the latest news regarding coronavirus in Wyoming.
All of our coronavirus coverage is free to read.
7:55 p.m. Sunday
Casper closing rec facilities
The Casper Recreation Center, Aquatics Center and Ice Arena will suspend their services. The facilities will be closed effective immediately, the city said in an announcement.
6:26 p.m. Sunday
District providing free meals
While Natrona County School District's schools will be closed, those under 18 will still be able to get free meals. The district will provide them from 11:30 a.m. to 1 p.m. Monday through Friday at Verda James Elementary, Paradise Valley Elementary, Midwest School, Lincoln Elementary and the Casper Recreation Center.
6:01 p.m. Sunday
Other districts announce shutdowns
A number of other school districts have also announced closures of varying lengths: Fremont County School District No. 14 (two weeks), Fremont County No. 1 (through April 6), Fremont County No. 6, Sweetwater School District No. 2 and Johnson County School District No. 1.
5:41 p.m. Sunday
NCSD heeds Gordon's advice
Natrona County School District, the second largest district in the state, will close from Monday until April 5. The district had already implemented some proactive measures to keep students or staff who may be at risk of carrying the disease away from school. 
"NCSD will share additional details and further information with parents, guardians, and staff as soon as possible in the coming days," spokeswoman Tanya Southerland said in a release.
5:10 p.m. Sunday
Gordon recommends all schools close
Wyoming Gov. Mark Gordon and state Superintendent Jillian Balow have recommended all schools in Wyoming close through at least April 3 to limit the spread of COVID-19.
"This is Wyoming, where we are all neighbors," Gordon said in a statement. "While social distancing should be a priority, it should not keep us from helping one another out. I am thinking of our first responders and healthcare workers who may be without child care. This is a time to help one another out."
While the officials made this recommendation, they left it up to the individual school districts to decide on closures themselves.
4:55 p.m. Sunday
Cheyenne school district temporarily close
Laramie County School District No. 1, the largest in the state, followed suit in closing its doors temporarily. The district is not far from the Colorado border; Wyoming's southern neighbor has had a far more substantial outbreak of the virus thus far.
2:55 p.m. Sunday
Teton County schools temporarily close
5:28 p.m. Saturday
Douglas hospital eyeing potential case
Memorial Hospital of Converse County in Douglas announced it had a patient who met the criteria for a COVID-19 test. The hospital is awaiting results from the Wyoming Department of Health.
The patient, admitted Friday, did not have a fever but "underlying medical conditions required hospitalization," according to a news release.
5:15 p.m. Saturday
Officials confident in preparation
In education/health reporter Seth Klamann's Sunday story recapping the last week in coronavirus developments, officials express confidence that their proactive efforts will be enough to handle the virus here. Find it on the front of Sunday's Star-Tribune.
4:54 p.m. Saturday
School district taking further steps
The Natrona County School District expanded its efforts to limit the disease's spread. Students with a fever of 99.5 degrees or higher, or symptoms such as cough or shortness of breath, should not come to school. The school will contact their guardians and send them home otherwise.
Additionally, the district is monitoring students and staff groups that have traveled out of Wyoming in the last week.
Students and staff who have traveled out of the state or to an affected area, plus those with family members exhibiting the aforementioned symptoms, will be monitored as well. The students and staff in question will be checked for fevers daily for two weeks following their travel or potential exposure.
4:08 p.m. Saturday
Third case confirmed
The Health Department is following up to learn more about the man's exposure risk and who he may have been in close contact with.
Testing on the man was performed in Colorado, where the man was visiting, the Health Department said. Officials have said they believe they've contacted those who may have been affected by the first patient and that at least two people were in self-quarantine.
2:40 p.m. Saturday
Details on second case
The second person in Wyoming confirmed to have COVID-19 is a resident of an assisted-living facility in Lander. The older man is a resident of Showboat Retirement Center and is now in isolation at SageWest Health Care in Lander, according to the state Health Department.
It's not clear how he was exposed to the virus.
"Our initial follow-up with this individual found nothing that could be explained other than potential community spread of this virus in the Lander area," Dr. Alexia Harrist, state health officer and state epidemiologist with the Health Department, said in a statement.
The respiratory disease caused by the virus has thus far been more dangerous for older patients.
12:05 p.m. Saturday
Foreigner concert postponed
The upcoming Foreigner concert at the Casper Events Center has been postponed. A rescheduled date will be announced soon, the venue said.
Refunds are not available. Previously purchased tickets will be honored.
12:00 p.m. Saturday
Outbreak likely to bring economic blow
Have a question about coronavirus that you want answered? Send us an email at editors@trib.com.
Concerned about COVID-19?
Sign up now to get the most recent coronavirus headlines and other important local and national news sent to your email inbox daily.