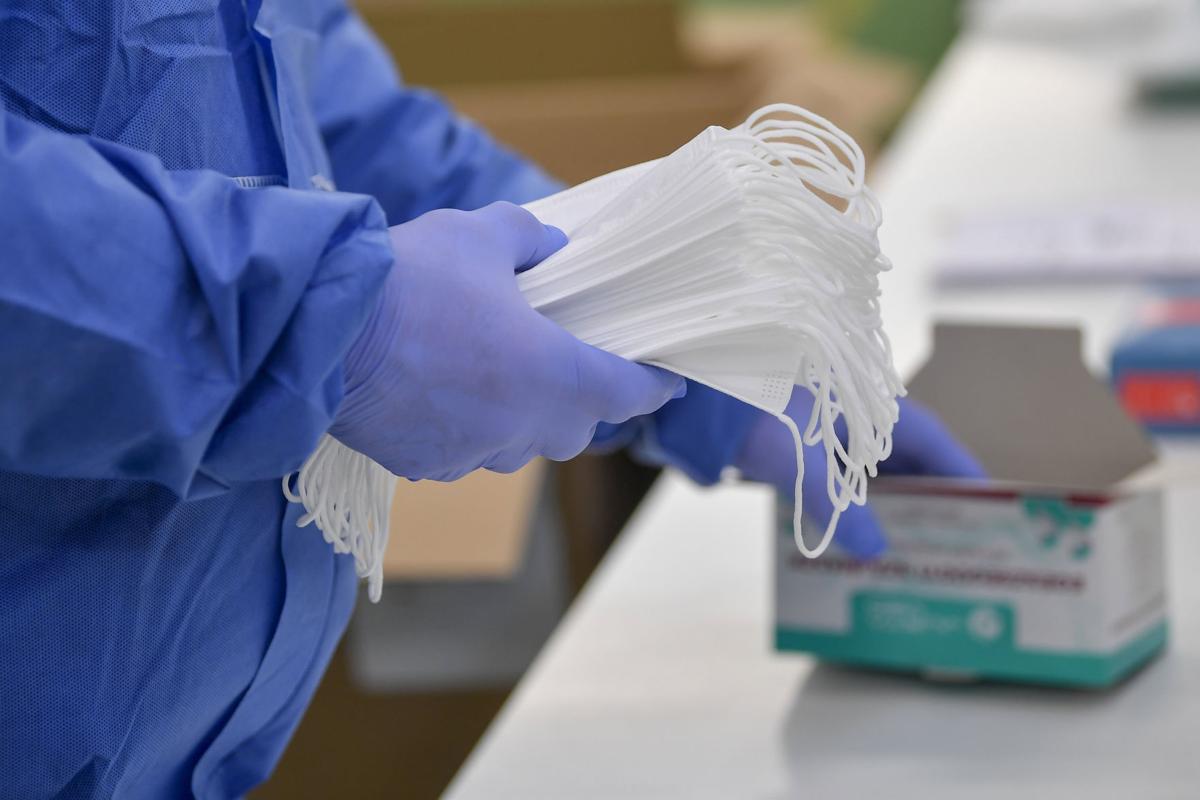 The situation surrounding the coronavirus outbreak continues to develop quickly. To keep you up to speed, the Star-Tribune will update this page throughout Thursday with the latest news regarding coronavirus in Wyoming.
The numbers:
Confirmed cases in Wyoming: 57
Tests completed in Wyoming: 1,105 (as of 9:45 a.m. Thursday: 865 at Wyoming Public Health Laboratory, 239 reported to state by commercial labs, one at CDC lab)
Our resources:
Latest updates:
Seventh Natrona County case
8:39 p.m.
The newly confirmed patient, as well as immediate household members, are currently self-quarantining at the recommendation of health officials, the county said.
Active cases graph
6:10 p.m.
As suggested by a number of our readers, we have tweaked our graph showing the rate at which COVID-19 cases have been confirmed in Wyoming to also show the number of "net" or "active" cases. In other words, the lower line on the graph reflects the total number of cases minus the number of patients the state health department has deemed fully recovered.
The health department has only just begun providing data on recoveries this week and has typically updated it once per day.
Keep in mind that officials say the true number of Wyomingites who have the coronavirus is almost certainly higher than even the upper line on this graph, as a result of testing limitations.
Hot Springs' first case
6 p.m.
Hot Springs County has its first confirmed case of the new coronavirus, according to the Wyoming Department of Health.
Two new cases
4:59 p.m.
The Wyoming Department of Health confirmed two new cases of COVID-19 on Thursday evening: one in Teton County and one in Laramie County. With 15 confirmed cases, Laramie County now has the most patients of any Wyoming county, surpassing Fremont County.
UW students helping with coronavirus testing
3:43 p.m.
Four University of Wyoming students and two recent graduates are helping Dr. Brant Schumaker, a veterinary epidemiologist and UW associate professor, do coronavirus testing at the Wyoming Public Health Laboratory in Cheyenne.
"I had a bonus week of spring break, so I felt like I should help out during this crazy time," microbiology senior Meagan Soehn, a Natrona County High School graduate, said in the UW announcement.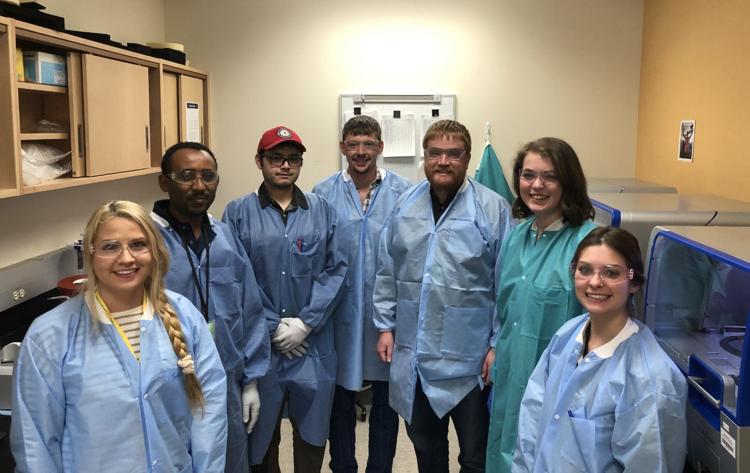 Soehn does research in Schumaker's veterinary lab and had experience with the type of extractions the state lab requires.
"The help we've been receiving from our colleagues at the state veterinary lab has been critical for the Wyoming Public Health Laboratory to help us maintain and expand testing for COVID-19," Wyoming Public Health Laboratory Director Cari Roark Sloma said in the announcement.
Schumaker and the students will have less time to help after the university's extended spring break ends, but they still plan to help as much as they can.
Other UW students helping out include undergrads Chris Anderson, Kelsie Bowcutt (of Cheyenne) and Samyr Wissar (of Laramie). Recent graduates Taylor Fearing and Chayse Rowley (both of Cheyenne) have also been helping.
City creates temporary curbside permit program
3:24 p.m.
The city of Casper has announced a temporary permit program for curbside services, now that many restaurants have had to shift to takeout.
The program, authorized by the City Council and City Manager Carter Napier, allows adjacent businesses to sign up for two reserved spaces.
When the state's current prohibition of dine-in services ends, so does the private use allowance of those permitted spaces.
Contact Fleur Tremel, assistant to the city manager, at 307-235-8258 or ftremel@casperwy.gov for information on how to apply.
Public Service Commission allows for suspension of late fees
1:58 p.m.
The Wyo PSC has issued an order temporarily granting authority for Wyoming public utilities to suspend certain tariffs pertaining to discontinuation of service, late charges and similar matters. pic.twitter.com/EQTGkYS1Ml

— Wyoming PSC (@WyoPSC) March 26, 2020
Cheyenne accepting mask donations
1:33 p.m.
As health providers nationwide face a potential supply shortage, the Laramie County Emergency Operations Center and Cheyenne Regional Medical Center have announced they are accepting mask donations.
To arrange a donation, email emaresourcerequest@laramiecounty.com or go to the CRMC Foundation office, located at 408 E. 23rd St. in Cheyenne (across Evans Avenue from CRMC). There is a donation box with instructions on the porch of the house.
CRMC is also accepting donations of personal protective equipment, such as N95 masks, gowns, face shields and gloves.
Health official tells schools to plan for longer closures
1:33 p.m.
Gov. Mark Gordon and state Health Officer Dr. Alexia Harrist's order only closes schools through April 3, but educators in Natrona County should plan for a shutdown longer than that, county Health Officer Dr. Mark Dowell said at Wednesday night's school board meeting.
"If you want my gut feeling based on the numbers that are going up right now, I can't see — and this is just one opinion, please, I'm just trying to help — I can't see us in a month necessarily being able to go back to school," Dowell, an infectious disease physician, said via teleconference. "I can't see it. But I don't know that for a fact."
Orr stresses need for agricultural stores
12:28 p.m.
Cheyenne Mayor Marian Orr in a news release Thursday emphasized that it is important for local agricultural stores to remain open. The announcement came "in response to criticism of local agricultural retail stores remaining open during this time."
"Local farmers and ranchers utilize these specific retailers for equipment and supplies not available elsewhere," the news release said. "In these challenging and unprecedented times, access to these resources are needed for the viability of our food supply and the sustained health and well-being of our community."
Orr did encourage the stores to do what they can to limit the spread of COVID-19 while in operation, however.
Hospital offers tips on interpreting symptoms
12:22 p.m.
Memorial Hospital of Converse County has put together a chart to help people feeling ill determine whether they are likely to be suffering from COVID-19 or another ailment like the flu or a common cold: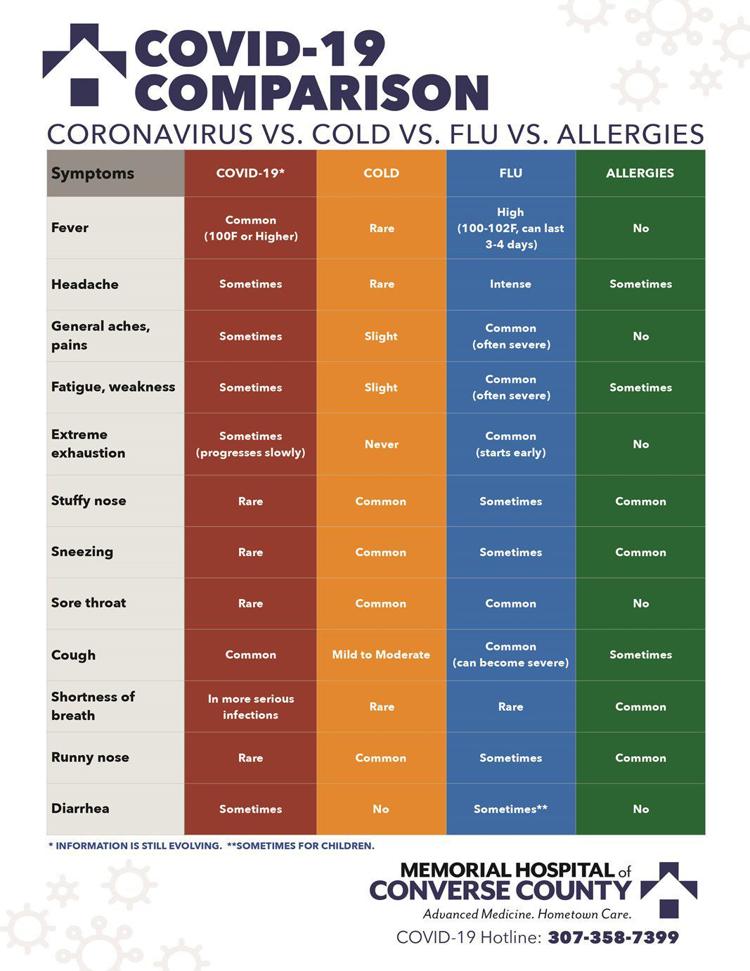 County doesn't suspect community spread
11:54 a.m.
The Natrona County Emergency Operations Center Joint Information Center says it doesn't suspect community spread has been a factor in the growing number of cases here.
All six cases in the county, including the new cases announced Wednesday night, can be tracked back to two groups of positive origin, the center said.
"Community spread has been described by the Centers for Disease Control (CDC) as meaning people have been infected with the virus in an area, including some who are not sure how or where they became infected," an announcement said. "... This is evidence that social distancing is working. By tracing all new positives back to an identified positive source it provides clear evidence that by restricting events, business and other measures we are flattening the curve in Natrona County. We appreciate the public's help in these efforts and encourage them to stay the course until these restrictions have been lifted."
Additionally, the center said it believed the increase in numbers, both in Natrona Coutny and Wyoming, are "largely due to an increase in testing."
Four new cases
9:42 a.m.
Four additional cases were confirmed Thursday morning by the Wyoming Department of Health, including Johnson County's first. The others were in Laramie County (two) and Teton County.
Twelve of the state's 53 coronavirus patients have fully recovered, according to the health department.
United Way starts relief fund
9:21 a.m.
The fund will provide emergency assistance to individuals and families in need as a direct result of COVID-19 or loss of resources as result of closures caused by the pandemic.
Support will include the most immediate needs, such as food and food supplies, personal products (diapers, hand soap, toilet paper, etc.), prescription and medical supplies, as well as mortgage, rent and utility payments.
Jonah Bank has pledged $10,000 to the fund and is encouraging other community leaders to follow suit.
Yellowstone prepares for eventual opening
9 a.m.
Despite announcing this week it is closed to visitors until further notice, Yellowstone National Park is still preparing for its opening — whenever that may be.
The park was supposed to begin opening gradually on April 17.
Because of the park closure, visitors are being turned away at the only route that's open year-round — the North Entrance at Gardiner, Montana.
"We do have the gate staffed," Superintendent Cam Sholly said. "In the first day … it's been fairly light traffic."
Residents of the Montana towns of Cooke City and Silver Gate, at the opposite end of the road through the park's North Entrance, along with people doing business in those communities are being allowed to pass through the gate.
No stay-at-home orders in Laramie County
8:43 a.m.
Laramie County clarified in a news release Thursday that the county has not ordered a lockdown or stay-at-home order, calling the announcement "an effort to halt confusion."
Nearby Larimer County in northern Colorado did issue such an order Wednesday.
"Due to the similar spelling and proximity of these two counties, we wanted to reiterate that message to our Laramie County residents," the announcement said.
Nonetheless, Gov. Mark Gordon has urged Wyomingites to stay home whenever possible.
Have a question about coronavirus that you want answered? Send us an email at editors@trib.com.
Coronavirus in Wyoming: A look at the first week
Closing 3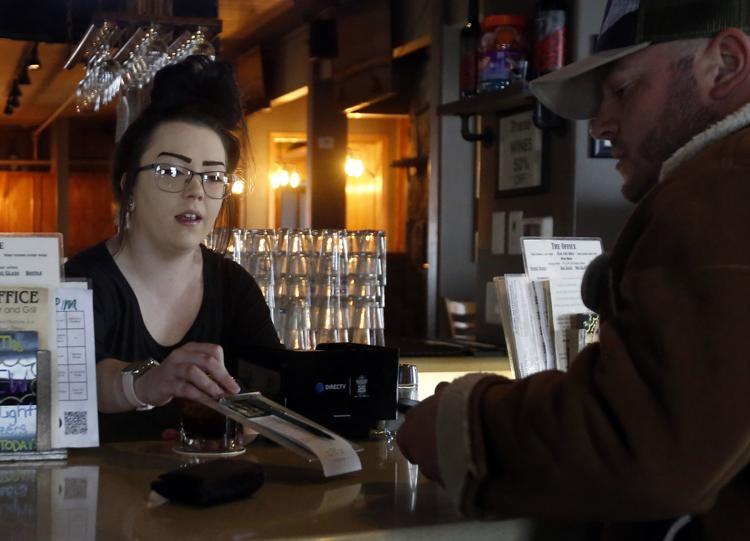 Pick-up order at HQ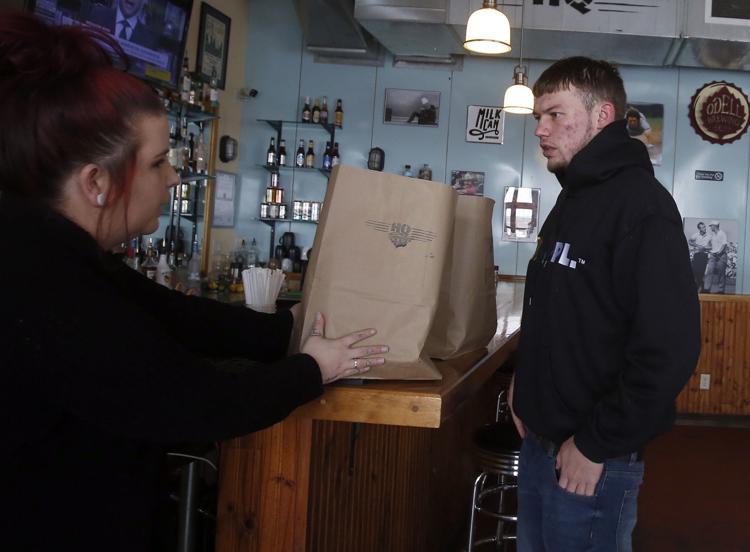 Wyoming Medical Center clinic Andy Dunn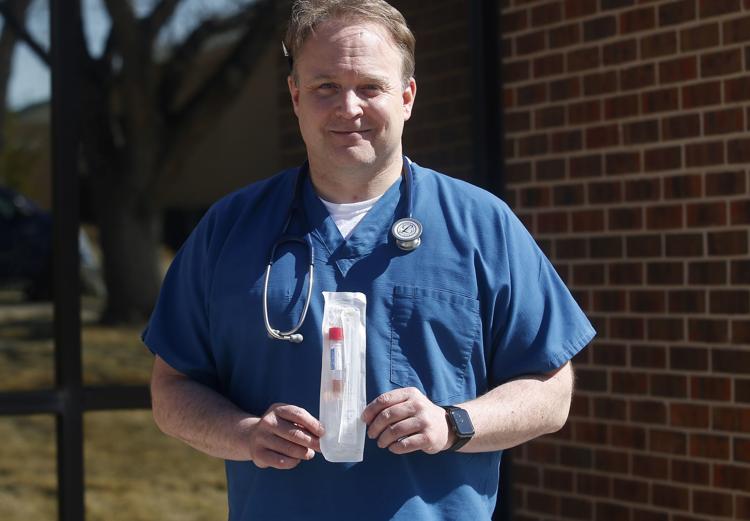 Wyoming Medical Center respiratory clinic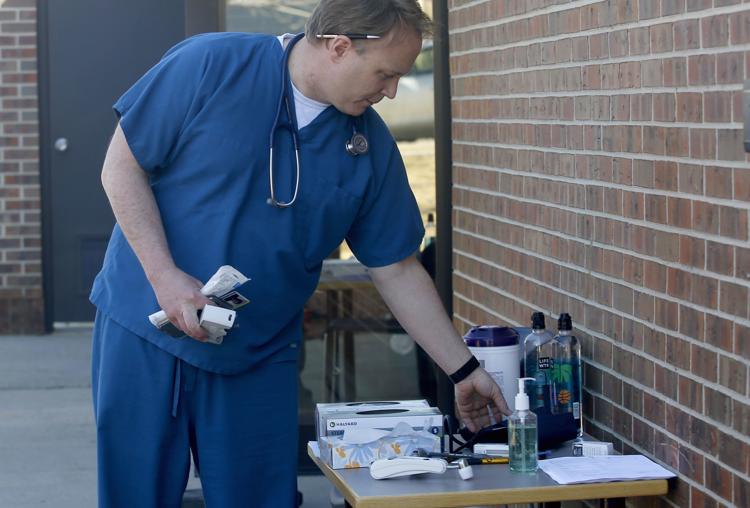 COVID-19 response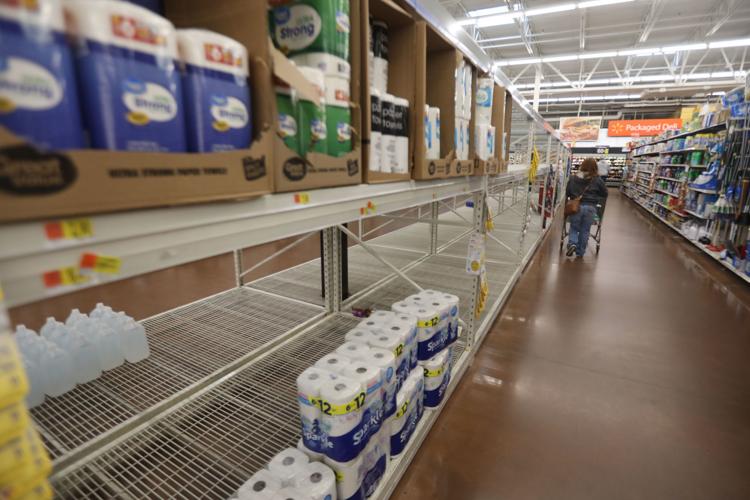 Press conference 5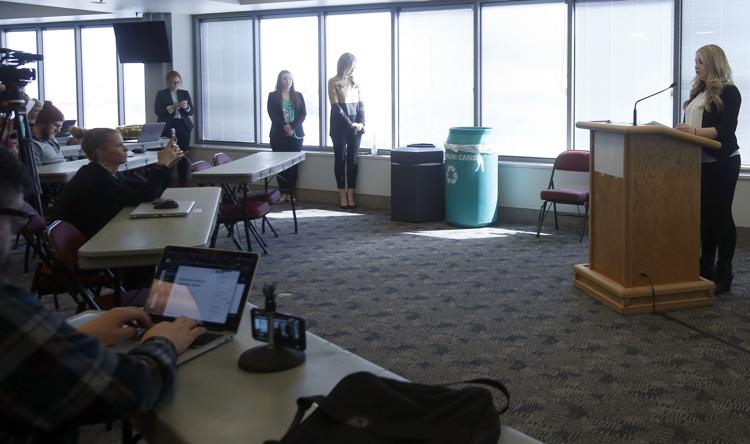 Respiratory clinic
Press conference 3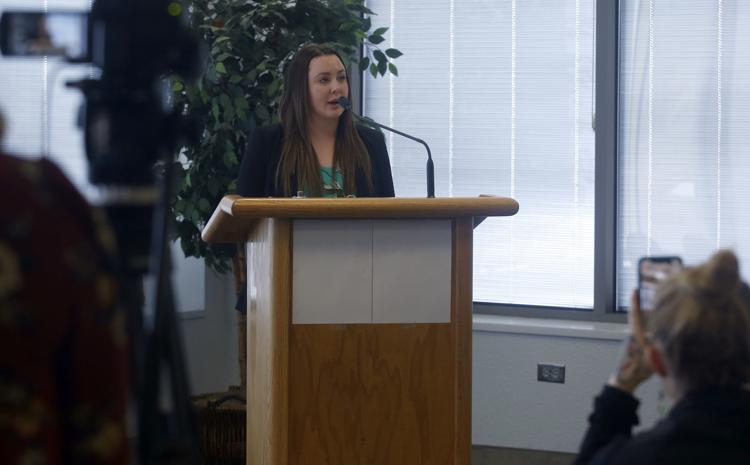 Respiratory clinic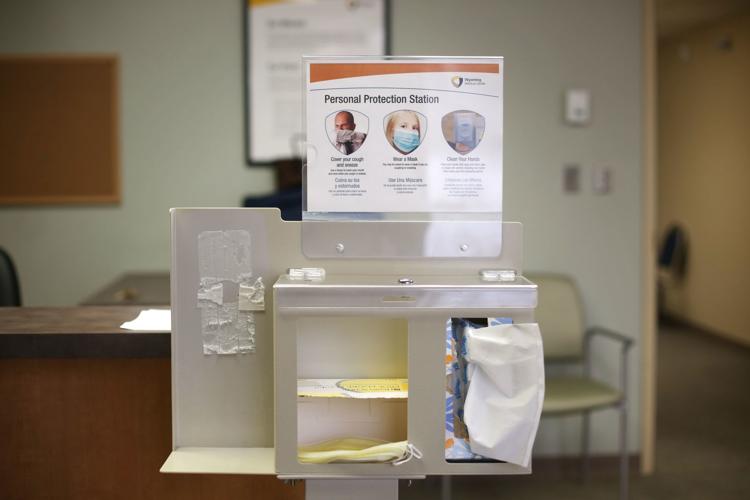 Briefing 5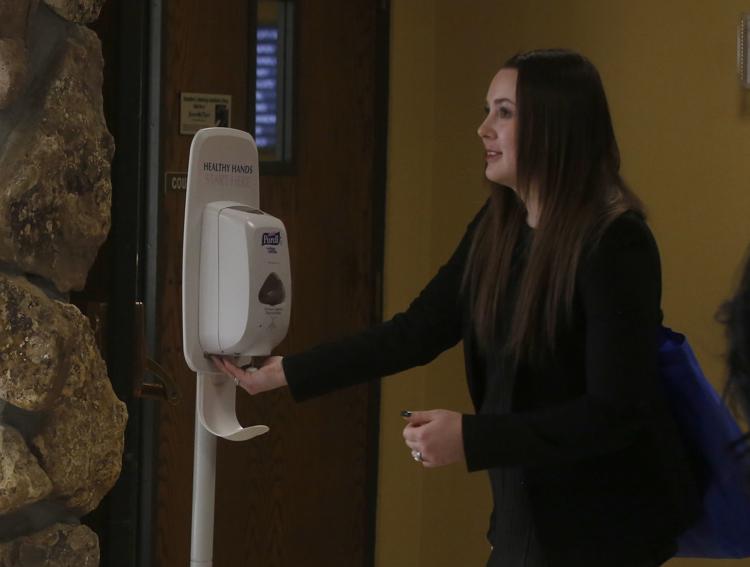 Briefing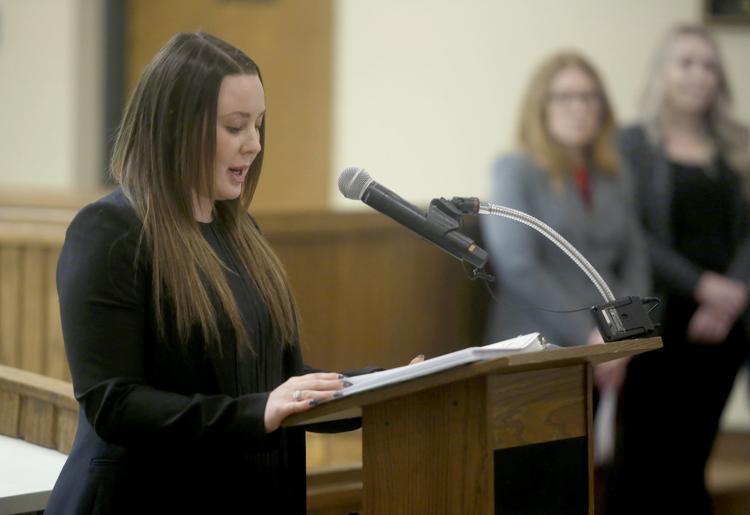 COVID-19 Press Conference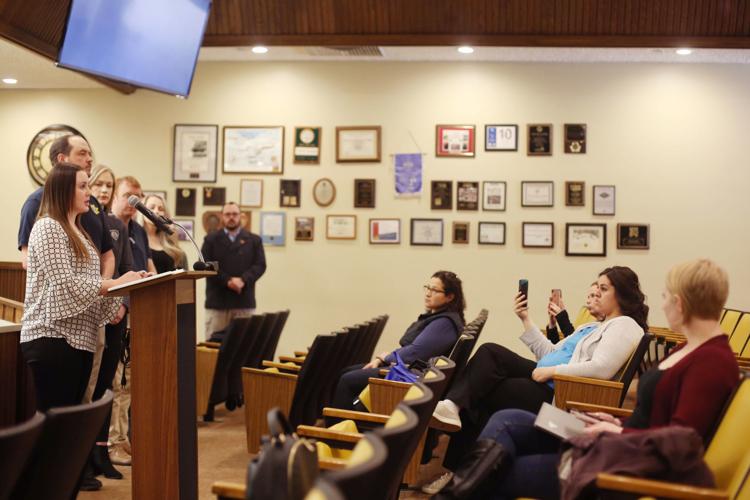 Respiratory clinic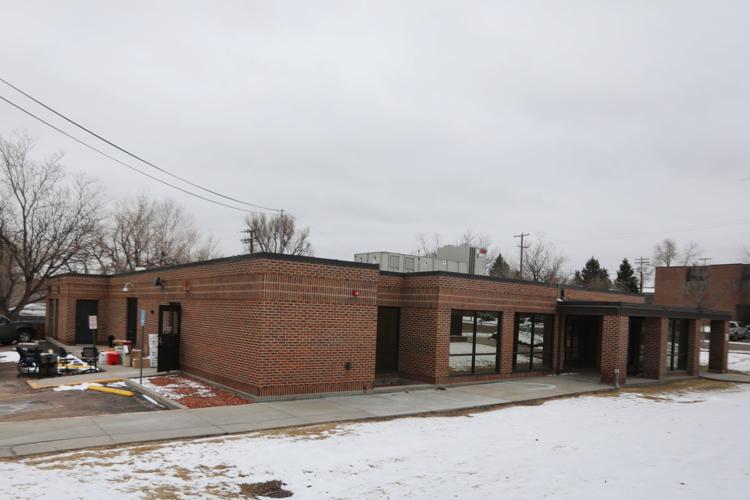 Respiratory Clinic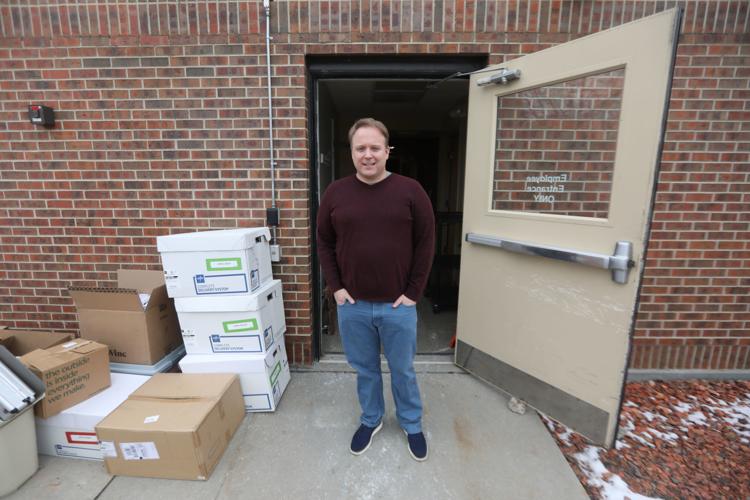 SageWest in Lander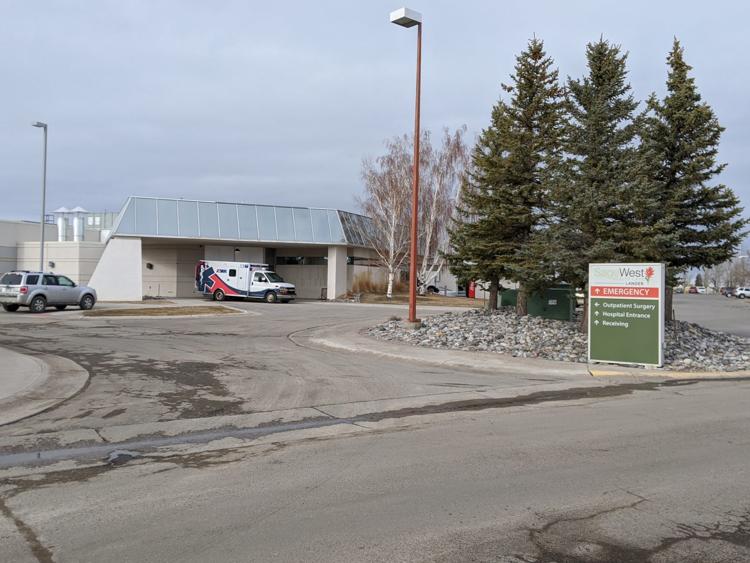 Showboat Retirement Center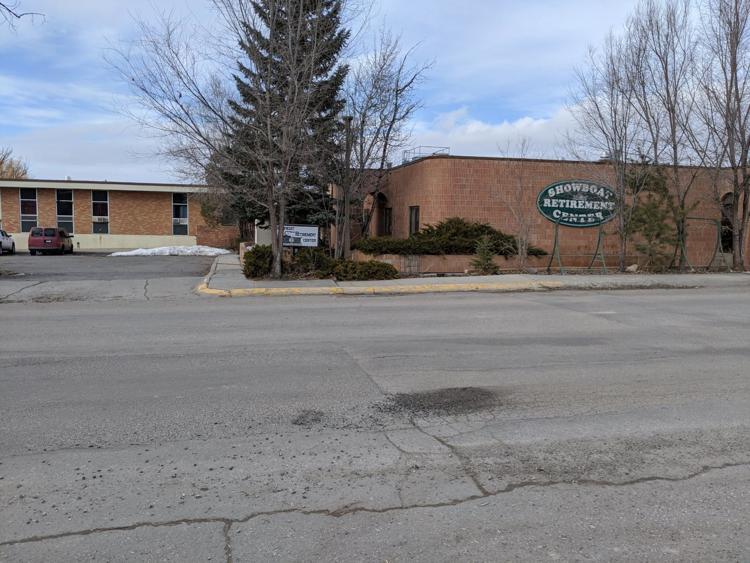 COVID-19 response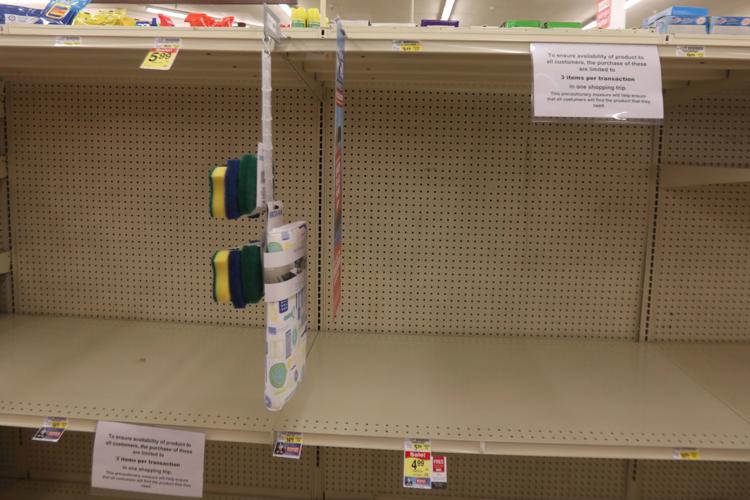 COVID-19 response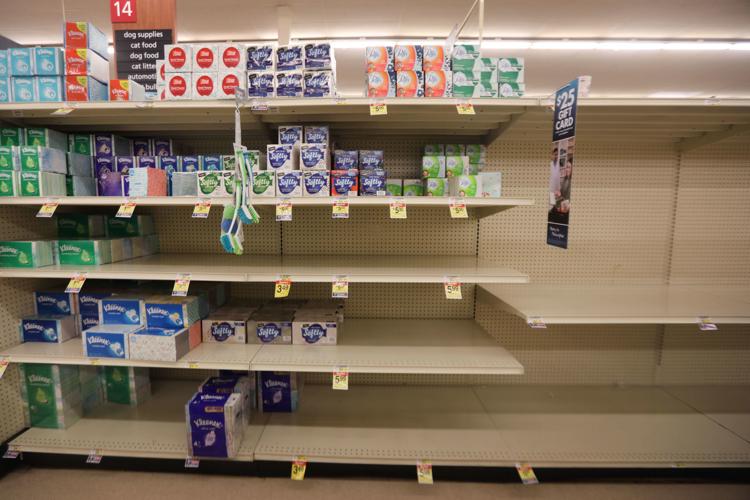 COVID-19 response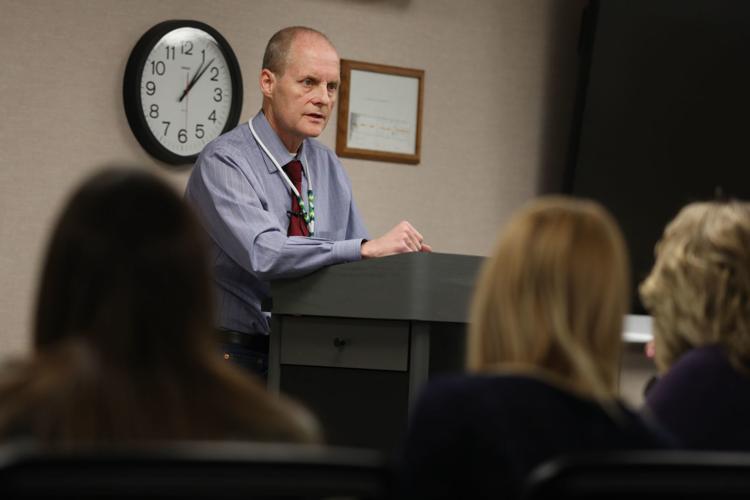 COVID-19 response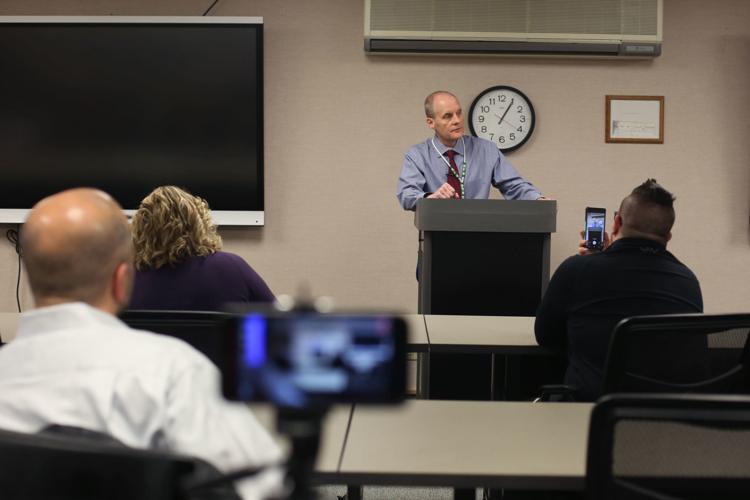 COVID-19 closure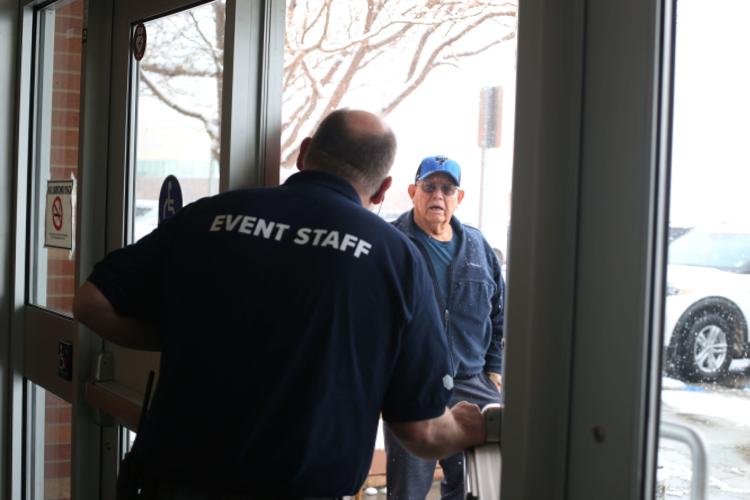 COVID-19 closure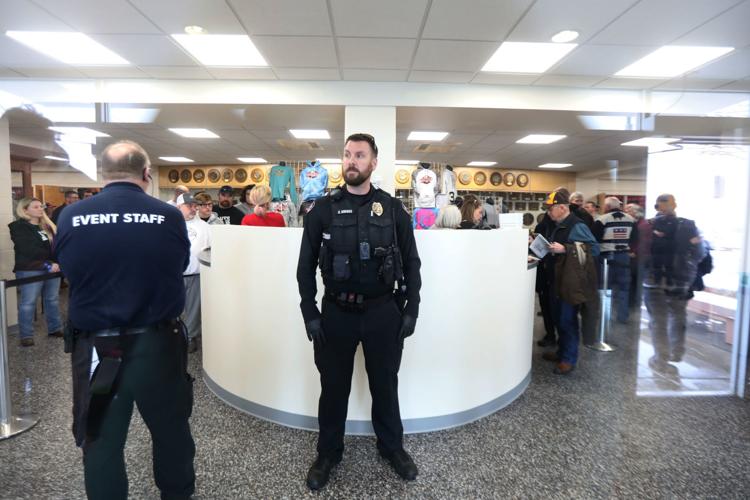 COVID-19 closure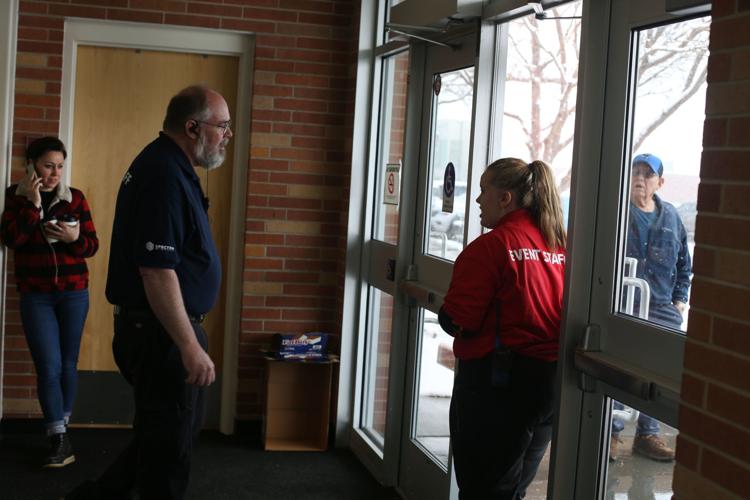 COVID-19 closure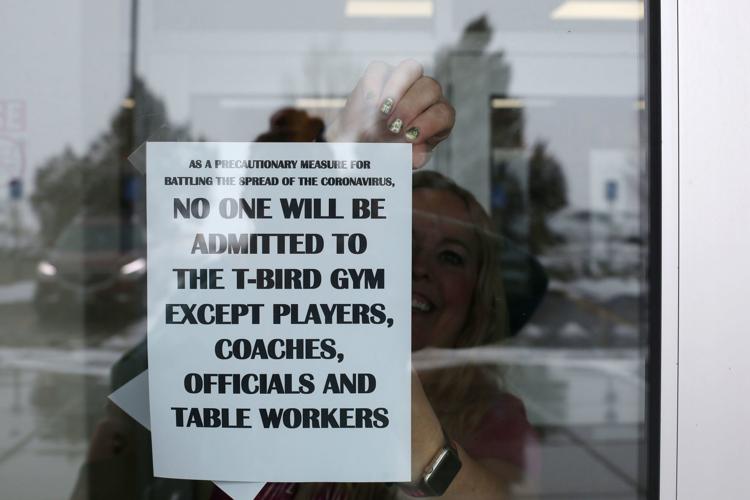 Covid 19 Press Conference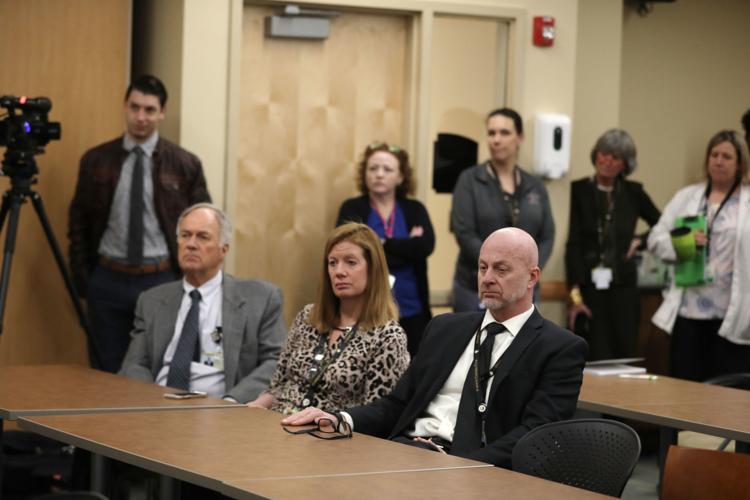 COVID-19 Press Conference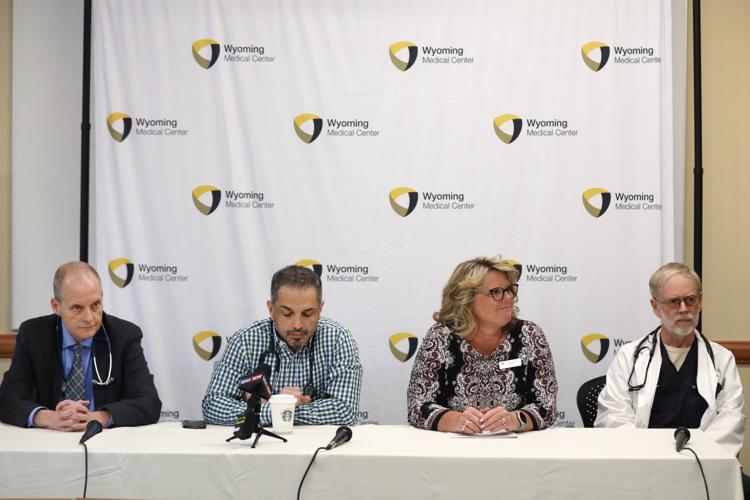 COVID-19 Press Conference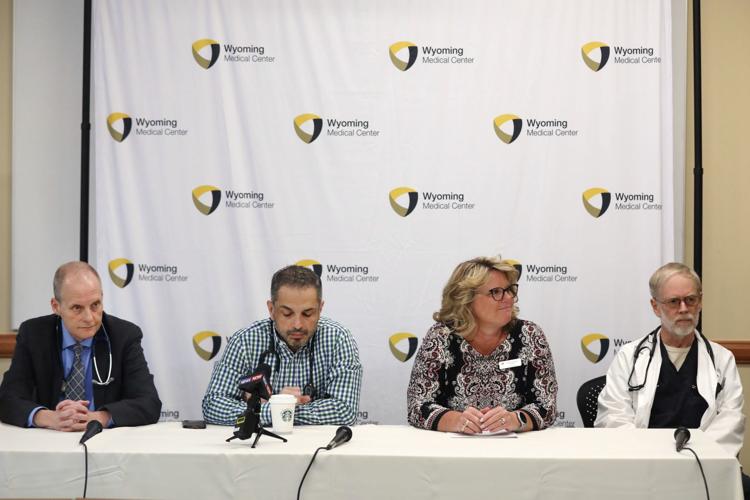 Covid 19 Press Conference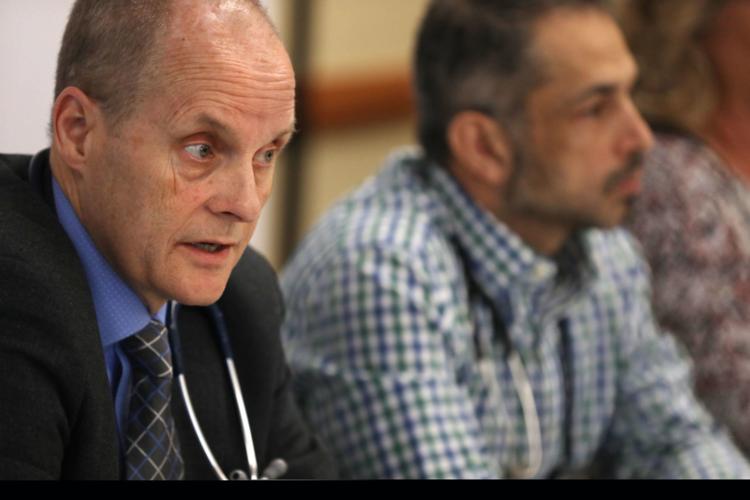 Mark Gordon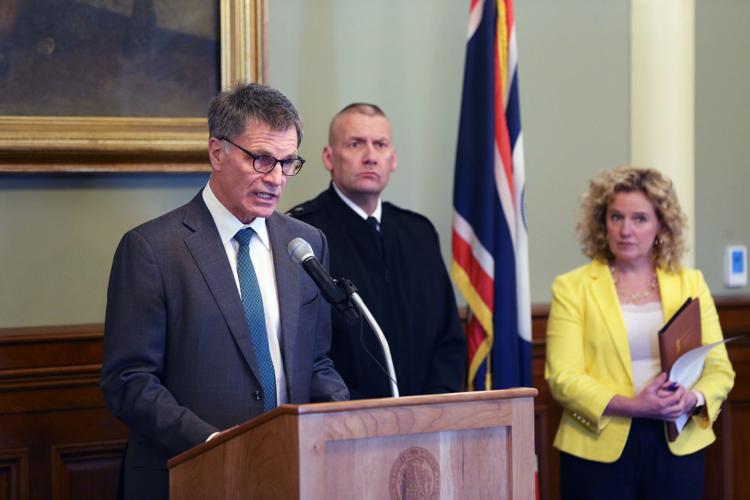 Closed sign at The Office Bar and Grill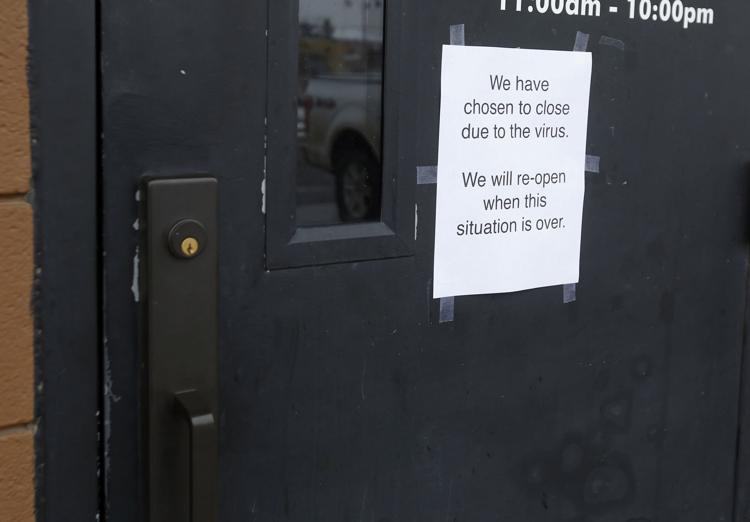 Concerned about COVID-19?
Sign up now to get the most recent coronavirus headlines and other important local and national news sent to your email inbox daily.