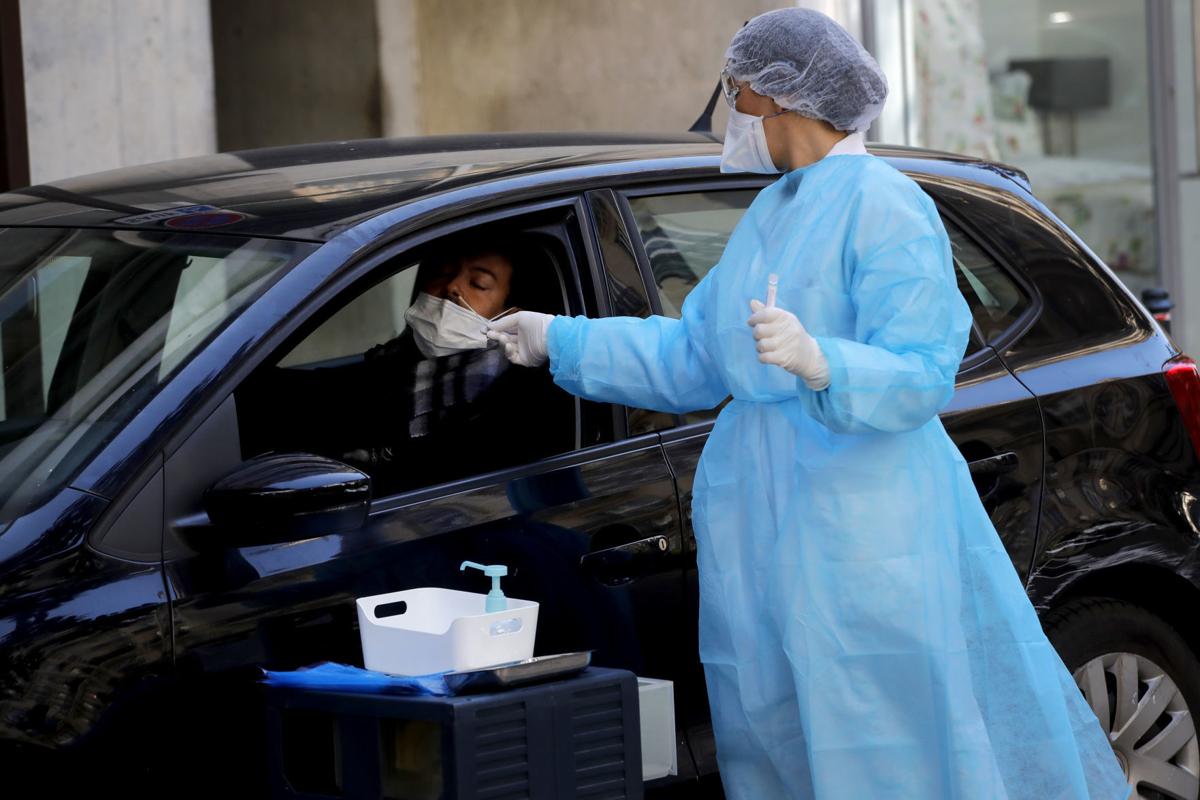 The situation surrounding the coronavirus outbreak continues to develop quickly. To keep you up to speed, the Star-Tribune will update this page throughout Tuesday with the latest news regarding coronavirus in Wyoming.
The numbers:
Confirmed cases in Wyoming: 37
Tests completed in Wyoming: 745 (as of 2:45 p.m. Tuesday: 567 at Wyoming Public Health Laboratory, 147 reported to state by commercial labs, one at CDC lab)
Our resources:
Latest updates:
Seventh and eighth cases of day
8:45 p.m.
The Wyoming Department of Health has announced two additional confirmed cases: a fourth in Natrona County and a third in Carbon County.
The eight cases that have now been announced today set a single-day mark for the state. 
Third Natrona County case
7:43 p.m.
The announcement did not provide details on the new patient.
Two more cases
7:30 p.m.
According to an update on the Wyoming Department of Health's website, the state has two new confirmed cases of coronavirus: one in Teton County, its third, and another in Fremont County, its 12th.
With Sweetwater County announcing its first confirmed case, this brings the state's total to 34.
Pharmacists urge caution on potential treatments
7:30 p.m.
"The Board of Pharmacy has heard from several pharmacists in Wyoming specifically about practitioners writing prescriptions for medications that may anecdotally treat COVID-19 for themselves and family members," the Wyoming pharmacy board's executive director told the Star-Tribune.
First Sweetwater County case
7:13 p.m.
Sweetwater County announced its first confirmed case of COVID-19. The patient is a Green River man in his 40s. He is self-isolating at home, according to an announcement.
New Fremont County case
6 p.m.
The state's 31st case has been confirmed in Fremont County. That county continues to have more known cases of COVID-19 than any other. It now has 11.
Hair salons, barber shops, etc. must close
5:27 p.m.
The order begins Wednesday and extends through April 3. It focuses on businesses where "appropriate social distancing measures are not practical," according to the governor's office. The list includes nail salons, hair salons and barber shops; cosmetology, electrology and aesthetic services; massage parlors; and tattoo, body art and piercing shops.
"While I understand the impact and sympathize with those most affected by these measures, especially small business owners, I support Dr. Harrist's recommendation because this is about saving lives," Gordon said in an written statement. "We have tried to navigate a thoughtful course, but as COVID-19 spreads through our communities, we must take this action now."
State working to make its own supplies
5:12 p.m.
That won't solve the entire problem, but it'll ease up a supply chain issue — Wyoming's hospitals, clinics and health departments aren't the only ones in America jockeying for more testing materials.
New executive order
3:30 p.m.
Gov. Mark Gordon has signed another executive order, this one providing a 90-day grace period to Wyoming drivers whose licenses expired between March 15 and June 1 while suspending all non-commercial driving exams until at least April 20.
The executive order was passed in an effort to limit face-to-face interactions in the state's Department of Transportation offices, where social distancing measures and bans on crowd sizes of 10 people or more are currently in effect in efforts to limit the spread of the COVID-19 virus.
"We are grateful to Governor Gordon for enacting this Executive Order that will help encourage social distancing in this coronavirus environment," WYDOT Director K. Luke Reiner said in a statement. "This Executive Order will help alleviate public concerns over renewing their expired licenses and ID cards and it also makes provisions to help commercial drivers to get required testing."
30th case confirmed
3:11 p.m.
New information is also available on the second confirmed case in Natrona County. That patient is believed to have contracted the illness while traveling internationally.
County holds news conference
3 p.m.
What to do if you're having vision problems
2:52 p.m.
Need eye care during the pandemic? The Wyoming Optometric Association has released suggestions on what to do if you experience an eye or vision emergency during the COVID-19 outbreak.
First and foremost, the group said, you should seek care from your optometrist in such a situation, rather than going to the ER. Many optometry offices remain available for such situations. 
Additionally, these conditions can be addressed via telehealth or curbside pick-up:
Red/pink eye (conjunctivitis)
Broken glasses
Contact Lens Refills
Other eye emergencies or essential care appointments
Arts community takes hit
2 p.m.
Groups around the state are keeping an eye on their finances and trying to find new ways to share their work, while wondering just how long things will be shut down. 
Fremont County urges sick to self-isolate
1:22 p.m.
Fremont County — the county with the most confirmed COVID-19 cases in the state — said its number of known cases remains at 10, as of Tuesday morning. However, the county has more than 40 tests still pending. According to the Wyoming Department of Health's website, the county has 15 cases pending at the state lab, as of Tuesday morning.
"Consultation with all available testing laboratories shows that results are currently delayed at least a week with over 40 tests still pending in the county," the Fremont County Incident Management Team said in an announcement, "and this will likely greatly worsen as the national problem intensifies and lab resources are potentially diverted. This information along with a significant increase in calls to our local PH number, and reports by clinics in our communities, shows that the virus is likely extensively spread in our community."
The county encourages anyone who is sick "in any way" to self-isolate as soon as they can.
Cheney: Keep aggressive measures in place
12:37 p.m.
With many discussing the idea of cutting back on coronavirus prevention measures in order to theoretically help the economy, Rep. Liz Cheney has taken a stance seemingly opposed to the Trump administration.
"There will be no normally functioning economy if our hospitals are overwhelmed and thousands of Americans of all ages, including our doctors and nurses, lay dying because we have failed to do what's necessary to stop the virus," she tweeted.
Fingerprints:
Fingerprints will be done on Tuesday's from 8:00 a.m. to 11:30 a.m. by appointment only for medical professionals. To call for an appointment please call 307-235-9282 
Sheriff's office closed
12:20 p.m.
The Natrona County Sheriff's Office is closed until further notice. The office provided the following answers to some FAQ's:
What is your service fee for civil papers? There is a $50.00 fee per service. We cannot accept credit cards.
I want a copy of the return to be sent to me, can you do that? Yes, we charge a $5.00 per return, if you would like a copy for yourself, and the original to be sent to the court. We also require a self-addressed stamped envelope per return you request. If you would like the original sent to you for you to file with the court, we only require a self-addressed stamped envelope.
Will you still send a return to an out-of-state court? Yes, but we do require a self-addressed stamped envelope, per return, for the court so we can be sure they are sent to the proper address.
How can I get the papers to your office? You can mail them to the Sheriff's Office at 201 N. David St., 2nd Floor. Natrona County Sheriff's Office Attn: Civil Process 201 N. David St., 2nd Floor Casper, WY 82601
Sex Offenders please call to make any updates or changes.
Any other questions please call 307-235-9282
Distilleries, breweries pivot to hand sanitizer
12:19 p.m.
Gov. Mark Gordon directed the Wyoming Business Council to allocate money to the companies doing so, which include Natrona County's Backwards Distilling.
Koltiska Distillery in Sheridan, Chronicles Distilling in Cheyenne, Pine Bluffs Distilling, Melvin Brewing in Alpine, Wyoming Whiskey in Kirby, Jackson Hole Still Works and Grand Teton Distillery in Jackson will join in the effort.
Yellowstone, Grand Teton closed to visitors
11:53 a.m.
Yellowstone and Grand Teton national parks are closed to all park visitors until further notice, effective immediately, the National Park Service announced Tuesday.
State highways and/or roads that transcend park/state boundaries and facilities that support life safety and commerce will remain open.
"The National Park Service listened to the concerns from our local partners and, based on current health guidance, temporarily closed the parks," Yellowstone Superintendent Cam Sholly and Grand Teton Acting Superintendent Gopaul Noojibail said in a joint statement. "We are committed to continued close coordination with our state and local partners as we progress through this closure period and are prepared when the timing is right to reopen as quickly and safely as possible."
Monday night, Scholly said the park had been getting requests to take such steps:
"Yellowstone has received a substantial number requests to temporarily close, from state and local partners, including the governors of Montana and Wyoming, health officials from all surrounding counties, and local government leadership," he said in a statement. "The park began receiving these requests late in the day on Sunday, March 22, through today and we immediately began conversing with National Park Service and the Department of the Interior to determine the best course of action. I have been in direct contact with the governors, many local leaders, and health officials within our gateway communities and counties. Contrary to a few press articles written today, the park is taking these requests from our local partners very seriously and will communicate decisions in the near future."
Albertsons implements social distancing
10:46 a.m.
Albertsons and Safeway stores will implement social distancing measures in all stores to try to keep customers from being within six feet of anyone else for more than 10 minutes, the company announced.
The changes include waiting points marked on the floor "especially at check stands and stations where people most often congregate, like the service deli, bakeries and pharmacy areas," the announcement said. "Customers will also be asked to wait until the customer in front of them has finished collecting their groceries before unloading their groceries at the check stand."
Changes will take place over the next week. Grocery stores are among the few exceptions to Wyoming's widespread state-mandated business closures. 
First lady helping food nonprofits
10 a.m.
Wyoming first lady Jennie Gordon, through her Wyoming Hunger Initiative project, has launched an effort to quickly assist food nonprofits affected by COVID-19.
For the 2020/2021 grant cycle, individual grants will be awarded from $500 to $5,000.
Grant applications are due no later than 8 p.m. on April 20. Successful applicants will be notified on May 18.
Company says Wyomingites aren't staying put
10 a.m.
A company called Unacast has used smartphone data to map out what it says is a measure of how well Americans are adjusting to the need for social distancing. If the data is accurate, Wyoming is doing the worst job of any state. 
The Equality State was the only state to receive an F grade, given for a change in movement of less than 10 percent. 
Data from the New York Times, however, seems to indicate the state has decreased its mobility somewhat, ranking better than 16 states in that regard.
A wave through the window
7 a.m.
The novel coronavirus has forced long-term facilities across the world to crack down on visitation. That has created a barrier between parents and children, grandparents and grandchildren, a barrier designed to protect the older generation from a deadly virus.
Have a question about coronavirus that you want answered? Send us an email at editors@trib.com.
Coronavirus in Wyoming: A look at the first week
Closing 3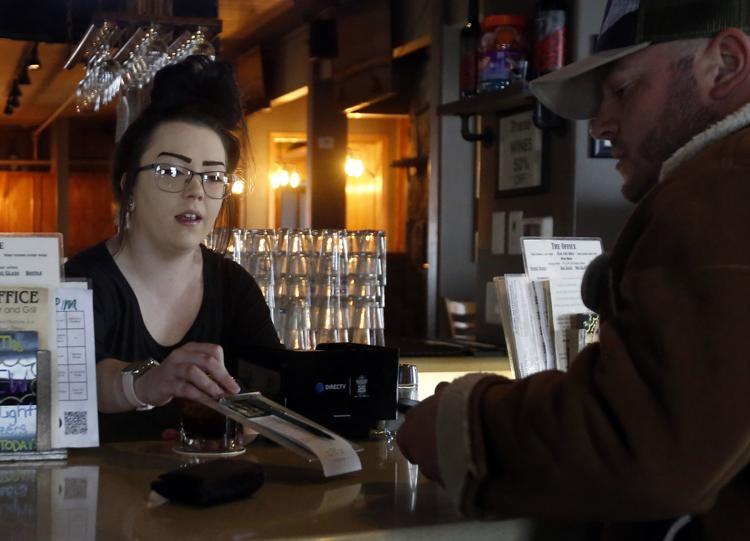 Pick-up order at HQ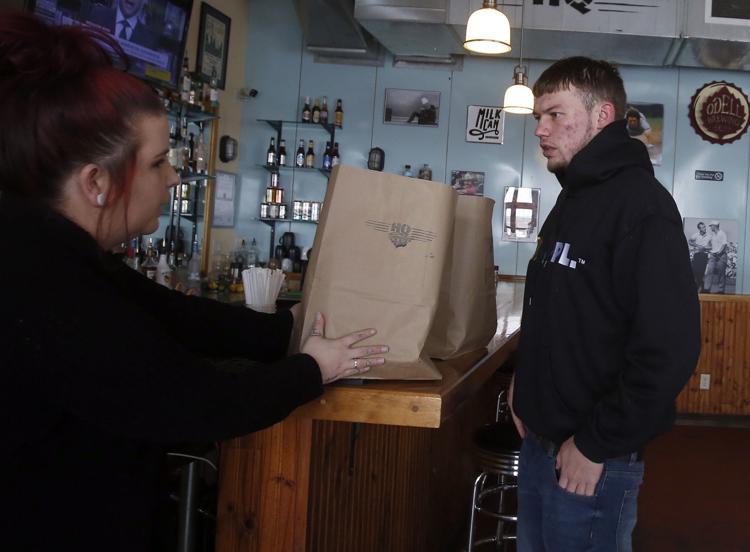 Wyoming Medical Center clinic Andy Dunn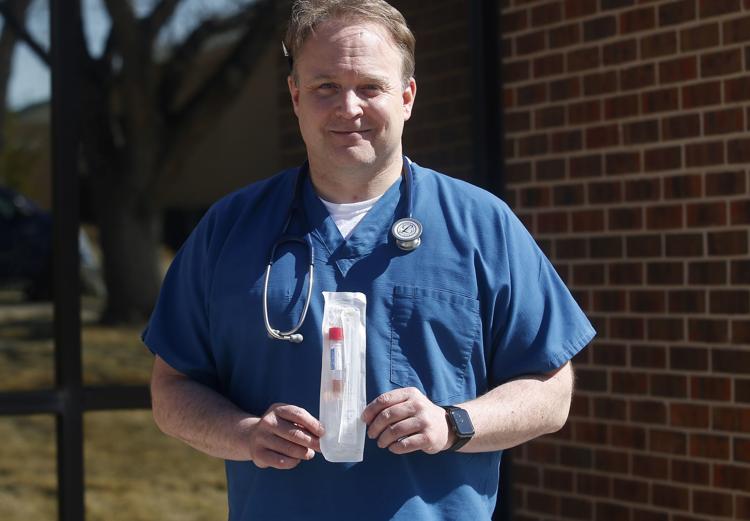 Wyoming Medical Center respiratory clinic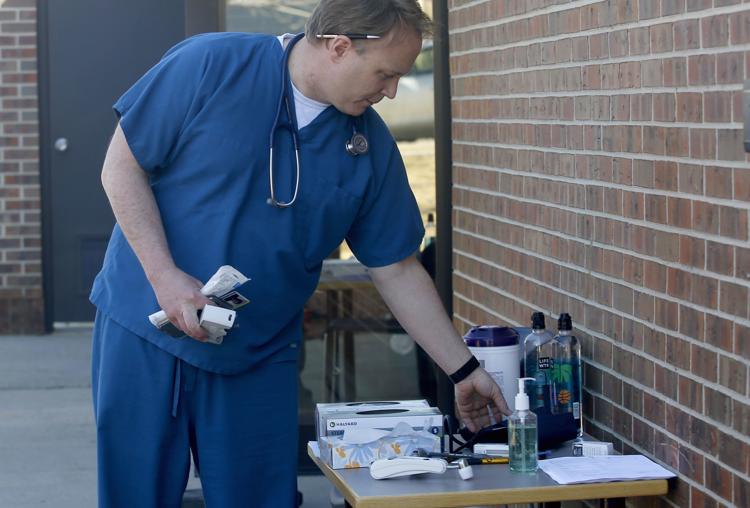 COVID-19 response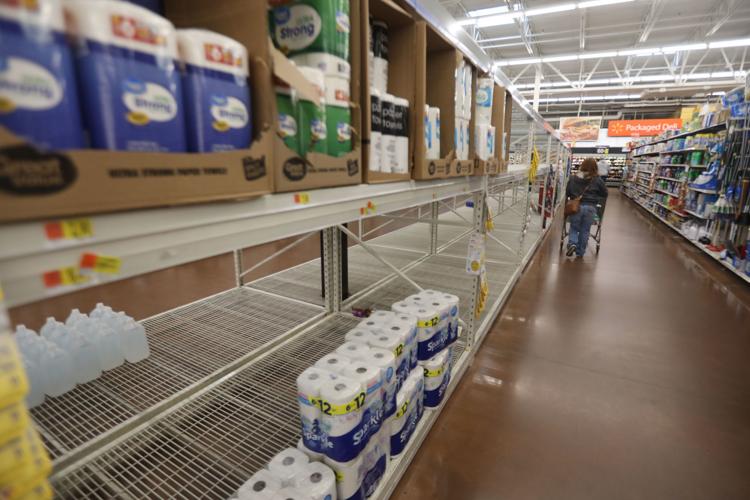 Press conference 5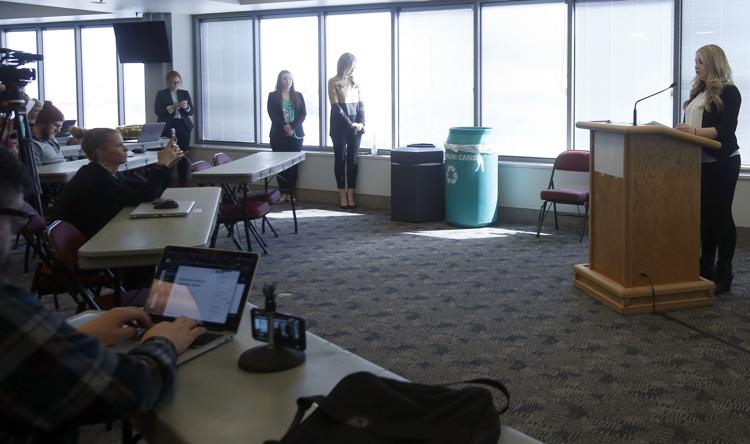 Respiratory clinic
Press conference 3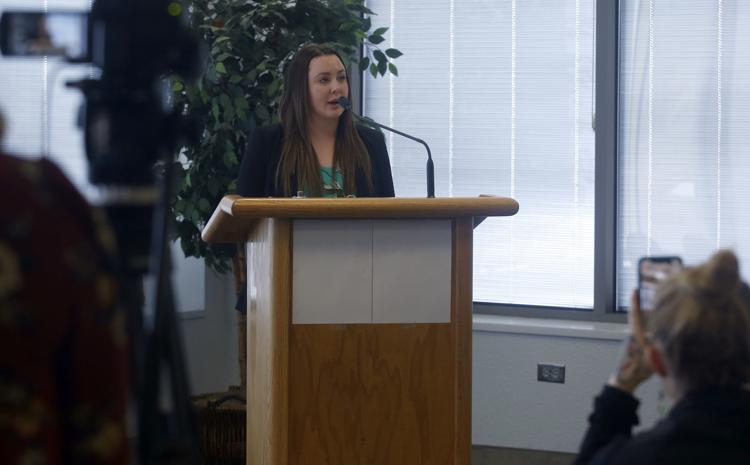 Respiratory clinic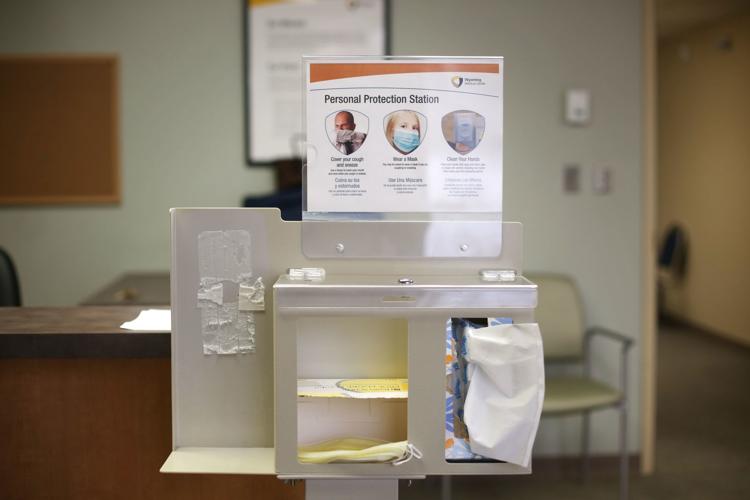 Briefing 5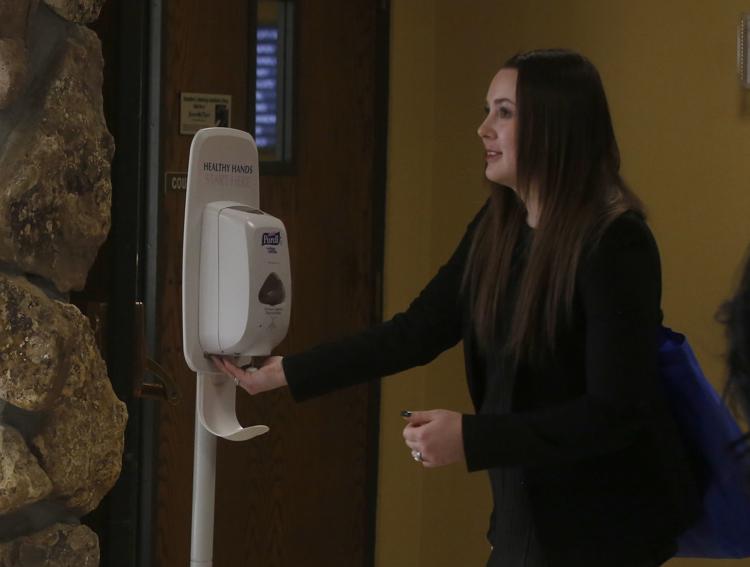 Briefing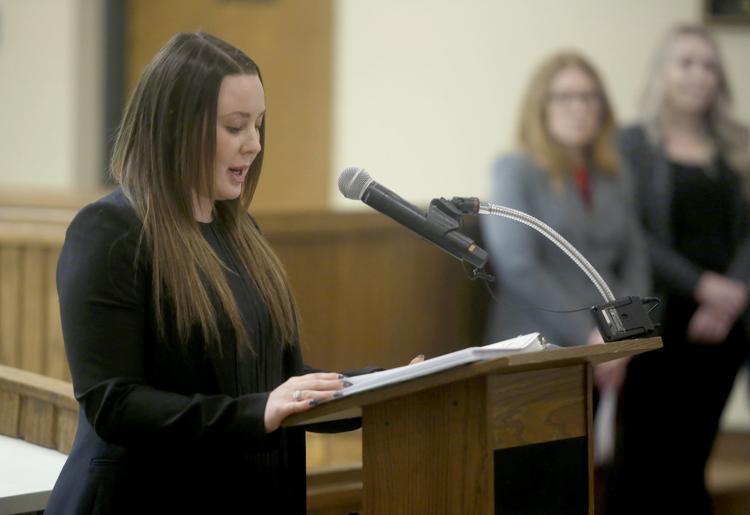 COVID-19 Press Conference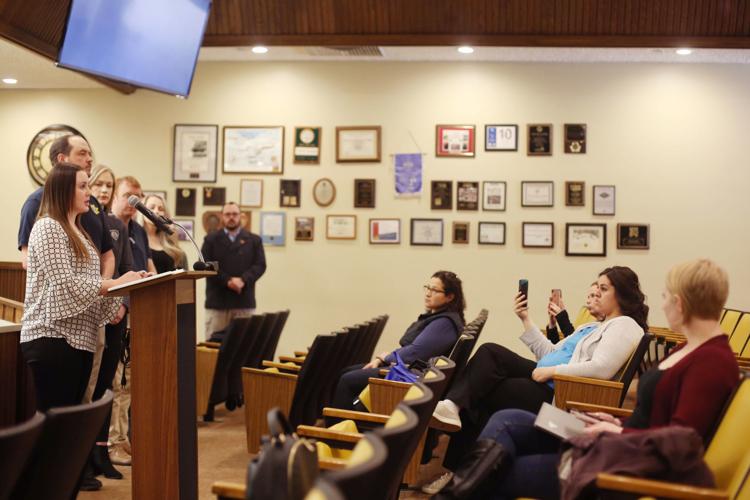 Respiratory clinic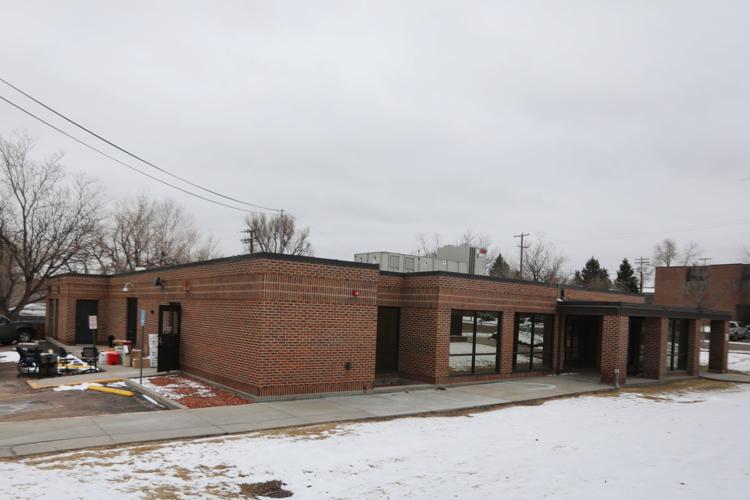 Respiratory Clinic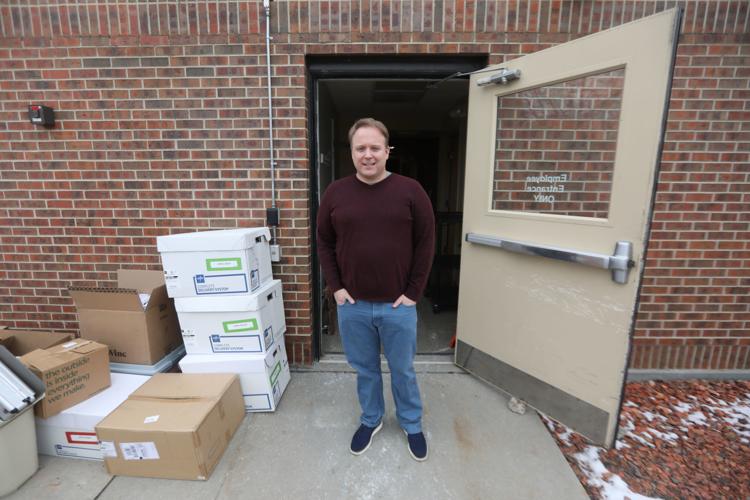 SageWest in Lander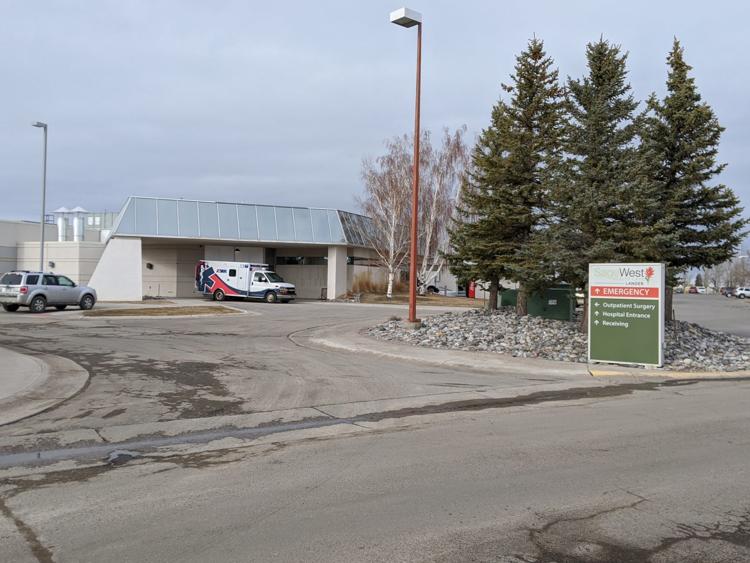 Showboat Retirement Center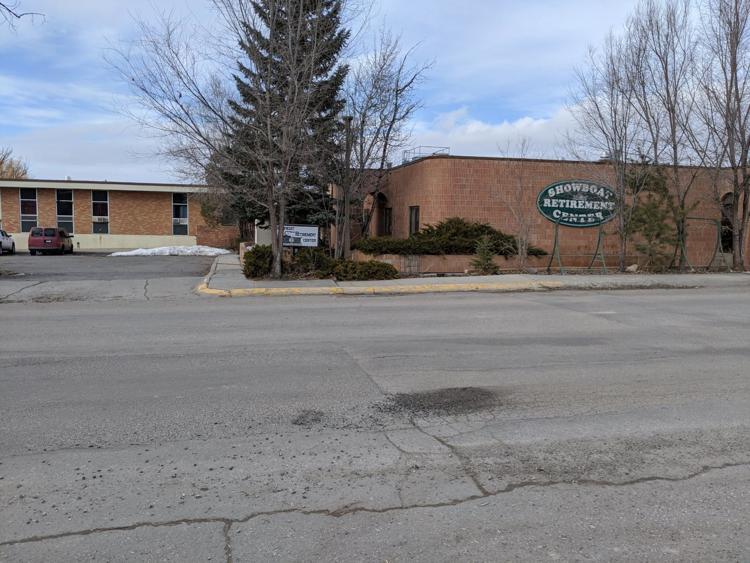 COVID-19 response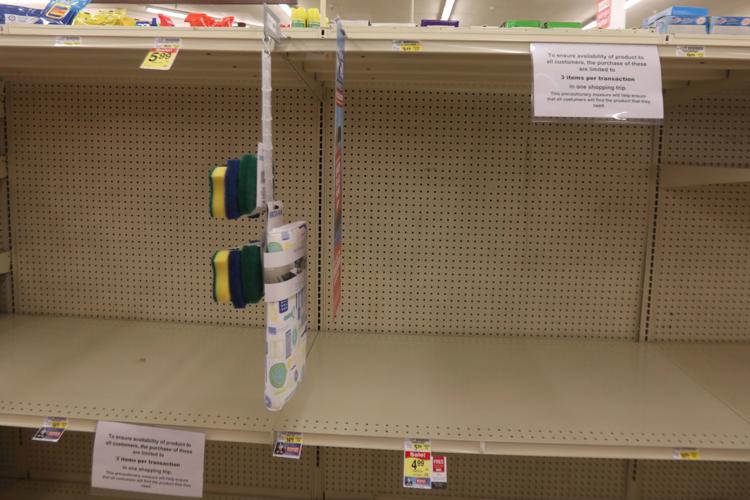 COVID-19 response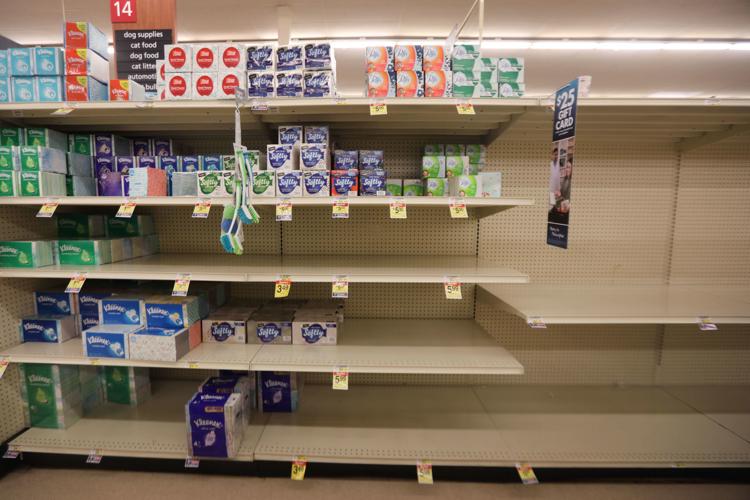 COVID-19 response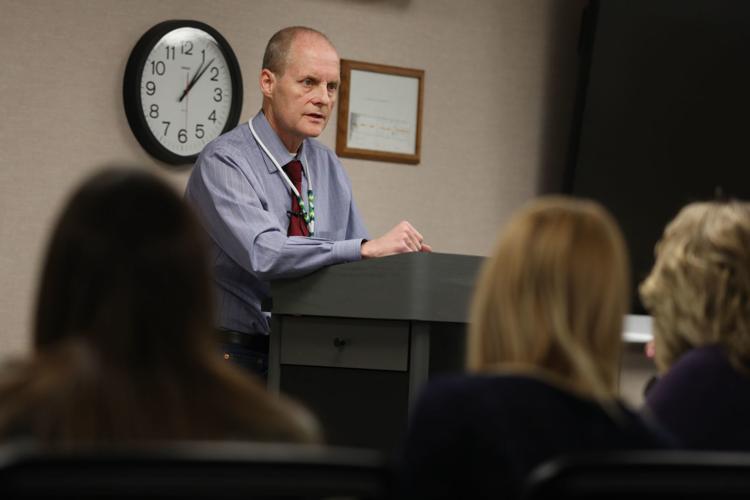 COVID-19 response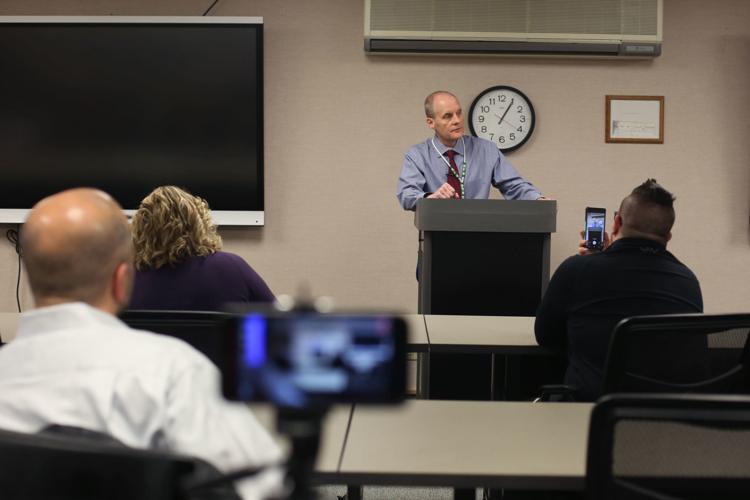 COVID-19 closure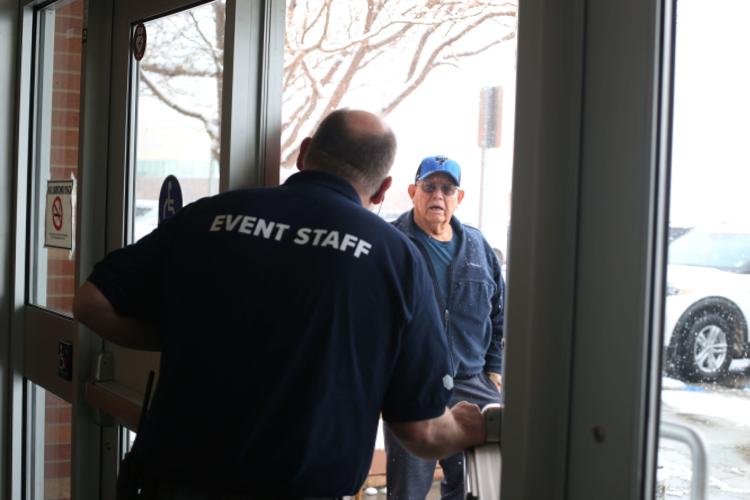 COVID-19 closure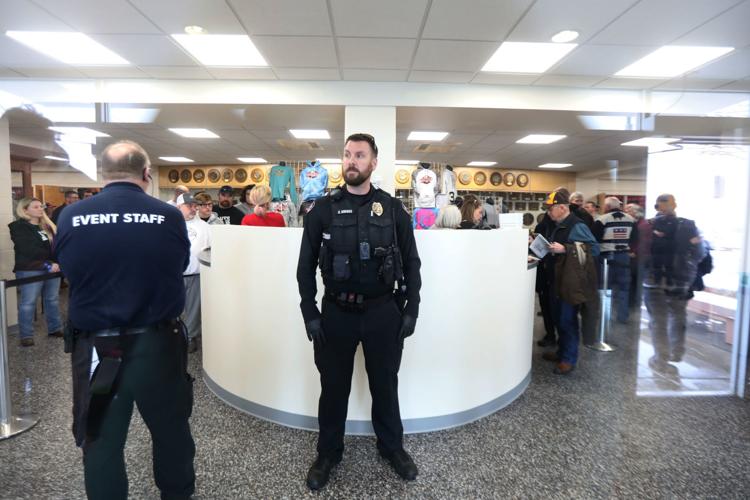 COVID-19 closure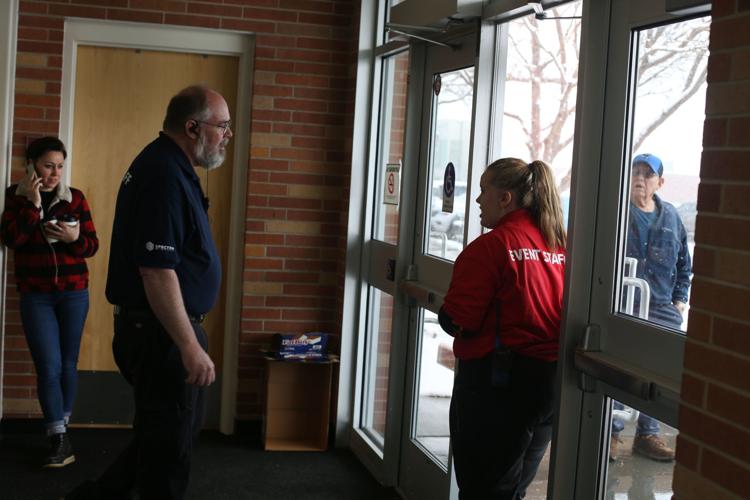 COVID-19 closure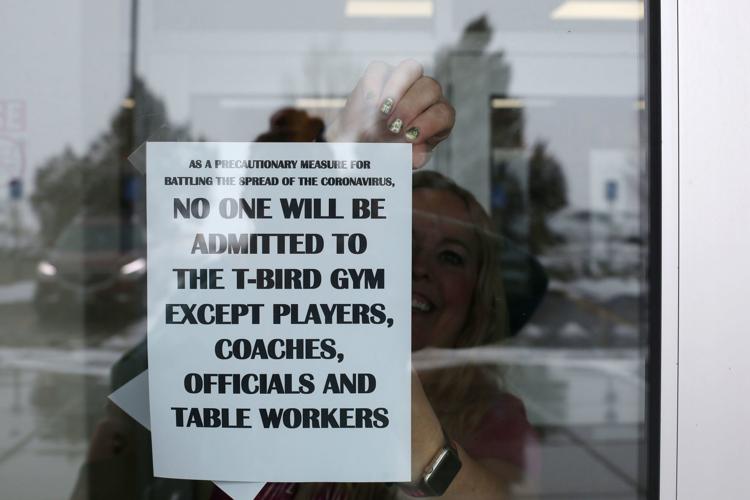 Covid 19 Press Conference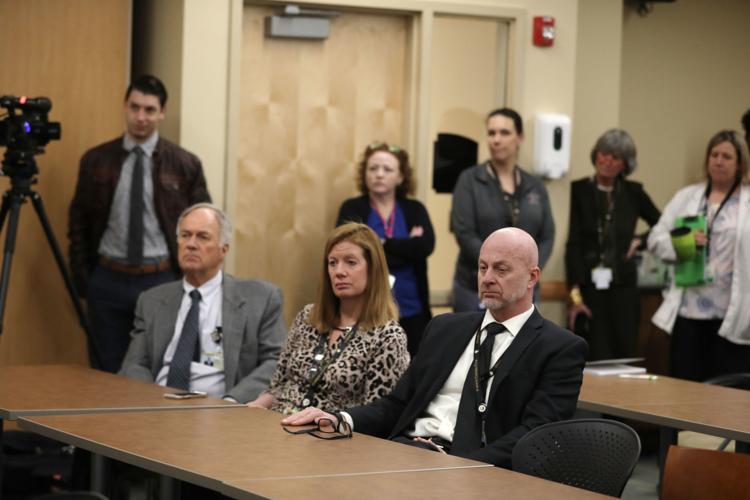 COVID-19 Press Conference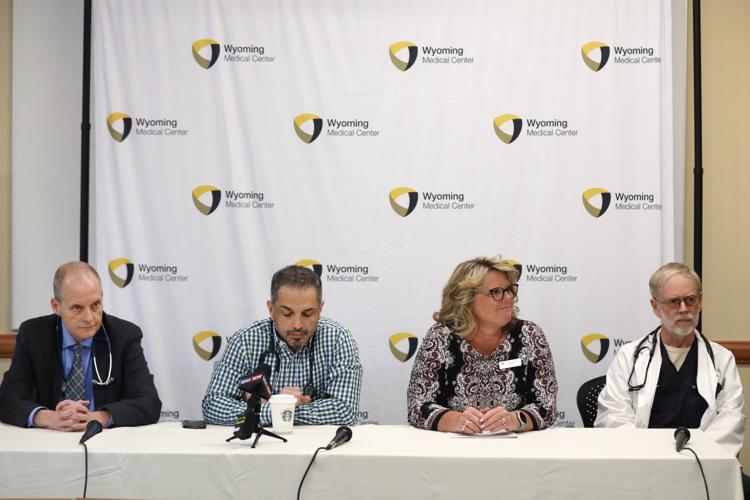 COVID-19 Press Conference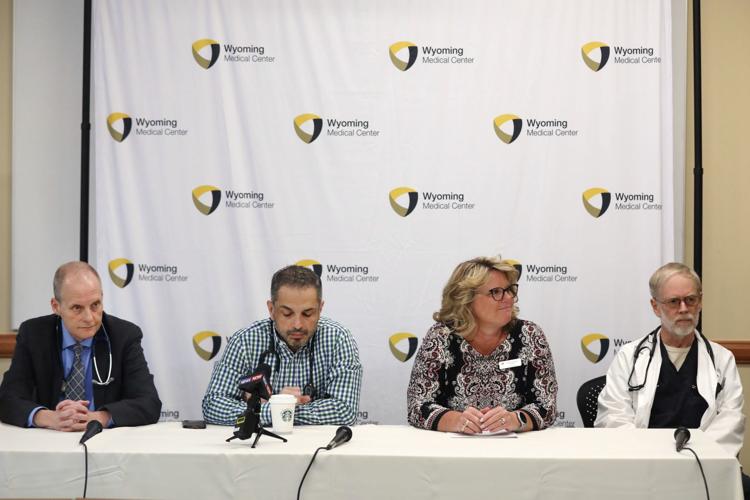 Covid 19 Press Conference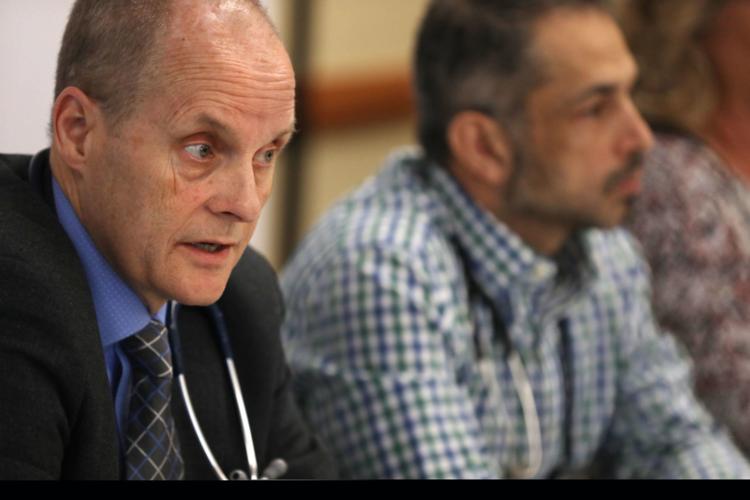 Mark Gordon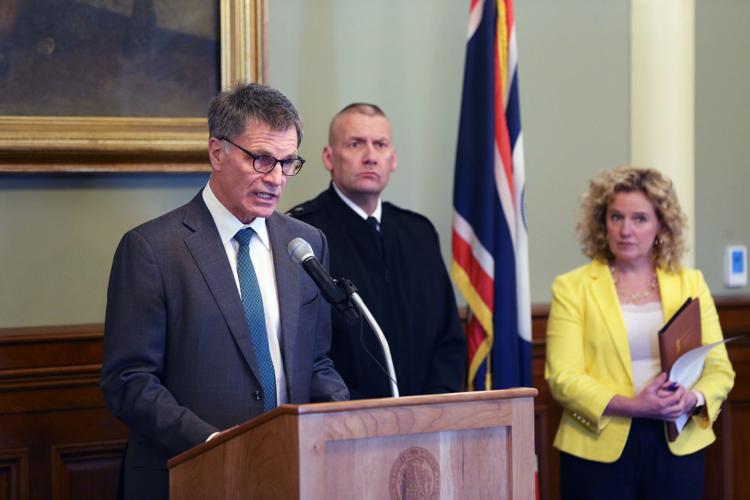 Closed sign at The Office Bar and Grill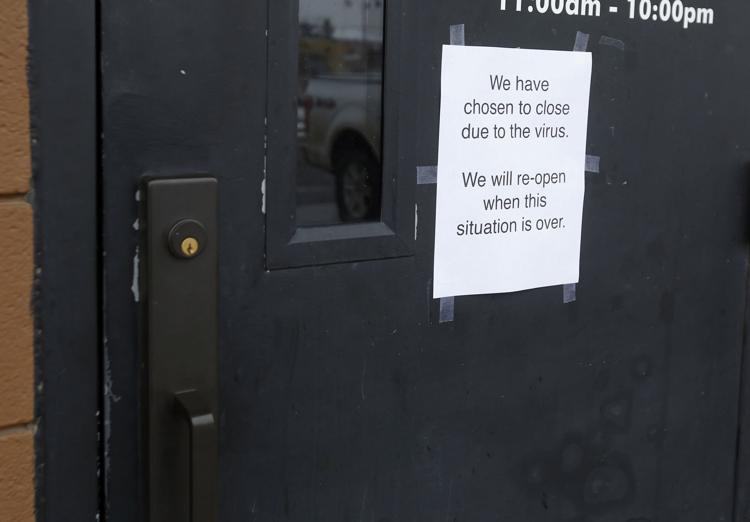 Concerned about COVID-19?
Sign up now to get the most recent coronavirus headlines and other important local and national news sent to your email inbox daily.