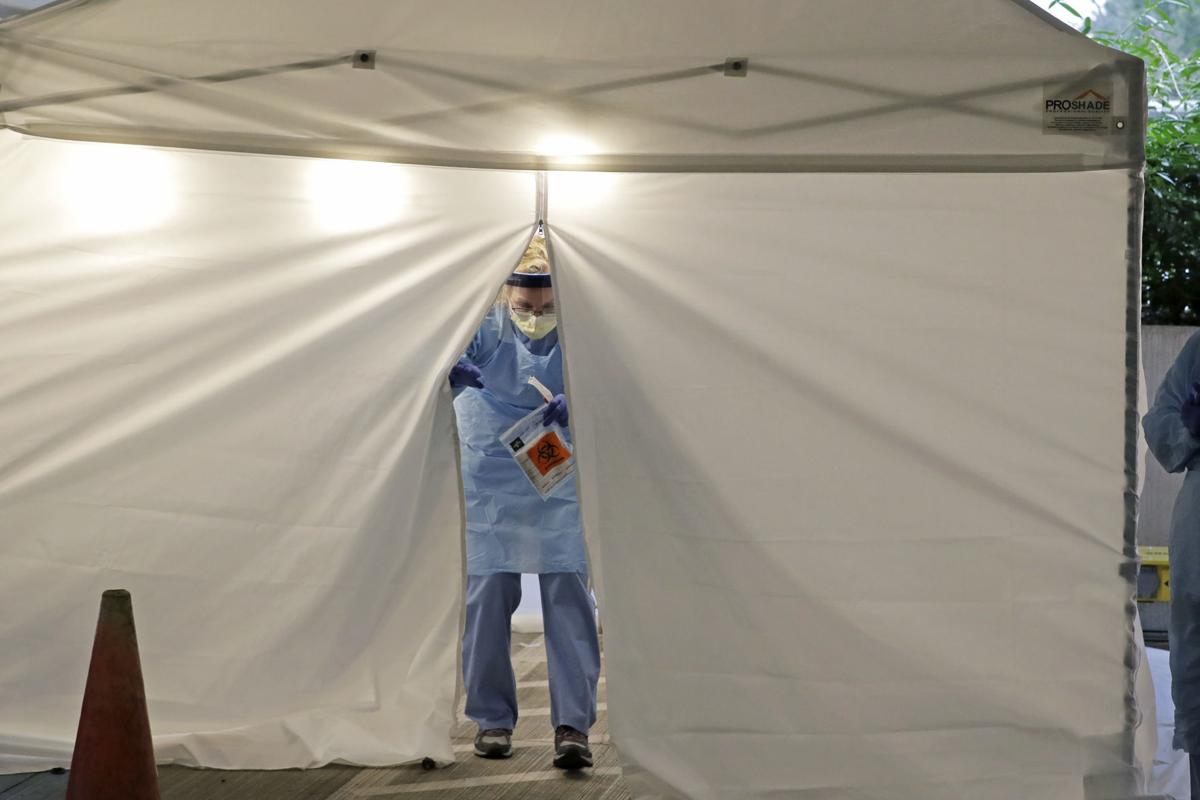 Three positive cases of the novel coronavirus have been confirmed in Wyoming, and the situation continues to develop quickly. The Star-Tribune will update this page throughout Monday with the latest news regarding coronavirus in Wyoming.
All of our coronavirus coverage is free to read. (Read our previous daily rundowns here, here and here.)
Seven new cases
10:04 p.m.
The Wyoming Department of Health announced seven confirmed new cases of the coronavirus in Wyoming — all in Fremont County. They are all tied to the state's second case, an elderly man at a Lander assisted living facility. 
Virus causes census delays
7 p.m.
The U.S. Census Bureau has delayed sending census takers to count college students in off-campus housing, as well as sending workers to grocery stores and houses of worship where they help people fill out the questionnaire.
The bureau said the deadline for ending the 2020 census at the end of July could be adjusted as needed.
Local officials react
6:51 p.m.
The Casper Senior Center is suspending all of its activities, including its congregated meal service, and public visitation at the Natrona County Detention Center has been canceled.
Gov. Mark Gordon had an open conference call with local officials Monday afternoon, though many questions went unanswered, as the state's newly created coronavirus task forces are still being sorted out.
Answers sparse on repercussions of school closures
6:40 p.m.
At least 35 of Wyoming's 48 school districts are now temporarily closed, following Gov. Mark Gordon's recommendation. But details remain unclear about how the coming weeks would unfold, if closures will extend beyond what Gordon recommended or if semesters will be extended.
Tanya Southerland, Natrona County School District's spokeswoman, said it was unclear if the district would offer online coursework or if it would provide services for special education or homeless students. Officials were also discussing whether to still hold graduation ceremonies, set for late May. Asked if the district would continue to pay all of its staff, Southerland said she wouldn't have any more details Monday.
A spokeswoman for the Education Department said the decision on whether to pay staff or not would be made "district by district."
Many districts are offering free meals during the closures.
Albertsons also hiring
5:17 p.m.
With grocery stores facing the prospect of people stocking up to self-isolate — and occasionally panic-buying — two more chains are hiring additional employees in Wyoming. 
Albertsons, which has two locations in Casper, and Safeway are seeking applicants — following Smith's, which made a similar announcement earlier Monday.
The chains announced more than 1,000 immediate openings at Safeway and Albertsons stores in the Denver Division's five-state region, which includes Wyoming, Colorado, South Dakota, Nebraska and New Mexico. The jobs span positions throughout the stores, such as the deli, meat, bakery, produce, fuel stations and customer service departments, as well as front-end jobs like cashier or courtesy clerk. 
CyberWyoming advocates for cyber hygiene
3:58 p.m.
With more and more people working remotely because of the coronavirus, CyberWyoming recommends people take caution to protect their safety online.
Some of the group's tips include:
"Get a good router with firewall capabilities (or a firewall) and make sure you create a guest network for your kids. Guard your private wireless password from your family users.
Make sure you have changed the administrative password on your wireless router.
Check to make sure the router and firewall have been updated.
Put your phone and tablets and any Internet of Things (IOT) devices on your guest wireless.
Make sure you have top rated antivirus software — free isn't good enough. Check out PCMag's ratings if you have questions.
No home business is too small to have a simple password or acceptable use policy. The Cyber Readiness Institute has some simple and free examples.
Layer your security by turning on Windows Defender Firewall on your PC.
Set up an old laptop not connected to the internet to scan USB drives that you brought from the outside. Steps: connect it to the internet, update the antivirus, disconnect from the internet, scan the USB drive.
Encryption is your friend and it is free with Windows 10. Search for encryption on your PC to find how to encrypt your computer, individual files and folders, and thumb drives. Make sure your laptop and thumb drives are encrypted when traveling.
Use and verify backups. Have one in the cloud and one onsite but make sure both are encrypted. Even if you back up to a thumb drive, rotate a few different ones, and make sure you take them out of the USB slot when the backup is complete."
All high school activities, practices suspended
3:58 p.m.
The Wyoming High School Activities Association has canceled all high school activities and practices until April 6. If and when spring sports resume, they will hold to the nine-day practice rule and WHSAA will count any practices from last week. Golf and tennis will not begin until the suspension is lifted and will need to meet the same practice rule as in the past.
The statement added that the WHSAA will not be making a final decision on spring sports at this time.
SBA working on disaster declaration
3:15 p.m.
The Small Business Administration Wyoming District Office is working with Gov. Mark Gordon's office to make Wyoming businesses eligible for Economic Injury Disaster Loans. U.S. companies are able to do this now that the federal government has expanded the Small Business Act's definition of a disaster to include the new coronavirus — so long as there has been a Governor's Certification Disaster Declaration.
Small businesses and private nonprofits are eligible for the loans, which go up to $2 million with a maximum 30-year term and interest rates of 3.75 percent.
Air Force base announces changes
2:05 p.m.
F.E. Warren announced precautionary measures to prevent the spread of COVID-19. Only mission-essential visitors will be allowed in.
Gate 1 is now closed. Gate 2 is operating normally, 24 hours a day. Gate 5 is open from 6 am. to 6 p.m. Monday through Friday.
A number of recreational facilities will close, though chaplain services, the youth center and the education center are among those that will stay open.
There are no cases of COVID-19 at F.E. Warren, according to an announcement. Retiree and veteran access is not affected.
Energy companies respond
1:59 p.m.
Companies in the state's biggest industries are taking steps to limit the spread of coronavirus. The operators' responses to the outbreak have been varied, but Travis Deti, executive director of the Wyoming Mining Association, said most have made changes.
A handful are preparing contingency plans in case the rates of infection worsen here. Some are screening visitors and vendors entering facilities with questionnaires or keeping employees out of high-trafficked areas.
A conference call was held Monday among coal executives to discuss ways to reduce the outbreak.
Meanwhile, the industry still faces challenges in the market itself, as the pandemic continues to have a global effect.
Smith's hiring workers for re-stocking
12:16 p.m.
Smith's Food & Drug Stores announced it will immediately hire workers to keep shelves stocked and provide deep cleaning in light of the coronavirus. 
Casper has one Smith's location: 2405 CY Ave. 
"We recognize all of our associates are showing up for our customers and communities when they need us most, with open stores and open-hearted hospitality," Aubriana Martindale, Smith's corporate affairs manager, said in an announcement. "To help alleviate the increased workload, we are hiring immediately to make sure we have the food and supplies our customers need in a clean, orderly store environment."
Smith's is owned by The Kroger Co.
Smith's announced the following changes to its stores in light of the pandemic:
Updated hours of 8 a.m. to 10 p.m.;
More frequent cleaning at areas such as cashier stations, self-checkouts, credit card terminals, conveyor belts, food service counters and restrooms, as well as shelves while restocking products;
More frequent re-stocking of restrooms with supplies like soap, paper towels and hand sanitizer;
Extra hand sanitizer at cashier stations, food service counters, and pharmacy and Starbucks locations;
More frequent cleaning of shopping carts, baskets and equipment, including the continued stocking of free disinfectant wipes at entrances;
Partnering with suppliers to stock "high-demand preparedness products;"
Encouraging associates to closely monitor health and to stay home if they (or someone in their household) are sick;
Providing hand sanitizer and tissues in break rooms and meeting rooms;
Providing financial support to those directly affected by the virus from a company-sponsored employee assistance fund;
Suspending business air travel for associates through April 15 and recommending virtual meetings.
Wind River Hotel & Casino closed
12:16 p.m.
Wind River Hotel & Casino is closed until further notice.
The casino's Facebook announcement included Little Wind Casino and the 789 Smokeshop and Casino. 
CATC on schedule
11:57 a.m.
Casper Area Transportation Coalition's bus schedules are not changing as a result of the coronavirus, but they will be cleaned more frequently.
"CATC / The Bus's upgraded protocols include the wiping down of all touch surfaces in each bus paying particular attention to the operator's area and boarding door area of each bus twice daily along with disinfectant treatment of each unit every evening at the end of the service day," a news release Monday said. "Our staff and operators have all been trained in these procedures."
The city announced it did not expect services or schedule changes but would announce any future updates.
City Council to enforce social distancing
11:19 a.m.
Casper City Council will practice social distancing at its meetings and in city facilities to prevent the spread of the novel coronavirus. All council meetings will take place in council chambers, rather than smaller meeting rooms, and a six-foot distance from others in the room will be enforced.
Casper City Council meetings are also streamed on YouTube and can be viewed on cable channel 192. Public comment and public hearings will be heard via a phone set up in council chambers, so those not in attendance will still be able to participate in the meetings.
"Citizens may call in from 8 a.m. to 12 p.m. and 1 p.m. to 5 p.m. the first and third Mondays and Tuesdays to schedule a call for the regular Council meetings," an announcement said.
If a resident does not schedule a call ahead of time, they will need to call at 6 p.m. the night of the council meeting to be heard.
Catholic Church shuts down Masses
11:15 a.m.
The Diocese of Cheyenne indefinitely suspended Catholic Masses in Wyoming, as of Tuesday.
"While the celebration of the Eucharist is the source and summit of parish life, the need to protect public health is paramount at this time," Wyoming Bishop Steven Biegler said in a statement. "We continue to pray for all of those who are ill, especially those affected by COVID-19, and for healthcare workers and first responders."
Church priests told parishioners across the state Sunday that Masses, including daily services, will be closed beginning March 17. There is no end-date for the suspensions.
Last week, the diocese had issued a special dispensation saying that the elderly or chronically ill do not have to attend mass.
Major trial delayed
10:02 a.m.
The trial of Samuel Barrett, who faces 10 felony charges related to alleged sexual assaults, has been postponed because of COVID-19 concerns. The trial was set to begin Monday and last a week and a half. A new timetable has not been set.
Barrett remains free on $60,000 bond. Neither side objected to the delay.
Ski resorts close
9:40 a.m.
The announcements Sunday followed a storm that dumped 2 feet of snow in the area.
Jackson Hole Mountain Resort and Grand Targhee plan to offer aid to employees affected by the early shutdown. The resorts typically remain open until well into April.
UW classes moving online
9:37 a.m.
UW previously said it would extend its spring break by a week and that it would prepare to move classes online afterward. Students are being asked not to return to campus after spring break. Students who have to return to campus will still be able to stay in residence halls, but everyone else is asked to return home.
All students are still expected to complete their coursework for the semester. The university's employees are expected to continue working, although all staffers who are able to work from home should do so with the approval of supervisors.
Governor creating task forces
9:26 a.m.
Wyoming Gov. Mark Gordon will create five task forces to address coronavirus in Wyoming:
One focused on health, which will be run by his office;
One focused on business, which will be run by the auditor;
One focused on infrastructure and supply lines, which will be run by the treasurer;
One focused on education, which will be run by the superintendent;
One focused on state workers, which will be run by the secretary of state.
More people going to DWS
9:22 a.m.
The Wyoming Department of Workplace Services announced it is experiencing long call wait times "due to a seasonal increase" in unemployment insurance claims.
YMCA closed
8:33 a.m.
The YMCA of Natrona Closure announced it is closing all facilities, classes, childcare and programming effective immediately. Welcome Center desk phones will be open Monday through Friday from 9 a.m. 5 p.m.
Evansville closes doors
7:59 a.m.
The town of Evansville is closed to the public "until further notice," a shutdown that includes the town's police, fire, public works and water treatment facilities. The town will still be offering these services but will not be allowing non-staff into municipal offices. Staff will still be answering phones.
The town is also staggering staff shifts, which means certain services, like trash pick-up, may operate under a different schedule.
The Evansville Municipal Court is also closed, and upcoming court dates and fine schedules have been postponed. The town is waiving late fees and water shut-offs for water bills unpaid during this time, and payment plans will be offered once town offices reopen to the public. Water service will not be interrupted.
Town council meetings will be limited to the bare essentials, like bills, time-sensitive issues and granting business licenses. Legally, the public can not be prevented from attending, but those who are sick are encouraged to stay home. 
NCSD working to share info
7:07 a.m.
A day after shutting down schools, the Natrona County School District posted this update:
"We understand there are unanswered questions at this time. We are working diligently to share additional details and further information with students, parents, guardians, staff, and our community as soon as possible in the coming days.
We will provide updated information, as it is available, for students, parents/guardians, staff, and our community via direct email/text/call (as applicable), on the NCSD website, this FB page, and updates will be shared with our media partners to assist in disseminating to the community.
The safety of our students, staff, and school families remains our top priority. We appreciate the patience and support of our community as we all work together to keep our schools, families, and community safe."
Boys & Girls Clubs closed
Overnight
The Boys & Girls Clubs of Central Wyoming announced late Sunday that all of its sites are closed as of Monday.
Casper and Glenrock's eight combined locations will remain closed until at least April 5. Dubois and Buffalo sites will stay closed as long as schools there are shut down. All club activities and sports leagues are also canceled.
"We understand the strain this pandemic has put on our communities. Although it is not ideal, our Board of Directors and Club leadership believe it is in the best interest in the health of our children, volunteers, staff, families, and overall community to close at this time," CEO Ashley Bright said. "During this time, we are utilizing Centers for Disease Control approved cleaning and disinfecting agents and following its guidelines to help prevent the spread of the Coronavirus within our Clubs and buses."
Have a question about coronavirus that you want answered? Send us an email at editors@trib.com.
Concerned about COVID-19?
Sign up now to get the most recent coronavirus headlines and other important local and national news sent to your email inbox daily.