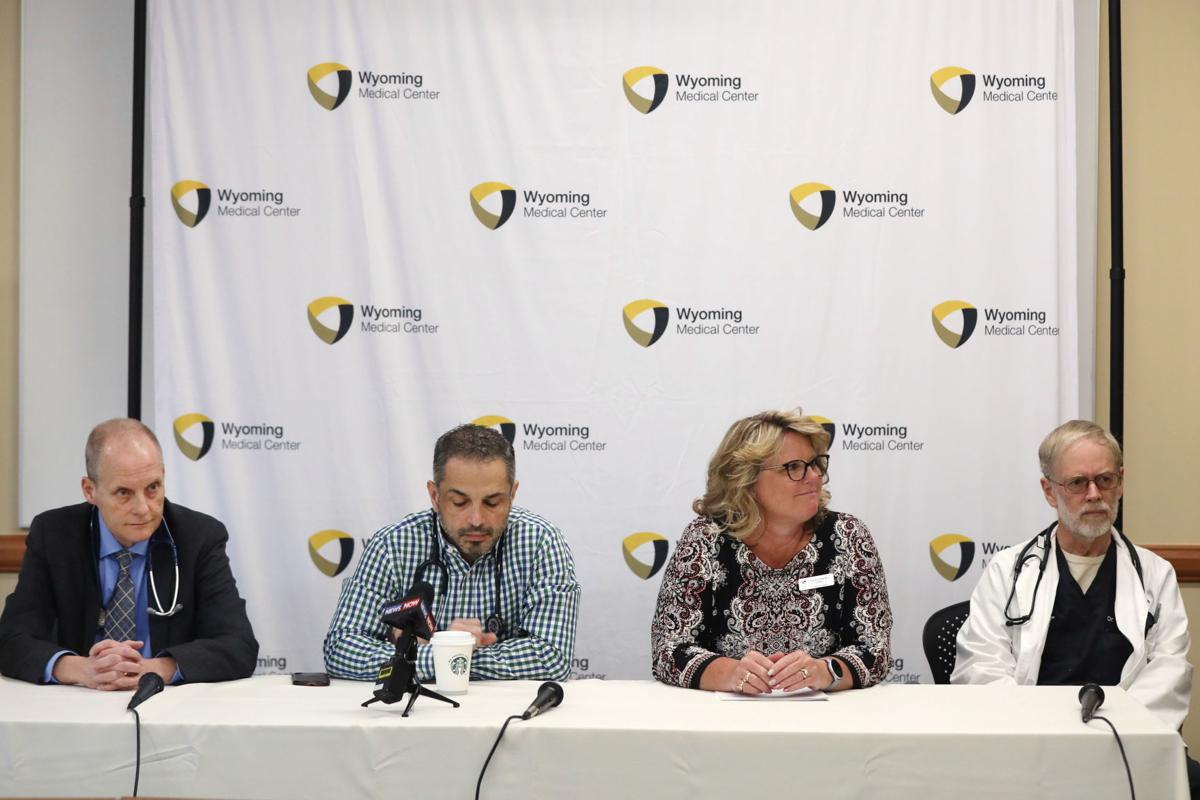 Three doctors and a health department official urged Casperites to remain calm as fears mount over the spread of the novel coronavirus. Hours later, the Wyoming Department of Health announced the state's first case of the virus.
"This is not a panic situation," Dr. Mark Dowell, Natrona County's health officer and an infectious disease physician, said at a Wednesday morning press conference. "Right now, live your lives. It's around, it'll probably come here."
The disease, officially designated COVID-19, has spread rapidly across the United States over the past week, with 39 states reporting more than 1,000 confirmed cases as of Wednesday morning, with at least 37 deaths. The spread has been more significant internationally. In Italy, for instance, there are 10,000 cases and 600 deaths; the government there has imposed strict restrictions across the peninsula.
The illness, which first emerged in China, is a respiratory one and comes from the same family of viruses that causes the common cold. It is spread by close proximity to an infected person, including when a person coughs or otherwise leaves "droplets" — moisture released from the nose or mouth.
The fears about COVID-19 have been borderline apocalyptic. Several Casper grocery stores were either nearly or completely sold out of toilet paper, hand sanitizer, face masks and alcohol rub as of Tuesday afternoon. Dowell said the toilet paper rush was bizarre and "gave us a laugh" because it doesn't really make sense. Anna Kinder, the executive director of the county health department, said the bulk purchasing of masks was a concern because it could be an impediment to people who need those masks as part of their jobs. Plus, she said, the masks don't offer any preventative benefits.
Dowell and Dr. Ghazi Ghanem, who also works in Dowell's infectious disease clinic, both urged the community to remain calm. Wyoming Medical Center has the capacity and expertise to handle any cases that may pop up in Casper. Both men, and other health officials previously, said that it's likely COVID-19 will come to Wyoming and Casper. Both also said it was likely that global death and case totals were low, given how new the disease is and the potential for undercounting.
Still, both doctors said there was no reason for a societal meltdown. Health officials said they won't panic and institute large-scale community testing. Test kits are limited, Dowell and Kinder said, and officials want only those who have been exposed to the virus — via travel or contact with a sick person — to be tested.
"Right now, the average age in the United States of people who die from this is 80," Dowell said. "Eighty years old. Not 20, not 30. Younger people are doing fine with this, for the most part. There are some stragglers, but that's true of influenza as well."
Ghanem said that the human population hasn't seen this particular type of coronavirus before, which is why there's no vaccine, no treatment and no ready immune response.
"This is not as bad as ebola," he said.
"What we are really wanting to do is to educate the public that, should you suspect you have been exposed or you have coronavirus, one, do not freak out because 95 percent of the time you're going to be just fine," Ghanem said. "And two, help us not spread this around."
Ghanem and Dr. Ron Iverson, who oversees WMC's emergency room, urged people not to use the ER as a go-to clinic for suspected coronavirus patients. The health officials said that any patients who suspect they're ill with COVID-19 should call their doctor first. If the patient meets one of the two current testing criteria — travel to an area with the disease or exposure to a sick person — then the doctor may order a test.
From there, if the person tests positive, he or she will likely be treated in a special room within WMC, with significant safety precautions that Ghanem said were likely "overkill." Those early cases would be treated that way, but if there are more cases in Casper, then the hospital would begin treating it like the flu. Severe cases, where a person's breathing is significantly affected, would be treated in single rooms in the hospital, while patients with more mild cases should self-isolate in their homes for two weeks.
"If you have a cough or a fever, you don't necessarily need to come to the ER," Iverson said.
On Tuesday, Colorado Gov. Jared Polis declared a state of emergency because of COVID-19's spread there. Asked if that move changed his thinking, Dowell said no. He added that a move like that can just create more panic among a population that's already freaked out.
Ghanem pointed out that sometimes declaring emergencies allows for more funding. Dowell agreed but said the state leaders could unlock funding and assure residents that they were prioritizing the virus in other ways.
The two infectious disease doctors said it was unlikely COVID-19 would mutate into some more virulent disease. Dowell said it's unclear if the virus will wax and wane during the winter months like influenza does.
Overall, the officials urged people to remain calm. They said that a case here is likely but that people shouldn't demand tests because they have a cold.
"This is not a sprint. It's a marathon," Ghanem said. "We're just starting it, and we're going to start it right."
Concerned about COVID-19?
Sign up now to get the most recent coronavirus headlines and other important local and national news sent to your email inbox daily.