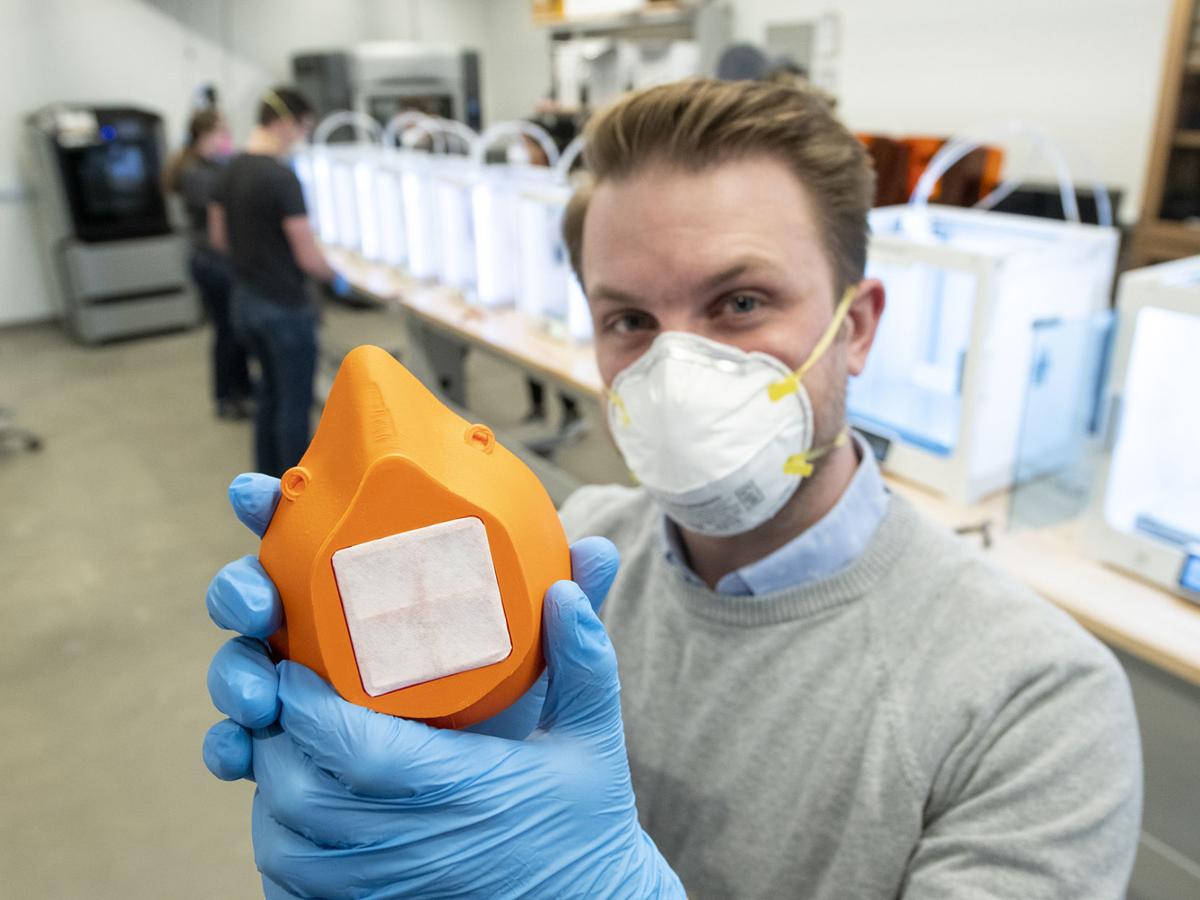 A lab at the University of Wyoming has 3D-printed 150 face masks and donated them to providers battling the spread of the novel coronavirus here.
The masks are being manufactured from plastic within the university's maker space lab, which is itself a part of the student innovation center in the engineer building. The masks being plastic allows for reuse: Traditional surgical masks can be cut up, with small squares being applied to a window-like opening on the front of the mask to allow the wearer to breathe. The masks themselves are made out of a plastic than can be disinfected and reused.
Tyler Kerr, the coordinator of the maker space, said his staff have been printing the masks from their state-of-the-art equipment and donating it to Cheyenne Regional Medical Center. A nurse there reached out after Kerr put out a call that his printers were ready to help.
"Is this a permanent solution? No," Kerr said. "But it's definitely a very effective Band-Aid."
The shortage of personal protective equipment — face masks, face shields and gowns — has been felt acutely, both in Wyoming and in hospitals across the country as providers gear up to protect themselves against potential contamination against the novel coronavirus. Officials in Natrona County, the site of the state's largest hospital and a coronavirus-specific clinic, have said the shortage is critical here.
In a statement, Cheyenne Regional's chief medical officer called the donations a blessing.
"The biggest hurdle we are facing in healthcare facilities throughout the nation is shortages of personal protective equipment — specifically face masks and face shields," Dr. Jeffrey Chapman said. "As we look into the unknown of how long this pandemic will last or how many patients we could potentially have, we want to make sure we are as equipped and prepared as possible. It is a blessing that our community is able and willing to help out."
The state has tapped local and national reserves to supplement providers' supplies, and local efforts — seamstresses and contractors with spare masks — have lent a hand, too. But the warnings about shortages continue, especially as health officials say that the state is right at the beginning of COVID-19's spread here.
There were 137 confirmed cases in the state, as of Tuesday. More than two dozen of those patients have fully recovered.
The printers have been running for a week and have produced roughly 150 masks, which can make a cloth mask last six days instead of one. The printers aren't making respirators — the specialty face masks that are becoming a rarer and rarer commodity — and haven't started making ventilators yet.
Kerr said he's letting the hospitals decide on what gear they need and which items have been medically vetted to be 3D printed.
"We're talking regularly with the teams there, 'Hey take a look at these designs, if you think any are viable and could be medically vetted, let us know,'" he said. "We're a production center, and the hospitals are calling the shots."
Concerned about COVID-19?
Sign up now to get the most recent coronavirus headlines and other important local and national news sent to your email inbox daily.